Ladies – wondering how to build a better booty?! Discover the top 5 glute exercises at the gym that women can do to help sculpt and tone the glutes. Strong glutes are key to functional capacity and improving running performance.
Disclaimer: This is a guest post provided by Lizzy Ostro, Certified Personal Trainer at Fit Lizzio Fitness. It has been reviewed by Chrissy Carroll, certified personal trainer. This post is for informational purposes only and should not be construed as individual training advice. Consult a doctor prior to starting any new exercise program.
Note: This post was originally published in 2015 and has been updated in 2023.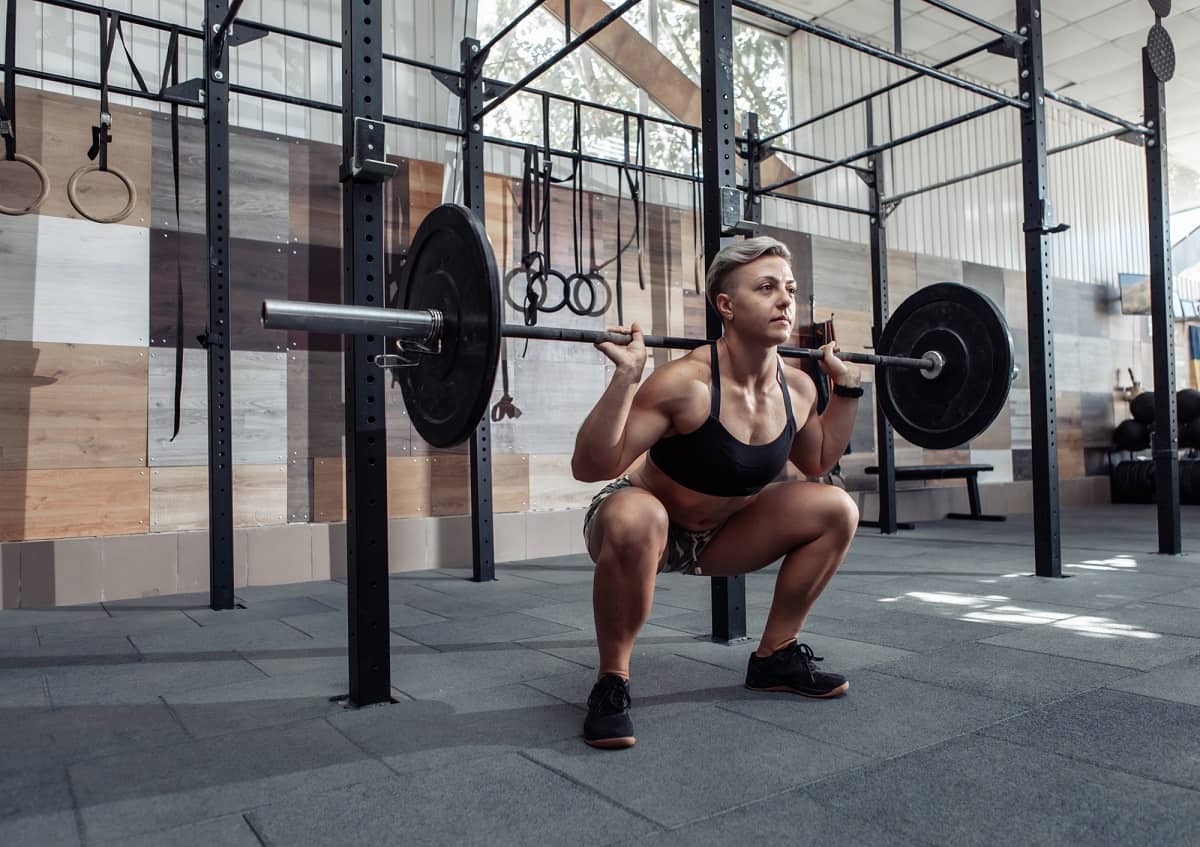 Why do glute exercises at the gym?
While aesthetics are a big reason that many people want to work on their derriere, the effects of building glute muscles go far beyond that. Strong glutes have an impact on your functional abilities (i.e. making it easy to squat down and lift a box, for example).
They also have a big impact on the rest of your training and performance. For example, stronger glutes can help you run faster, can prevent hip and groin injuries (that are often caused by having weak glutes), and they can improve your power and explosiveness.
Top 5 Gym Glute Exercises for Women
Whether your goal is performance-based or you simply want to improve your overall strength, there are some exercises that help build the glutes better than the rest. Here are 5 awesome glute exercises that can help you!
1. Hip Thrusts
These are one of my favorite exercise for the glutes. They target the glutes more than other exercises, and can be done in a variety of ways.
You can use a barbell and add weights, you can use a resistance band across your hips, you can do bodyweight, and even single leg hip thrusts. If you don't have a hip thruster (pictured above), you can always use a regular bench. Just make sure you have it up against a wall or secured in some way so that it doesn't start to slide.
If you plan on using a barbell, consider grabbing a squat sponge. They are about $10-$15 on Amazon and are a total game changer when it comes to the pressure on your hips.
2. Squats
This is by far the most popular glute exercise, and for good reason. Squats are a great option for beginners to start with, and have a lot of variations.
Making sure your form is on-point definitely impacts how much your glutes are activated during this movement. A few key things to remember when squatting:
Sit back first, then squat down
Keep a flat back (depending on your individual body's make-up, your back may be more or less upright. The length of your femurs, torso, and tibias will all impact the exact form though).
Try to limit excessive forward knee motion.
Once again, there are so many variations to squats. Here are just a few options:
When it comes to squats, your rep range has an impact as well. You can mix it up between light weight, high reps (12-20 reps); medium weight, medium reps (6-10 reps); and heavy weight, low reps (1-5 reps).
3. Deadlifts
Deadlifts are an excellent gym exercise for building your glutes. Once again, form is important, so you'll want to practice these before you start adding weight. A few things to remember:
Keep the barbell or dumbbells close to your body throughout the movement. They may even scrape against your shins, which is totally fine.
Keep a flat back, chest up, and shoulders back. Good way to remember this: I always tell people to keep the logo on their shirt visible in the mirror at all times.
Keep a slight bend in the knee.
This is a hinge exercise, so when you begin the movement, your butt will go back and you will hinge at the hips. Try not to squat down, although bending your knees slightly is okay.
4. 45* Hyperextensions
This exercise is great for the upper glutes. The key with these is to disengage the back as much as possible and to pull with your glutes and hamstrings.
You can do these with bodyweight if you're just getting started, and then progress to a plate (10-25 pounds depending on how many reps you're trying to do). Start with bodyweight and try to get 15-20 reps. As you get stronger, you can start adding weight.
5. Bulgarian Squats
Oh how I have a love/hate relationship with this exercise! I'm not going to lie to you, these are tough, but they are extremely effective.
You can use dumbbells, kettlebells, or just body weight with this movement. No matter what, you'll find them to be pretty challenging!
Make sure you are sitting into your front leg (like you would a squat), and try not to let your knee go far past your toes.
The Bottom Line
These top 5 glute exercises at the gym can help women build a stronger and toned lower body. Plus, you'll reap additional benefits like increased lean muscle mass, improved performance, and reduced injury risk. Try incorporating these regularly into your workout routine to achieve best results.
About The Author
Lizzy Ostro is a certified personal trainer. She has competed in 2 bikini competitions (NPC & Fitness America), and has trained with some of the best trainers/strength coaches in the world (including "The Glute Guy")! Her favorite exercise activities include weight lifting, metabolic conditioning, hiking, rock climbing, and the occasional run here and there. You can reach her at [email protected] or on Instagram.
Feel free to pin this post for later!