If any of you ladies (or gents!) are wondering how to build a better booty – this post is for you!  Guest blogger Lizzy is here today talking about the best butt exercises to sculpt and tone the glutes.  Enjoy!
—
Hey Snacking in Sneakers readers! I'm so excited to be guest blogging for Chrissy while she's on maternity leave. I blog over at Fit Lizzio Fitness about fitness, healthy eating, motivation, and mindset with little excerpts of my life thrown in between.
One of my most frequently asked questions is "how do you build a bigger butt?". I was originally trained by the master himself (The Glute Guy) back in 2007 and through practice, work, and dedication, have become pretty well-versed in glute building myself.
While aesthetics are a big reason that many people want to work on their derriere (who doesn't want a nice booty?), the effects that building glute muscles has on the rest of your training is a big factor in performance! Stronger glutes can help you run faster, can prevent hip and groin injuries (that are often caused by having weak glutes), and they can improve your power and explosiveness. The nice side effect of building stronger glutes, is building bigger glutes, which helps to lift the booty and give it a rounder look.
Whether your goal is performance-based or aesthetics-based, there are some exercises that help build the glutes better than the rest. Here are my 5 tried and true best butt exercises that can help you!
1.  Hip Thrusts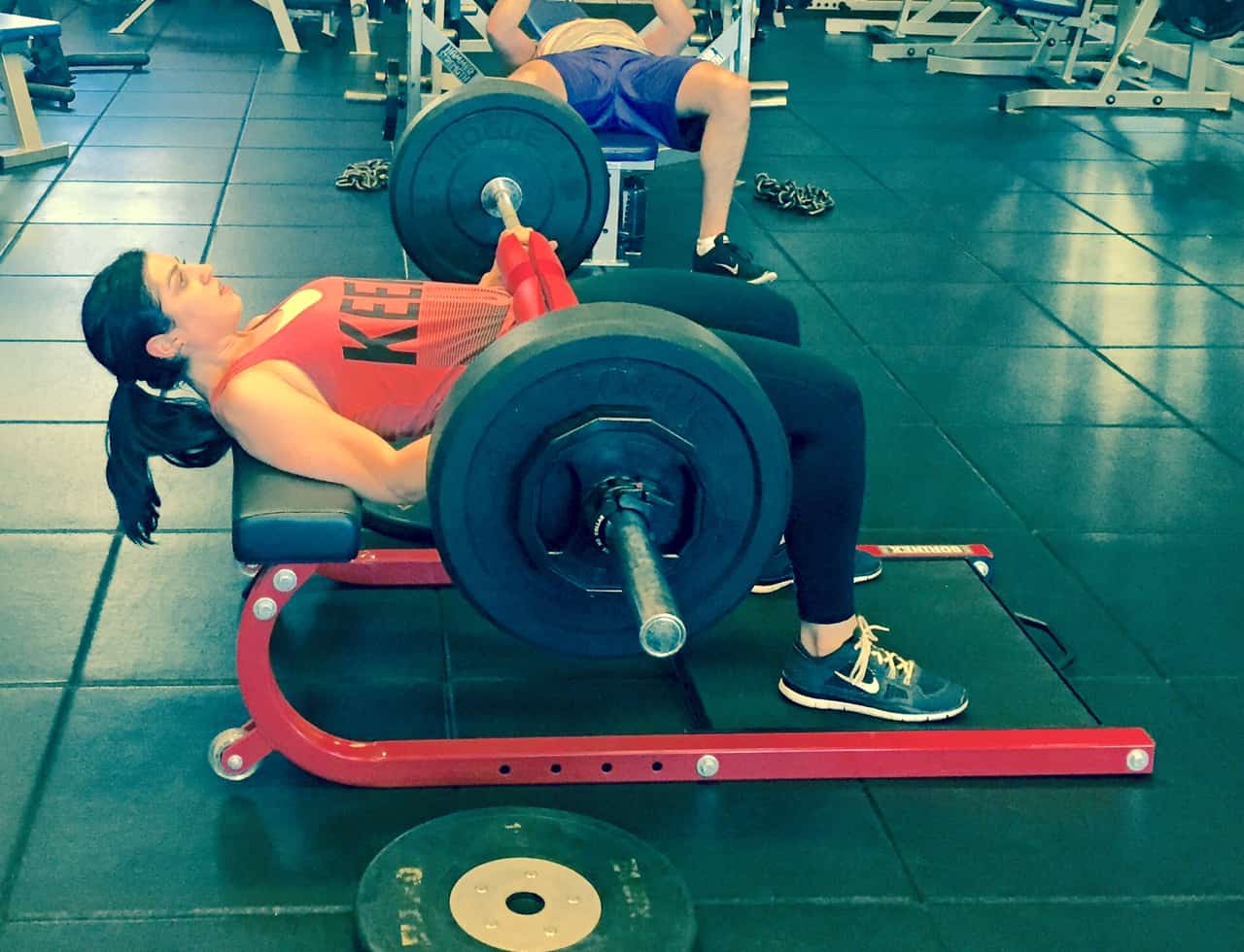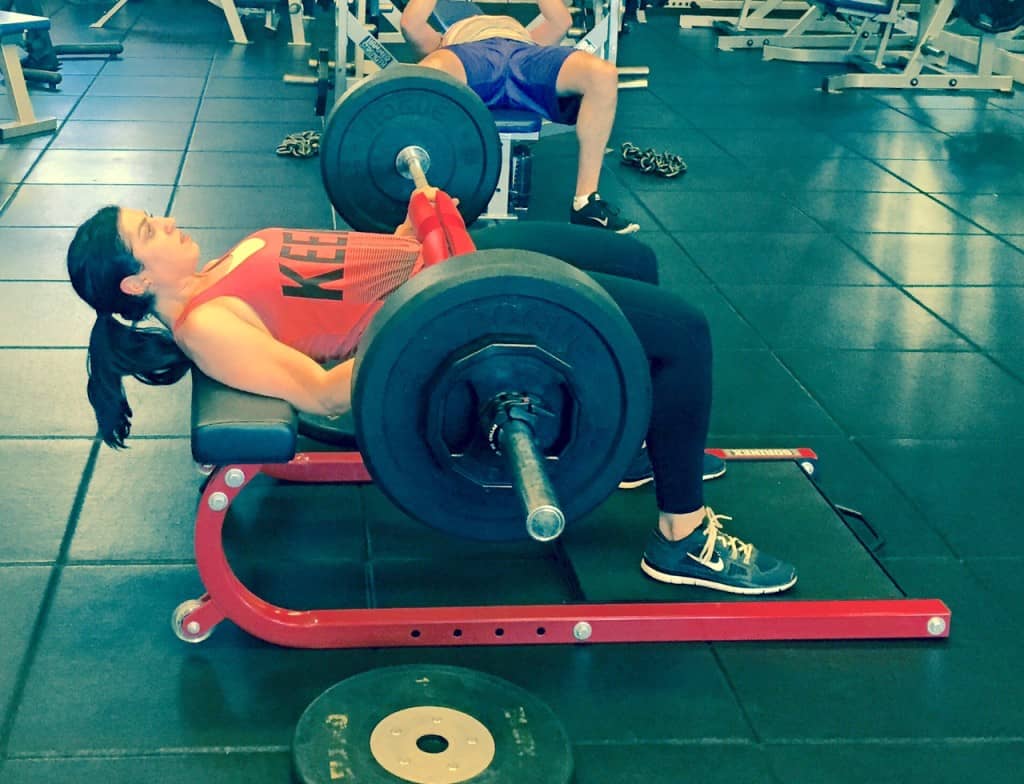 These are hands down my favorite exercise for the glutes.
They target the glutes more than squats or deadlifts and can be done in a variety of ways.
You can use a barbell and add weights, you can use a resistance band across your hips, you can do bodyweight, and even single leg hip thrusts. If you don't have a hip thruster (pictured above), you can always use a regular bench. Just make sure you have it up against a wall or secured in some way so that it doesn't start to slide.
If you plan on using a barbell, consider grabbing a squat sponge. They are about $10-$15 on Amazon and are a total game changer when it comes to the pressure on your hips.
2.  Squats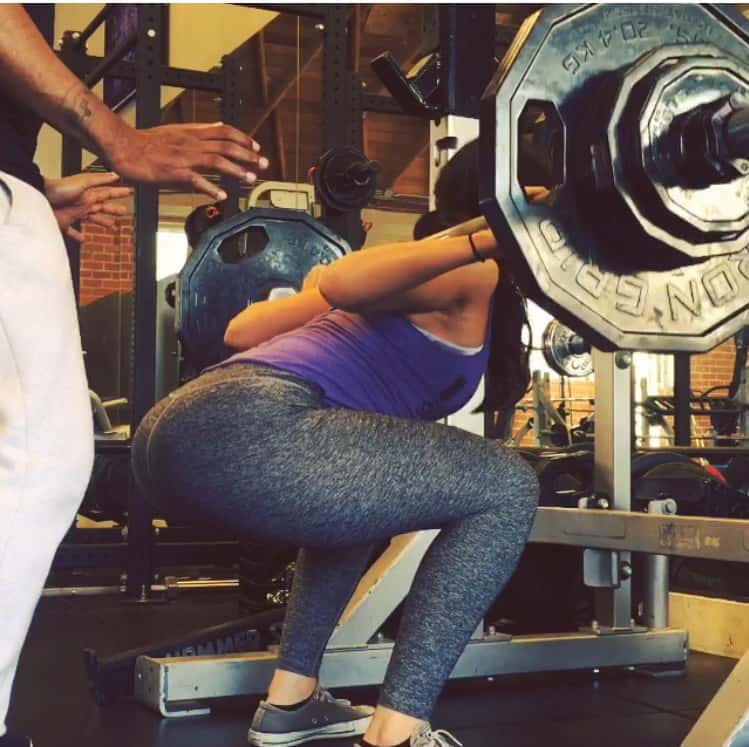 This is by far the most popular glute exercise, but for good reason.
Making sure your form is on-point definitely impacts how much your glutes are activated during this movement. A few key things to remember when squatting:
Sit back first, then squat down
Keep a flat back (depending on your individual body's make-up, your back may be more or less upright. The length of your femurs, torso, and tibias will all impact this. This video explains it pretty well.)
Try to prevent your knees from going past your toes if possible.
Once again, there are so many variations to squats. Here are just a few options:
-Bodyweight Squats
-Barbell Back Squats
-Dumbbell Squats
-Goblet Squats
-Barbell Front Squats
When it comes to squats, your rep range has an impact as well. Change it up between light weight, high reps (12-20 reps); medium weight, medium reps (6-10 reps); and heavy weight, low reps (1-5 reps) to see the best results.
3.  Deadlifts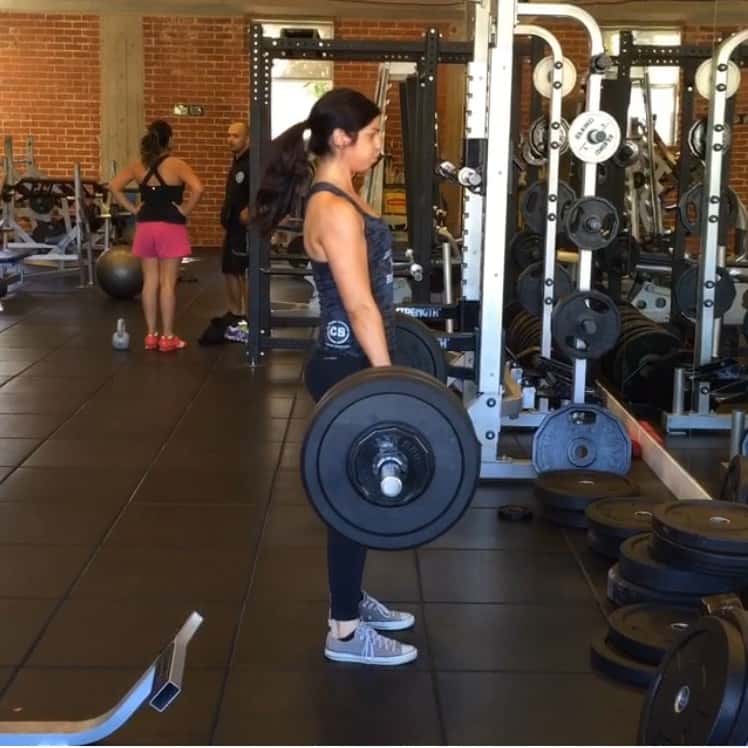 This is probably my personal favorite of them all. Once again, form is important, so you'll want to practice these before you start adding weight. A few things to remember:
-Keep the barbell or dumbbells close to your body throughout the movement. They may even scrape against your shins, which is totally fine.
-Keep a flat back, chest up, and shoulders back. Good way to remember this: I always tell people to keep the logo on their shirt visible in the mirror at all times.
-Keep a slight bend in the knee.
-This is a hinge exercise, so when you begin the movement, your butt will go back and you will hinge at the hips. Try not to squat down, although bending your knees slightly is okay.
4.  45* Hyperextensions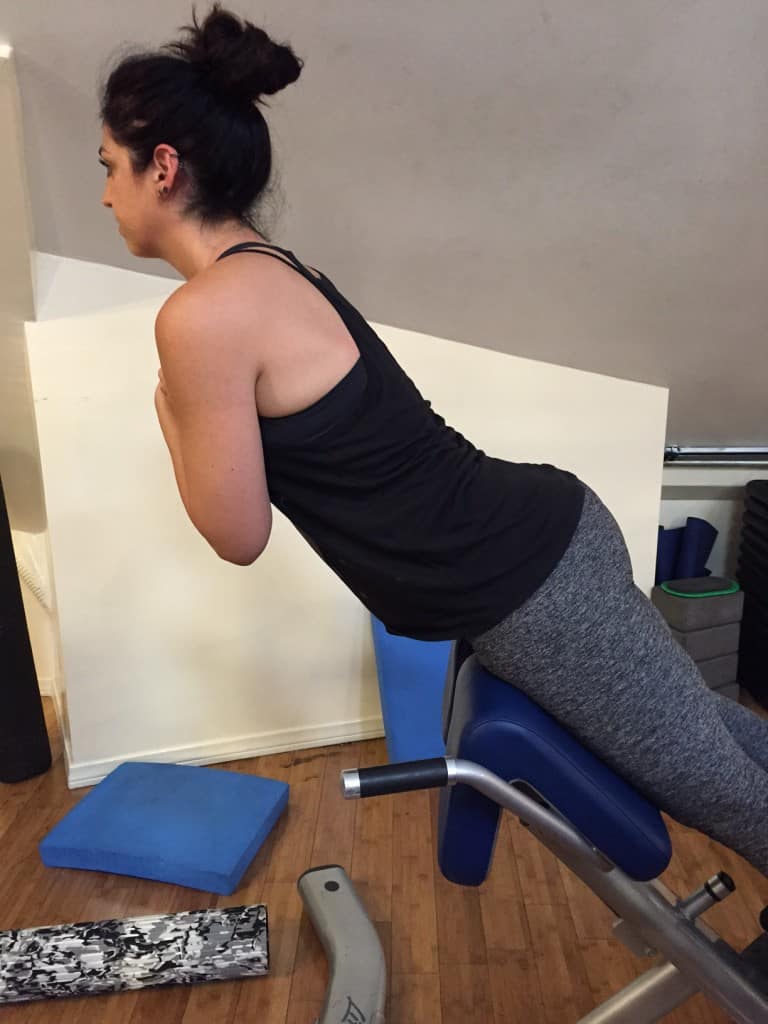 This exercise is great for the upper glutes.
The key with these is to disengage the back as much as possible and to pull with your glutes and hamstrings. I do this with a plate (25lbs or 10lbs depending on how many reps I'm trying to do), or even with just bodyweight for a higher rep count. Start with bodyweight and try to get 15-20 reps. As you get stronger, you can start adding weight.
5.  Bulgarian Squats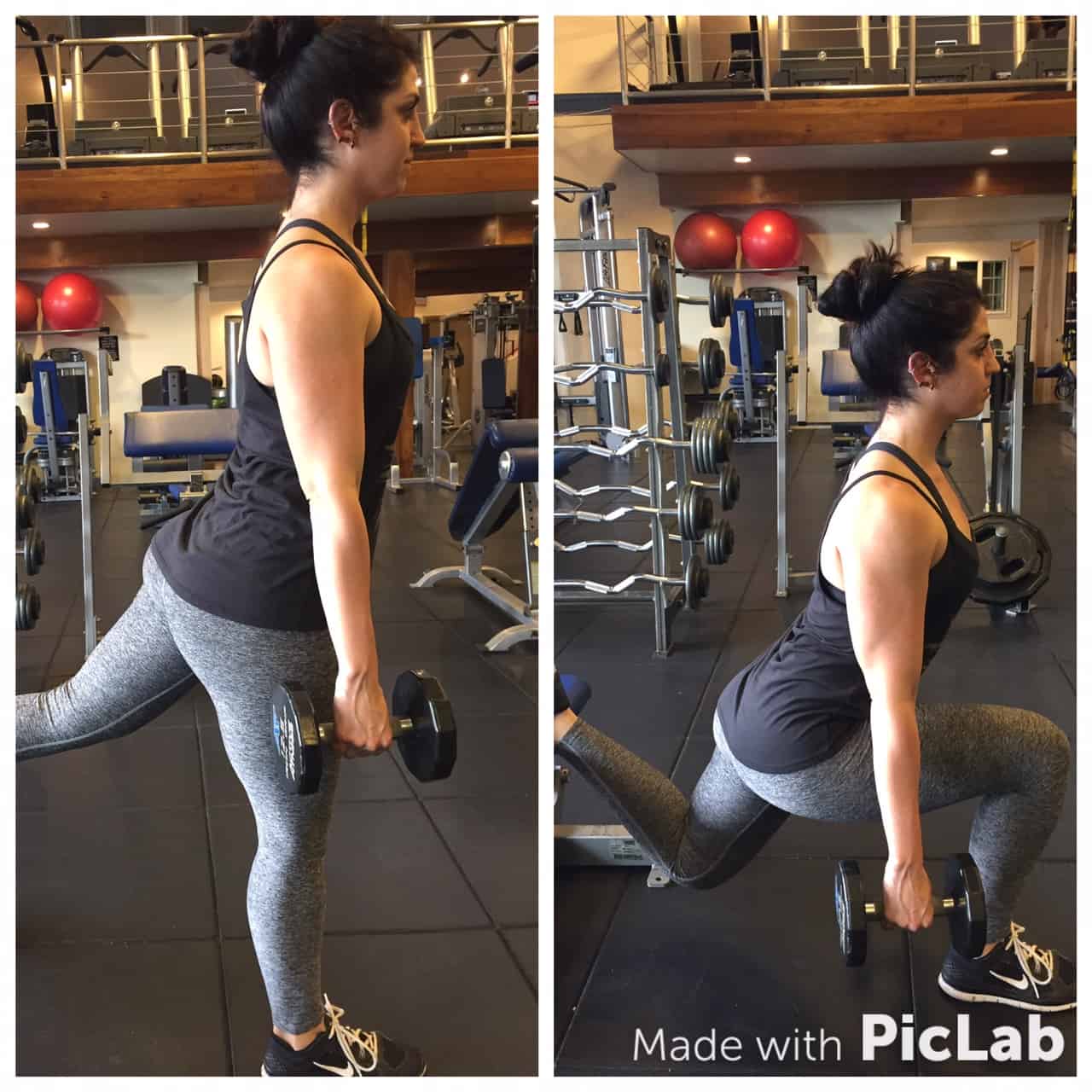 Oh how I have a love/hate relationship with this execise! I'm not going to lie to you, these kind of suck, but they are extremely effective.
You can use dumbbells, kettlebells, or just body weight with this movement. No matter what, you'll find them to be pretty tough! Make sure you are sitting into your front leg (like you would a squat), and again, try not to let your knee go past your toes.
And that's it – my top 5 best butt exercises!  With the implementation of these exercises, you guys are well on your way to bigger, stronger glutes!
About Lizzy:
I'm 27 years old and live in Santa Monica, CA. I've been in the fitness world for a little over 7 years and have done quite a bit! I'm a certified personal trainer, becoming a certified nutritionist, I've competed in 2 bikini competitions (NPC & Fitness America), and have trained with some of the best trainers/strength coaches in the world! I played sports growing up and never lost my love for being active and athletic. My favorite exercise activities include weight lifting, metabolic conditioning, hiking, rock climbing, and the occasional run here and there when I'm in the mood. I have a cute boxer named Oscar that follows me around all day and I love passing on my love for health and fitness to others!
I'd love to hear from you guys if you decide to try some of these out! If you have any questions, you're more than welcome to e-mail me at [email protected]. You can also find me on Facebook and Instagram. Take care!  xoxo, Lizzy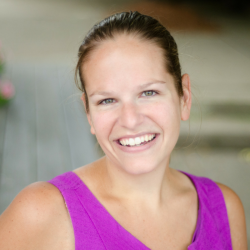 Latest posts by Chrissy Carroll
(see all)