When I think about my own experiences with triathlon swimming, I'm generally focused on two things. This includes a) not getting kicked in the face, and b) not starting out too fast because I don't want to get out of breath mid-swim and start floundering around. Looks like I may need to re-evaluate my second approach if I want to improve my overall short distance tri times though.
Well, not the getting out of breath and floundering around part. I still want to avoid that.
I'm talking about re-evaluating my "not starting out too fast" approach. A recent study examined three different swim pace strategies on sprint distance triathlon times. These are the three types of swim pace you might encounter in triathlon swimming:
Positive swim pacing = speed starts faster and gradually gets slower
Even swim pacing = same speed throughout
Negative swim pacing = speed starts slower and gradually gets faster
The study, published in 2016, included nine competitive male triathletes. The researchers had the athletes complete three different sprint distance triathlons. Each time, the athlete used one of the three swim pace strategies mentioned above.
Turns out the positive pacing strategy – starting faster in the swim and then fading to a slower crawl towards the finish of that leg – led to faster cycling and overall triathlon times compared to the even or negative pacing strategies. This approach also resulted in lower perceived exertion. This could be due to the end of the swim feeling easier compared to the negative or even approach, since the pace at the end of those would be faster comparatively at that point in time.
[Tweet "Can starting your triathlon swim faster + finishing slower help you in the overall race? Find out:"]
This was the first study that actually randomized athletes to these different triathlon swim approaches, so even though the study group was very small – I find the research really interesting. Other research on Olympic distance triathletes have found some observational results that appear to support this. For example, 2009 study looked at elite male and female triathletes in a World Cup Olympic distance competition. Both genders were found to use similar a similar positive swim pace strategy in the swim leg. And in another study looking at Olympic distance racers, position in the first 200 m of the swim was correlated with swim outcome and proximity to the leader. These had some correlations to overall performance as well.
This goes against some of the traditional wisdom that you don't want to start too hard and run out of gas too early. But with the excitement of the race start, you may be fine to start hard with some of that extra adrenaline and then settle down into a more comfortable pace mid-way through. If this approach worked the way it did in the study above, you might feel more energized as you cross the swim finish and venture into the rest of the sprint distance triathlon ready to push yourself.
Of course, a few small studies don't give definitive results. This certainly isn't the be all and end all of triathlon swimming strategy advice. However, it's something you can test out and consider if it would work for you.
Share with me: How do you approach triathlon swimming? Do you have a swim pace strategy? Or do you just get out there and do what feels right?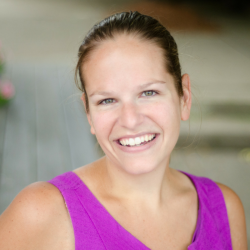 Latest posts by Chrissy Carroll
(see all)