First time swimming, biking and running all in one go? Here are some triathlon tips our guest blogger Cortni from YakkaFIT learned during her first (sprint) triathlon!
—
I'm usually more of a crossfitter, runner or swimmer and had never tried stringing all of these exercises together, so triathlon was a big change for me.  These are some tips that I learned in preparing and completing my first race.  Of course, every race and course is different so some of these tips don't apply, and clearly, I am not an expert-it was only a sprint, not full triathlon – but I'm sure you will find some of these triathlon tips helpful!
DO's
1.  Look up when you're swimming.
Our swim course made a rectangular shape and we had to pass by two buoys on our left. It helped to keep lifting my head up slightly every few strokes to get an idea of where I was swimming so that I didn't go to wide. It also helps you try to prevent getting kicked in the face.
2. Swim in open water at least once before the race.
If your triathlon swim portion takes place in open water, you should practice swimming there. It is wayy different than swimming in a pool. The water is murkier, darker, and there is, well, creatures and seaweed in it. It's not the end of the world if you don't try swimming in open water before the race though. Last summer my fiance and I swam across all of Canandaigua lake and I had never swam a long distance in open water before. It wasn't fun, but I did it….it would be much more fun to have practiced beforehand.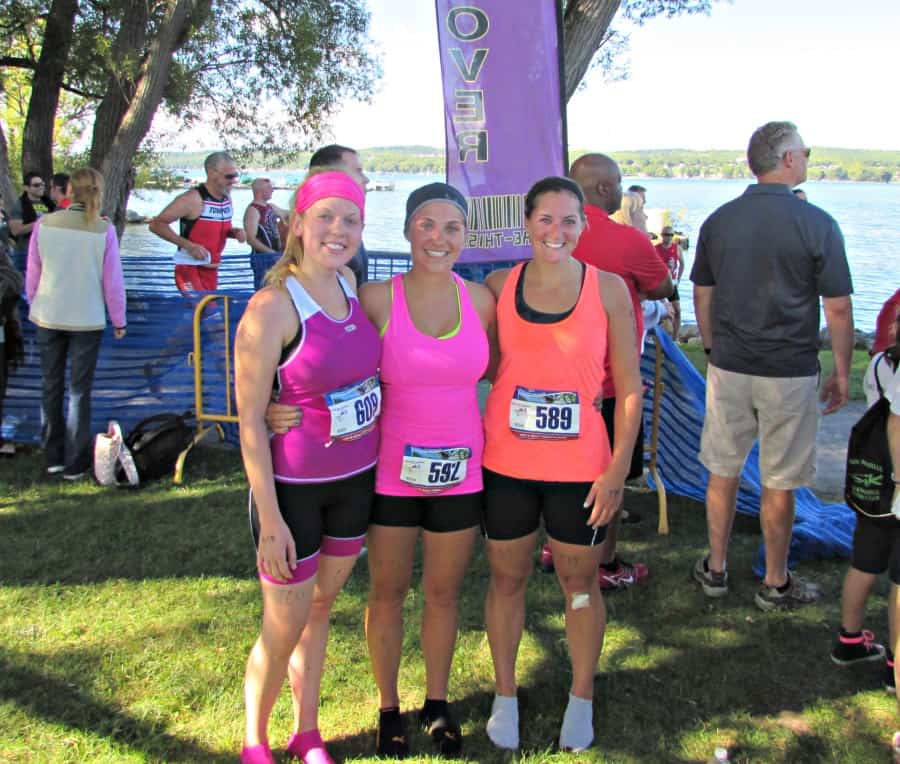 3.  Sign up with others!
I loved keeping up with how the other girls were training and completing workouts before race day. It was so much fun to support and cheer for each other. We ended up catching up with each other during the run portion of the race which was so awesome. They were so motivational in the weeks beforehand and the day of the triathlon.
4.  Have fun!
You can tell the people that are so hard core serious about this stuff. Which is fine, but it's more fun not to take it so seriously. Especially the Finger Lakes Triathlon. The money and donations are going to such a great cause, it is a supportive group and great environment. I had fun just relaxing and not taking the race so seriously. I like saying hello to the cows during the bike ride and enjoying the beautiful scenery. I mean, of course I was focused on the bike ride too…
5.  Be prepared to run a bit of a ways in between the swim and the bike.
We had to run over some gravel and pavement in bare feet on the way to the bike transition area. Just know you might have to do that…maybe toughen up your feet or something, walk on sharp rocks to prepare…just kidding! The Finger Lakes Triathlon, was greatly organized and our transition run was 98% over grass. They even put down a carpet over the paved area leaving the bike transition. So our feet were saved, for which I am very grateful!
Don't
1.  Buy new gear the day before the race.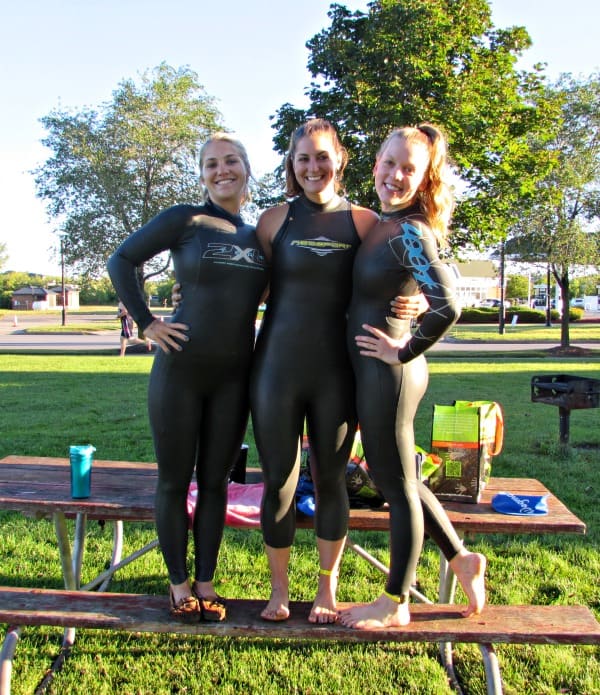 Ok, I am such a hypocrite. I bought new goggles two days before the race and bought a wetsuit the day before. Somehow I was soo incredibly lucky and the goggles and wetsuit both fit and worked perfectly. Don't ask me how that happened. It's always good to try out the gear a little bit before race day. It would have been nice to use the wetsuit before I dove in the water at the start of the triathlon, but whateva, I clearly was not prepared. Be more prepared than me.
2.  Take forever during the transitions.
The entire time you're racing, from the time the whistle blows to the time you cross the finish line is added to the clock. You can really gobble up some time during the transitions if you're not paying attention. Have your shoes, socks, helmet, headband, water, etc. ready to go. It is a great trick to roll up your socks and place them in your shoes so you can just roll them up your (probably wet) feet. I also had a small towel by my shoes to dry the bottoms of my feet off.
3.  Forget to bring water.
There were no water stations on the bike path. I did have water in my bike holder, but I'm so unbalanced when I'm riding a road bike that I was too scared to try to drink out of it…maybe I should have practiced that a bit more. Needless to say I was dying of thirst by the run. Luckily, they had water stations throughout the run, unluckily, I also suck at drinking while running and pretty much just poured it down my face. Maybe I should have practiced that a bit more too.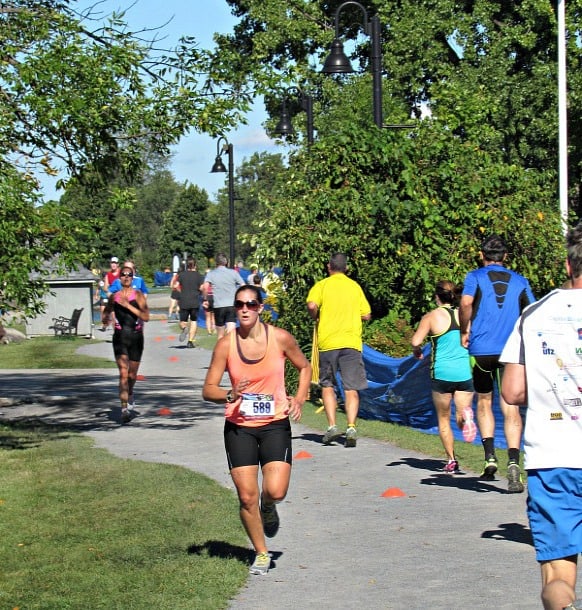 4.  Slam, ahem, squeeze on your breaks 10 feet from the bike dismount line
I still feel bad about this. I was so nervous because of the 8 volunteers yelling at me that the dismount line was coming up that I stopped a bit prematurely and the people behind me on their bicycles were not too happy. Yikes. You just have to be off of your bike before the line when you go out and when you come back…plan accordingly.
5.  Get obsessed with a certain time.
Have a goal in mind, but don't worry if you miss it. It is great to push yourself, stay competitive, but again, don't take it too seriously.
Completing a triathlon is an amazing experience! I hope these tips helped put the first time triathlete nerves at ease!
About Cortni:
I'm so excited to be guest blogging for Snacking in Sneakers today! I'm a sunshine loving Marine Biologist living in Upstate New York (Yea that's pretty much an oxymoron). I blog over at www.yakkafit.com where I like to write about healthy foods, lots of workouts, homebrewing and weird/wild adventures! You can also find me pinning, tweeting, photographing, and facebooking (sometimes). I'd love if you joined in too!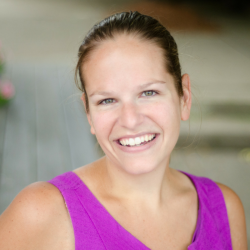 Latest posts by Chrissy Carroll
(see all)