If you've followed the blog for a while, you know that I'm passionate about supporting organizations and events involved with local food and/or food insecurity. It's a big problem right here in our own backyard and I think sometimes people are surprised by the statistics (data from Feeding America)…
Nationally, 14% of households were food insecure in 2014.
In Massachusetts, approximately 11% of households experience food insecurity. In the Boston area, that number jumps to 16% of households.
33% of food-insecure households in Massachusetts are above the threshold for receiving assistance like food stamps.
Food insecurity disproportionately affects households with children (especially single-parent households), black households and Hispanic households.
Kind of shocking, right? So a few weeks ago when someone mentioned that a local organization was looking for bloggers to attend and write about "The Ultimate Food Rescue Dinner" to support fighting food insecurity, I jumped at the chance. I was given a free ticket to this event hosted by Three Squares New England in exchange for writing about it, and was blown away at how awesome it was.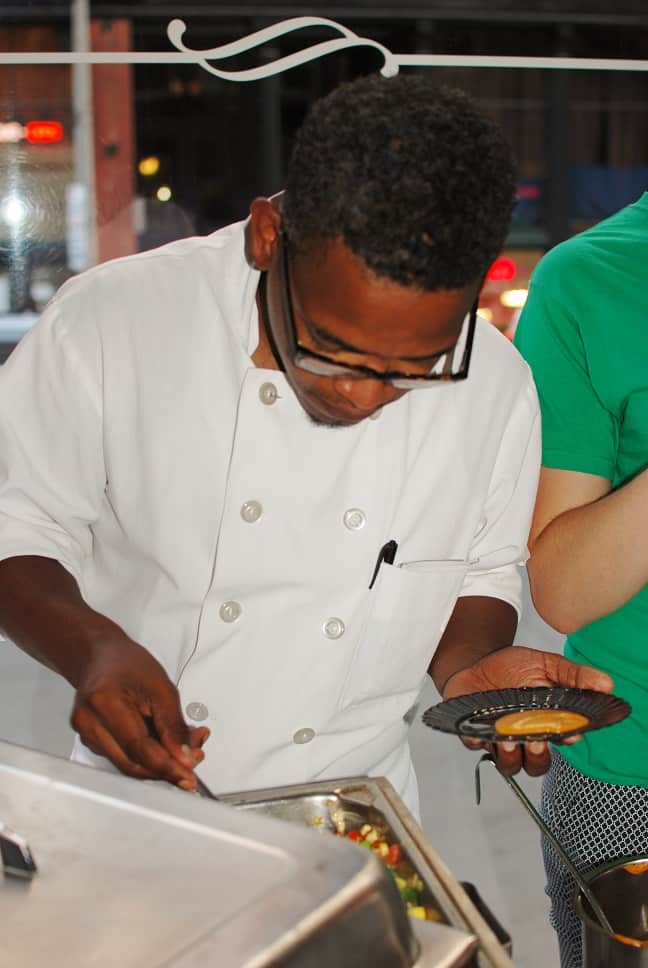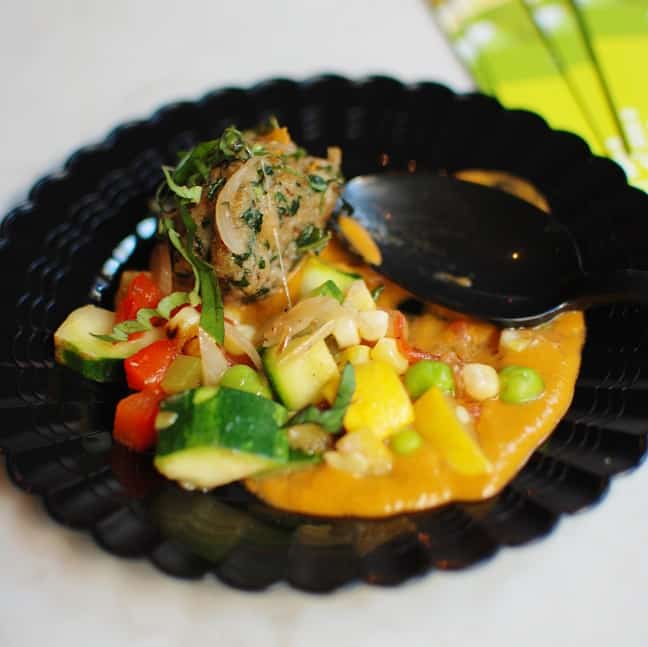 The event consisted of seven teams of local celebrity chefs who created delectable dishes using many food products that would have otherwise been thrown away. The reason for the focus on food waste in this event? It all ties into food insecurity. We actually produce a LOT of food in the United States, but we waste approximately 30-40% of food in our country (Ref: USDA). 30-40%! That is HUGE. Just think about how far that food could go in feeding the hungry. Among fruits and vegetables specifically, we waste more than 50% in our country. The National Resources Defense Council estimates that if we could reduce food losses by just 15%, we could feed more than 25 million Americans each year.
The dishes created by the chefs at this event were fabulous. It is amazing that this is food that would have otherwise been wasted. For example, locally grown zucchini and heirloom tomatoes – which may have gone unused because of simple blemishes or other cosmetic defects – were transformed into rich and tasty plates fit for a five star dining experience.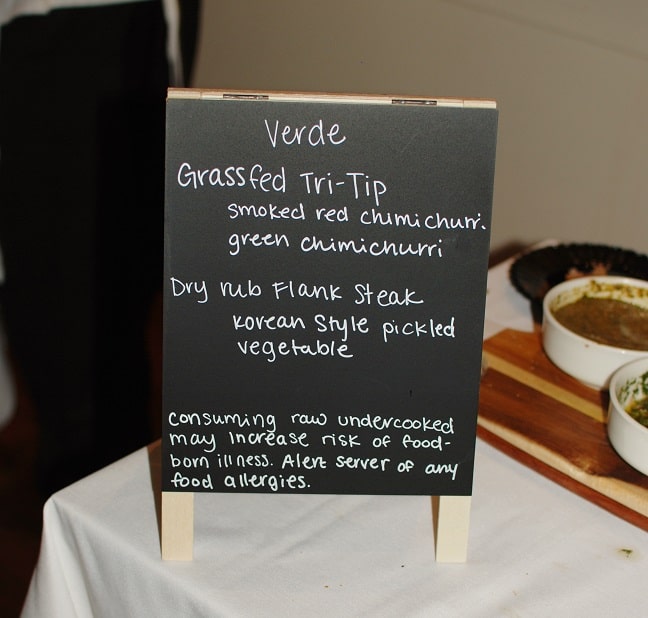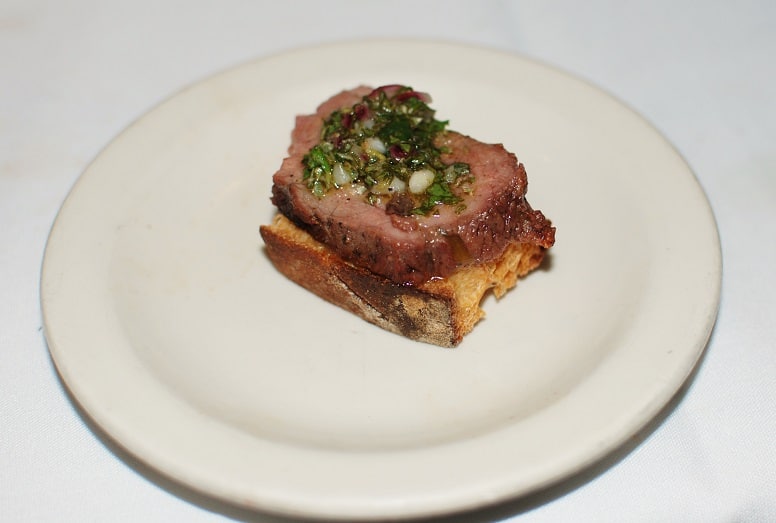 The event also had an auction and raffle component to raise money, and of course I wanted to support this cause so I bought a bunch of raffle tickets. And in my true "I believe I'm going to win a raffle so it's going to happen" fashion, I won one of the prizes! (If you know me personally, you know I'm super lucky with these kinda things – I win a lot 🙂 ). In this case, I scored an amazing foodie gift basket with pasta products, a cookbook and food magazines, and – the thing I'm MOST excited about – a behind the scenes tour of Americas Test Kitchen/Cooks Illustrated!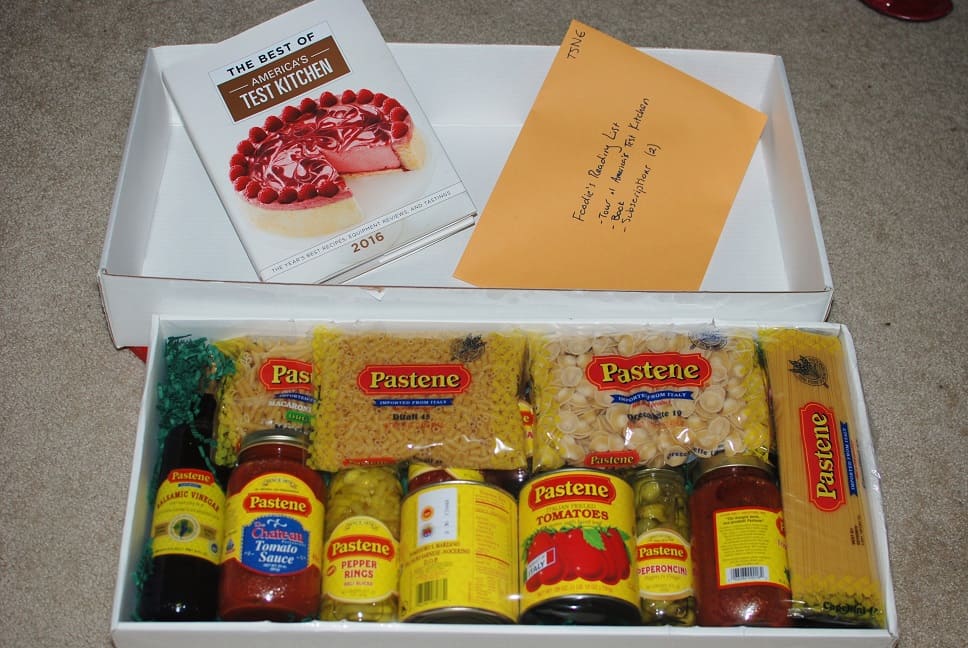 I had an amazing time at this event and supporting this cause. I really hope you'll consider to do so too. Food is a basic need that no family should have to go without.
In line with that though, here are some things that you can do to help the fight against food waste and food insecurity: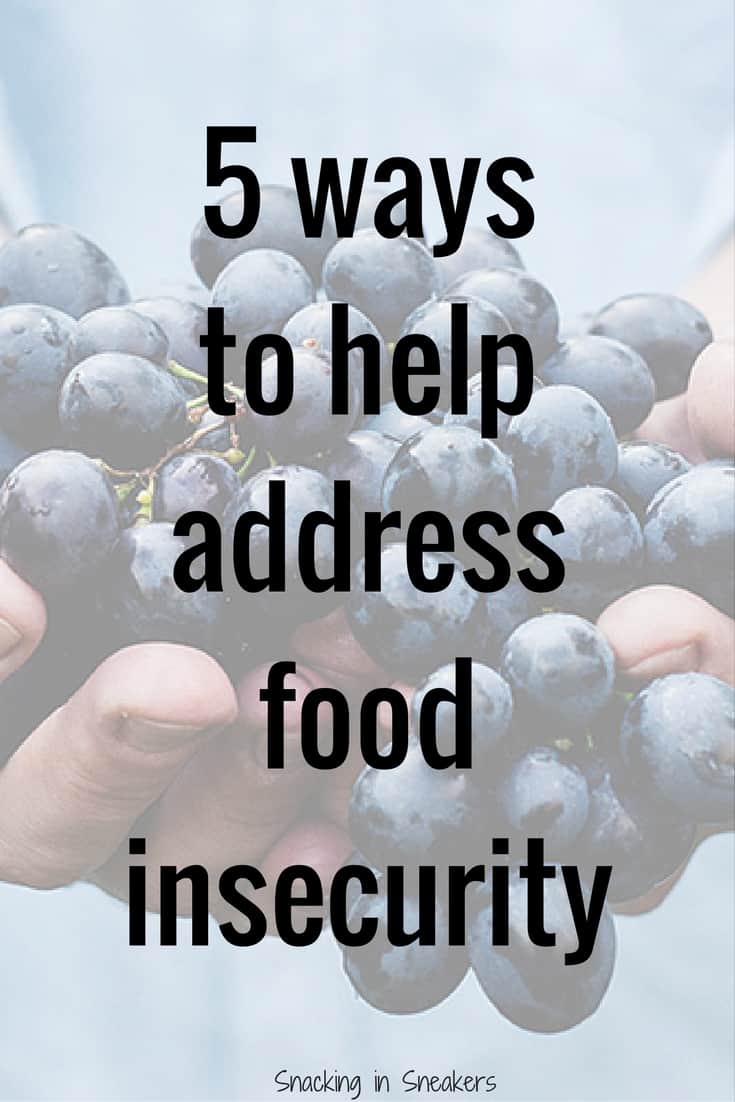 1. Sign up for the Ride for Food – Three Squares main fundraising event.
The 5th Annual Ride for Food takes place Sunday, September 25, 2016 starting in Dedham, MA and has distance options for any level. You can sign up for either 10, 25, or 50 miles, and breakfast/snacks/lunch are provided! Each rider is encouraged to raise $1000 on a best efforts basis, but it is not a required minimum.
2. Can't sign up yourself? Share!
If you can't make the event yourself, you can click to share the tweet below to encourage others to sign up or donate! And you can always make a donation to Three Squares New England to help them support their mission and provide funding to 18 local food pantries, kitchens, community farms and food rescue organizations.
3. Volunteer your time for a local food pantry or gleaning group.
Volunteering at a food pantry is probably something you've heard of before, but you may not have heard of gleaning. Gleaning as all about helping harvest surplus farm crops for people in need. You volunteer your time to do this and ensure that fresh, local produce is provided to those who would otherwise go without. Consider volunteering to help the Boston Area Gleaners or other similar organizations in your own hometown.
4. Donate food or funds to local food pantries.
These are needed year round, not just at holiday time. I'd highly encourage you to check out my post on healthy items to donate to food pantries.
5. At a personal level, examine and improve your own food purchasing and waste habits!
Start by making a meal plan and shopping off of a list based on that plan. This will ensure that you don't buy extra food that spoils because you don't get a chance to use it.
Get creative with using parts of the food you might normally throw away. Using the broccoli florets for a dish? Slice up the stem and toss it in olive oil, making broccoli "chips." Have stale bread or donuts lying around? Make a bread pudding for dessert. Extra veggies on the verge of going bad? Toss 'em in an omelet or smoothie. This has been one of my personal projects the last few months and it's really interesting to see just how much you can do with what would normally be thrown away.
Along the same lines, understand that dates on food are not regulated for food safety. If you have foods that have a "best by" date, that indicates food quality – not food safety. Many of these items are good past these dates and tossing them just because of the date means many pounds of wasted food that could still be used safely.
Share with me: Have you ever been to an event like this? What creative ways do you reduce food waste?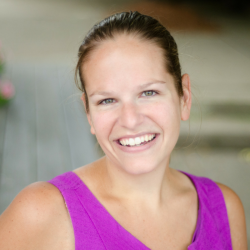 Latest posts by Chrissy Carroll
(see all)