Searching for a vacation destination that's ideal for active women and men? Look no further than Bermuda! You'll find incredible unique things to do in Bermuda that are ideal for those who are focused on adventure and fitness.
I was lucky enough to visit Bermuda thanks to a partnership with their Tourism Authority this year, and personally got to experience each of these myself – so don't hesitate to comment with any questions you might have about each one!
[Tweet "Time for a vacay? Look no further than Bermuda, with plenty of great adventures for active folks!"]
5 Unique Things to Do in Bermuda for Active People
1. Go Cliff Jumping at Admiralty House Park.*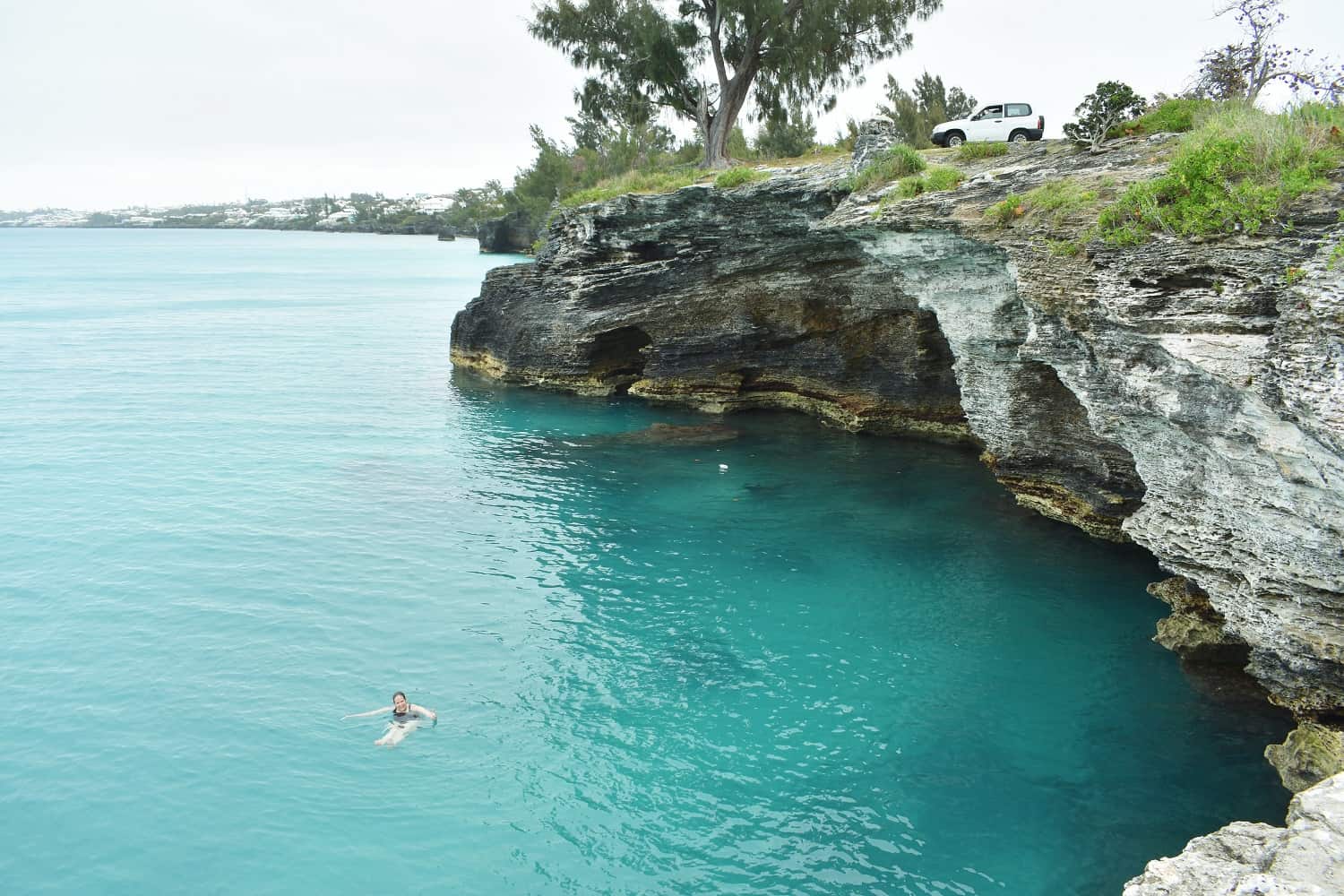 Feel the surge of adrenaline flow through your body as you hop off of the rocks and plunge into the turquoise waters below!
Our fabulous tour driver, Jahdel, brought us to this location that's a bit off the beaten path. (Side note – he was an awesome tour guide. Definitely contact him if you need a tour in Bermuda.)
He showed us the rocks that were likely safe to jump from, and pointed out the higher ones across the way that are likely unsafe. It only took a minute to convince me to go for it off of a medium height cliff, and I jumped off before I could let fear takeover.
Of course, my husband missed my photo opp in my haste, so I had to do it a second time. 😉
After you jump in the water, you'll swim through a cave and climb up some dark stairs to get back out to land level. It's really quite a unique thing to do in Bermuda! You can learn a bit more about Admiralty House Park here.
Tip – Get a local tour driver who is familiar with this area to take you there, or chat with any locals that are present at the park. They can help direct you to the different areas to jump from. You also may want to climb down into the water first to get an idea of depth based on the tide to help assess if it's a safe time to jump.
*Disclaimer – Cliff jumping can be dangerous and should be done at your own risk – this post does not imply that it is inherently safe! Jumping from too high a height or off an area that you're unfamiliar with can be very dangerous. If you decide to attempt it, do not jump head first – always jump feet first.
2. Participate in the World Triathlon Bermuda event in April.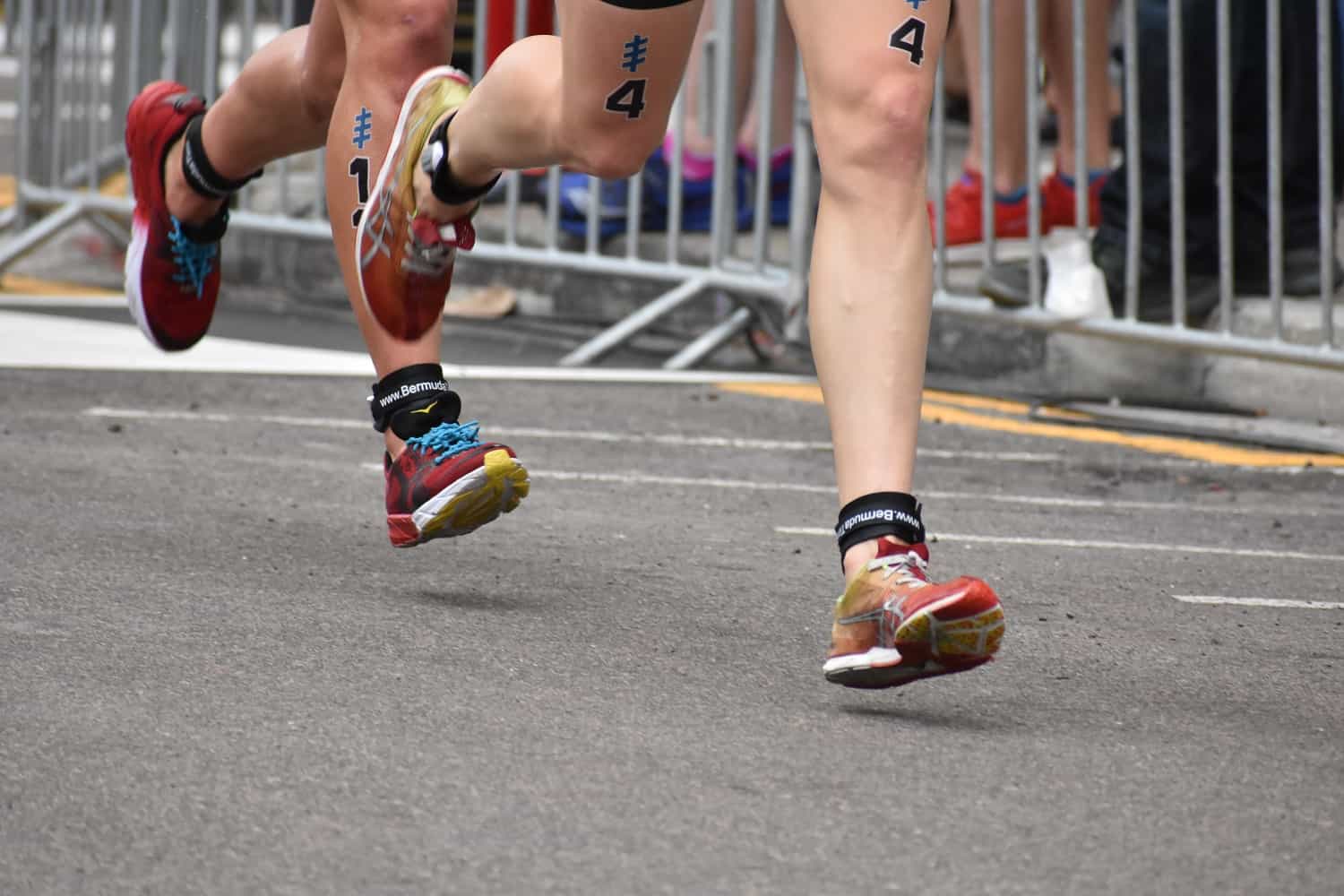 Whether you're a regular competitor in the triathlon scene, or you just want to try a new challenge on your next trip – World Triathlon Bermuda is an ideal choice.
The swim course takes place in clear, warm waters (or at least comparatively warm for those of us in the Northeast US!). The bike course is challenging yet attainable, and the race finishes with a comfortable flat run along Front Street.
In addition to getting your workout in for the day, you'll get to explore areas of Bermuda that you may not have otherwise seen, and connect with other fit-minded folks who are racing! I personally had an amazing time competing in this event.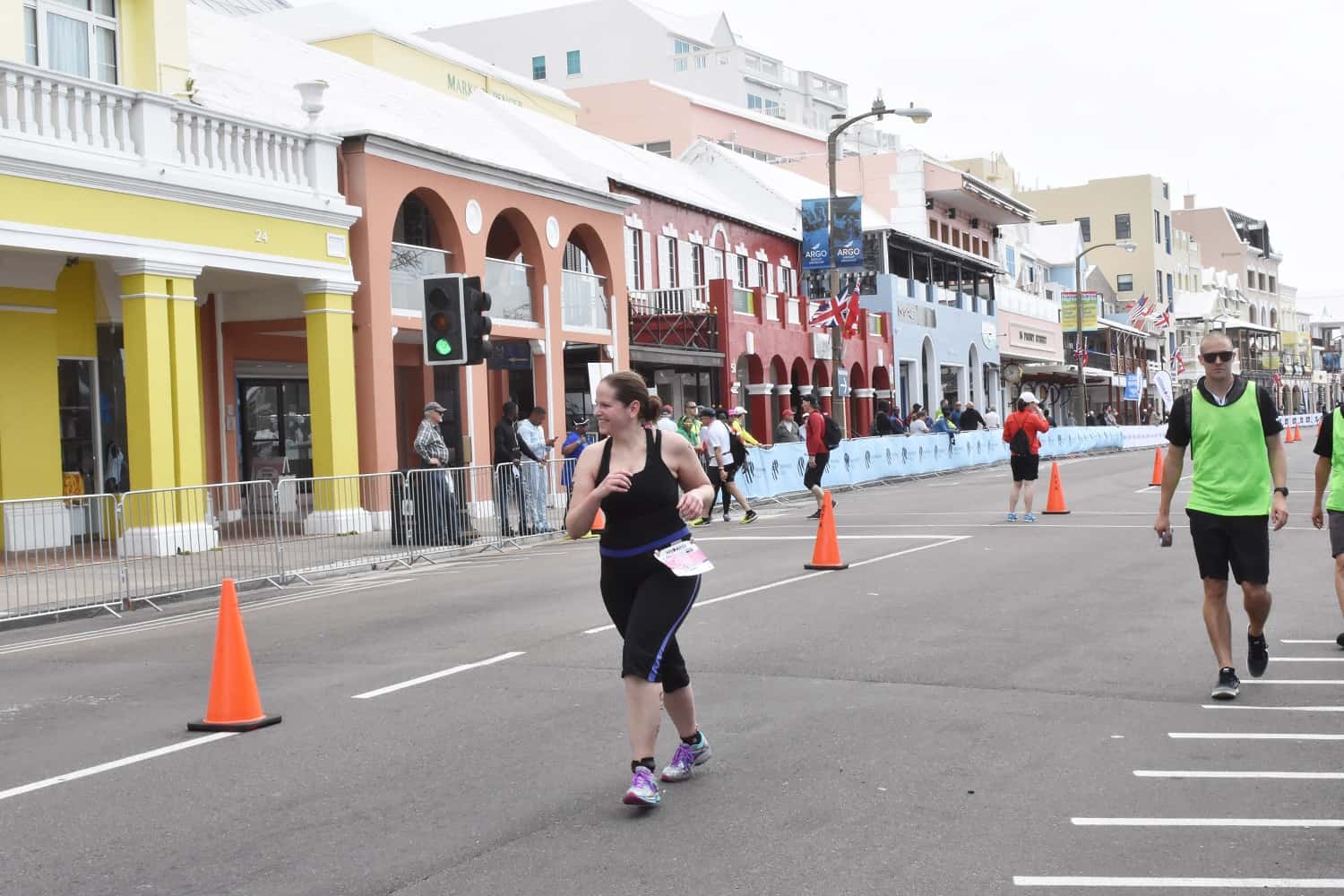 Don't want to personally race? Check out the elite athletes that race later in the afternoon. It's inspiring to watch their competition!
Tip: Registration fees will increase progressively throughout the year leading up to the event in April, so register as early as possible to save a few bucks on the cost. Also, I highly recommend staying at the host hotel, the Hamilton Princess Bermuda. It was absolutely gorgeous and very convenient to the race venue.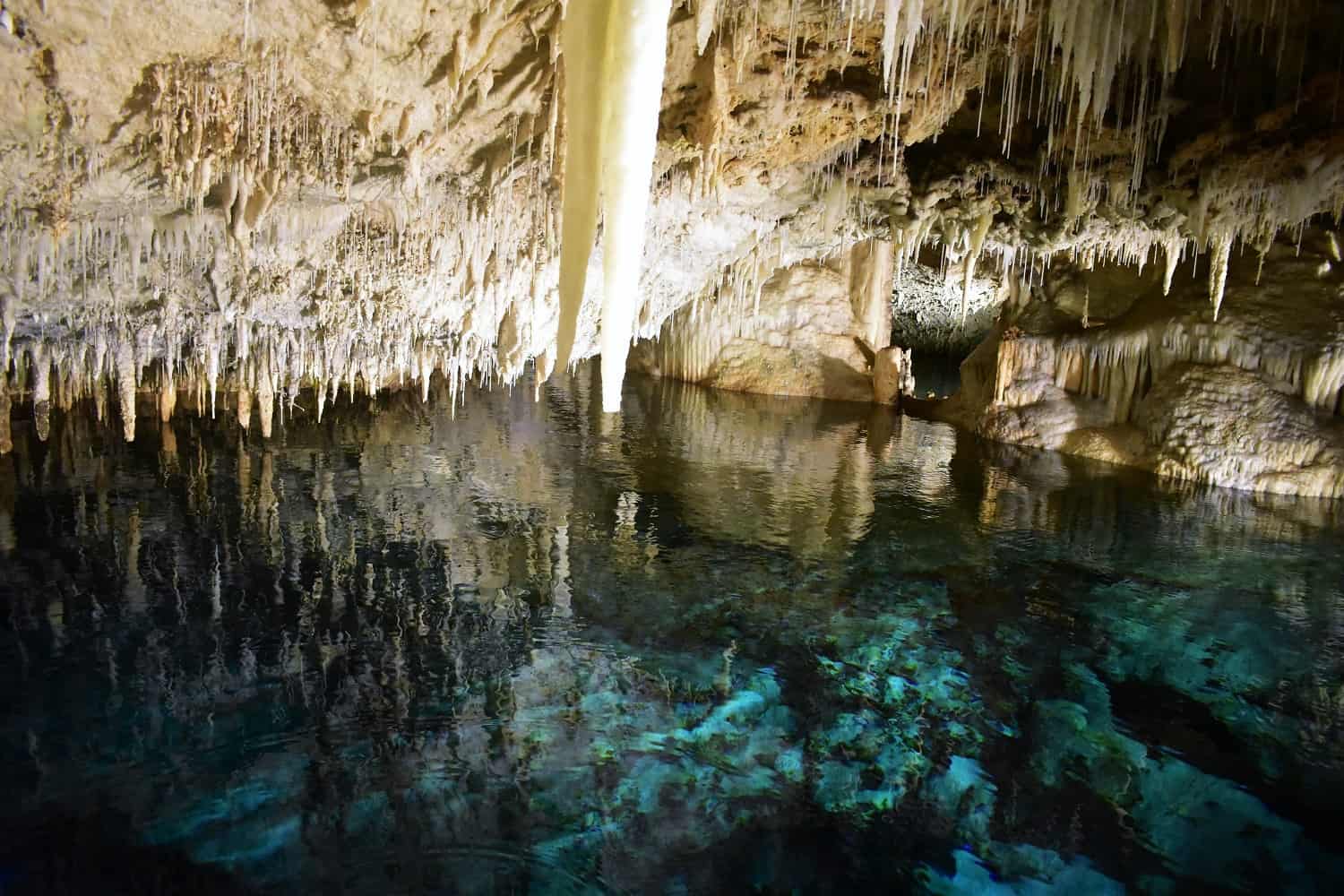 This may be the most touristy option on this list, but you don't want to leave Bermuda without getting a peek at this unique underground adventure. The stalagmite and stalactite formations are just gorgeous next to the clear waters and dim lighting.
You'll need to walk down – and then back up – about 80 stairs each way to get into each of the two caves, so you're treated to a little quad and glute workout in exchange for the pretty views!
Tip: This is a hot tourist attraction, and if there's a cruise ship in town it's likely to get very crowded by mid-morning. Arrive early and you've got a better chance of a smaller tour group (good if you're hoping to get some solo photos without people in the background).
4. Go for a hike at the Idwal Hughes Nature Reserve.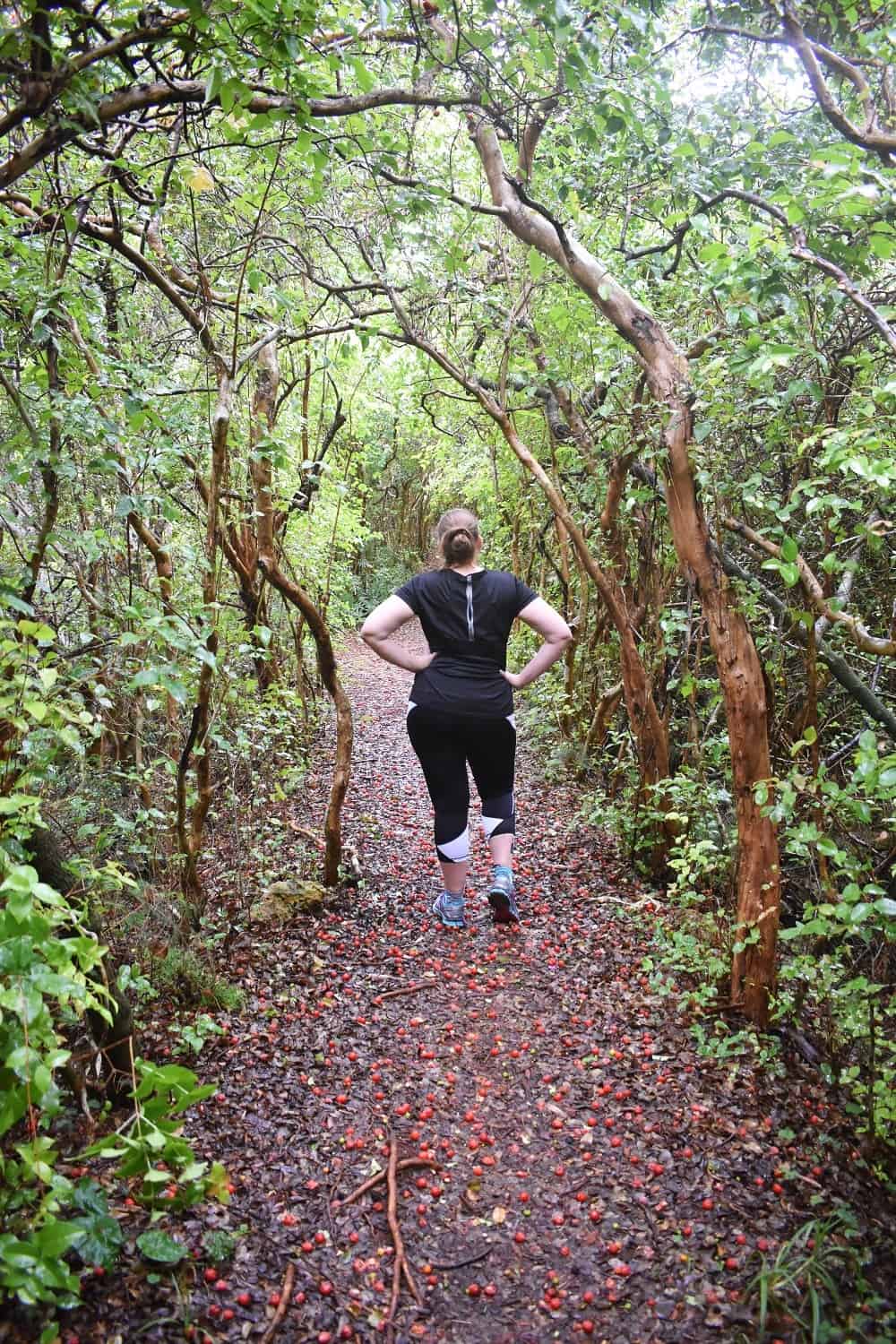 Located quite close to Crystal and Fantasy Caves, this nature reserve gives you a look at an untouched Bermuda. You'll walk through sections where the path is quite clear and others where it's more jungle-like. With different twists and turns, you never know what you'll come across. And it was great for some quiet time in nature.
Tip: If it's recently rained, be careful. It poured the night before we went, and despite my best efforts going down a hill with a few big rocks, I took a nasty spill. Luckily I just scratched up my arms a bit, but when we went out to eat afterwards, everyone kept asking what the heck happened to me. 😉
5. Swim or Walk on the pink sand beaches at Warwick Long Bay or Horseshoe Bay Beach.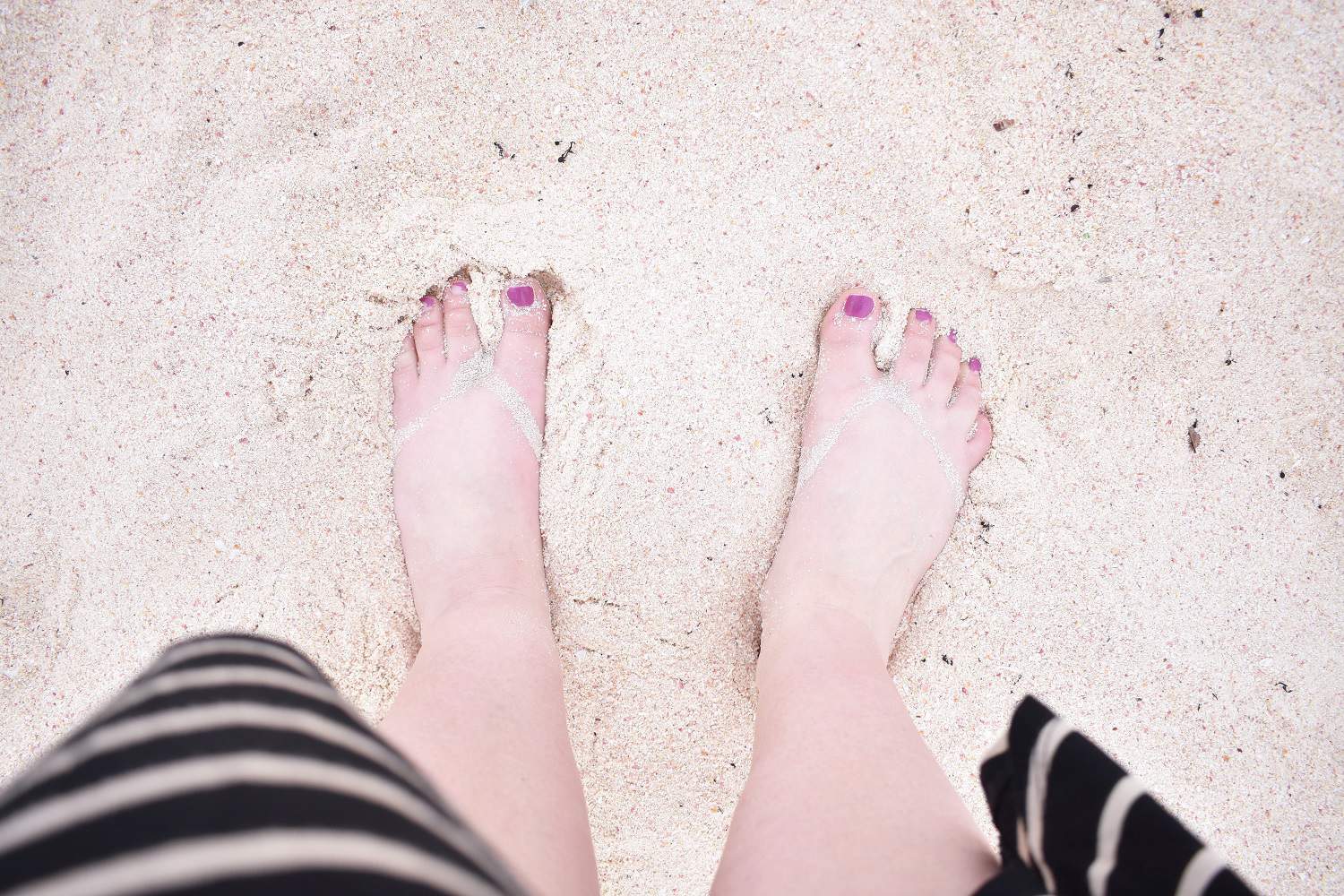 Pink sand beaches are a classic staple for a trip to Bermuda. The later of these two is a popular tourist attraction, but the first (Warwick Long Bay) is just a bit further down the road – and often has less people. You can also walk between the two locations and discover some amazing semi-secluded coves and tiny beach sections (great if you're looking for a quiet little section to yourself).
Both beaches have the lovely pink sand and plenty of room for swimming and walking – great for anyone looking to stay active on their beach day.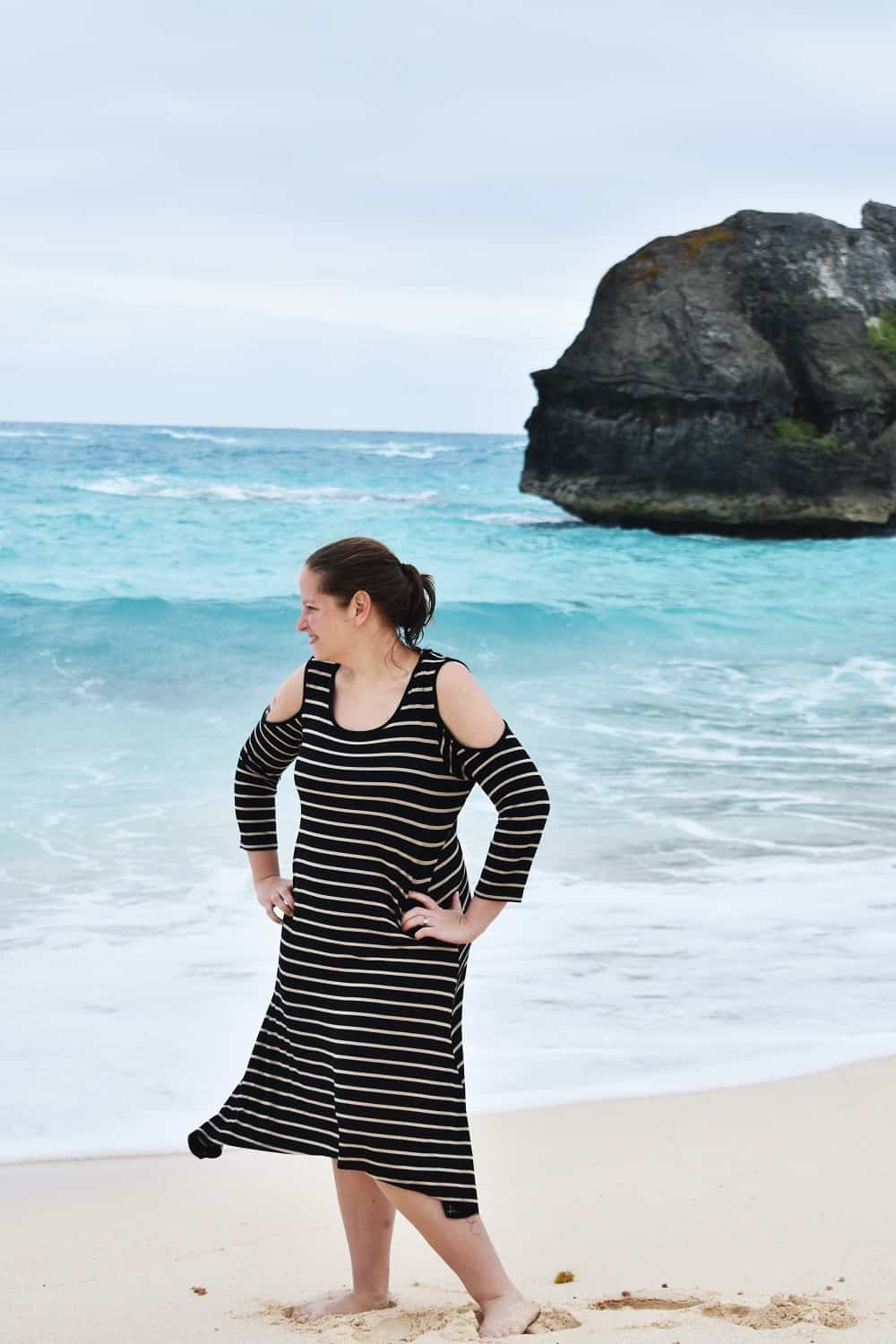 Fun fact: Did you know that the "pink sand" on beaches is actually due to tiny pieces of coral, shells, and teeny tiny red organisms that have died in the ocean and get mixed up with the rest. It doesn't sound quite as luxurious as "pink sand" but it's still absolutely beautiful to see!
Share with me: Which of these unique things to do in Bermuda would be first on your list to try? What other kinds of active adventures do you like to partake in on vacation?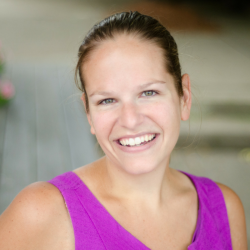 Latest posts by Chrissy Carroll
(see all)