If you're looking for a challenging strength training gym session, check out this upper body superset workout. This is a great training plan for anyone looking to improve upper body strength and stamina. With five pairs of exercises that challenge different muscle groups, this is sure to be an efficient way to fit weights into your schedule!
The strength workout was produced in partnership with Nick Normandin of Push Pull Training. You can find more details about Nick at the bottom of this post!
Why strength training?
I don't know about you all, but I think most of us out there either innately veer towards strength training or cardio. I know I'm 100% a cardio person; that is my default and I'd choose it any day over strength training out of sheer enjoyment.
That said, logically I know how important it is to strength train. It improves muscular strength, helps tone the body, and increases resting metabolic rate (though not as much as many sources claim – you can read more about how much a pound of muscle burns over in this post).
So knowing that, I want to try to include a little bit of helpful content in the strength realm here on the site – including this upper body superset workout!
What is a superset workout?
A superset workout involves pairs of strength training exercises where you quickly move from one exercise to the next. The pairs typically work opposing muscle groups – like your biceps and triceps, for example. And you have little to no rest period when you transition from the first exercise to the second exercise.
In addition to efficiently working opposing muscle groups, supersets also put an emphasis on stamina and muscular endurance. Without a large break between exercises, it challenges the body in a new way.
Who should use this upper body superset workout?
*Disclaimer: I am not a physician; check with your doctor prior to starting any new exercise program.
This workout is great for fitness-focused peeps who are looking for efficient, effective strength training to add to their routine. You could consider using this if…
You're a runner or triathlete that wants to start incorporating strength training in your routine to help maximize your running stride, swim stroke, etc. If road races or tris are your focus, you can mix in an upper body session once a week and a lower body sesssion once a week to help build and maintain strength while still leaving enough time for all your other endurance training.
You're a regular gym goer and are looking for a new upper body workout to mix into your routine.
You're looking to start strength training at the gym and want a good upper body plan to use. If that's you, be sure to read the modifications for beginners down towards the bottom!
Warm up first
Don't just walk into the gym and immediately start this upper body superset workout. You want to properly warm your body up first. Warm ups help gradually increase your body's core temperature, activate neuromuscular signals, and mobilize the joints in a way that helps prepare your body for the upcoming harder tasks.
There's controversy in the weight world about what the "best" type of workout is before strength training. This includes whether to include any kind of generic cardio before a strength workout, but I personally like to do so.
So for me, a warm up before an upper body workout might include a few minutes of jumping jacks or jump ropes, a few dynamic movements (bear walk, inch worms, arm swings), and then a few sets of a couple weight-based exercises in my workout around 60% of the weight I'm planning to use. The later just helps get the nerves firing for the specific form and movements you're about to make.
Upper body superset workout
Now that you are all warmed up, it's time to start the actual workout. This upper body superset workout contains 5 pairs of exercises (10 exercises total). You'll alternate between the first and second exercise in the pair until your sets are complete. You'll generally want to do 3 sets of each (see notes below for modifications) before moving on to the next superset pair.
Here's the workout (visual pinnable version at the bottom of this post!):
Pair A:
1. Push-Up
12-15 reps or 1-minute straight
Keep body in straight line from head to toe
2. Seated Cable Row
12-15 reps or for 1min.
Keep back straight, row into belly button
Pair B:
3. Dumbbell Chest Press
12-15 reps or for 1min.
Same motion as push-up, keep low back on bench
4. Barbell Bent Over Row
12-15 reps or for 1min.
Hinge at the hip, keep spine neutral, pull bar into belly button
Pair C:
5. Dumbbell Shoulder Press
12-15 reps or for 1min.
Lay on a bench, keep low back on bench and feet on floor
6. Lat. Pulldown Machine
12-15 reps or for 1min.
Strict form, pull to chin with shoulders back and down
Pair D:
7. Dumbbell Triceps Overhead Extension
12-15 reps or for 1min.
Hold weight overhead, keep elbows close to ears
8. Barbell Bicep Curl
12-15 reps or for 1min.
Keep elbows strict and next to side
Pair E:
9. Cable Machine Triceps Pull-down
12-15 reps or for 1min.
Keep elbows strict and next to side
10. Cable Machine Bicep Curls
12-15 reps or for 1min.
Keep elbows strict and next to side
Additional Guidelines and Modifications:
When it comes to how to structure this workout, there are different modifications depending on your fitness level and goals:
Number of Exercises: Beginners may want to choose 3-4 pairs of exercises; intermediate and advanced gym goers can focus on 3-5 pairs depending on their goals and routine.
Sets: Beginners can focus on 2 sets; intermediate and advanced gym goers should do 3 sets.
Rest time: This can vary based on your fitness level and workout goals.
If you're goal is really focused on muscular strength, you might allow for a longer rest interval between each set within a pair – around 2-3 minutes. If your goal is focused on muscular endurance and a condensed workout time, you might only include 30-60 seconds in between.
In addition, if you are a beginner, or if you find your form stays better with more rest, you might also weave in staggered rest time to your supersets.
Here's what each of these might look like for the first pair of exercises:
Strength focus: Push up –> Seated Row –> 2 minutes rest –> repeat
Endurance focus: Push up –> Seated Row –> 30-60 seconds rest –> repeat
Beginner / Staggered Rest: Push up –> 30-60 seconds rest –> Seated row –> 30-60 seconds rest –> repeat
Optional core circuit
Many athletes who are training for road races or triathlons may be doing strength training twice a week – one upper body session and one lower body session. If that's the case, it's also wise to add in a core circuit as part of this workout.
Now if you're strength training more regularly and that's your primary focus, you may have additional focus days on core work, in which case you may not need to incorporate it into this workout. It really depends on your overall schedule.
If you do want to work in a core circuit, here's a quick and easy one:
20 Crunches
20 Bicycles
20 Reverse crunches
Rest 1 min
Repeat for 3 total rounds
There you have it! I hope you enjoy this upper body superset workout. You've got the visual version of the main workout below so you can print it out or pin it for later. And if you get a chance to give it a try, be sure to leave a comment below.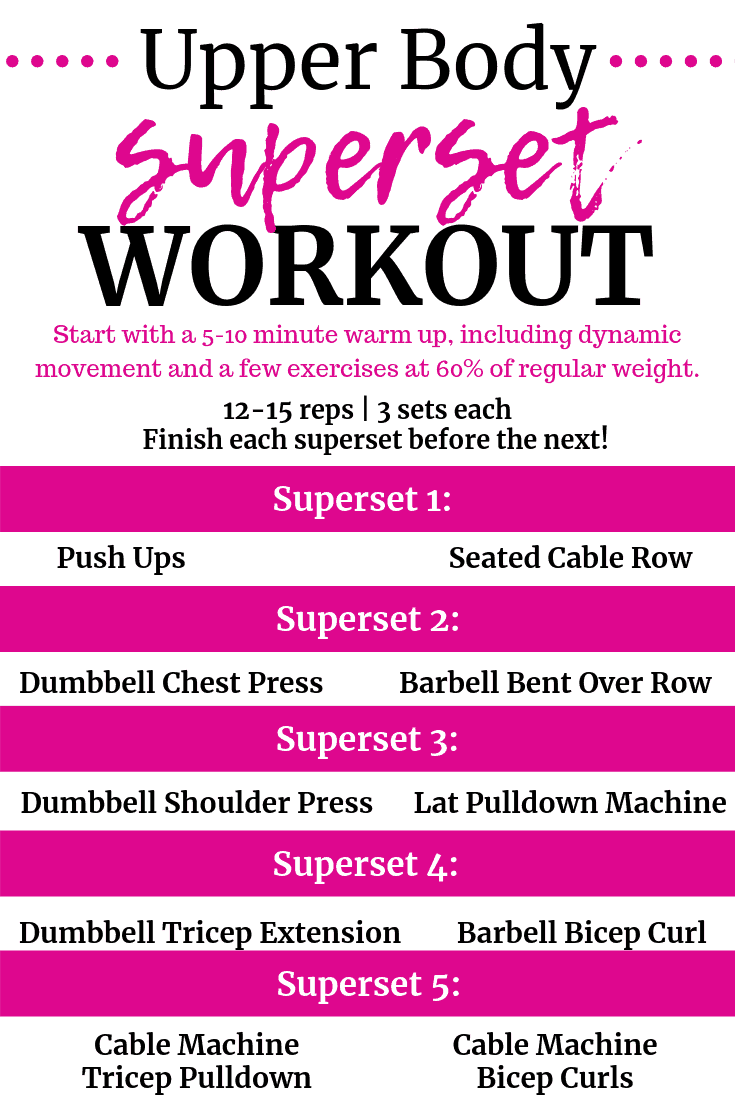 Note: This strength training plan was produced in partnership with Nick Normandin, owner of Push Pull Training and the head coach at CrossFit EXP. He holds a Bachelor's Degree in Exercise and Sports Science, and is a CrossFit Level 3 Trainer with many specialty certifications. If you'd like to reach out to Nick for coaching or training, you can contact him at [email protected]
Share with me: Do you tend to veer towards strength training or cardio? If you tried this upper body superset, what did you think?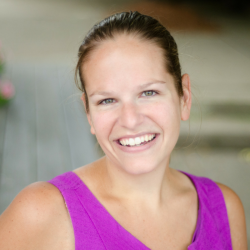 Latest posts by Chrissy Carroll
(see all)