With the chilly winter days rapidly approaching, is anyone else craving warm, hearty dinners? If so, this veal marengo recipe is a perfect addition to your weekly meal plan. This version is a quick and easy take on the classic French veal stew, and can be served over pasta, rice, or alongside some crusty French bread!
Disclosure: This post was sponsored by the Northeast Beef Promotion Initiative. As always, all opinions are my own.
The Facts on Veal
There are a lot of misconceptions about veal out there that sometimes dissuade people from cooking with it. I'll be fully honest with you – I previously had some of those same thoughts! But I recently was able to go on a veal immersion trip and learned a lot of things I didn't know about the industry:
Veal calves are actually a byproduct of the dairy industry. When a dairy cow gives birth to a male calve, the dairy farmers don't have much use for it. These calves are sold to veal farmers – many of whom are Amish and Mennonite families1 – who raise and take care of them, then sell the calves to a processing plant when they've reached the correct age and weight.
While most of us think of veal as "baby cows", the calves are raised until around 22 weeks, when they weigh upwards of 475-500 pounds.
Veal barns are more humane than you may expect. Farmers choose not to tether, castrate, or dehorn animals. As of this year, the industry has also fully transitioned to group housing. While the newborn calves are kept in individual pens for special attention at the beginning, they are moved to group pens of two or more calves by 8-10 weeks of age for socialization.1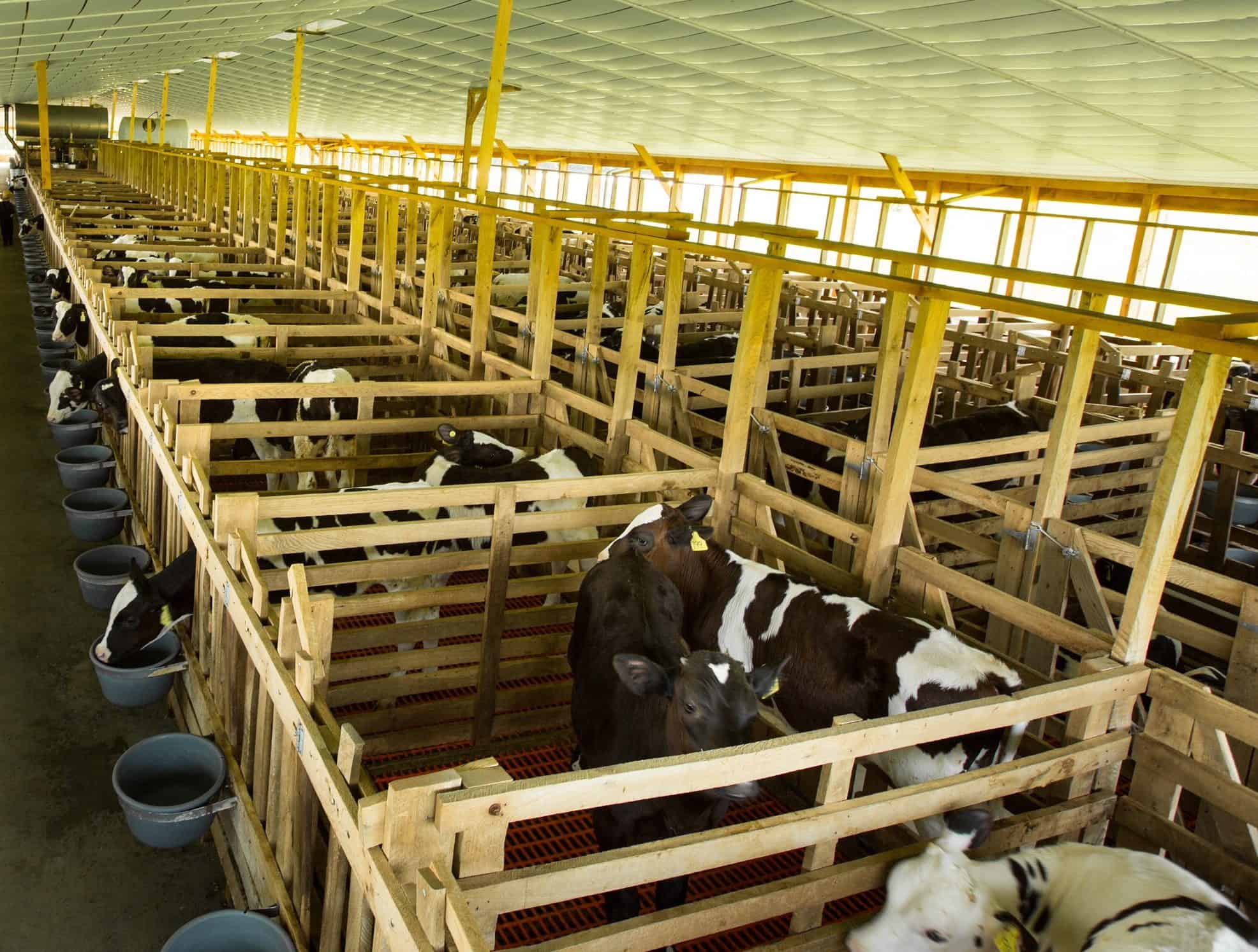 Hopefully these facts increase your comfort level with purchasing veal! Which brings me to this delicious veal recipe…
What is Veal Marengo?
Veal Marengo is thought to be a dish of French origin. Apparently, a variation of this dish was first made for Napoleon after a successful battle at Marengo, hence the name. (There's your Jeopardy fun fact for the day!)
The specifics of the historical dish are a bit unclear – whether it was originally made with chicken or veal; whether it was truly made after the successful battle or later in Napoleon's life – but either way, the basic tenants of the recipe have stuck around. It's traditionally a protein (in our case, veal) cooked along with onions, tomatoes, and white wine.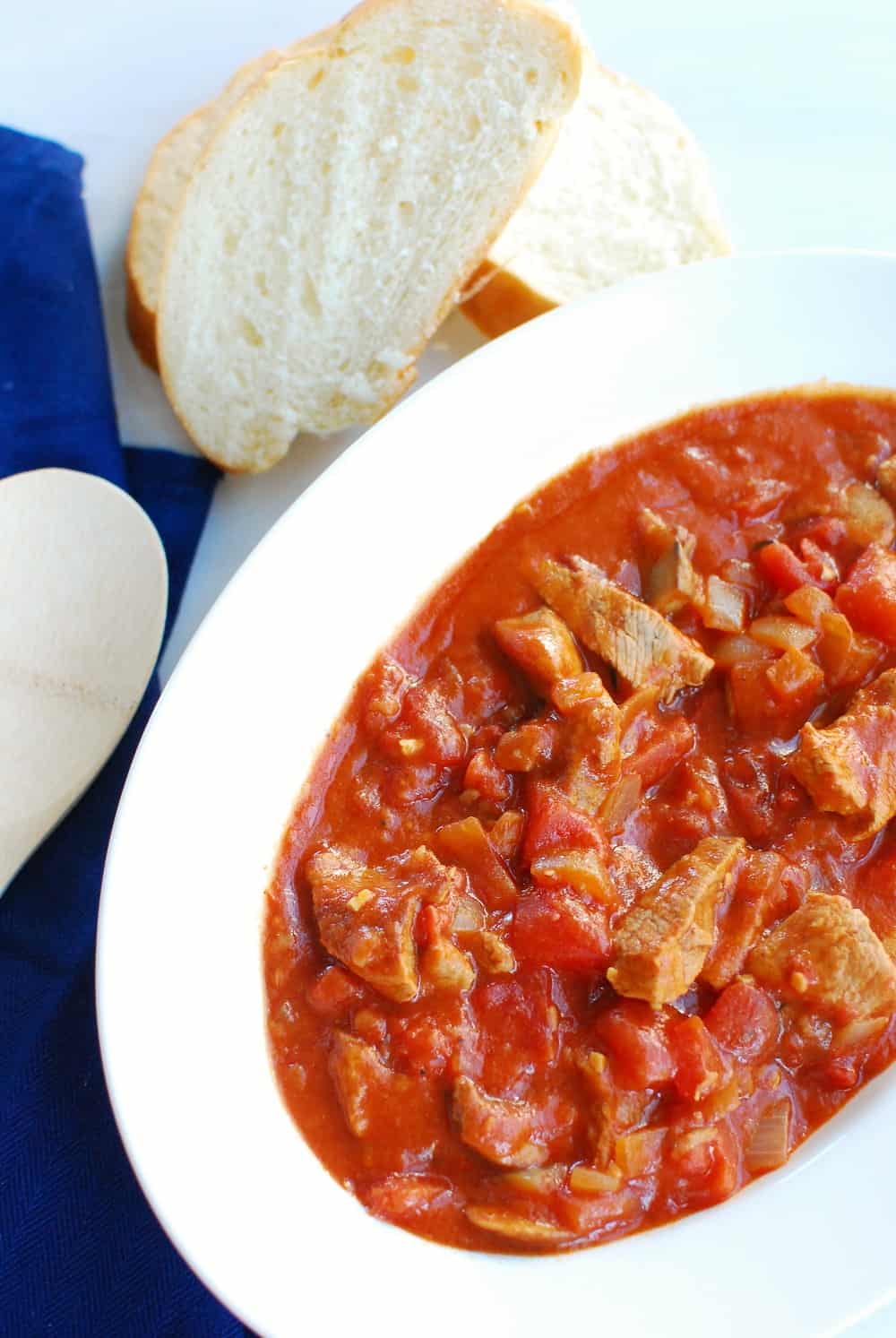 Differences from Traditional Marengo Dishes
In the past, traditional marengo dishes were often served accompanied by crayfish and a fried egg on top, but these days those items are often omitted. Since I wanted this recipe to be quick & easy, I didn't include either of those in here.
There are also a few other aspects of my recipe that might veer from authentic versions:
I used veal leg slices (veal cutlets) so that this dish could be cooked quicker. These pieces are generally pretty thin and so they only take a few minutes to brown, and then they finish cooking in the 30 minutes of simmering time. However, you can certainly use veal stew meat if you'd like! It just might require a longer cooking time.
Because of the quicker cooking time, I cooked both the mushrooms and onions together from the start. Many stew recipes will have you sauté the mushrooms separately towards the end and add them in, but this veal marengo only needs a 30-minute simmer – so the mushrooms hold up form and flavor just fine.
This recipe includes a cup of tomato puree in addition to diced tomatoes. Since I serve this dish over pasta or with French bread, I like it to be super rich and saucy. If you want, though, you can leave out the tomato puree and add a second can of diced tomatoes and a little chicken stock instead.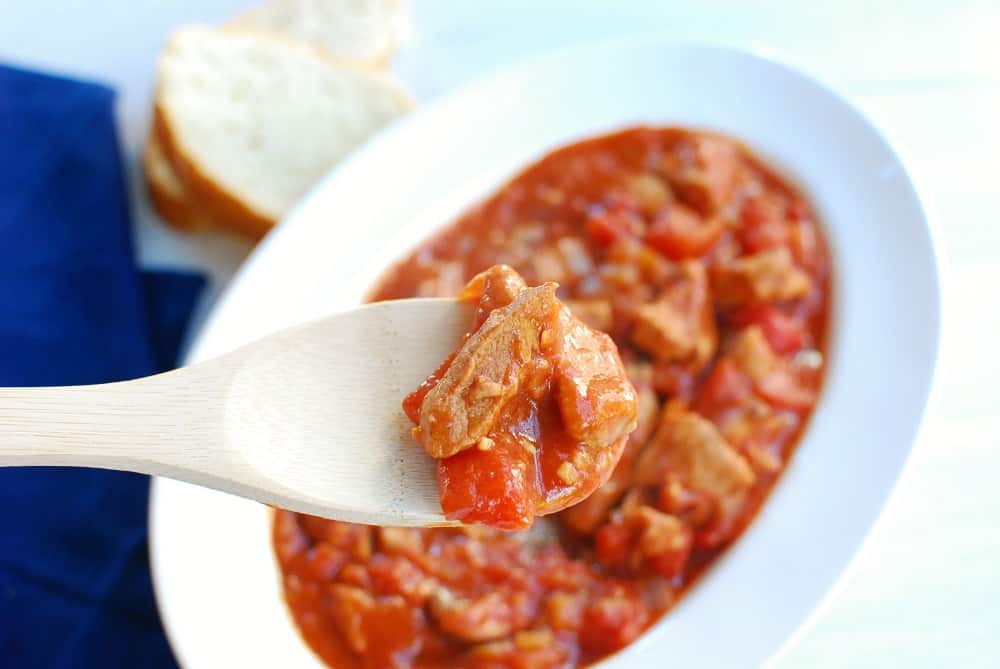 Veal Marengo Nutrition Facts
Veal marengo can be a great option for all of you active folks looking for meals to fuel your fitness. In particular, one serving of this recipe contains:
Protein (22 grams) – key for muscle repair and recovery after a workout
Zinc (2.6 mg – 17% of DV) – important for maintaining a healthy immune system
Potassium (770 mg – 22% of DV) – an important electrolyte for athletes
Iron (2 mg – 11% of DV) – involved in healthy red blood cells, which transport oxygen to muscles
Plus, when you eat this with the traditional pairings of pasta, rice, or bread, you end up with a really balanced dish combining both carbs and protein. It makes a great meal for runners and triathletes.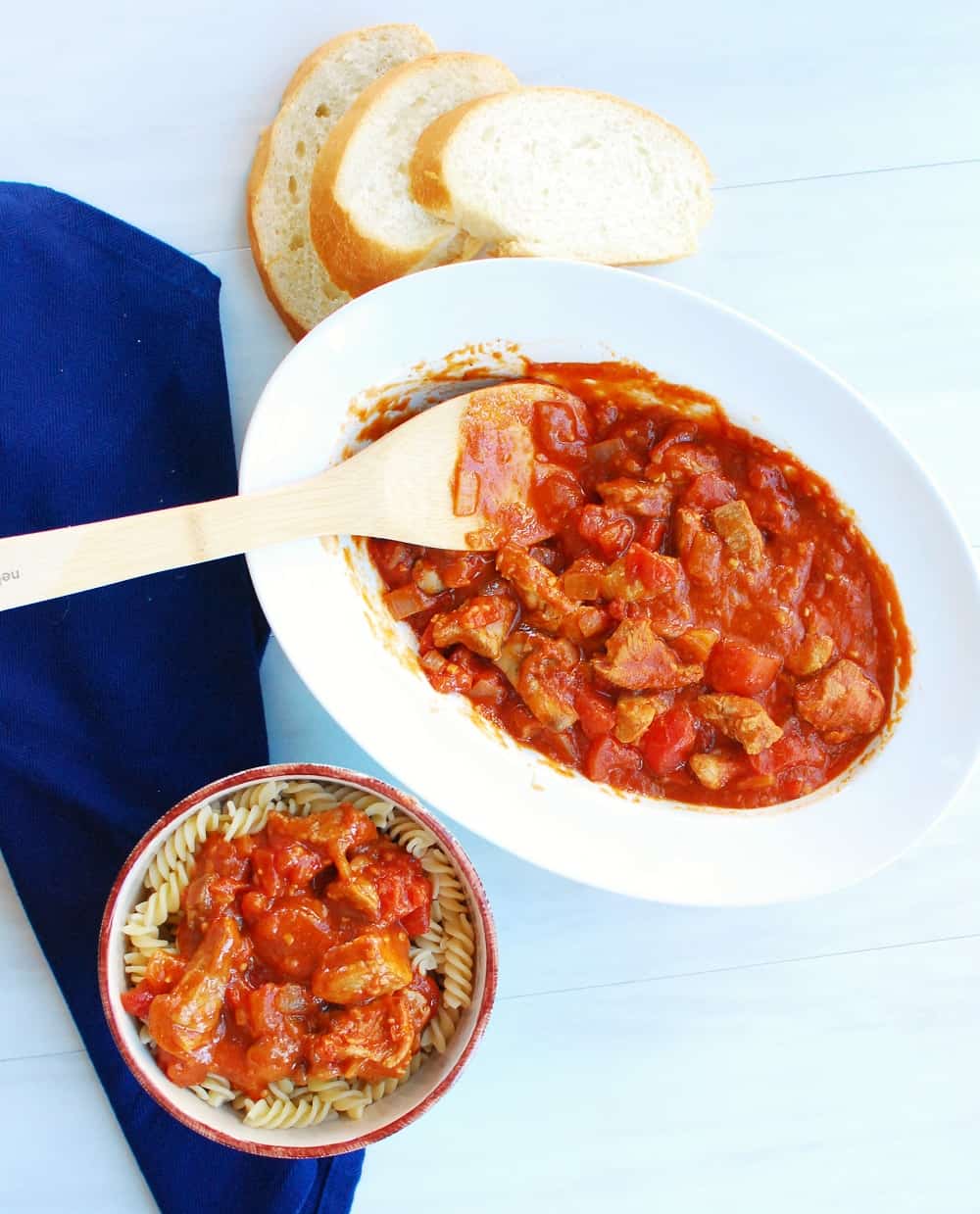 I hope you love this dish as much as I do! Be sure to pin it so that you can bring it up later once you grab veal at the grocery store. 🙂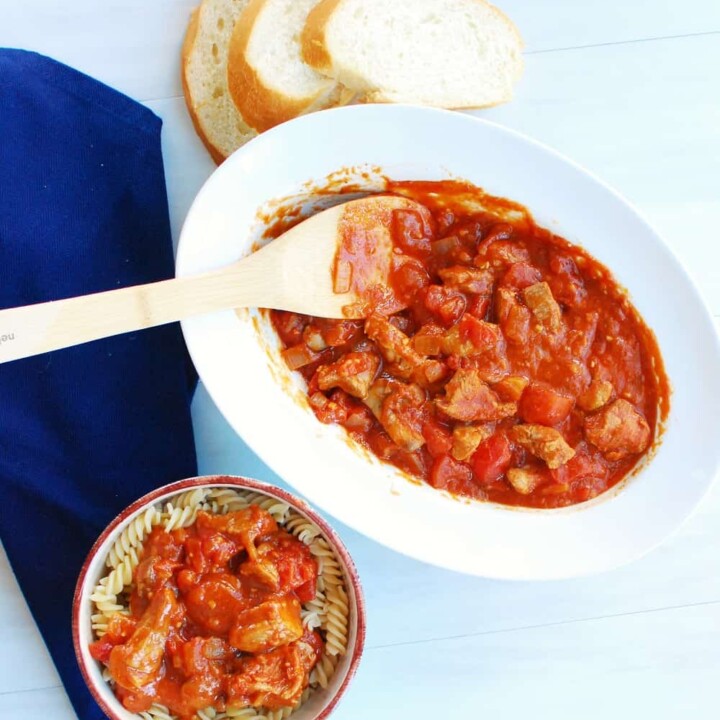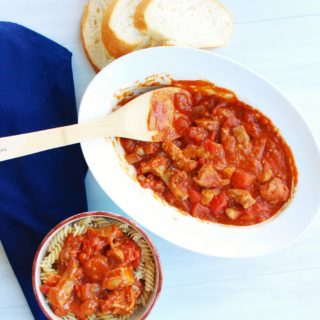 Veal Marengo (French Veal Stew)
Searching for a new way to cook with veal? Look no further than veal marengo, a version of the classic French veal stew that can be served over pasta, rice, or alongside bread.
Ingredients
Ingredients for Stew:
1

tbsp

olive oil, divided into ½ tbsp and ½ tbsp

1 1/4

lb

veal leg slices, cut into 1-inch pieces

1/4

tsp

salt

1/4

tsp

pepper

1/2

cup

yellow onion, diced

1

cup

mushrooms, chopped

2

tbsp

all-purpose flour

2

tbsp

butter

2

cloves

garlic, minced

1/2

cup

dry white wine

15

ounce

can diced tomatoes

1

cup

tomato puree

1

peel of orange rind

1

bay leaf

3

sprigs fresh thyme
Your Choice for Serving:
Pasta

Rice

Egg Noodles

French Bread
Instructions
Heat ½ tbsp olive oil in a large pot over medium heat. Dry veal thoroughly and season with salt and pepper. Place in hot oil and brown veal on all sides. Use a slotted spoon to remove veal and set aside on a plate.

Add the other ½ tbsp olive oil (if necessary) to the same pot over medium heat. Add onions and mushrooms to the pot. Cook for 5-7 minutes, stirring occasionally, until tender.

Add the butter and garlic to the pot and cook for another minute. Meanwhile, toss veal in flour so that all pieces are well coated, then add veal to the pot as well.

Add wine, tomatoes, tomato puree, orange rind, bay leaf, and thyme to the pot. Turn heat to low and simmer everything for 30 minutes.

When done, remove the orange rind, bay leaf, and sprigs of thyme. Serve over pasta, rice, egg noodles, or alongside crusty French bread – your choice!
Notes
Nutrition facts (approximate per serving, assumes 6 servings, does not include pasta/bread/etc):
216 calories, 8 g fat, 3.5 g sat fat, 356 mg sodium, 10.5 g carbohydrate, 2 g fiber, 4.5 g sugar, 22 g protein, Vitamin A: 767 IU - 15%, Vitamin C: 12.4 mg - 21%, Calcium: 27.2 mg - 3%, Iron: 2mg - 11%, Zinc: 2.6 mg – 17%
Nutrition
Share with me: Have you ever cooked with veal? What's your favorite veal dish to make? If you tried this veal marengo, what did you think?
References:
1 "Raising Today's Veal Presentation by Donna Moenning, Program Manager for Veal Quality Assurance, Look East".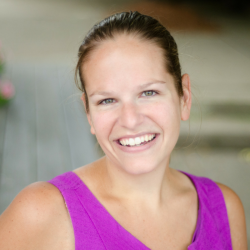 Latest posts by Chrissy Carroll
(see all)