These dairy free chocolate chip cookies are also eggless and soy free – but are full of taste! Perfect for anyone with a food allergy or anyone following a vegan diet.
It's funny the kind of comments make when people find out you're a dietitian and you're eating together. It tends to either go one of two ways – I order something that's perceived as healthy and the person might comment about how "of course" I'm ordering that dish. They may feel (unnecessarily) embarrassed about their choice and (unnecessarily) start "justifying" their choice.
Or, I might have something perceived as unhealthy and that's when it tends to get very interesting. "Aren't you a dietitian? Are you really going to eat that? Why didn't you order a salad or something?"
Yes, I'm a dietitian. Yes, I strive to eat healthy items most of the time. I try to work out and balance what I eat with my exercise routine (hence the theme of the blog – balancing food, fun & fitness!).
But I'm also a regular person and enjoy the having treats, just like anyone else. I like the 80/20 rule – I try to make 80% of my choices healthy & nutritious, and the other 20% leaves some room for indulgences. I like burgers, I like beer, and I l-o-v-e cookies. I've definitely got a sweet tooth for some good, homemade, chocolate chip cookies.
So what do I do? I try to keep sweets out of the house, and occasionally when I'm in the mood for those cookies, I'll bake 'em from scratch.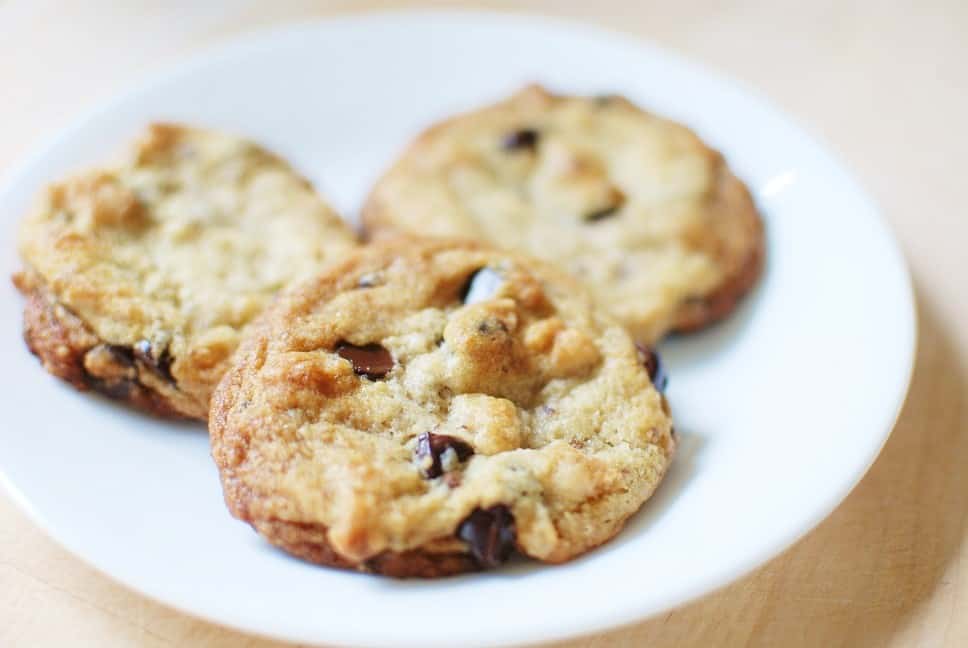 Are they "nutritious" in terms of giving me lots of vitamins, minerals, fiber, etc? Nope. Do they have less preservatives and artificial crap in them? Yep. Do they taste delicious? Heck yes.
So with all that said – here's my latest dairy free chocolate chip cookie recipe. 🙂 As you probably know, I've got several dietary limitations right now. My son is suspected to have several food intolerances, and since he's breastfeeding that means I have to watch what I eat.
Among other limitations, the ones relevant to this recipe are not being able to have dairy, soy, or eggs. Most chocolate chips themselves contain milk and soy lecithin, and as you know, most recipes for cookies call for butter and eggs.
I took to the internet to search for some options and research egg substitutes. As a base, I used the coconut oil chocolate chip cookie recipe over at Gimme Some Oven and then modified a few things. I also figured out how to cut the egg out yet still get the dough to hold together and get a great cookie texture & flavor.
[Tweet "Egg free and dairy free chocolate chip cookies = vegan baking heaven!"]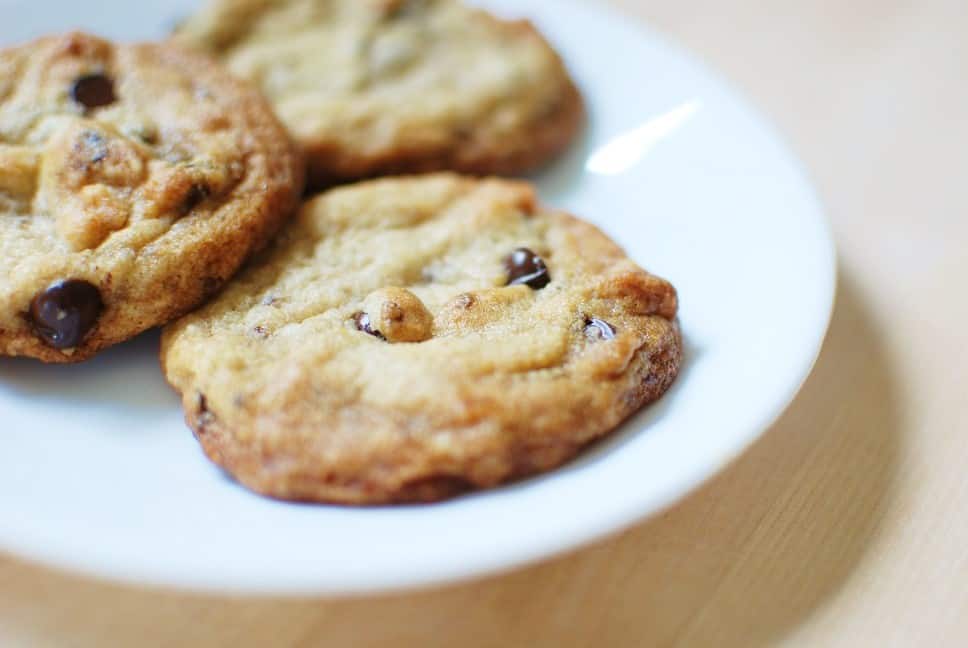 The result? A chewy, delicious eggless and dairy free chocolate chip cookie. My hubby was very skeptical when he saw the flax seed being used, but he gobbled 'em up after they came out of the oven. I hope you enjoy them too!
PS – Since there are no raw eggs in this, I'm all about eating the cookie dough. Just sayin'. 🙂 <– 2018 Update: I know there are some concerns over raw flour being consumed and risk of food poisoning these days, so just keep that in mind!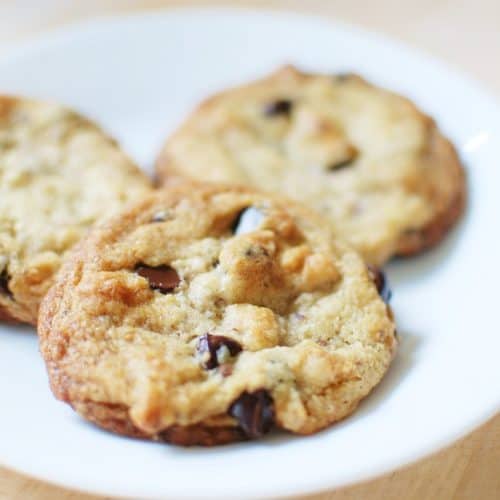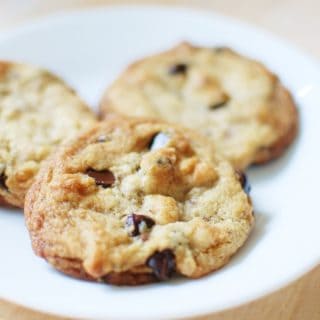 Dairy Free Chocolate Chip Cookies (They're Eggless Too!)
These dairy free chocolate chip cookies are also egg free and soy free - perfect for anyone who has food allergies or needs to follow a vegan diet!
Ingredients
1

tbsp

ground/milled flax seed

2.5

tbsp

hot water

1/2

cup

coconut oil

1/2

cup

brown sugar

1/3

cup

granulated sugar

2

teaspoons

vanilla extract

1 1/4

cup

all-purpose flour

2

teaspoons

cornstarch

1

teaspoon

baking soda

1/4

teaspoon

salt

2

tbsp

unsweetened applesauce

½

cup

allergen-free dark chocolate chips

(I use Enjoy Life Brand which do not contain dairy, eggs, soy, or nuts – you can usually find it in the natural section of your supermarket)
Instructions
Place 1 tbsp ground/milled flax in the bowl for your stand mixer (or a heat safe bowl). Add 2.5 tbsp of very hot water to the flax in the bowl and let sit for 10 minutes.

Add coconut oil, brown sugar, granulated sugar, and vanilla to the flax mixture in the stand mixer bowl. Using the paddle attachment, mix on medium speed for a few minutes until blended together. (If you don't have a stand mixer, you can do this by hand with a mixing bowl and spoon – but soften the coconut oil first if needed to make it easier to mix).

Add flour, cornstarch, baking soda, and salt. Mix on low speed until combined.

Add applesauce and mix again. Fold in the chocolate chips.

Spoon out balls of dough and place on a plate. Cover with plastic wrap or aluminum foil, and chill in the fridge for an hour or two. (This step is essential - do not skip!)

Preheat oven to 350 F.

Remove cookies from fridge and place on a cookie sheet covered with parchment paper. Bake for 10-12 minutes, until lightly browned. Let cool for 10 minutes and then enjoy!
Notes
Notes:
You may notice (especially if it's warm in your kitchen since the coconut oil will melt at 76 degrees) that the dough looks a little softer than regular cookie dough. This is completely fine but this is why the chilling step is essential.
I do use regular sugar & brown sugar in this recipe. If you are vegan and do not use these products because of the bone char filtering process, you could certainly use alternative sweeteners instead.
Nutrition analysis (approximate per cookie):
230 calories, 12 g fat (9 g sat fat), 155 mg sodium, 29 g carbohydrate, 1 g fiber, 19 g sugar, 2 g protein
Nutrition
Share with me: What's your favorite sweet treat? Do you have a favorite cookie recipe? Did you enjoy these vegan, dairy free chocolate chip cookies?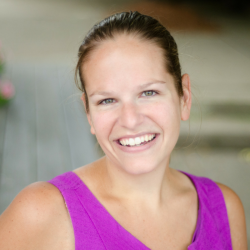 Latest posts by Chrissy Carroll
(see all)