These dairy free chocolate chip cookies are also eggless and soy free – but are full of taste!  Perfect for anyone with a food allergy or anyone following a vegan diet.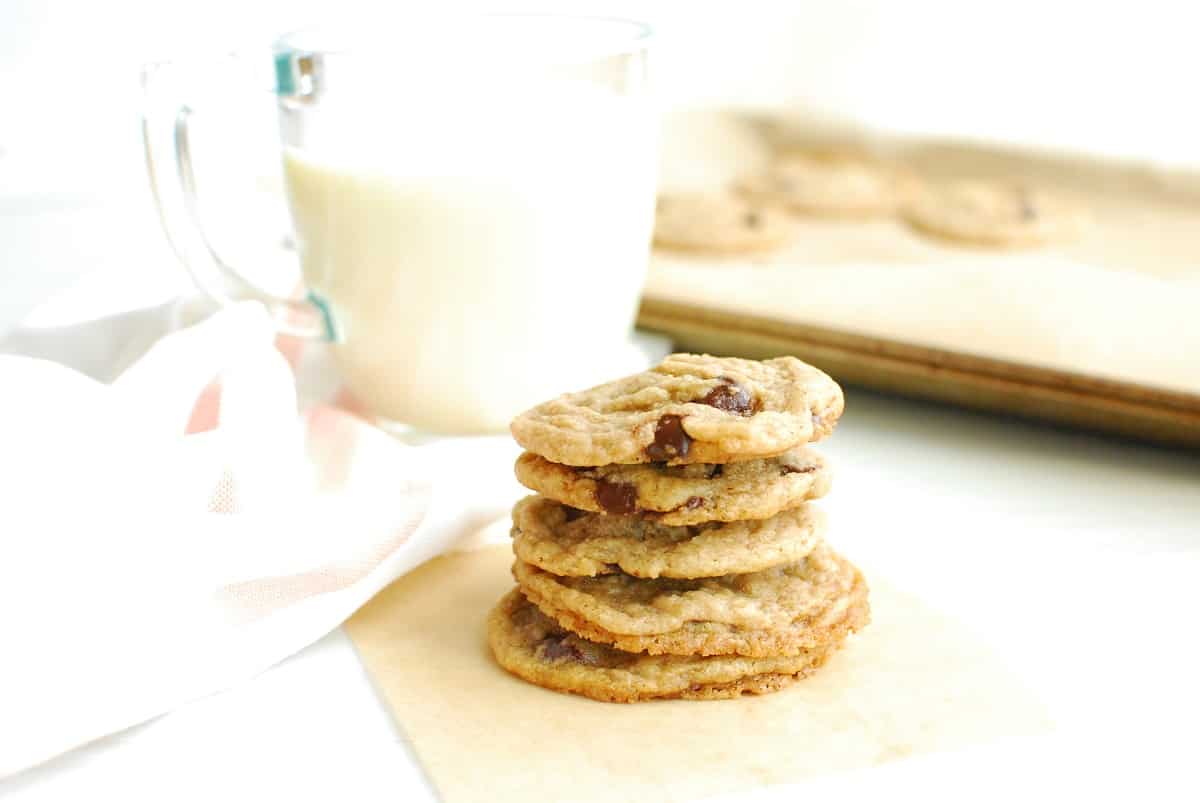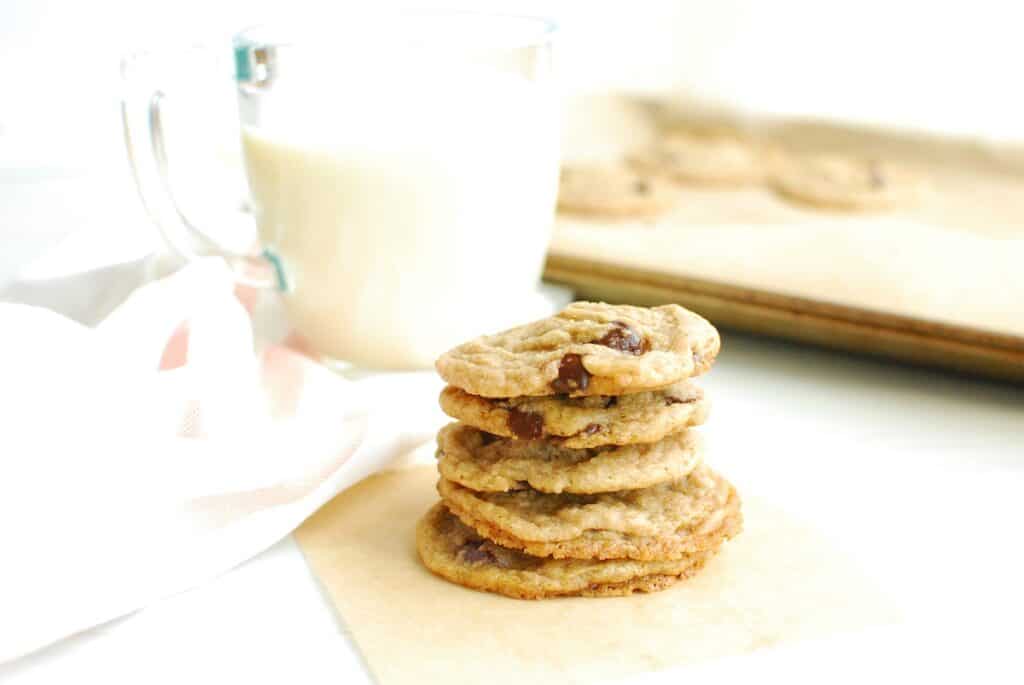 It's funny the kind of comments make when people find out you're a dietitian and you're eating together.  I might eat something perceived as unhealthy and people are always surprised — "Aren't you a dietitian?!"
Yes, I am. But I'm also a regular person and enjoy the having treats, just like anyone else.  I like the 80/20 rule – I try to make 80% of my choices healthy & nutritious, and the other 20% leaves some room for indulgences.  I like burgers, I like beer, and I l-o-v-e cookies. 
So what do I do?  When I'm in the mood for cookies, I'll bake 'em from scratch.
Are they "nutritious" in terms of giving me lots of vitamins, minerals, fiber, etc?  Nope. 
Do they taste delicious?  Heck yes.
So with all that said – here's a delectable dairy free egg free chocolate chip cookie recipe.  
I first published this recipe on the site when I was nursing my son who had several food intolerances, including dairy and egg. Since he was breastfeeding, it meant I had to eliminate those items too.
These cookies are chewy, delicious, and rich. I love them and I hope you do too!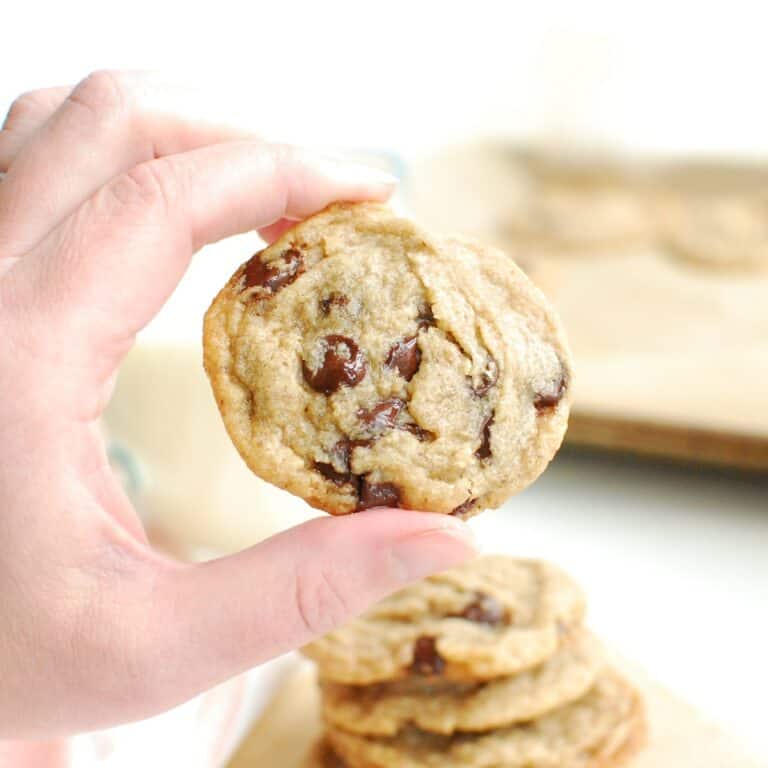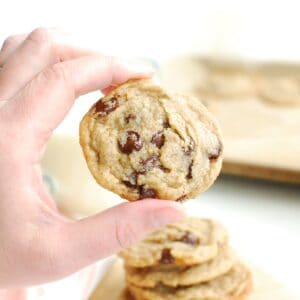 Dairy Free Egg Free Chocolate Chip Cookies
These dairy free chocolate chip cookies are also egg free and soy free – perfect for anyone who has food allergies or needs to follow a vegan diet!
Ingredients
1

tablespoon

ground flax seed

2 ½

tablespoons

hot water

½

cup

coconut oil

½

cup

brown sugar

⅓

cup

granulated sugar

1 ½

teaspoons

vanilla extract

1 ½

cup

all-purpose flour

2

teaspoons

cornstarch

¾

teaspoon

baking soda

¼

teaspoon

salt

½

cup

dairy-free dark chocolate chips

(I used Enjoy Life Brand)

Dairy-free milk alternative

(only if needed; see directions)
Instructions
Place the ground/milled flax in the bowl for your stand mixer (or a regular mixing bowl). Add the hot water to the flax in the bowl and let sit for 10 minutes.

Add coconut oil, brown sugar, granulated sugar, and vanilla to the flax mixture in the stand mixer bowl. Using the paddle attachment, mix on medium speed for a few minutes until creamy and fluffy. (If you don't have a stand mixer, you can do this by hand with a mixing bowl and hand mixer or spoon).

Add the flour, cornstarch, baking soda, and salt. Mix on low speed until combined. (Note – If the dough is too dry at this point*, add in 1 to 2 tablespoons of dairy-free milk to reach the correct texture.)

Fold in the chocolate chips.

Use a small cookie scoop or heaping tablespoon to portion out balls of dough onto a plate. Cover with plastic wrap or foil, and chill in the fridge for at least 1 hour.

Preheat oven to 350 degrees F. Line two baking sheets with parchment paper. Remove cookies from the fridge and place on the parchment-lined baking sheets.

Bake for 9 to 12 minutes, until lightly browned and cooked through. Let cool for 10 minutes on the pan, and then enjoy!
Notes
Be sure to spoon and level your flour.
*If you pack the flour into the cup, it can make the dough too dry. In the event this happens, add 1-2 tablespoons of a dairy-free milk to the dough to correct the texture.
The chilling step is essential in this recipe to prevent spreading. If you cook without chilling, the cookies will be too flat.
I use regular sugar & brown sugar in this recipe. If you are vegan and do not use these products because of the bone char filtering process, just look for certified organic sugars or research brands that do not use bone char filtering.
Nutrition analysis (approximate per cookie):  123 calories, 6.5 g fat, 5 g saturated fat, 65 mg sodium, 16 g carbohydrate, 1 g fiber, 9 g sugar, 1 g protein, Vitamin D: 0%, Calcium: 0%, Iron: 7%, Potassium: 0%
Nutrition
Feel free to pin this post to save for later!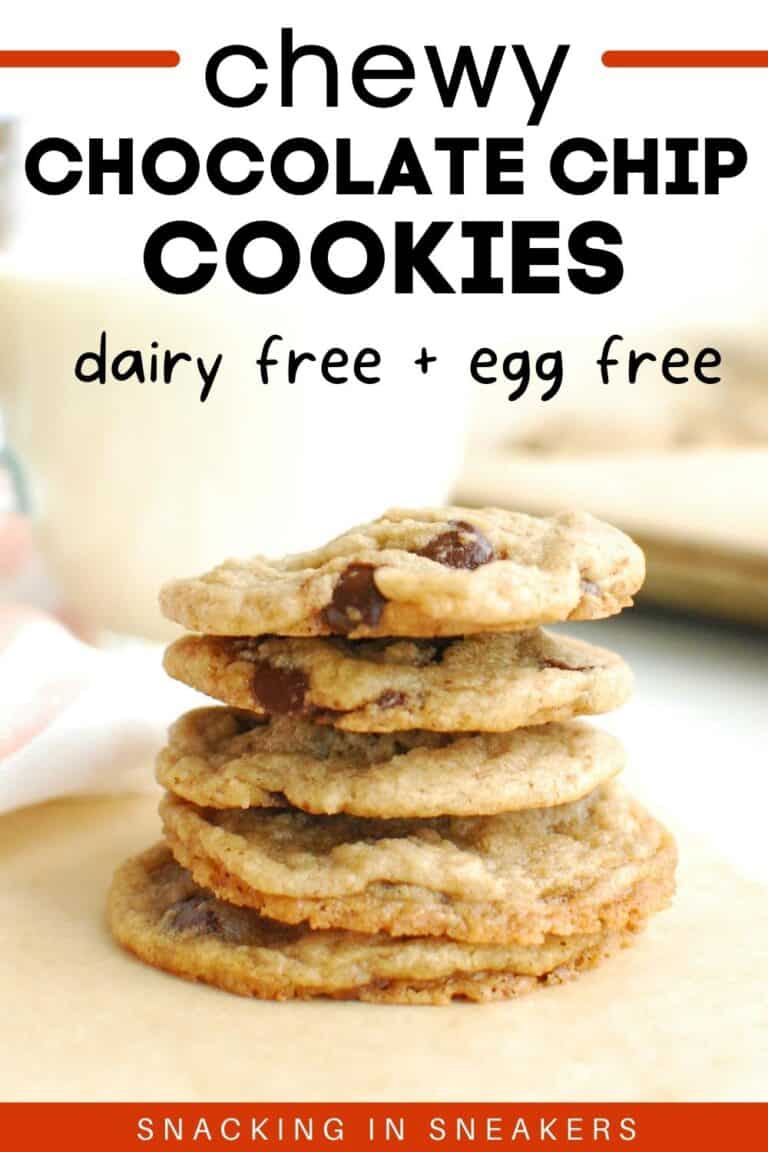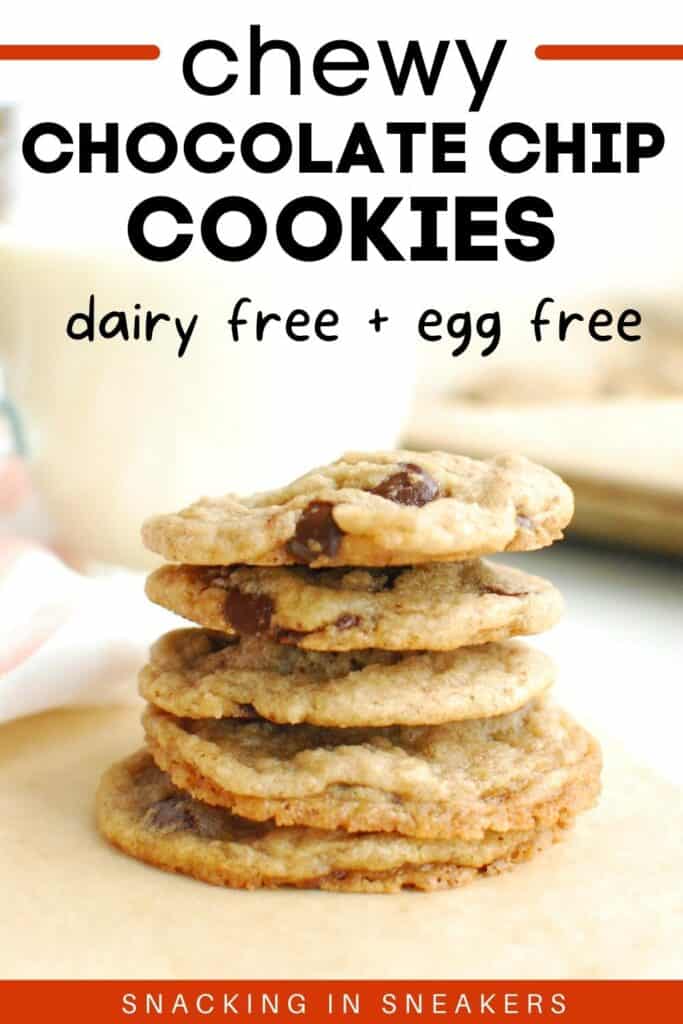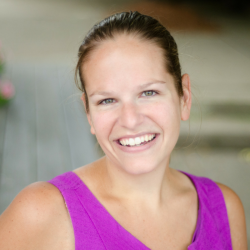 Latest posts by Chrissy Carroll
(see all)