Craving a delicious springtime side dish? Try this vegan dill potato salad, made with an olive oil dressing. The best part of this salad is the inclusion of fiddleheads, a Northeastern vegetable delicacy, which add extra color, flavor, and nutrients to this dish. If you can't get your hands on 'em though, asparagus works as a great substitute.
Ingredients
For this recipe, you'll need some ingredients for the salad itself, and then you'll also need ingredients for the homemade dressing. It looks like a lot, but most of the dressing ingredients are pantry staples. We've skipped the traditional mayo dressing and instead made a delicious olive oil vinaigrette.
Here's what you'll need for the base of the salad, along with a few helpful notes: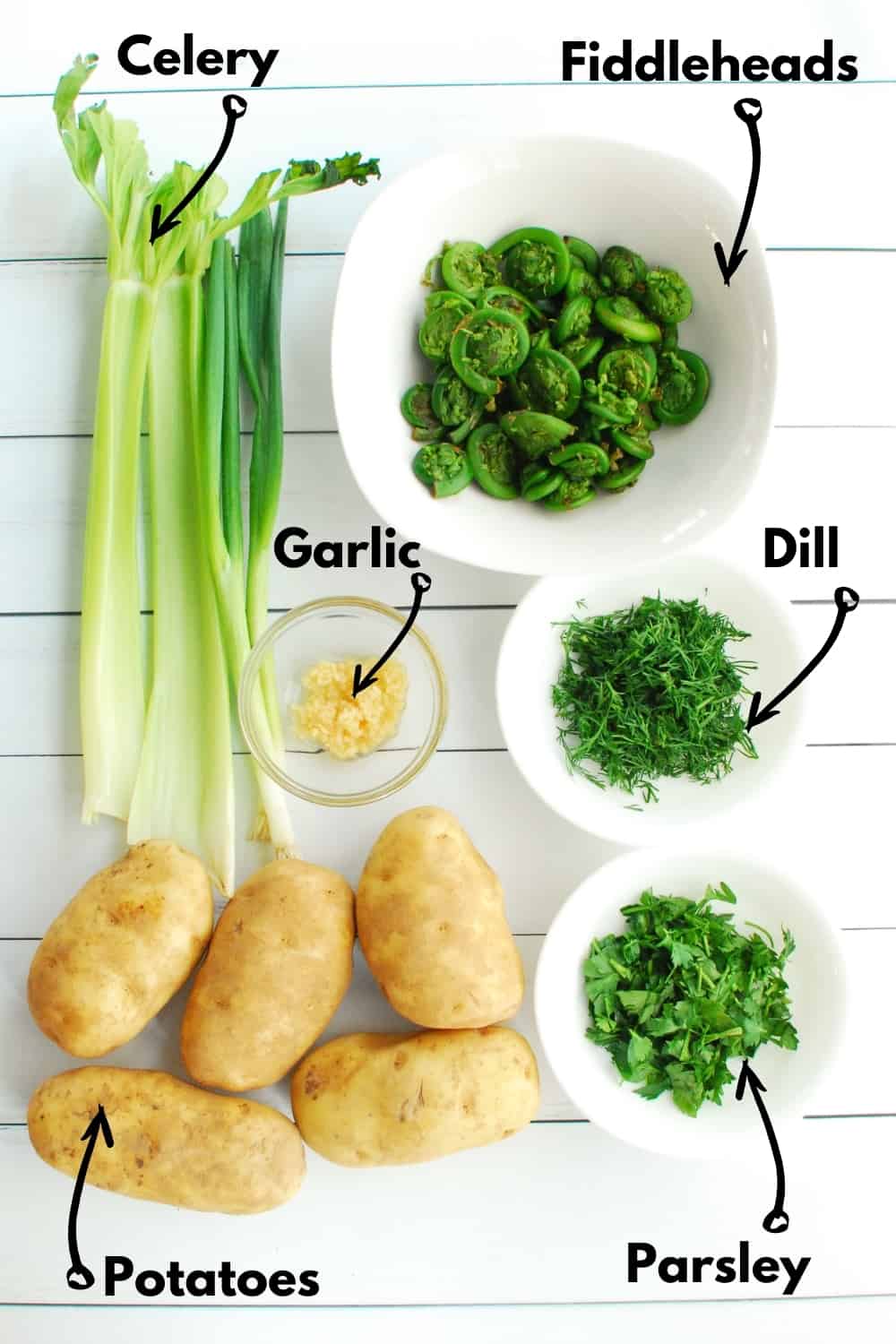 Potatoes – The best potatoes for potato salad are really a matter of personal preference. Some prefer potatoes with more waxiness and a lower starch content, like red potatoes, which hold their shape in the salad. Others prefer a starchier potato, like a Russet, which is softer and can break down a bit in the salad but tends to have a creamier texture. For anyone who prefers a middle of the road option (raises hand) – go with white potatoes (shown above) or Yukon gold potatoes.
Olive oil
Garlic
Fiddleheads – More info about these below! Asparagus is a great substitute if you can't find fiddleheads.
Celery
Green onions
Parsley
Dill
And here's what you'll need for the dressing: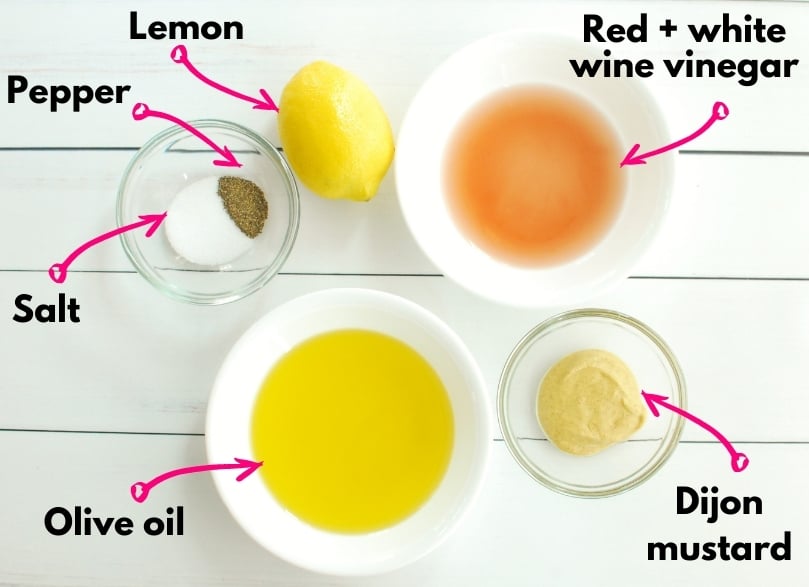 Olive oil – I love that this potato salad uses olive oil rather than mayonnaise. Olive oil is packed with heart-healthy monounsaturated fats, as well as a variety of polyphenols. In particular, a nutrient called oleocanthal in olive oil has been shown in research to have many health promoting benefits.
Red wine vinegar
White wine vinegar – If you don't have this on hand, feel free to just use double the amount of red wine vinegar. (And really, you can use any type of vinegar in this recipe – these are just my favorite options).
Dijon mustard
Lemon
Salt & pepper
All About Fiddleheads
Never heard of fiddleheads before? Neither had I until a few years ago!
This veggie is the edible young frond of an ostrich fern. They're curled tightly into a round shape. They have a taste similar to some other green veggies. Many people say they're similar to asparagus or green beans – but with a softer texture. (I find them close to asparagus in flavor).
Fiddleheads are in season from April through early June, and are typically found in regions of the Northeast as well as Canada. They're not usually found in major grocery stores in my neck of the woods, but we get them from local farmers – and some smaller specialty grocery stores or farm stores may carry them.
The most important thing to know about fiddleheads is that they cannot be eaten raw. There appears to be a heat-sensitive toxin in fiddleheads that can cause food poisoning if undercooked. Back in 1994, the CDC tracked an outbreak of food poisoning to undercooked fiddleheads.
For safety, Health Canada recommends that you always always boil fiddleheads for 15 minutes or steam for 10 minutes prior to eating. This should be done before any other cooking method, like sauteing. I know some people skip the step for textural reasons, but I'm all about food safety. I recommend taking the time to boil or steam first.
Step by Step Instructions
Now that you've gathered up your ingredients, it's time to get started making this vegan dill potato salad! The full recipe amounts and instructions are in the recipe card at the bottom of this post, but here are some helpful tips and photos.
Start with your mise en place. Chop up all your veggies like your dill, parsley, celery, and green onions, so they're all ready to go when you need 'em.
Next, make your dressing. Just combine all the ingredients for that in a bowl, and whisk it together. It'll look like this: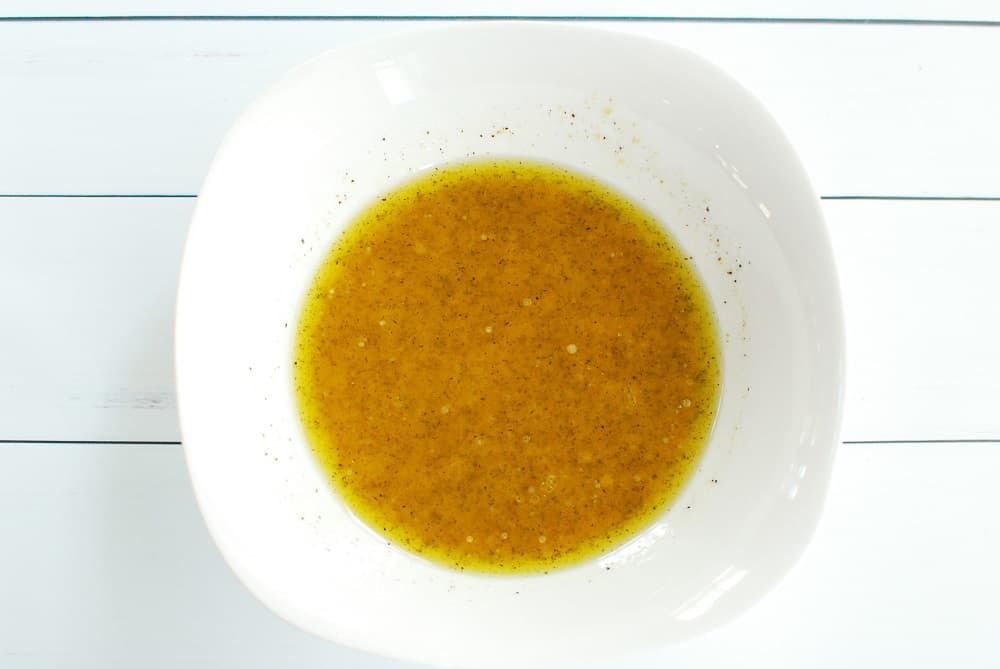 You can set that aside for now. Now, it's time to boil the potatoes. Put the potatoes in a pot and fill with water until just above the potatoes, like this: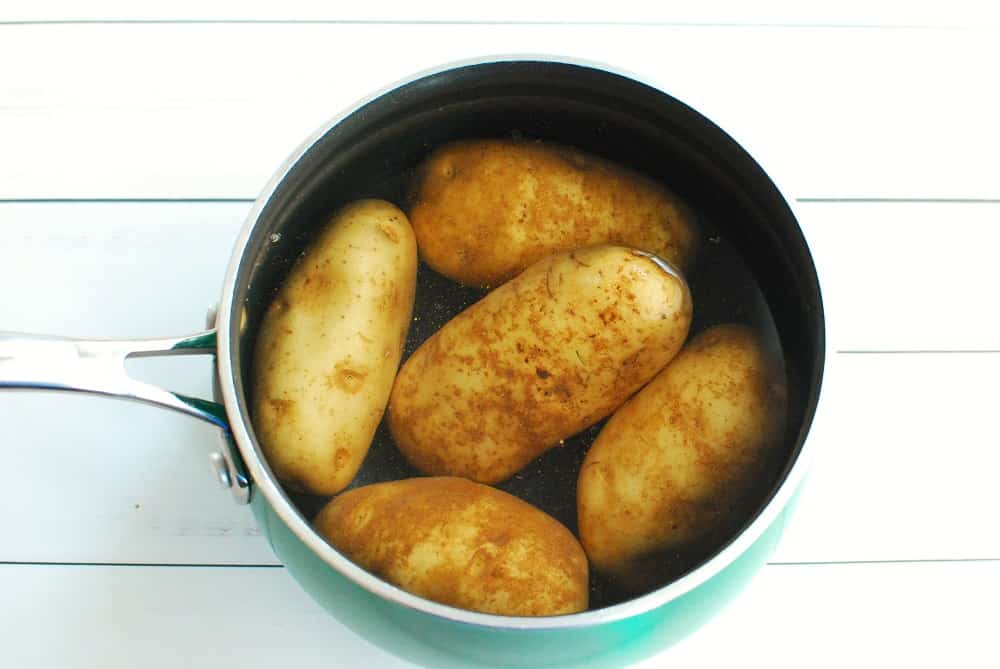 Bring that to a boil, then cook for around 15-20 minutes. The time can vary depending on the size of your potatoes – several small potatoes will cook faster than a few large potatoes.
While that's cooking, boil your fiddleheads in another pot. Once they're boiled for 15 minutes as a food safety precaution, drain them and then toss 'em in a sauté pan with olive oil and garlic. Sauté for just a few minutes to add a little flavor.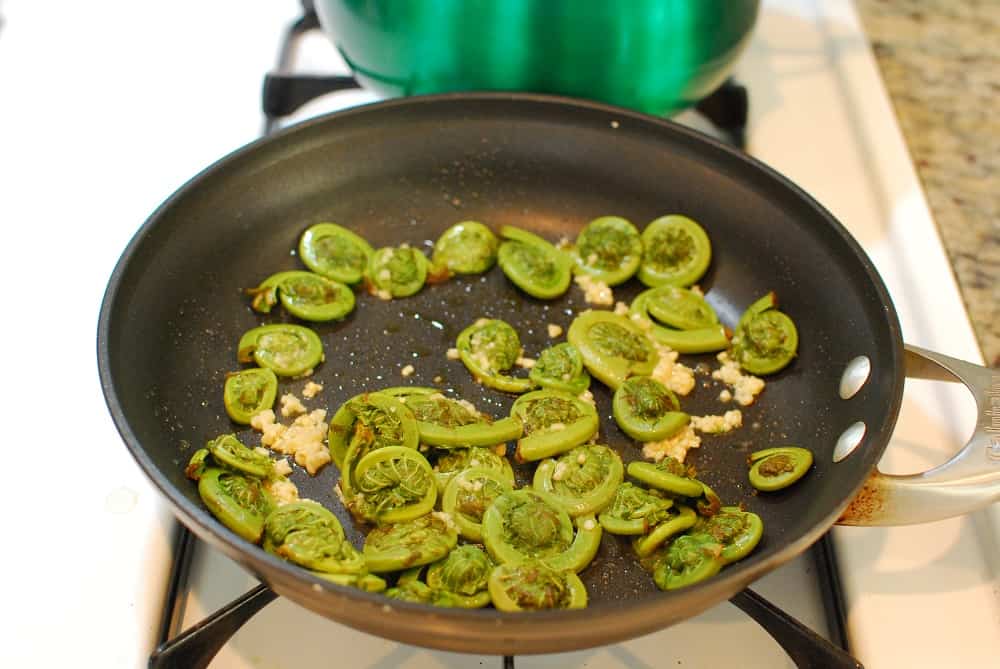 Back to those potatoes – go ahead and chop 'em up, and then add them to a big bowl. Add in your cooked fiddleheads, along with all the rest of the veggies and herbs you prepared. Pour the dressing in, toss everything together, and dig in while it's still warm!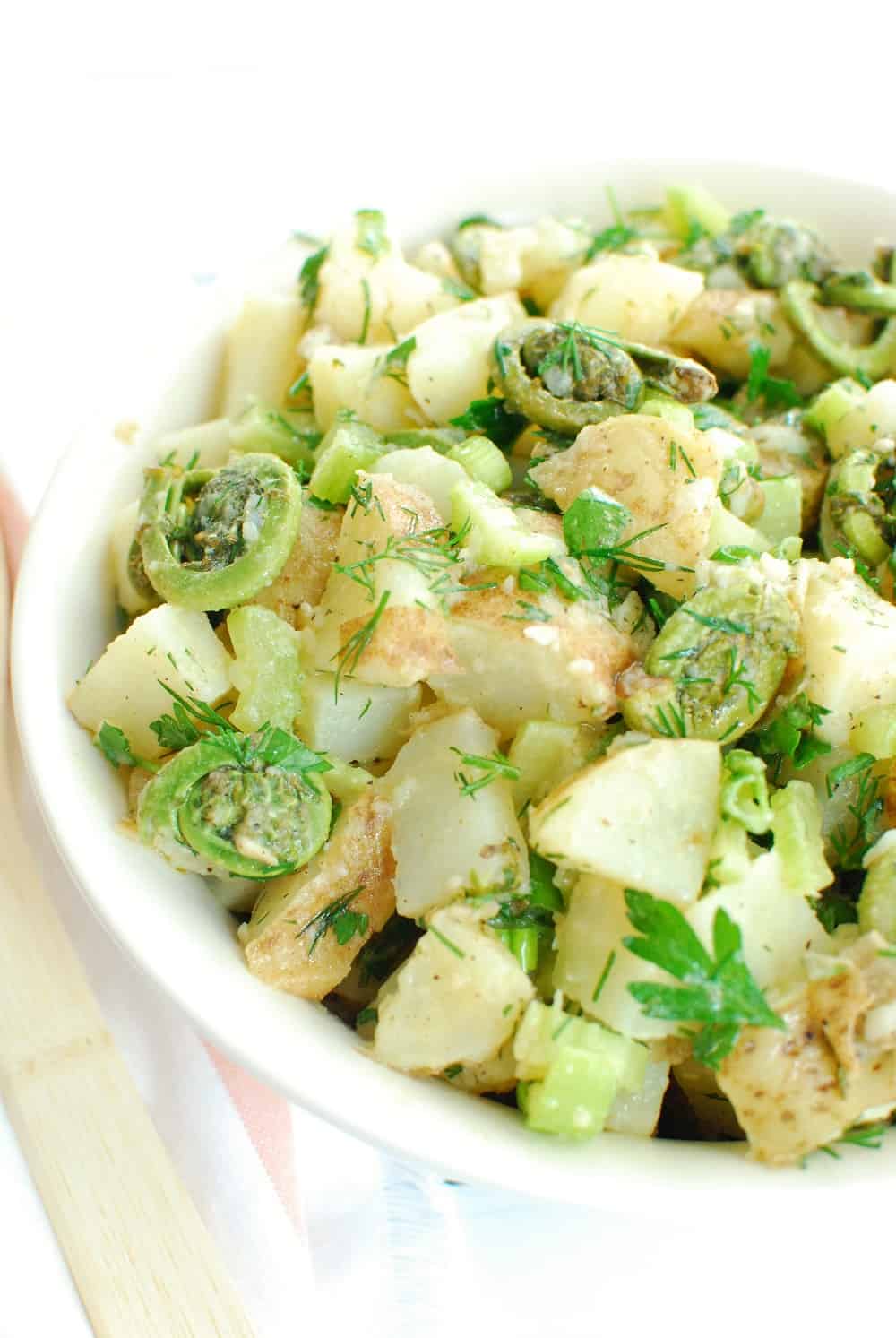 Recipe FAQ
Here are some common questions that may come up as you prepare this recipe:
How should I store this potato salad? Store in the fridge for up to 4-5 days. As this is best served warm, reheat in the microwave prior to eating. Quick note – as the potato salad sits in the fridge, it can absorb the dressing. If needed, add an extra drizzle of olive oil prior to serving.
Can you freeze potato salad with fiddleheads? I don't recommend freezing this dish, as the texture changes upon thawing.
Can you freeze extra fiddleheads? If you bought more fiddleheads than you needed for this recipe, feel free to freeze any extras. According to Health Canada, you should blanch them first in boiling water for 2 minutes, then plunge into ice water to cool, then freeze. When you're ready to use them, be sure to cook them thoroughly as described above.
I hope you enjoy this dish! If you get a chance to try it, feel free to leave a recipe rating or comment below. And if you're looking for more yummy potato side dishes, be sure to try our herb roasted purple potatoes or our air fryer seasoned potato wedges.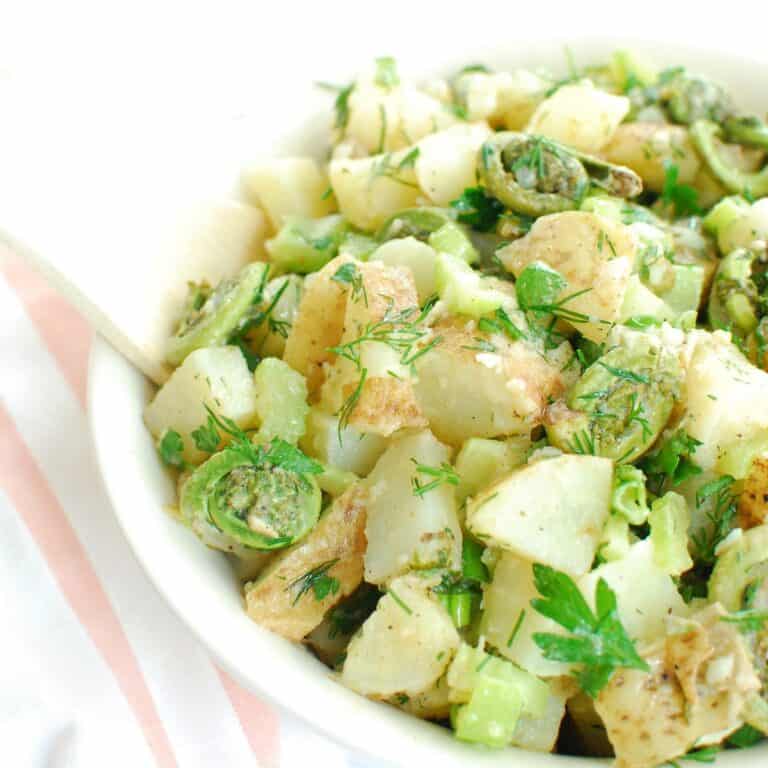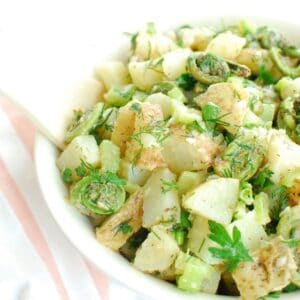 Vegan Dill Potato Salad with Fiddleheads (No Mayo)
This vegan dill potato salad is made with no mayo, and instead uses a delicious olive oil vinaigrette. With the addition of fiddleheads (or asparagus) this is a great springtime recipe!
Ingredients
For the dressing:
⅓

cup

olive oil

1

tbsp

white wine vinegar

1

tbsp

red wine vinegar

1

tbsp

Dijon mustard

1

lemon, juiced

½

tsp

salt

¼

tsp

pepper
For the potato salad:
2

lbs

potatoes

1 ½

cups

fiddleheads

(or chopped asparagus)

½

tbsp

olive oil

2

tsp

minced garlic

2

large celery stalks, chopped

2

green onions, chopped

⅓

cup

parsley, chopped

⅓

cup

dill, chopped
Instructions
Combine all the ingredients for the dressing in a bowl and whisk together. Set aside for now.

Place the potatoes in a pot and fill the pot with water to about an inch higher than the potatoes. Place on the stove over medium heat and bring to a boil. Continue boiling for 15-20 minutes (depending on the size of the potatoes), until tender (but not mushy). When cool enough to handle, chop into ½ to ¾ inch chunks. Place the potatoes in a large bowl.

Meanwhile, as potatoes are cooking, boil fiddleheads in another pot for 15 minutes.*

When the fiddleheads are done, drain them. In a skillet, heat olive oil over medium heat. Sauté fiddleheads and garlic for 2-3 min. Add the fiddleheads and garlic to the bowl with the potatoes.

Add the celery, green onions, parsley, and dill to the bowl with the potatoes. Pour the dressing in and toss well. Serve warm and enjoy.
Notes
*Fiddleheads should be boiled before sautéing for food safety reasons.
*If using asparagus instead of fiddleheads, skip the boiling step and instead sauté the asparagus for 3 minutes, add the garlic, and continue cooking another 2 minutes total.
This makes 6-8 side dish sized servings. The nutrition analysis below is based on 6 servings.
Nutrition analysis (approximate per serving):  241 calories, 13.5 g fat, 2 g saturated fat, 300 mg sodium, 27.5 g carbohydrate, 4.5 g fiber, 2.5 g sugar, 4 g protein, Vitamin D: 0%, Calcium: 3%, Iron: 9%,
Nutrition
Share: What's your favorite style of potato salad? Have you ever eaten fiddleheads before?
Feel free to pin this to share with others!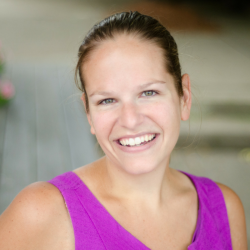 Latest posts by Chrissy Carroll
(see all)