These herb roasted purple potatoes are a delicious side dish that bring a bright pop of color to your dinner table! With a slightly crisp exterior, tender fluffy interior, and flavorful seasoning – you'll want to eat these potatoes every night of the week.
Ingredients
You only need six ingredients to make this easy side dish, and most are probably already in your cabinet! Here's what you should grab: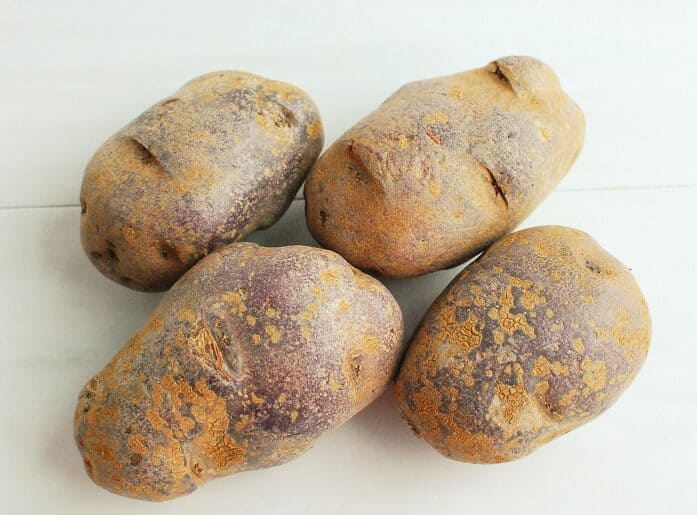 Purple potatoes – These beauties are fairly similar in nutrition value to your standard white potatoes, in that both are healthy sources of carbohydrates to fuel your fitness, and both contain potassium. But purple potatoes also pack in far more antioxidants, which are linked to health benefits. (Find out more about the nutrition of purple potatoes here.)
Olive oil – Olive oil is a great source of monounsaturated fats and polyphenols (health-promoting compounds found in plant foods) – plus, it tastes great. Avocado oil is also an excellent choice if you would prefer that instead.
Dried rosemary – Rosemary is a little woody, a little evergreen, and a little citrusy – it reminds me of a Christmas tree. It's a wonderful seasoning to add to potatoes.
Salt – Potatoes and salt are a quintessential pairing, like peanut butter and jelly. The salt helps bring out the flavor of the potato.
Garlic powder – This seasoning is made from garlic that's been dried and finely ground. It adds another pop of flavor in this mix.
Thyme – This seasoning is earthy and a bit sweet, and plays well off of the rosemary in the recipe. If you don't have any on hand, you can feel free to leave this out – the potatoes will still taste great without it.
Instructions
You'll find full recipe instructions in the recipe card below – but here's some helpful step-by-step tips.
This roasted potato recipe starts a bit different than most recipes – but for good reason.
Have you ever tried to make roasted potatoes and you noticed your potatoes always stick? No matter what oil you use, whether your baking sheet is hot or cold, whether you switch up the type of potato…you just can't get them to not stick?
I had been struggling with this until I stumbled across an old cooking forum thread that recommended par-boiling potatoes first for a bit before roasting. When you do this, it partially cooks the starch. Then when you add them to the baking sheet, it makes it more likely that the outside develop that crisp browning without sticking to the pan.
I wasn't sure about the science of it all, but it totally works. And that's how we start this recipe.
You're going to place your potatoes in a pot, filling it with water, and then bringing that to a boil.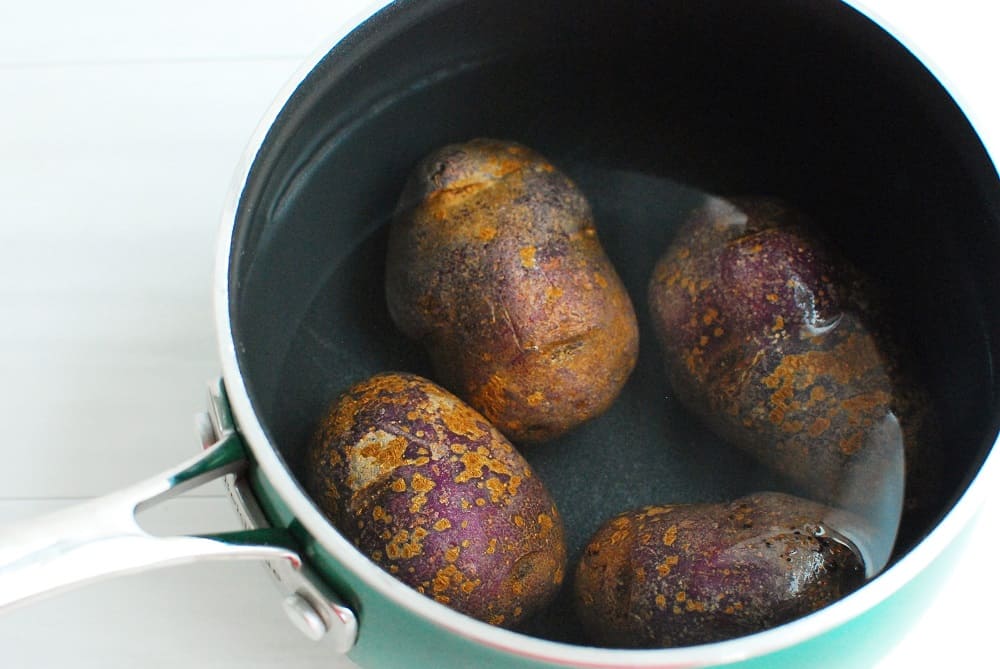 Once it's boiling, you only need to keep the potatoes in there for about 5 minutes for small potatoes, or 8 minutes for large potatoes. You want them to be just barely tender if you poke them with a fork – there should still be some resistance.
Take 'em out of the pot and let them dry, then chop them up and mix them with the oil and seasonings.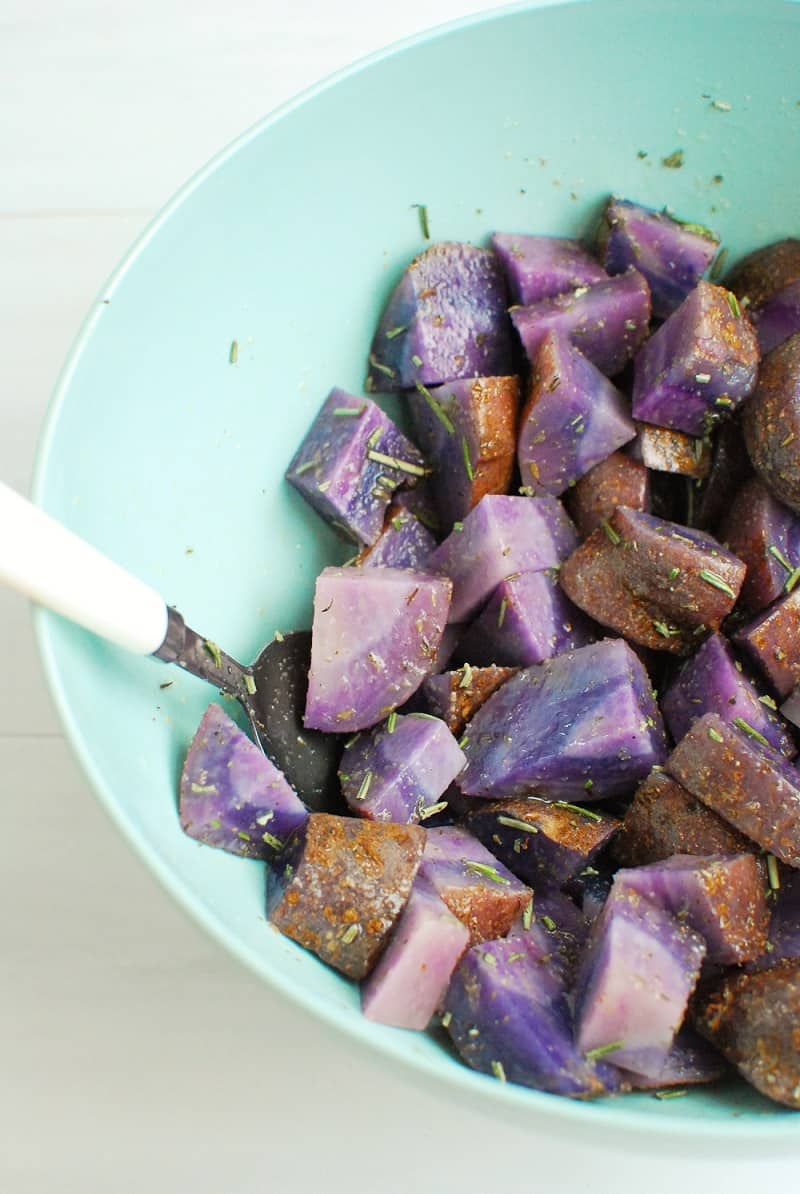 Last step is to place them on a baking sheet and roast them. It should only take about 20-30 minutes. I recommend setting a timer for 15 minutes, giving them a stir, and then placing them back in for the remainder of the time. Mine are typically done right at 25 minutes of total cooking time.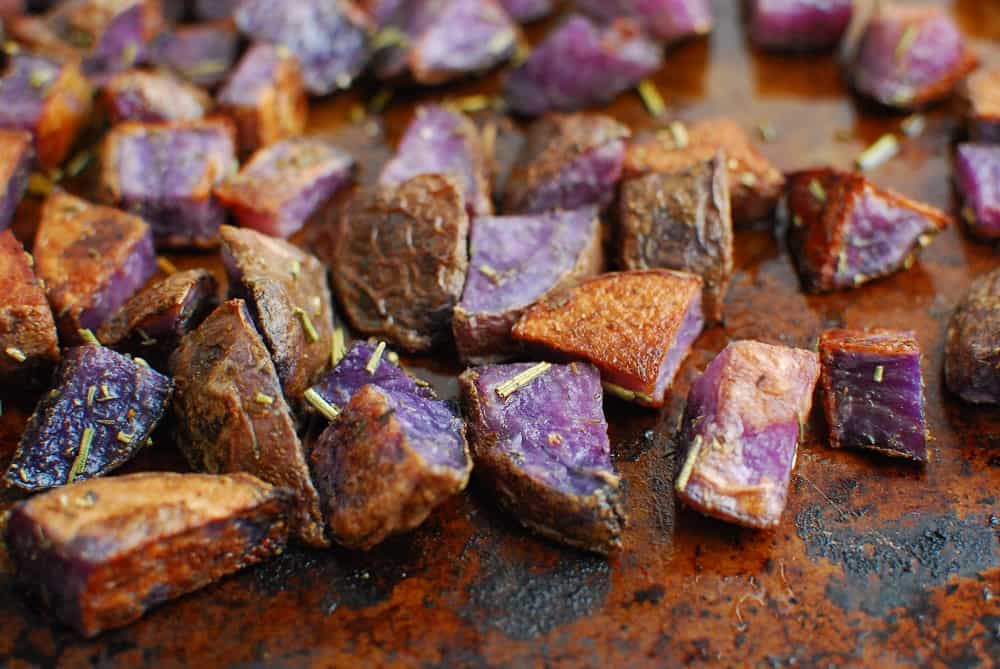 Recipe FAQ
Here are some common questions that may come up as you read and prepare this recipe:
Is this recipe a nutritious choice? As a dietitian, I think potatoes can be a great choice for active women. This recipe is a good source of potassium and antioxidants, and also provide carbs to fuel your workouts (read more about healthy carbs for athletes here).
Where can you buy purple potatoes? They're not as common as white or red potatoes, so not every supermarket will carry them. Your local farmers market or CSA program may have them, and you can also check grocery stores that tend to have a health-focus, like Whole Foods.
How can you store leftovers? These are best served right after making them, but you can store any leftovers in a container in the fridge for up to 4 days. You can reheat in the microwave, but they'll lose their crispness. If you have time, reheat in the oven or air fryer for the best texture.
Can you make these roasted purple potatoes in the air fryer? Yes. If you'd prefer to use the air fryer instead of roasting, you can skip the par-boil step. Instead, just chop and coat with the oil and seasonings. Then cook at 400 degrees F for 10 minutes in the air fryer, toss the potatoes, and cook for another 6 to 10 minutes, depending on the size of the potatoes and the crispiness you desire.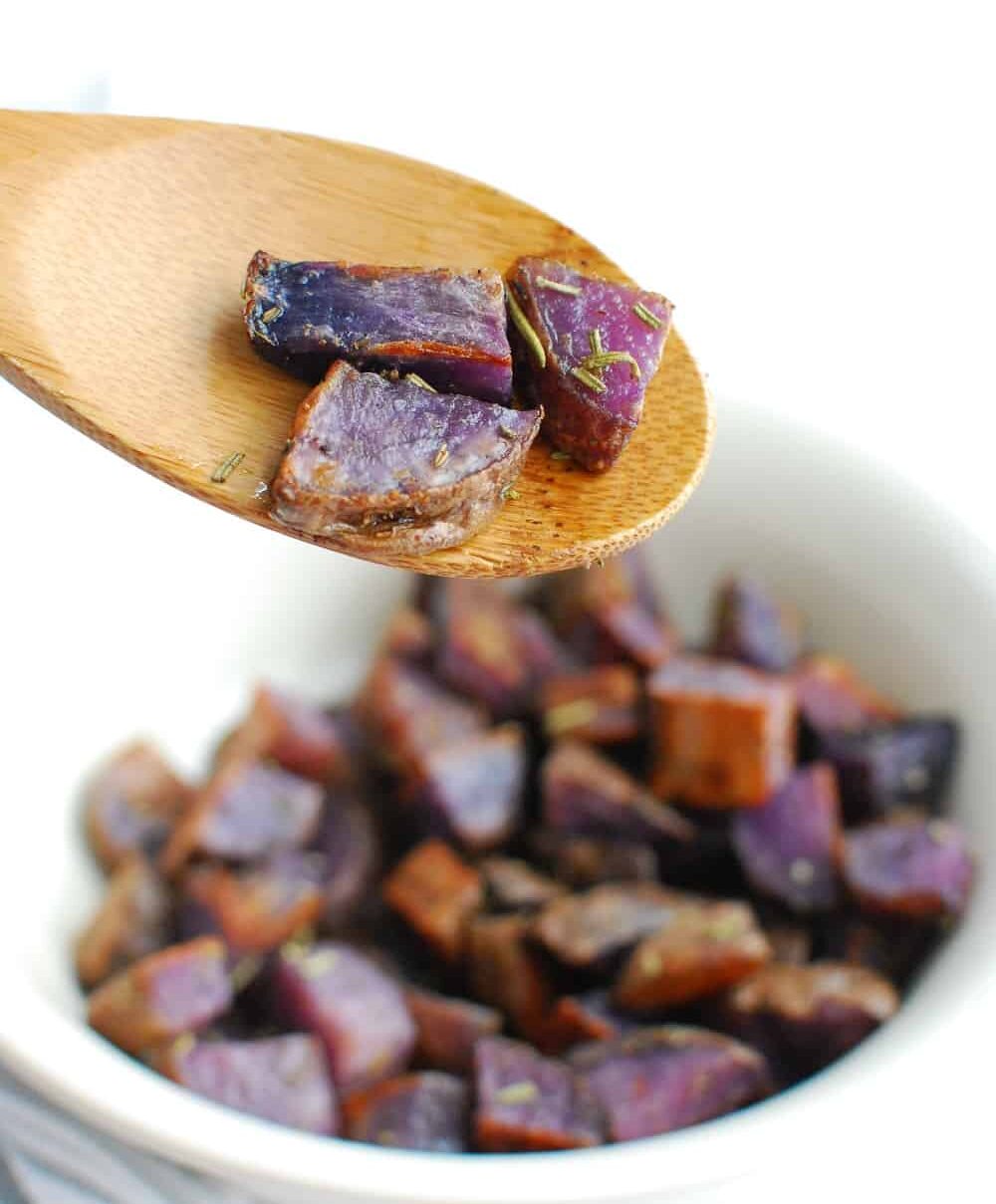 I hope you enjoy this recipe! If you get a chance to try it, please feel free to leave a recipe rating or comment below.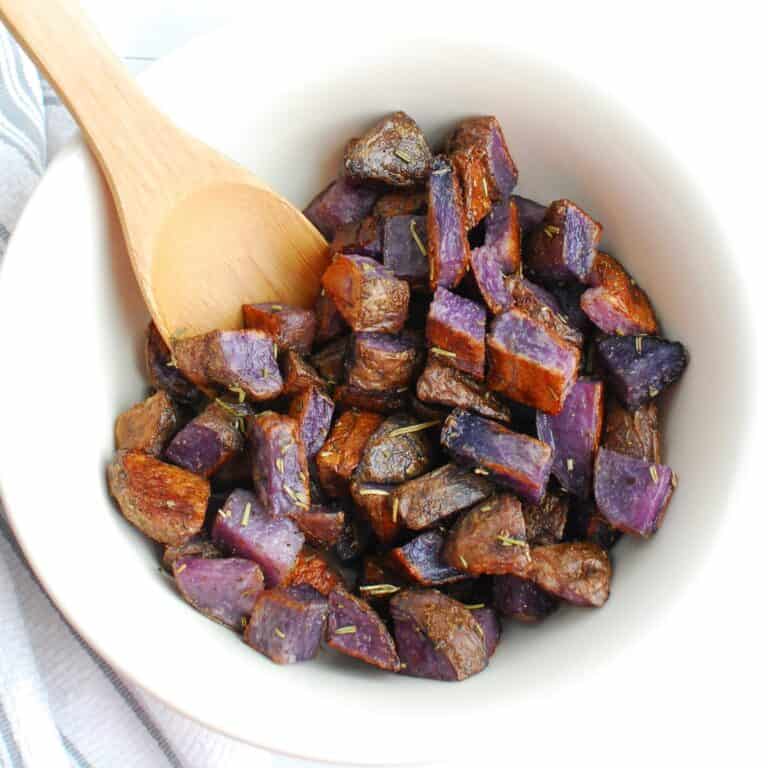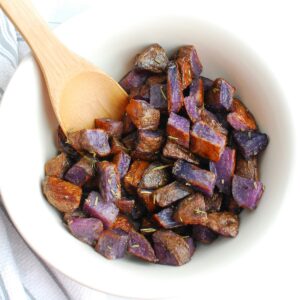 Herb Roasted Purple Potatoes
These herb roasted purple potatoes are a delicious side dish that bring a bright pop of color to your dinner table!
Ingredients
1 1/2

lb

purple potatoes

(washed and scrubbed; unpeeled)

1 1/2

tbsp

olive oil

(or avocado oil)

1 1/2

tsp

dried rosemary

1/2

tsp

salt

1/4

tsp

garlic powder

1/4

tsp

dried thyme
Instructions
Preheat the oven to 400 degrees F.

Place the whole purple potatoes in medium pot, and fill with water until just submerged. Bring to a boil, then set a timer for 5 minutes (for small/medium potatoes; if using large potatoes, use 8 minutes).

When the timer goes off, the potatoes should be just barely tender when poked with a fork – there should still be some resistance. Carefully remove the potatoes from the boiling water and dry. Chop into 1-inch pieces, leaving the skin on.

Place the chopped potatoes in a bowl and add the olive oil, dried rosemary, salt, garlic powder, and dried thyme. Toss potatoes well to equally coat in oil and seasonings.

Spread the potatoes onto a baking sheet and place in the oven. Cook for 20-30 minutes, stirring once at the 15-minute mark, until potatoes are fully cooked (crisp on the outside and soft on the inside). Let cool for a few minutes then enjoy!
Notes
Nutrition analysis (approximate per serving):  162 calories, 5 g fat, 0.5 g saturated fat, 300 mg sodium, 25 g carbohydrate, 3.5 g fiber, 7 g sugar, 3.5 g protein, Vitamin D: 0%, Calcium: 1%, Iron: 24%, Potassium: 17%
Nutrition
Share: What's your favorite way to use purple potatoes?
Feel free to pin this post to share with others: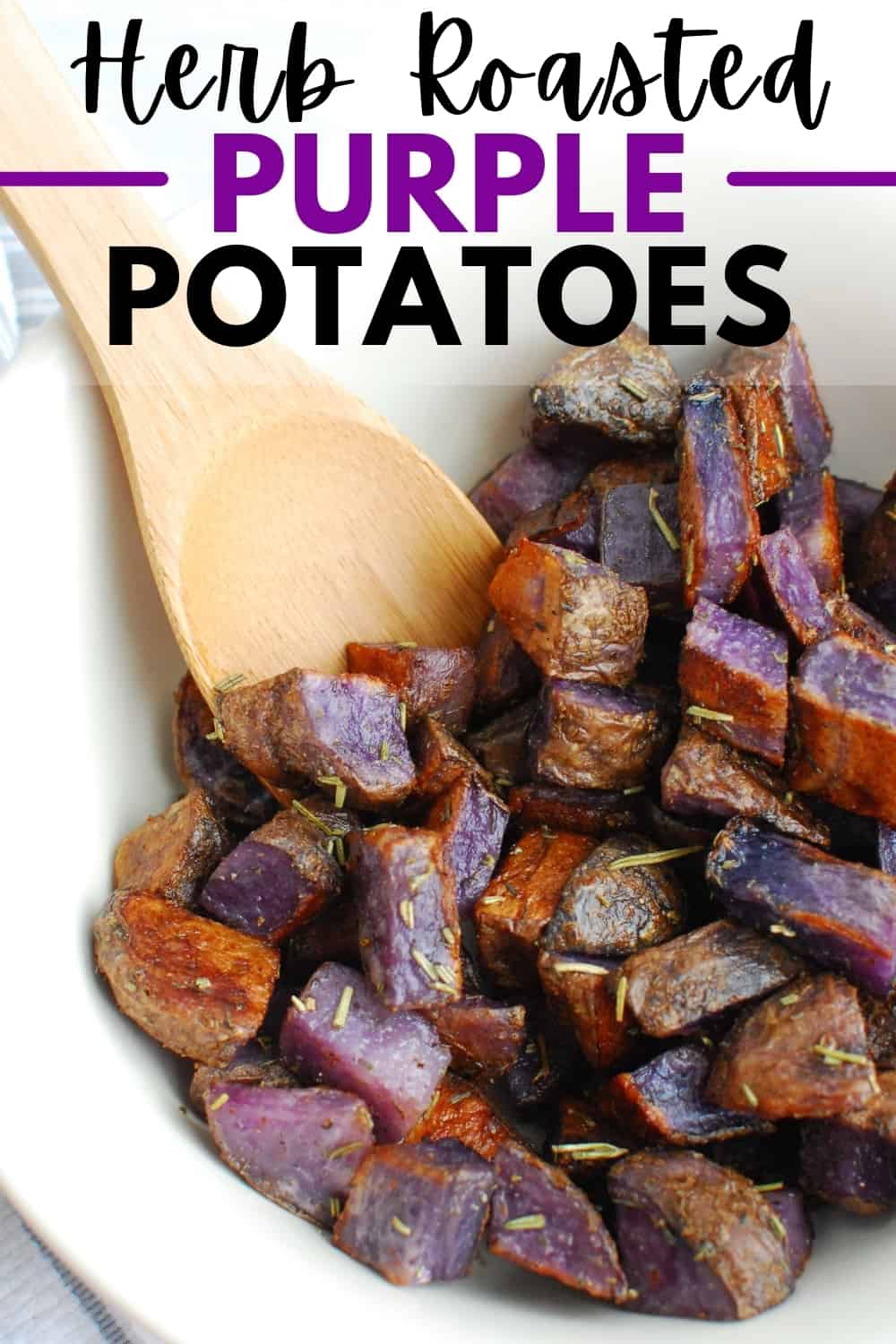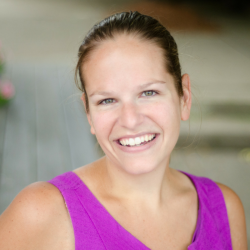 Latest posts by Chrissy Carroll
(see all)