Disclosure: This vegetarian quesadilla post is a sponsored conversation written by me on behalf of Schreiber Foods, Inc. The opinions and text are all mine.
Summer always reminds me of family trips to Florida. As a child, we used to load up into my mom's tiny Honda Civic. My brother and sister and I would be smushed in the back seat, somehow enduring the close corridors of the 21 hour drive to my grandma's condo. This was prior to the days of portable DVD players, though I was lucky enough to have a battery powered mini TV with an antenna. It would get about 20 minutes of a fuzzy show every time we passed a major metropolitan area.
The drive down may have been a pain, but when we finally arrived, it was always marvelous. We were greeted to the sounds of the waves crashing outside; the beach just mere steps away from the condo. (See photo below, circa 1990!). There was a large pool, that was perfect for swimming, down a short walkway. And of course, vacation always meant fun family dinners, often outside in the warm weather and often with friends we had made that summer.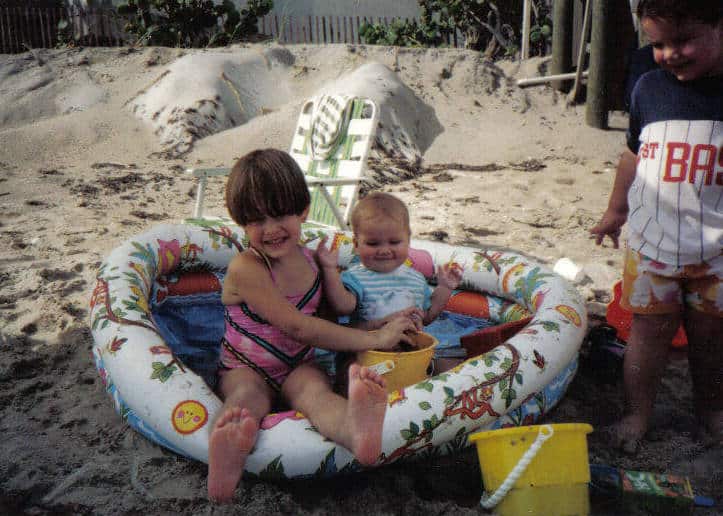 Though I don't get down to Florida nearly enough anymore, those fun outdoor summer dinners – whether just with my family or with friends too – are something I've been trying to emulate at home this year. There's just something about dining al fresco that's relaxing and enjoyable.
Being passionate about cooking and seasonal food, I've been brainstorming new summer recipes to serve my family and friends this year. These corn and tomatillo vegetarian quesadillas were my latest invention, and they are a hit!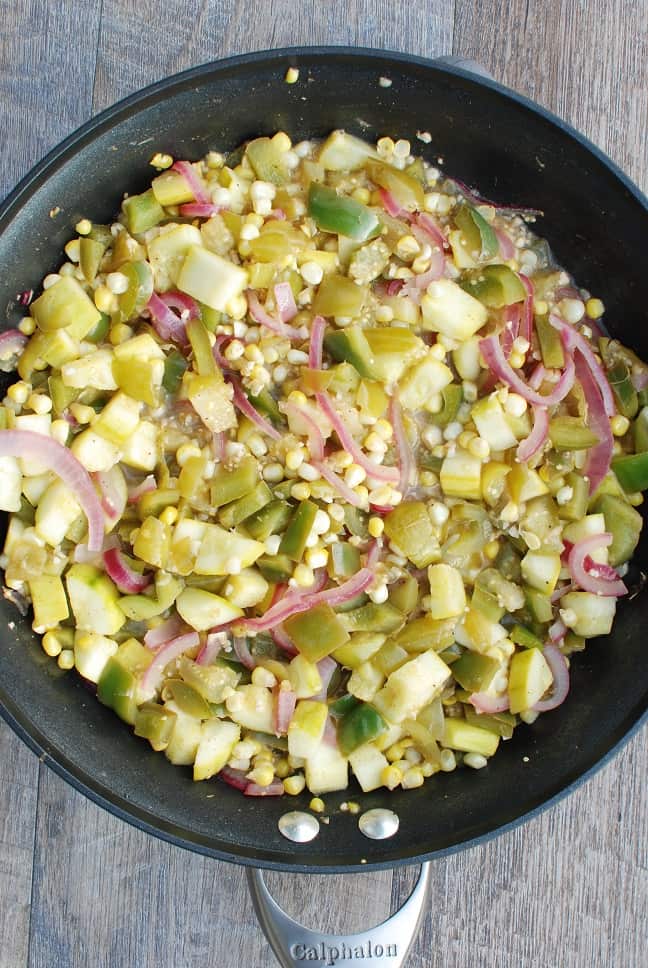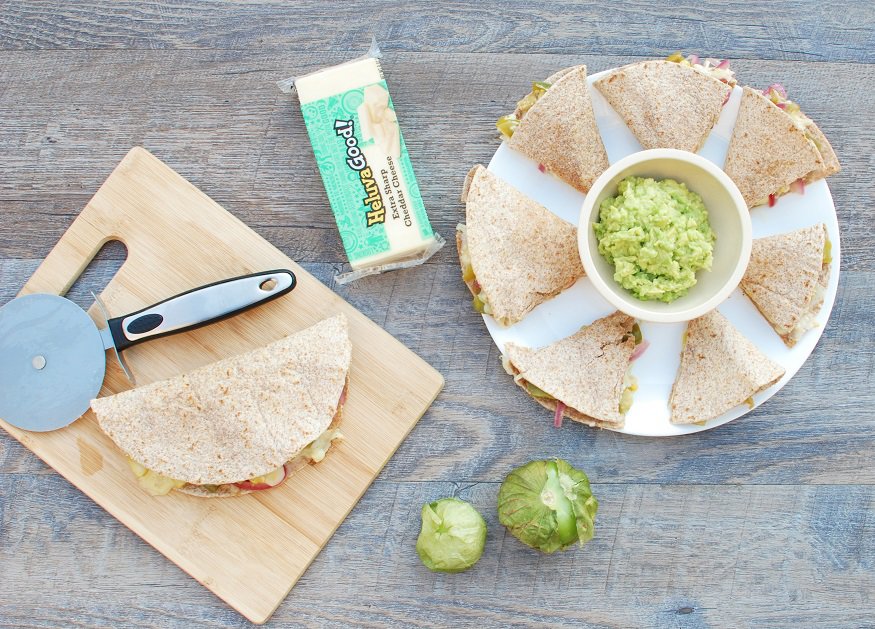 The recipe uses a whole heap of summer produce – corn, tomatillos, zucchini, and peppers. You're really able to take advantage of the bounty of seasonal food that summer has to offer. Of course, the RD in me is all about any recipe that fills you up on nutrient-dense vegetables. Plus, I know I've got a lot of active ladies reading here, and these veggies are the right kind of carbs to help fuel your day.
But I gotta tell you – the thing that just makes these is the Heluva Good! ® Cheese that you put inside! It adds a ton of flavor and gives that melty, delicious mouthfeel in each bite. And bonus – you get a nice boost of calcium in your meal!
I personally love the Heluva Good! Jalapeño Jack because it adds a spicy kick to the dish. But I've also used the Heluva Good! Extra Sharp Cheddar and the Colby Jack and they all work great. The taste of all three varieties is on point. The later two options are nice if you have kiddos who oppose the spicy stuff.
[Tweet "It's going to be a #heluvagoodsummer when you make these cheesy vegetarian quesadillas!"]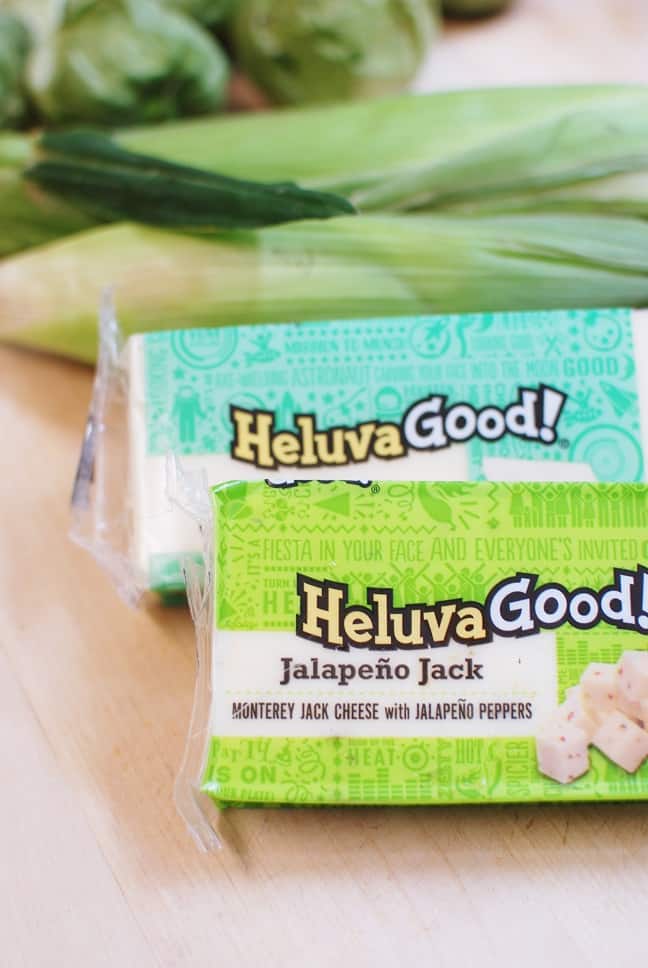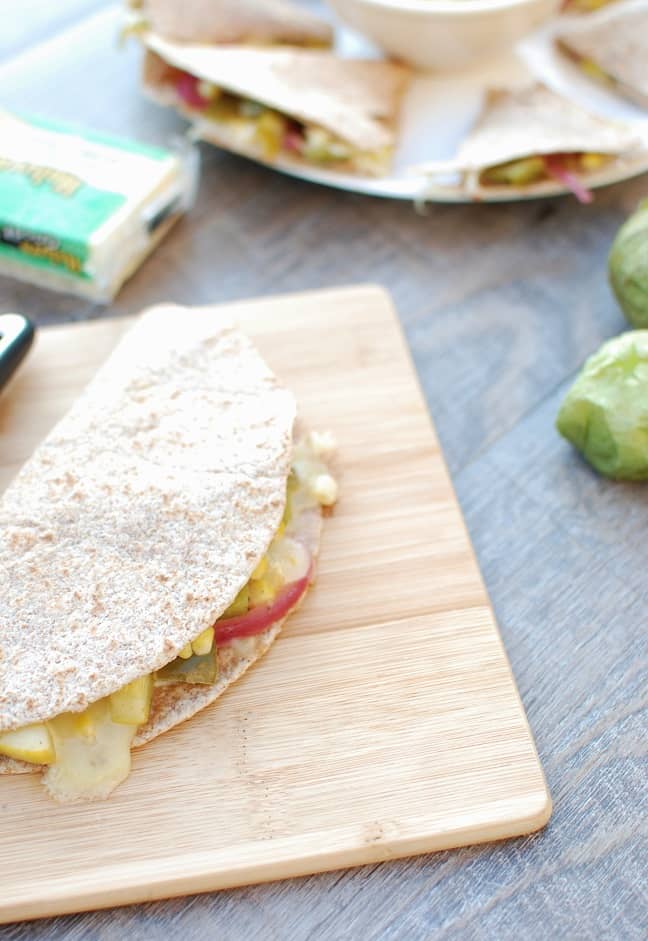 For those of you in New England, be sure to check your local Big Y to pick up your Heluva Good! flavor of choice. You can head on over to the Big Y website to snag a $0.75 coupon good for any one package!
Once you grab your cheese and other ingredients at Big Y, you can make these corn and tomatillo vegetarian quesadillas for your next summer get together – or just a weekday family dinner. They're really convenient for entertaining since your guests can grab a triangle and eat it up. No plates or silverware required! I like to serve this with a little fresh guacamole for dipping, but that's totally optional. They hold their own very well with or without the guac.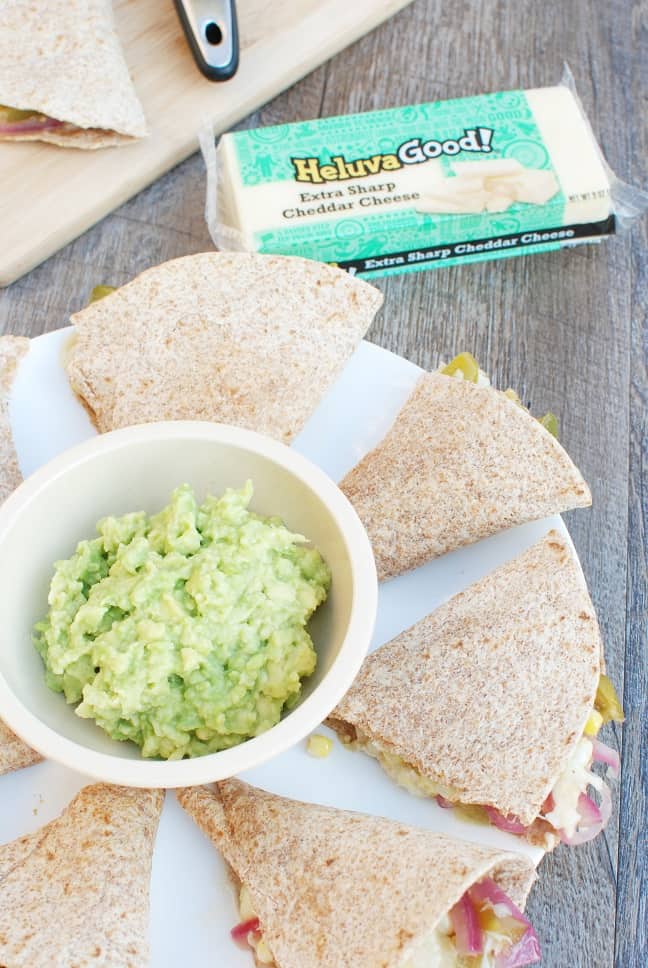 What are you waiting for?! Give your friends a ring, throw some folding chairs outside, and enjoy the fresh air while you munch on some cheesy goodness in these vegetarian quesadillas. 🙂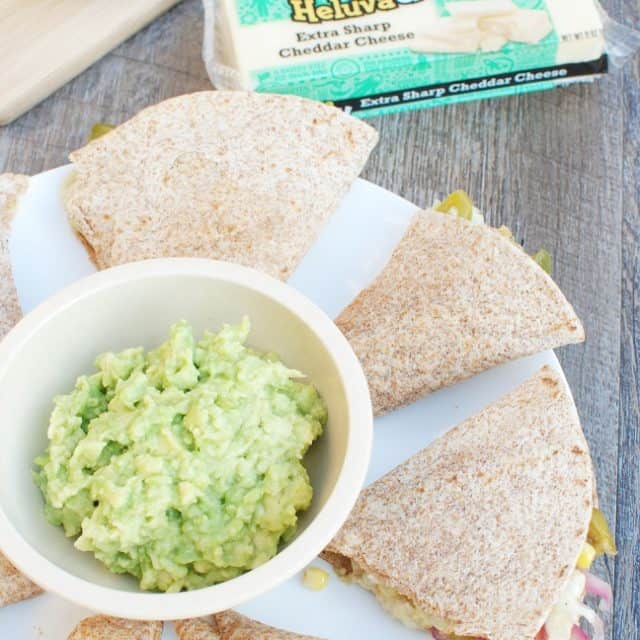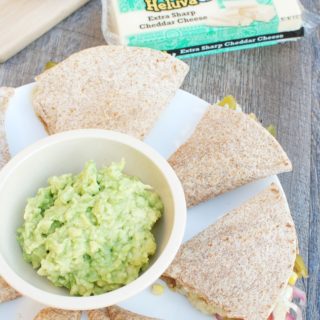 Vegetarian Quesadilla with Corn, Tomatillos, and Cheese!
This vegetarian quesadilla will be a hit for your summer parties - or even just a fun family dinner! Packed with corn, tomatillos, and zucchini, you'll get plenty of healthy veggies, all topped with cheesy goodness.
Ingredients
Ingredients for Quesadillas:
1

tbsp

olive oil

1/2

large red onion, thinly sliced

6

tomatillos, diced

(peel off husks and rinse before dicing)

1

bell pepper, diced

1

medium zucchini, peeled and diced

2

cloves

garlic, minced

2

ears

corn, kernels removed

1

tsp

cumin

1/8

tsp

salt

(or to taste)

1/8

tsp

pepper

(or to taste)

1/2

lime, juiced

6

whole wheat tortillas

(or other tortilla of choice)

6

ounces

Heluva Good! Jalapeño Jack Cheese or Extra Sharp Cheddar Cheese, grated

(about 1.5 cups grated)
Optional Ingredients:
Homemade Guacamole for topping

(avocado and lime)
Instructions
Directions:
Preheat oven to 400 degrees.

Meanwhile, heat olive oil in a large skillet over medium heat. Add onion, tomatillos, and bell pepper to the skillet and cook for 5 minutes.

Add zucchini to the skillet and cook for an additional 3 minutes.

Add garlic, corn, cumin, salt, pepper, and juice from half a lime to the skillet. Cook for an additional 2-3 minutes. Remove from heat and set aside for the moment.

Place tortillas on two baking sheets. Place in the preheated oven for approximately 2 minutes. Flip and cook for an additional minute.

Remove baking sheets from oven. Sprinkle a little cheese on the bottom half of each tortilla, followed by the veggie filling from your skillet, followed by the rest of the cheese. Fold the top part of the tortilla down.

Place the baking sheets with your quesadillas back in the oven and cook for 2-3 minutes, or until cheese is melty and the tortilla feels just slightly crisp. Enjoy as is, or top with a little guacamole!
Notes
Recipe Tips:
Depending on the moisture content of your veggies, the mixture may be a little liquidy. If this is the case, I recommend draining off some of the liquid before using the filling. Sometimes I have to, sometimes I don't!
Don't skip the step to layer a little cheese on the bottom before adding the veggies – this helps prevent the bottom of the quesadilla from getting soggy.
As an alternative, you can also make these quesadillas in a more traditional style using a skillet or griddle. Spray with cooking spray, then place tortillas down. Cook for about 1-2 minutes, then flip. Fill the tortillas as directed above. Fold over the other half of the tortilla and cook for another minute or until cheese is melty.
Nutrition Analysis (approximate per quesadilla; does not include optional guacamole):
351 calories, 16 g fat, 7 g sat fat, 519 mg sodium, 39.5 g carbohydrate, 7 g fiber, 5 g sugar, 14 g protein, Vitamin A: 10%, Vitamin C: 61%, Calcium: 25%, Iron: 10%, Potassium: 10%
Nutrition
Share with me: What's your favorite meal to make for summer dinners with family or friends? Do you love a good vegetarian quesadilla? What kind of Heluva Good! Cheese would you add to your quesadilla?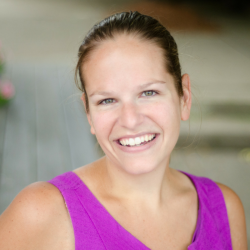 Latest posts by Chrissy Carroll
(see all)