Most athletes – at one time or another – have experienced muscle cramps. Whether it happens out on the course or comes as a "charlie horse" while resting later, it's never a fun experience.
So what causes muscle cramps?
If you scour the internet, you can find tons of anecdotal stories – most related to hydration and electrolytes. Interestingly, very few of these are actually supported by scientific research. Here's just a quick look at what the science says…
Is it dehydration?
Studies have tested athletes with dehydration – both at a 3% and 5% loss of their body weight – and found that these athletes did not have increased susceptibility to cramps (1,2). Along the same lines, ultra distance runners who experienced cramps were not more likely to be dehydrated compared to those who did not have cramps (3, 14). Similar results were found among Ironman triathletes (4,5).
Is it electrolytes?
Studies as early as 1986 study suggested that cramps may not be due to hydration and electrolyte status. Marathon runners with muscle cramps did not have different electrolyte levels compared to those without cramps (6). The Ironman study that looked at dehydration also looked at electrolyte values, and did not find any differences between cramping vs. non-cramping athletes (5).
There's also research looking at certain individual electrolytes…
Is it potassium?
One small study looked directly at a favorite food of athletes – bananas – and investigated the effect of eating 0, 1, or 2 of them after exercise in the heat. They concluded that the changes in potassium and glucose that happened when the bananas were eaten were not large enough to have an impact on muscle cramps (7).
Is it magnesium?
Magnesium has been another postulated nutrient that could impact cramp risk, however a 2012 Cochrane Review did not find any randomized control trials which investigated magnesium on exercise-associated muscle cramps (8).
Is it sodium?
Interestingly, some research has reported that cramping athletes have lower serum sodium levels compared to those without cramps – but these have still fallen in the normal range (4). Perhaps for these athletes, a "lower normal" might be enough to contribute to cramping, but it's likely not the definitive or only answer. In addition, a study of ultra runners found sodium balance did not have a relation to cramping among ultra runners (14).
So if it's not those things, then what really causes muscle cramps?
Most likely, neuromuscular fatigue (aka a tired system that involves your muscles and the nerves that stimulate their contraction) (13).
Here is what has been scientifically linked to muscle cramps in the recent research:
Increased speed and intensity, since it may lead to quicker neuromuscular fatigue (9, 10, 11)
Possible genetic component (9)
History of tendon or ligament injuries (depending on how recovery was approached, this may have caused increased stress or fatigue in surrounding muscles) (9)
Does this mean you shouldn't pay attention to hydration and electrolytes at all?
Of course not. Proper hydration and electrolyte balance during exercise have other important benefits outside of cramping. Losing more than 2-3% of your body weight from dehydration may lead to decreased performance. Not taking in enough sodium over a long event may affect your risk of hyponatremia (also known as "water overload" – though fluid balance is certainly the larger factor there).
And you could certainly argue that there are many anecdotal reports of athletes reporting an improvement in muscle cramps with proper hydration and electrolyte balance. From a personal standpoint, I feel like I have a better experience with muscle cramps when I use a higher sodium sports drink. Whether that's a true effect or placebo is up for debate. 😉 Some research shows that a carb and electrolyte containing sports drink may not prevent cramps, but may prolong the amount of time until those cramps occur (12).
The bottom line as to what causes muscle cramps, and how to handle them…
Cramping muscles are most likely due to neuromuscular fatigue – so be sure to train well in order to prepare yourself for your race. Theoretically, the better structured your training plan and the more you build your muscular endurance, the slower your muscles will fatigue – and the longer until you develop cramps. If you do develop them in a race, the best quick fix seems to be a simple stretch (13).
And of course, if drinking extra sports drink or eating a post-race banana helps you, then there's certainly no harm in incorporating those strategies too.
Share with me: Do you struggle with muscle cramps? Do you agree with this post on what causes muscle cramps, or do you think there's another factor? What do you do to prevent cramps?
References:
1) http://www.ncbi.nlm.nih.gov/pubmed/23222192
2) http://www.ncbi.nlm.nih.gov/pubmed/20351595
3) http://www.ncbi.nlm.nih.gov/pubmed/15273192
4) http://www.ncbi.nlm.nih.gov/pubmed/16015122
5) http://www.ncbi.nlm.nih.gov/pubmed/21148567
6) http://www.ncbi.nlm.nih.gov/pubmed/3735481
7) http://www.ncbi.nlm.nih.gov/pubmed/23182013
8) http://www.ncbi.nlm.nih.gov/pubmed/22972143
9) http://www.ncbi.nlm.nih.gov/pubmed/21430526
10) http://www.ncbi.nlm.nih.gov/pubmed/21402566
11) http://www.ncbi.nlm.nih.gov/pubmed/21148567
12) http://www.ncbi.nlm.nih.gov/pubmed/15970952
13) https://www.ncbi.nlm.nih.gov/pubmed/27159592
14) https://www.ncbi.nlm.nih.gov/pubmed/26284165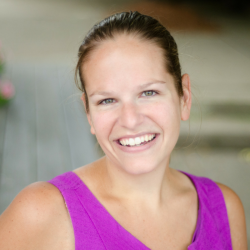 Latest posts by Chrissy Carroll
(see all)