{Post intended for an audience of 21+ years.}
This post is about to get a little Hallmark on ya, so grab a tissue and read on. I realize a gratitude letter and emotional toast is not a traditional food & fitness post, but this gets at our overall wellness – so I hope you enjoy…
I love running this food and fitness blog. Truly. Don't get me wrong, the work can be endless and the trolls can be cruel. But the writing, the recipe development, the photography, the fitness activities…I'm totally in my element there. It's a passion project that I'm lucky enough to call "my job."
In my (almost) 32 years of life, there have of course been key people along the way that led me to where I am today. (Which happens to be sitting here in my pajamas, writing this post, haha). People that have challenged and changed me, inspired and influenced me, motivated and mentored me. People who made me believe I was smart enough and determined enough to take the leap and run my own business.
I'm sure you have encountered these people in your life too. Family, friends, spouses, teachers, employers….there are so many people that inspire us to be the best versions of ourselves. If you close your eyes right now and ask yourself who has inspired you, who are the handful of people that come to mind? Have you ever told them so?
Let's raise a glass and toast to these folks.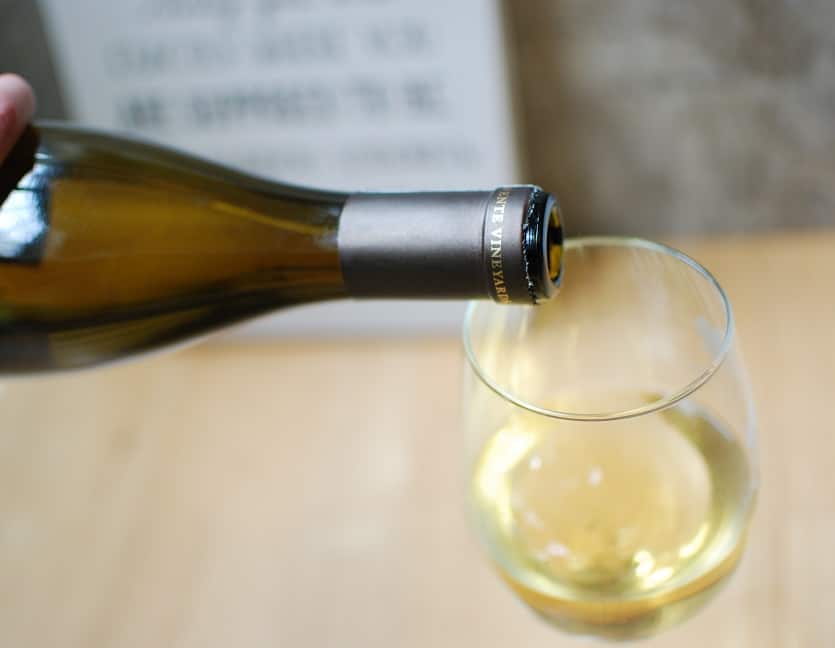 This year, I vote that we toast those people in our lives who have changed us for the better. Let's celebrate what they have done for us. I've got my toasting glass today filled with Wente Vineyard's Riva Ranch Chardonnay.
Why Wente Vineyards? Because they're a California winery that embodies the appreciation for this "love of the journey". As a multigenerational wine making family, they understand the importance of nurturing and caring – whether it's for their family members or the grapes on their vines. As 5th generation winemaker Karl D Wente says, "Every single day, we strive to be better than the day before. That's what my family instilled in me…. We don't do it because we have to, we do it because we love to."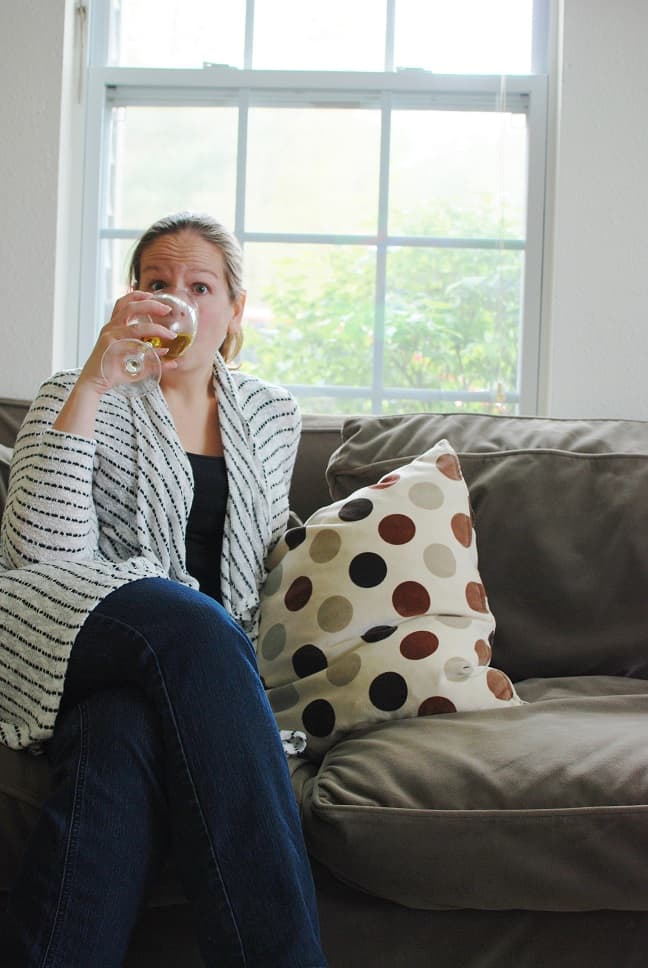 In addition to raising a toast, consider writing (or video taping) a gratitude letter to someone in your life who has been influential.
I learned about the concept of writing a gratitude letter from the Greater Good in Action Website. Essentially, you just write a letter to a person explaining each of these three things:
What did the person do for you, teach you, help you with, etc.?
Why are you grateful for their efforts or their relationship with you?
What are you doing in your life now, and how has their influence shaped who you are today or what you're doing today?
By writing it out, you yourself feel gratitude, connection, and happiness. You can then choose to read the letter to the person (in person or over the phone) or mail it to them to express your thankfulness.
[Tweet "Try writing a gratitude letter to someone who inspired you! Brings joy to you and them."]
Why take the time to do this? Just think about the joy that will bring both you and the other person.
Mental and emotional health is an aspect I don't address super often on the blog, but is so important. Fellow Type A runners and triathletes, are you with me that we sometimes forget about this? We need to stop and reflect sometimes. We need to find ways to fill our emotional bucket, and one of those ways can be expressing gratitude.
So today, I'm going to toast a person that ignited my passion for learning and fostered my work ethic, and let this blog post serve as an open gratitude letter to them. Feel free to watch the video or read the story below!
A big cheers to my 4th grade teacher, Mr. LaSusa….

When I started 4th grade, my classroom teacher was a lovely lady by the name of Mrs. Mazochi. She was the type of caring teacher that took interest in every one of her students. An all-around, good-to-the-core kinda lady. But mid-way through the year, Mrs. Mazochi was diagnosed with a serious health condition and ended up in the hospital. Of course, the school would quickly need a replacement teacher to take over.
That teacher was Mr. LaSusa – her son.
Fresh out of school, this would be his first year teaching. Just take a step back and imagine that scenario – you've recently finished your degree, possibly nervous about starting a new career path, and your mother is battling health problems. Yet despite the obstacles, he stepped in as if he'd been doing the job for years, making the transition seamless for our little nine and ten year old minds.
Of course, now I can look back at that in wide-eyed amazement. Back then, the gravity of the situation didn't really hit me.
Unfortunately, his mom – Mrs. Mazochi – passed away that same year that he took over for her in my classroom. A friend and I actually visited her in the hospital that school year, before she passed away. It was the first time I had been in the hospital to visit someone. I recently found this writing piece about my visit in a box of old school stuff at my dad's house…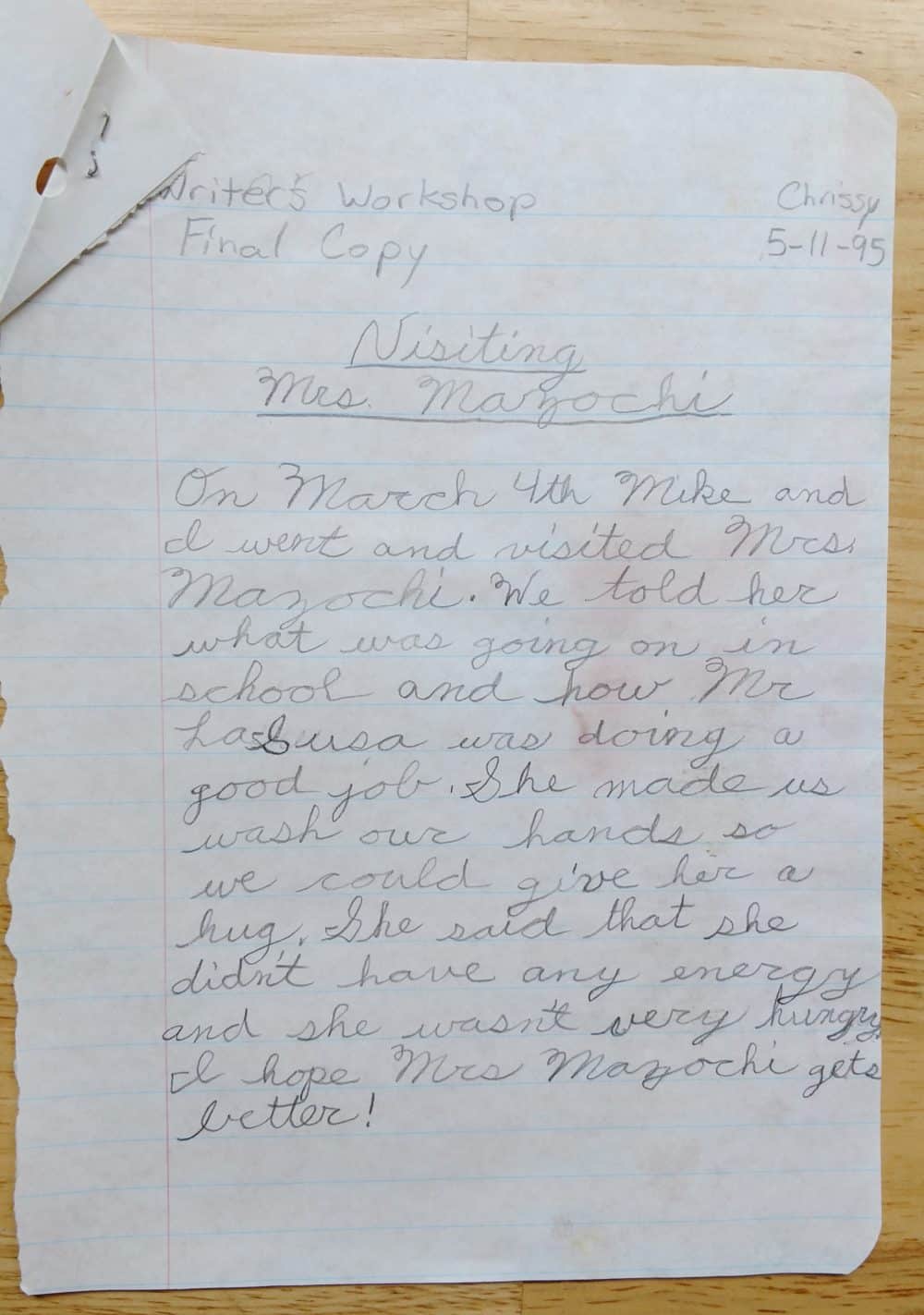 What I knew and could see – even back then – was that these were two teachers who would impact my life.
Mr. LaSusa took over that classroom for his mom, a woman we had already bonded with and come to love, and created the same positive and dynamic learning environment. An ever energetic and motivating presence, he pushed me and my classmates to excel at learning while keeping the classroom fun.
I found this quote from Mr. LaSusa's "about the teacher" page at his current school. It tells you everything about his teaching methods and what he instilled in my life (and likely many of the students he teaches)…
"I believe that you should enjoy what you are doing, as much as possible, work hard, and never give up, in order to obtain optimal results. Additionally, the ability and willingness to laugh is very important to us all and makes learning fun! Whatever you do, do it to the best of your ability, be respectful and kind, make good decisions, and don't forget to smile!"
I truly believe it was that year that gave me such a passion for education. If you don't know me personally, you may not know that I started my career as an RD teaching nutrition classes to students in Boston for six years. And then for the last four years, in addition to running the blog, I've also taught as an adjunct professor at few local colleges. And of course, writing this blog is certainly a form of educating (or at least I hope it is) within itself.
Apparently, my writing back then also foreshadowed the whole juicing trend, when I wrote this creative essay about a state I had made up called "Weird State" where people juice to cure diseases 😉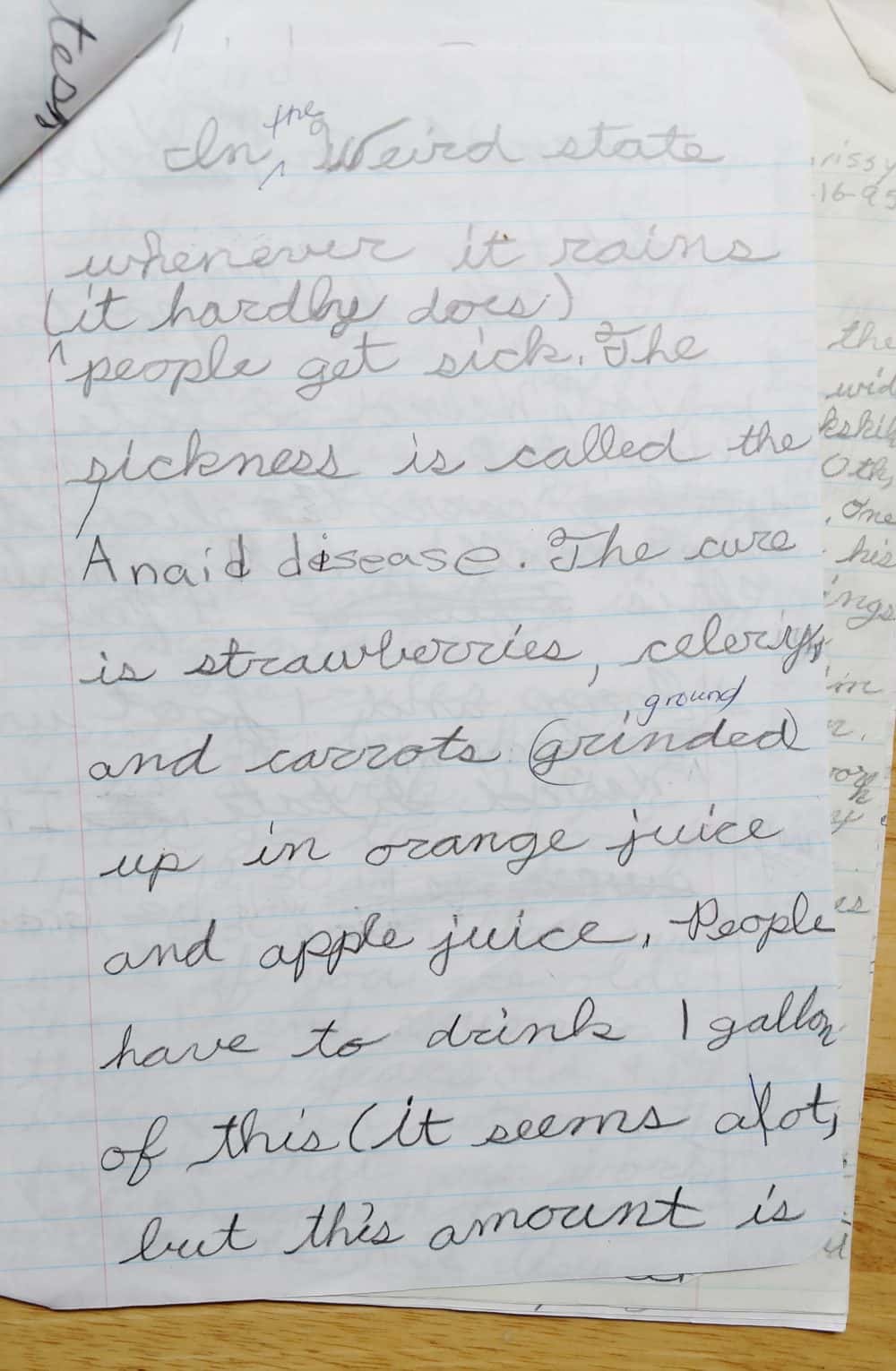 I've been lucky enough to stay connected to Mr. LaSusa (no matter how many times he tells me I can call him "Brian" it still feels weird, lol) over the years. Last summer, we were able to re-connect with him and his son at the Farm to Fork Fondo in the Hudson Valley.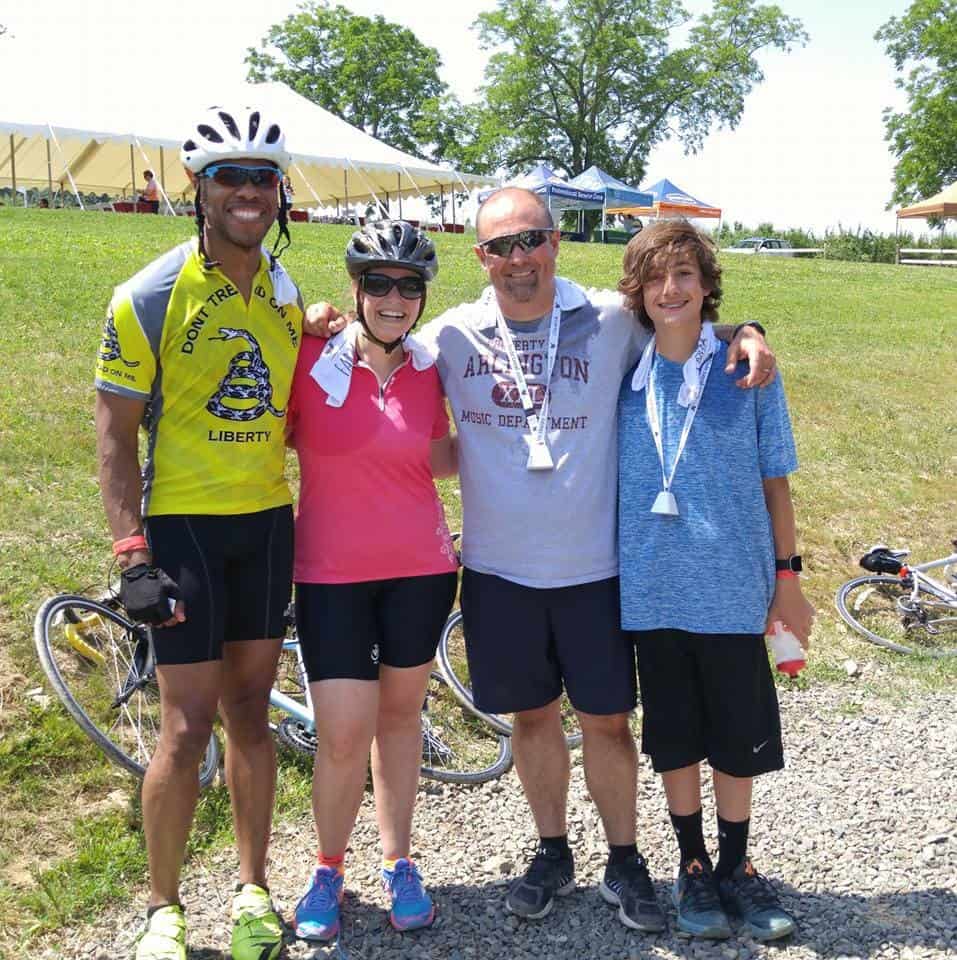 This post is getting crazy long, so let me wrap this up. I just want to thank him and his mom for their pivotal role in my life.
I'll leave you with what I think are the three most important lessons I learned from them:
Always try your best and work hard to achieve the best results for YOU.
Great teachers should inspire students. In the words of William Arthur Ward, "The mediocre teacher tells, the good teacher explains, the superior teacher demonstrates, and the great teacher inspires."
Life is a gift to be treasured. And none of us should ever forget that.
Share with me: Who has been an influential person in your life? Have you had a teacher or mentor that has helped you? Have you ever written a gratitude letter? Have you ever tried a Wente Vineyards Chardonnay? (If not, check out where you can buy 'em here!)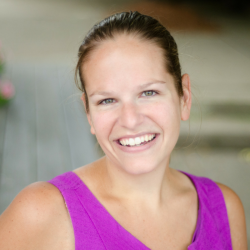 Latest posts by Chrissy Carroll
(see all)