Sometimes when your workout mojo starts fading, splurging on a new piece of equipment can help kick your butt into gear. That's why I wanted to do an Armored Fitness XPO Trainer 2 review here on the blog – because this piece of equipment totally rejuvenated my fitness motivation this month! This push sled on wheels is one of the most innovative pieces of equipment that I've seen, and is perfect for your home gym / "pain cave".
Read up to learn why you may want to use a sled, why I love this particular product, and find several sled push workout ideas you can use.
Disclosure: Thanks to Armored Fitness for the product sample for this post! As always, all opinions are my own. This post contains Amazon affiliate links; as an affiliate I earn a commission on qualifying purchases.
Disclaimer: This is for informational purposes only. Consult an MD prior to beginning any new exercise program.
What is a workout sled?
A push sled is a piece of workout equipment that can be used to develop both speed and strength. Essentially, as you push against it, you're met with resistance. This makes it harder for you to propel forward motion.
Benefits of sled training
Sled training is a tough exercise – but one that is also beginner friendly. If you get tired, you simply stop (unlike some exercises where you need to carefully put a piece of equipment down, making it dangerous if you falter out too early).
For runners, I love the sled because it mimics the motion of running. You are "sprinting" with it, but because of the resistance, you're moving much more slowly and controlled. That means the impact placed on your body is less compared to a regular sprint. This can be really beneficial to mix into training.
In addition, because it mimics a natural running motion, most people innately understand how to use it. There's less injury risk that more specialized exercises where slight deviation in form can cause a major risk.
And obviously, there are a multitude of strength benefits as well. With the sled, you're working:
Glutes
Hamstrings
Calves
Abdominals
Back
Depending on the arm position, triceps and shoulders as well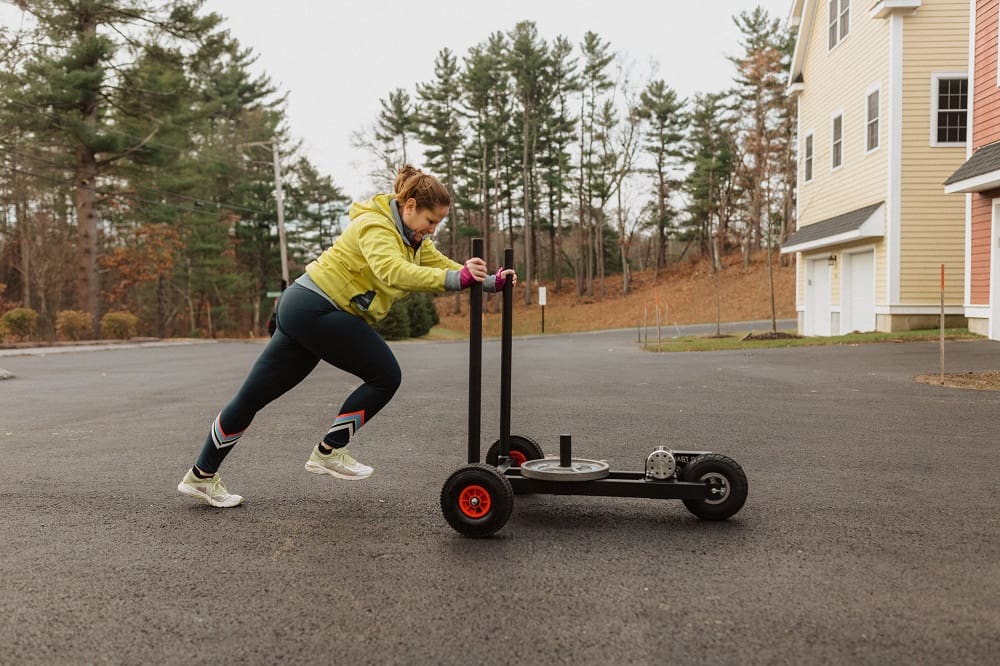 Traditional sleds vs. the XPO Trainer 2 Review (and why I love the later!)
You may have seen sleds out at a football practice, but never considered using one on your own at home or at the gym. And honestly, the traditional ones aren't always practical for these uses. Most have metal feet that can tear up floors and/or make it very loud to use.
But that's why I was excited to do an XPO Trainer 2 review – this sled is completely different. It's a one-of-a-kind push sled on wheels. That means no scratching up floors and no loud noises. Got a big straightaway in your basement? Want to bring it outside to use in your driveway? Think you might take it out to the track? It's safe – and quiet – to use on all these surfaces.
On a traditional sled, you also have to change the plates out for different levels. This can be overwhelming for those new to using it – I don't know about you all, but I hate feeling like I don't know what I'm doing at the gym! It's also a little irritating if you and a friend are working out together and you have different fitness levels, because then you keep having to change the plates up.
This is where another major benefit of the XPO Trainer 2 comes in. It uses a special motor resistance system that increases resistance exponentially as speed increases. That means all you have to do is grab it and push and you're given an amazing workout!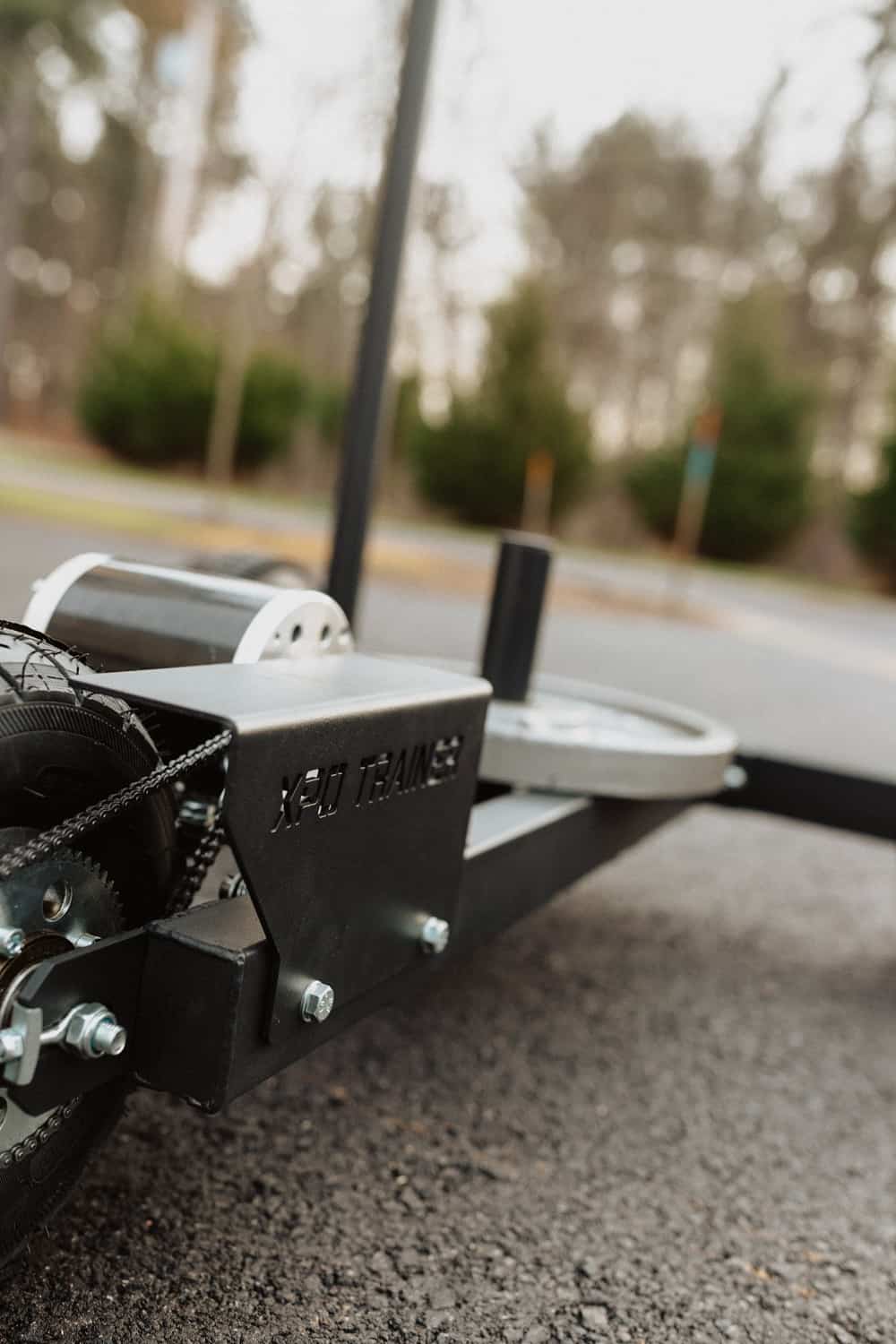 Now, we do put one weight plate on it which helps with traction given that it's on wheels. Armored Fitness recommends using 25-40 pounds for most surfaces. We have a 35-pound plate on there and use it mostly outside on a paved driveway area, and that works absolutely perfect.
But again, the resistance itself is governed by the motor – so you don't have to shift out any plates depending on fitness level. My husband and I can work out together with it and not have to worry about changing anything. When he pushes it he experiences a higher resistance load due to the power at which he's pushing, whereas when I push it (with far less power), the resistance load is different to meet my body's needs.
And lastly, from an ease of use standpoint, the XPO Trainer 2 is really simple to get around. You can just shift the weight to the back wheels and then wheel it without resistance back to wherever you store it (see photo below).
Want one for yourself? You can order the XPO Trainer 2 on either Amazon or the Armored Fitness website.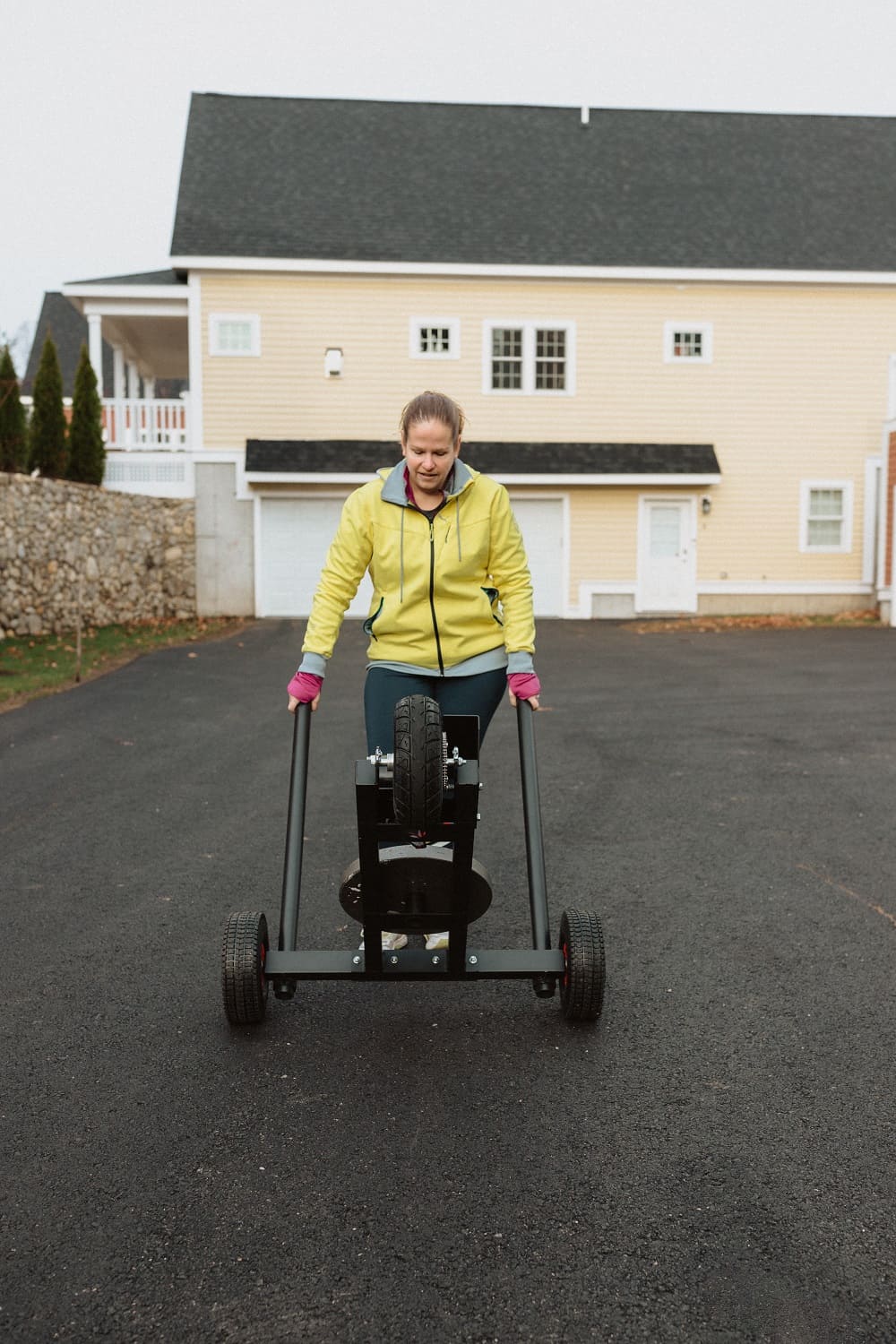 How to use the XPO Trainer 2
If you've reading this XPO trainer 2 review thinking "but I've never used a sled before!" — don't be overwhelmed! The movement will come very naturally.
You want to face the sled and grab the handles with both hands. You'll lean forward slightly, then drive the sled forward using your legs and glutes to really propel that movement.
You want to try to keep your back as neutral as possible, avoiding rounding or overarching it. For runners especially, this helps put the focus on the muscles you want to be working in your legs and glutes, while your core is engaged to stabilize everything.
As far as arm position goes, you can either keep your elbows bent and your arms close to the sled, or you can hold your arms straight out. The later requires a little more strength in the shoulders and upper back, but I find it a more natural position. Test out both and see what works for you.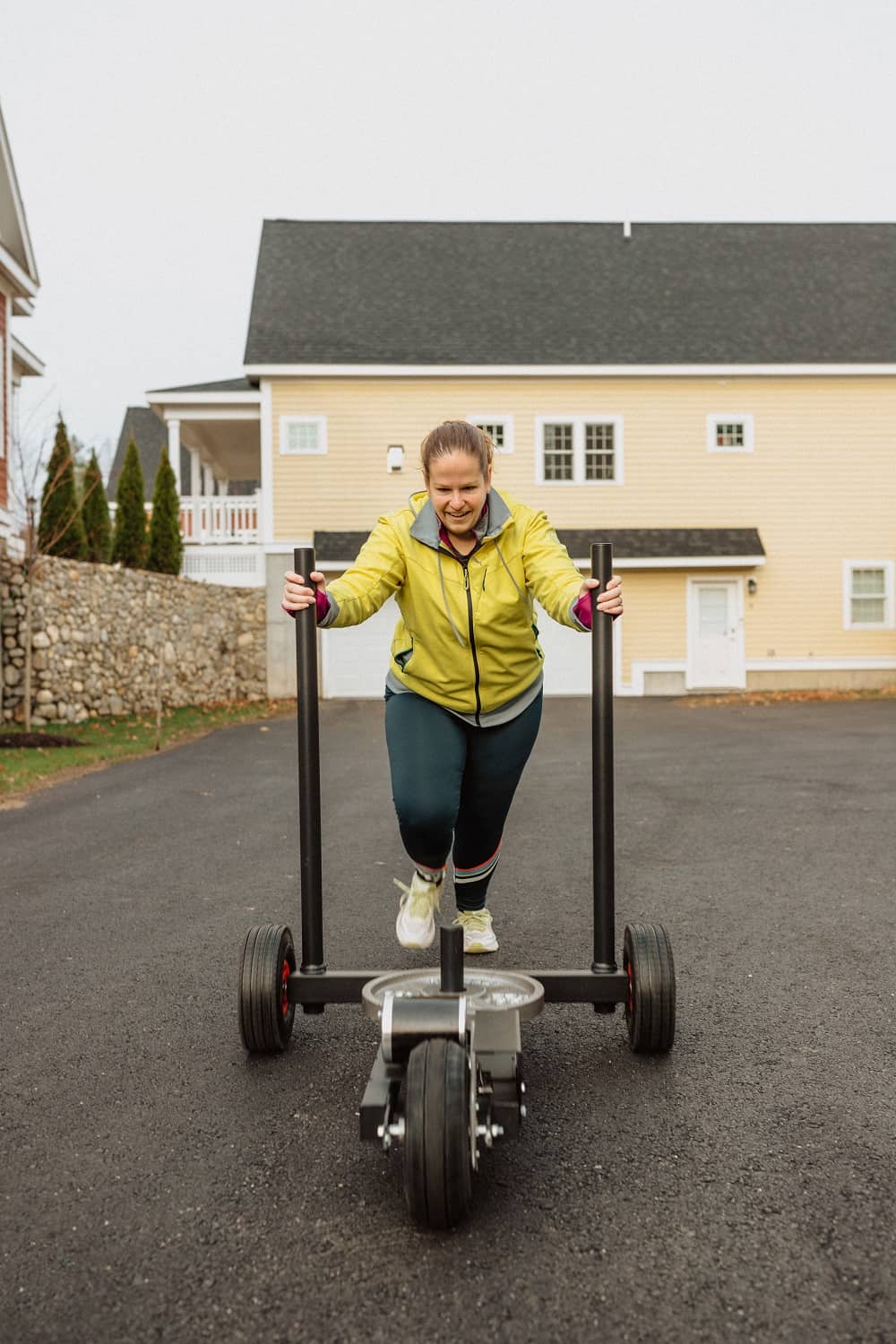 Sled push workouts
Hopefully at this point, you've gone ahead and ordered your XPO Trainer (either on Amazon or Armored Fitness) – or maybe you can convince your gym to get one in stock! Once you've got access to one, here are 4 different workouts you can do. Most of the exercises are ones you're probably familiar with, but I've linked to the ones that might be new to you.
There's also pin graphics for each workout, so feel free to pin them to refer to later! 🙂
Workout 1: Starting Strength Workout
This is a great beginner friendly workout. You'll be focusing on three body weight exercises in addition to the sled push, so you'll only need the one piece of equipment.
10 push ups (modified or regular)
10 squats
10 bird dogs
40 m sled push
Repeat 4-6 times, depending on fitness level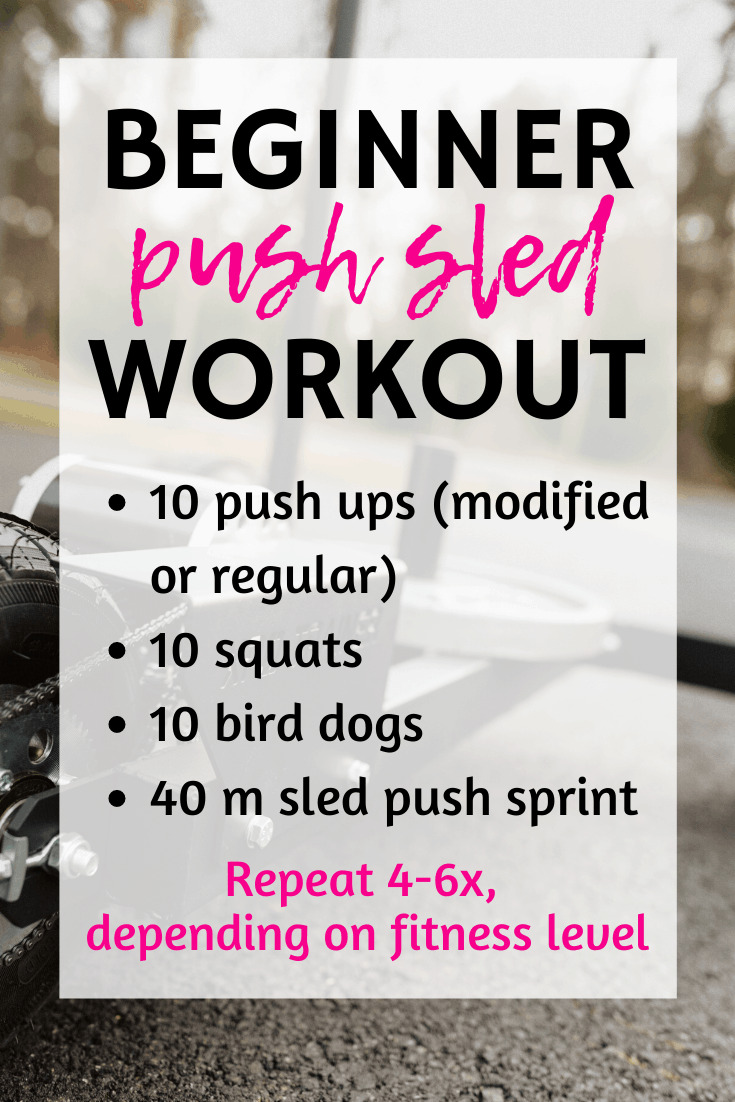 Workout 2: Booty Booster Workout
This workout is all about those glutes! You'll combined sled sprints with strength exercises that work the glutes for a challenging but beginner-friendly workout. Similar to above, the only piece of equipment you need is the sled.
40 m sled push
20 squats
40 seconds side skaters
40 m sled push
20 step ups (10 each leg – the link shows a weighted version but an unweighted version is great for an outdoor workout)
40 seconds walking lunges
20 donkey kicks (10 each leg)
Repeat 2-3 times, depending on fitness level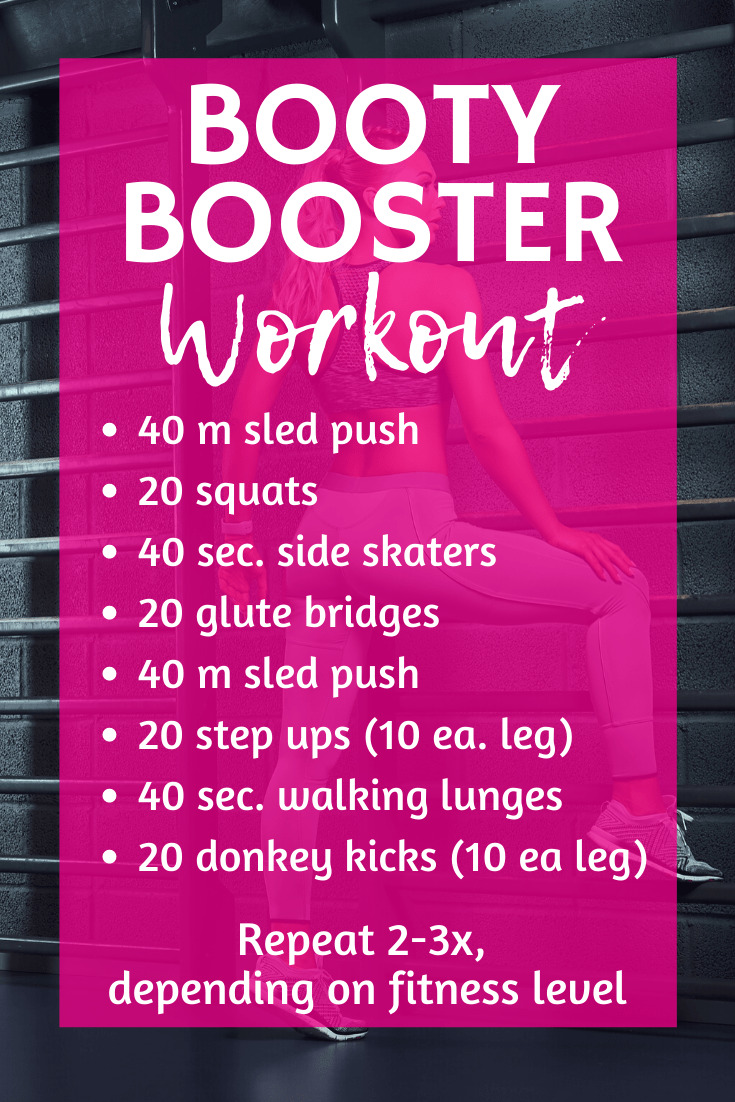 Workout 3: 10-20-30-40-50-60 Workout
This is a fun full body workout, with both a mixture of cardio and strength. It's especially great for triathletes in the off-season. You'll strength train some of the muscles involved in swimming via the push ups and cross punches, the muscles in cycling/running with the step ups, as well as power via the sled.
10 push ups (modified or regular)
20 step ups (10 on each side)
30 second plank
40 m sled push sprint
50 seconds cross punches
60 seconds running, quickening pace throughout second half
Repeat 3-6 times, depending on fitness level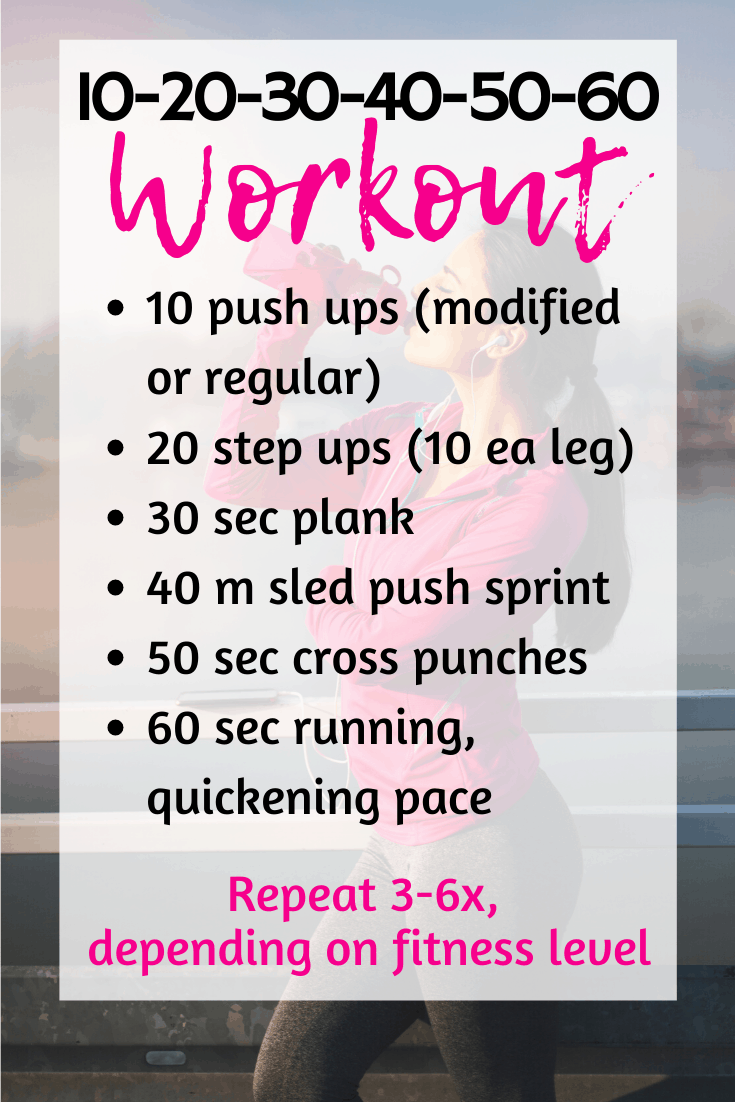 Workout 4: Kettlebells & Sled
Kettlebells are fun on their own, but when you alternate them with a sled push, it provides a new way to challenge your body. This is a beginner-focused workout – but if you've never used kettlebells before, you may want to watch videos of proper form or work with a trainer once so you understand how the movements should feel (particularly with a kettlebell swing).
Repeat 2-6 times, depending on fitness level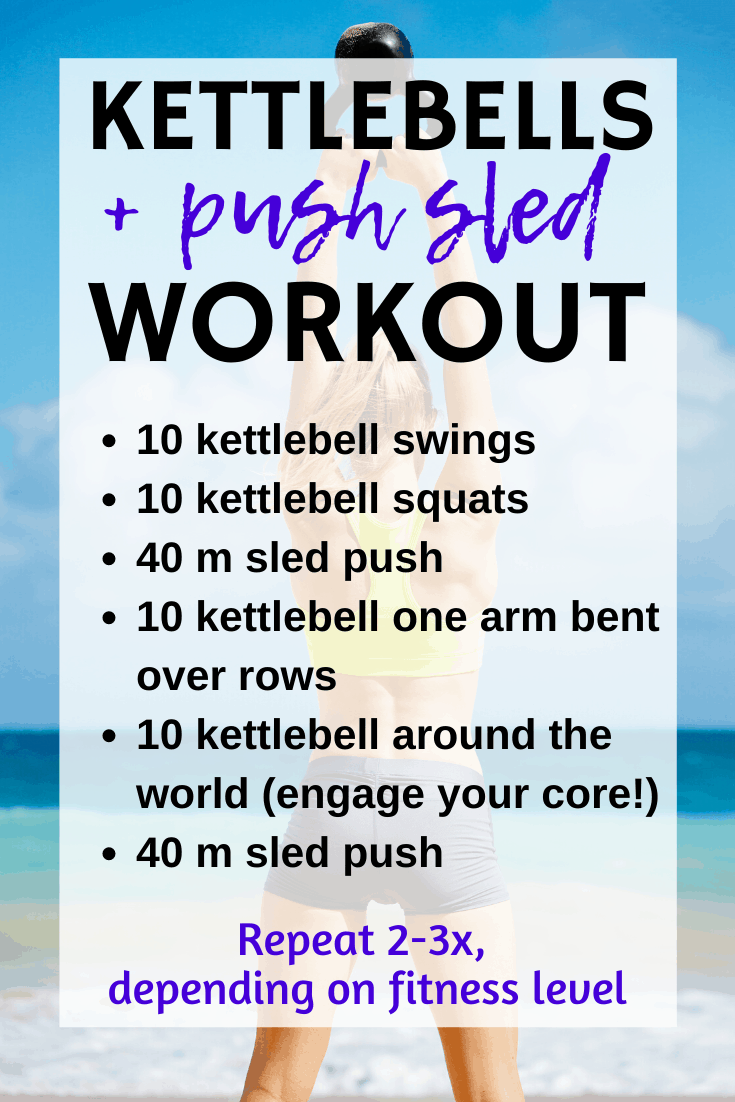 There you have it – everything you need to know to use the XPO Trainer 2 push sled! I hope you enjoy this piece of workout equipment as much as I do.
Share with me: Have you ever done sled training? If you tried one of these sled workouts, what did you think?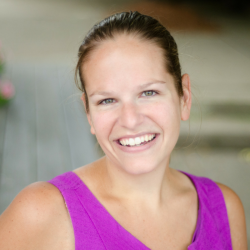 Latest posts by Chrissy Carroll
(see all)