Here we continue our series on healthy holiday gifts! If you haven't yet, be sure to check out our posts on Gift Ideas for Runners and Triathletes and Gift Ideas for Fitness Lovers. Today, we share with you healthy gift ideas for the foodie in your life! These ideas are perfect for those who love food, love cooking, or love both!
Disclosure – This post contains Amazon Affiliate links. As an affiliate, I earn a commission on qualifying purchases.
12 Healthy Gift Ideas for Foodies
1) Paderno Vegetable Spiralizer – This is a great tool for making spaghetti like noodles out of veggies like zucchini. You can also use it for more basic functions, like thinly slicing veggies (perfect for making beet chips, which I love!).
2) Perky Jerky – Gotta give a shout out to my very favorite jerky out there. I actually ask my family for this for me for Christmas; it's that good. I love the original turkey jerky – a 2 ounce bag has 120 calories and 22 grams of protein and there are no preservatives or nitrites. It packs about as much caffeine as a can of soda, so if you're foodie is looking for an afternoon pick-me-up snack, this might be a good one for them.
3) NatureBox Subscription – Want a gift that isn't used up in one day? Consider a subscription to NatureBox. It's a snack subscription box that comes monthly with a variety of healthier snacks – think nuts, dried fruit, etc. All snacks contain no partially hydrogenated oils, no artificial sweeteners, and no artificial flavors. Gift subscriptions can be bought for 2 months, 5 months, or 10 months.
4) Mister Tea Silicone Infuser – I can't get over how freaken cute this guy is! Combine this gift with some yummy loose leaf tea. I'm a fan of Teavana – because you can go in and smell all the delicious varieties! – but you can find loose leaf tea at other places too. Your friend or family member can put the tea in this silicone infuser, and use it to make a nice cup of fresh tea.
5) CSA Share – If you're looking for a bigger gift, consider searching out some of the local farms where the recipient lives. You may be able to sign them up for a CSA (community supported agriculture) share, where they'll be able to pick up a box of produce every week for a portion of the year.
6) An Amazing Blender – Either a Vitamix or a Ninja – Yes, both are pricey (though the Ninja is considerably cheaper than the Vitamix), so this would be a big gift for someone. But if you've got the dough to spend, both of these blenders are notorious for making thoroughly blended smoothies with a wide variety of fruits and vegetables. In other words, there aren't any chunky greens left when you blend with these. And I like them better than juicers, because ALL of the nutrition – including the fiber – stays in the beverage you're blending.
7) Herb Plants – These are fabulous to keep on a windowsill, and will ensure flavorful foods for months. Tip: If you know your friend doesn't have a green thumb, consider basil – it's the easiest to grow and doesn't require much care.
8) Cuisinart Immersion Blender – These handheld stick blenders are perfect for pureeing soups and sauces right in the pot. They also make it easy to create quick single serving smoothies (not as powerful as a traditional blender, but great for easily blendable items and way easier to clean up).
9) Cooking Classes – Even if the person on your list is already a great cook, there are tons of specialty classes out there – you just have to do some digging into what's around their area. Around here, you can find classes on cheese-making, specialty dessert classes, or ethnic cuisine opportunities.
10) Eating Well Magazine Subscription – This is a great magazine that I personally subscribe to, and it's got lots of healthy recipes and cooking tips. A 1 year subscription will run you just $5 on Amazon, making it a great budget-friendly gift.
11) A Good Knife Set – I didn't pick out a particular brand here, because there are all different types out there in different price ranges. I'd suggest browsing through cookware sites and Amazon to see what sets have the knives your cook will need, and which sets have the best reviews given your needs.
12) Thug Kitchen – This is a perfect gift for the hipster foodie in your life – or anyone that loves to cook for that matter. Based on the popular blog, the Thug Kitchen cookbook (aptly subtitled "Eat like you give a F***") contains lots of recipes that cut out processed crap and make delicious food from clean ingredients.
Share with me: Do you have any more suggestions for healthy foodie gift ideas?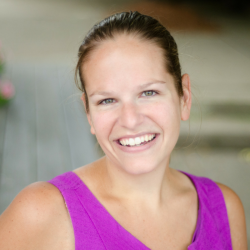 Latest posts by Chrissy Carroll
(see all)