It's time to talk presents. Whether you're shopping for a runner, all around fitness lover, or healthy foodie, I want to help you out with a roundup of some of my favorite healthy gift ideas. This will be a 3 part series, and today's post focuses on gift ideas for runners and triathletes!
Disclosure – Some of the items in this post contain Amazon Affiliate links. If you click on it and decide to buy it, I receive a small percentage of the sale. 🙂 As always, all opinions are my own! Also, all photos in the post are from the manufacturer's website or their Amazon seller pages.
12 Gift Ideas for Runners and Triathletes
1) Race Belt – Great for any runner or triathlete, a race belt allows you to quickly attach your bib without having to fumble with safety pins. There are many brands out there (like this one pictured above from FuelBelt) and you should be able to easily find one online or at a sporting goods store. And at less than $15, this is perfect for anyone shopping on a budget!
2) FuelBelt 4 Bottle Belt – If you know anyone training for long distance races, a fuel belt is essential! It allows them to carry their water or sports drink (plus a little pouch for keys & cash). Since it sits on the hips, it doesn't throw off stride like carrying a big water bottle by hand.
3) Road ID – Since many runners & triathletes don't carry ID with them while exercising outdoors, a Road ID is a great solution. It's a small athletic bracelet where you can list your name as well as any emergency contacts and medical/allergy info.
4) Eat to Peak: Sports Nutrition for Runners & Triathletes – OK, this is shameless self-promotion, haha. But nutrition is often one of the pieces that can make or break a race for an athlete. Whether you're shopping for a new athlete who is just trying to figure out what to eat/drink on a run, or an experienced athlete looking to optimize nutrition in hopes of helping them PR – my book will help!
5) PowerBar Perform – This is my favorite sports drink out there. It tastes good, is a little higher in sodium than some other brands (great for hot weather running), and seems to sit better in my stomach compared to other drinks. Of course, sports nutrition is super individualized, so what works for me may not work for someone else. But never hurts to experiment with different products during training!
6) Lock Laces – These elastic shoelaces mean faster transitions in triathlon, and no worrying about stopping to tie shoes during a race. At under $10, a great budget-friendly pick!
7) Body Glide – This sounds so dirty, haha. But it's one of my "must haves." It's a skin lubricant that you roll onto areas where chafing commonly occurs, thus helping prevent this annoying problem during your training and racing. Super helpful for runners and triathletes.
8) Swiftwick Socks – These are my very favorite running socks. They are super comfortable, feel nice on your feet, don't slide around, and help prevent blisters. Yes, they're a little pricey for one pair socks but that's why they're a perfect item to give as a gift – for frugal athletes like myself, it's hard to justify spending that much personally so it's always nice to receive something like this as a gift!
9) Foam Roller – Perfect for stretching and massaging tight muscles, this is another one of the items that I personally love. Dick's Sporting Goods has a wide assortment of foam rollers to choose from, as do many other sporting goods websites.
10) Race Jewelry by Erica Sara Designs – I know a lot of female athletes that would love a cute necklace highlighting their race accomplishment. Erica Sara Designs has some amazing ones!
11) Fancy Watch – Like a Garmin, Polar, or Timex Ironman– These are probably the three most popular brands out there. Browse around each site to see the different features offered. Does your minimalist runner just want something that tracks times and laps? Or do they want all the bells and whistles with GPS, heart rate monitoring, and more? You can be sure to find watches at both ends of the spectrum.
12) Race Entry (Search Active or Racewire) – If you know there's a race your loved one is dying to do, why not go ahead and take care of the race entry fee? [Boilemaker just happens to be one of the races on my bucket list!]
Check back soon for Part 2: Gift Ideas for Fitness Lovers, and Part 3: Gift Ideas for the Healthy Foodie!
Share with me: Do you have any other gift suggestions for runners & triathletes? What are your favorite things to give or receive?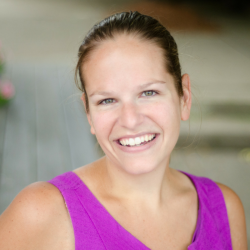 Latest posts by Chrissy Carroll
(see all)