It's officially that time of the year!  The Christmas music is starting to play, holiday events will be popping up soon, and of course – it's time for shopping for the ones you love!  If you've arrived at this post, I'm guessing you've got an OCR athlete in your life.  Not to worry – you'll find 15 amazing gifts for obstacle course racers, spartan athletes, tough mudders, or any obstacle-loving, mud-runnin' athlete on your list.
Disclosure: This post contains Amazon affiliate links. As an affiliate, I earn a commission on qualifying purchases. I also may have received samples of some of the items in this list.
15 Best Gifts for Obstacle Course Racers
This list was put together partially out of helpfulness and partially out of selfishness, haha!  My husband is an obstacle course racer and when he started two years ago, I had no idea what to get him for gifts.  Through much research and discussion with other OCR friends (big shout out to 2c_ocr and workyourcassoff), I put together a list of a few ideas.  Once I securely ordered my husband's gifts this year, I asked him for a few more recommendations to add to this list too.
1. Mud Gear Trail Running Socks
I heard a joke recently that when you were a kid, getting socks for Christmas was a threat your parents made to keep your behavior in line – yet as an adult, it's super exciting, LOL!
These Mud Gear Trail Running socks might seem a little pricey for two pairs of socks, but they're worth it. The socks are incredibly comfortable and are designed to wick away moisture and prevent blisters.
And perhaps more importantly, there's medium ankle compression on the socks, which helps to keep out rocks, dirt, and debris. While this might not be a concern for road runners, for trail runners and OCR athletes, it can get really annoying to have dirt and junk settling into your socks (especially during a long event).
Bonus – they're made right here in the USA!
2. Roll Recovery R8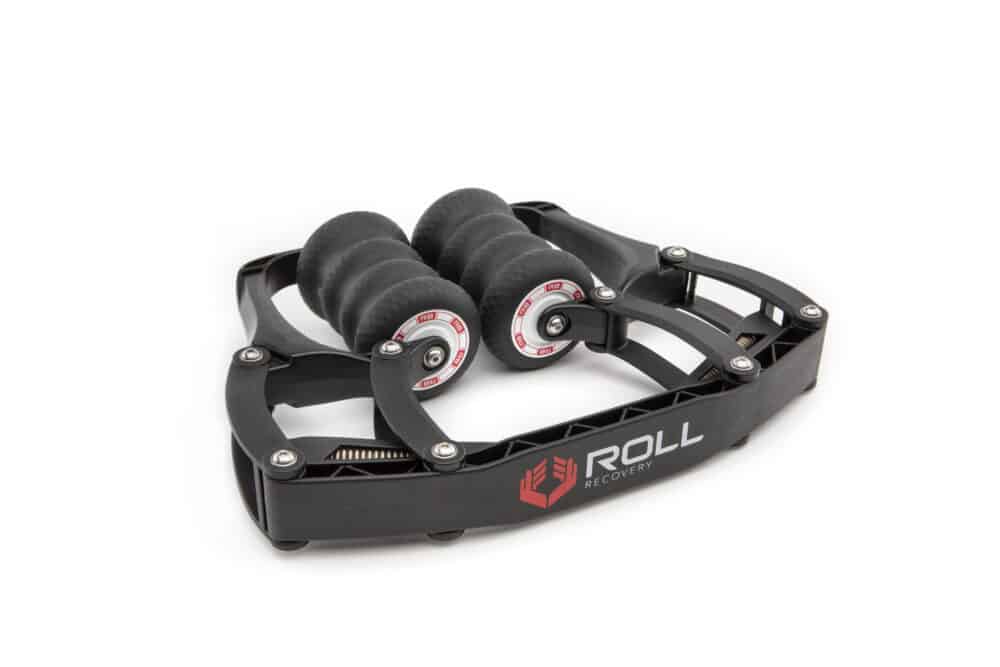 Think of the Roll Recovery R8 as the midway point between a deep tissue massage and a regular foam roller. This came highly recommended to me from multiple OCR pals, and I can see why. It's essentially a dual sided roller with a spring configuration that puts considerable pressure on both sides as you roll. It really helps to work out stiffness from the muscles!
The device self-adjusts for different body sizes and body parts. You can target your quads, hamstrings, calves, shins, glutes, and more. Because of the way the R8 works, you aren't using your upper body or the rest of your body weight to put pressure on a muscle like you would with a normal foam roller. It basically takes the "work" out of foam rolling.
Bonus – it's relatively compact so you can pack it in a recovery bag or travel with it.
3. DIY Slosh Pipe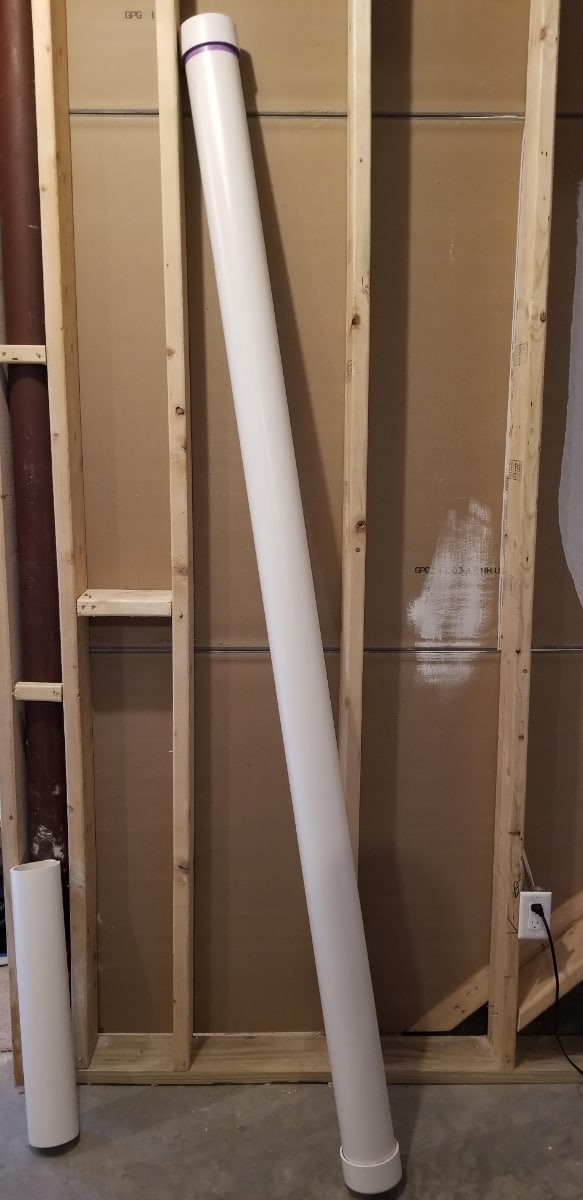 Honestly, this is one of my favorites from this entire list because I made this for my hubby for his birthday this past year. And you know if I could make it by myself, it's easy enough for anyone to do. 😉
Essentially, a slosh pipe is a long PVC pipe (about 8-10 feet) that's filled about 2/3 of the way with water. It's capped off at both ends and then can be used as a strength training element. Because the water is constantly sloshing around inside (hence the name), even just holding it can be a challenge because of the constant adjustments the body must make to keep it straight.
An OCR athlete can use this in many ways, from just holding it overhead to doing walks carrying it to doing squats with it.
If you're into DIY gifts, and you know the recipient has space for this (i.e. a basement they can keep it in), I highly recommend this gift. Mainly because a) it's useful, b) it's easy to do, and c) it's inexpensive. All you need is:
4″ x 10′ PVC Pipe
4″ PVC end cap
4″ rubber adjustable end cap
PVC Primer/Cement combo pack
Water
I used this tutorial to make ours and it's extremely well written and easy to follow!
4. XPO Trainer Push Sled from Armored Fitness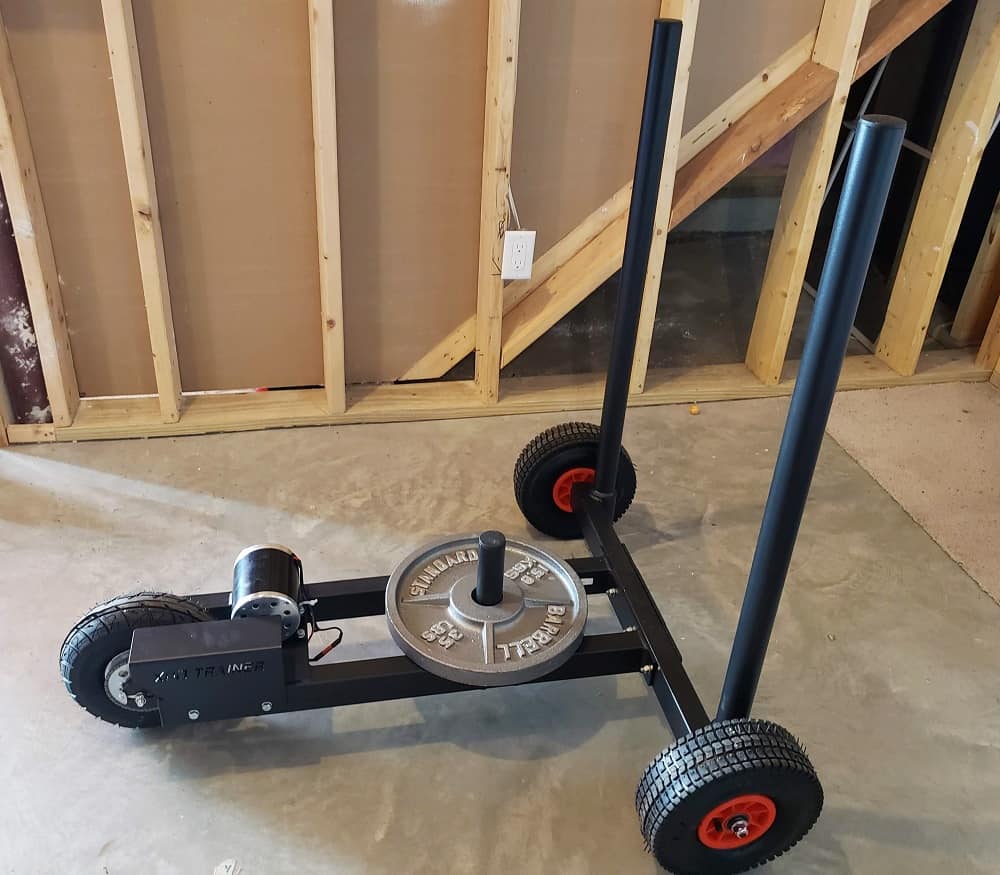 Fitness nerd alert – this is by far another personal favorite from this list!
Training sleds are a neat addition to any home gym or basement "pain cave." With sleds, you can do different functional pushing exercises for building speed and strength. Both are important for obstacle course racers.
Most traditional sleds have metal feet that can tear up floors and/or make it very loud to use. You also have to change the plates out for different levels, like if you and your hubby/wife have varying fitness abilities.
That's where the XPO Trainer Push Sled comes in. It's a push sled on wheels! That means it's safe for different household and outdoor flooring surfaces, and is so much quieter than traditional sleds.
Here's the best part – it uses a special motor resistance system that increases resistance exponentially as speed increases. That means my hubby can push it and experience a higher resistance load, whereas when I push it (with far less power), the resistance load is different to meet my body's needs. You can switch off between different levels without having to change out anything!
We have one weight plate on it just to create traction on the surface, but the resistance is all related to the special motor resistance technology.
This is definitely an amazing gift to grab for the most important athlete in your life! (PS – Stay tuned for a full detailed review here on the blog coming soon!)
You can order either on Amazon or via the Armored Fitness website.
Learn more about it in this video:
5. Pickle Juice / Hot Shots
Cramping is one of the most frustrating parts of any race event, and the constant demands of an obstacle course race make it even more likely to occur in these events. Cramping is typically due to neuromuscular fatigue. Essentially, your nerves and muscles get tired of the constant stimulation.
What's an athlete to do? While most of the evidence is anecdotal, I know a lot of athletes who love pickle juice or hot shots.
For pickle juice, it's thought that the vinegar stimulates a reflex that causes an inhibitory response in alpha motor neurons. Essentially, these are part of the nervous system that are involved in muscle cramping. The theory is that when neuromuscular fatigue occurs, there is additional stimulation and activity of these alpha motor neurons. So if pickle juice causes an increase in inhibition of those neurons / decrease activity of those neurons, it can alleviate cramps.
A similar type of reflex mechanism is behind the use of hot shots, just with spicy pepper instead of vinegar.
Alright, that's a lot of science for ya – but fun facts you can share with your obstacle course racer when you gift them these! This is a great option for those athletes doing longer course OCR events or multi-lap events.
6. Orange Mud Transition Wrap: Changing Towel and Seat Cover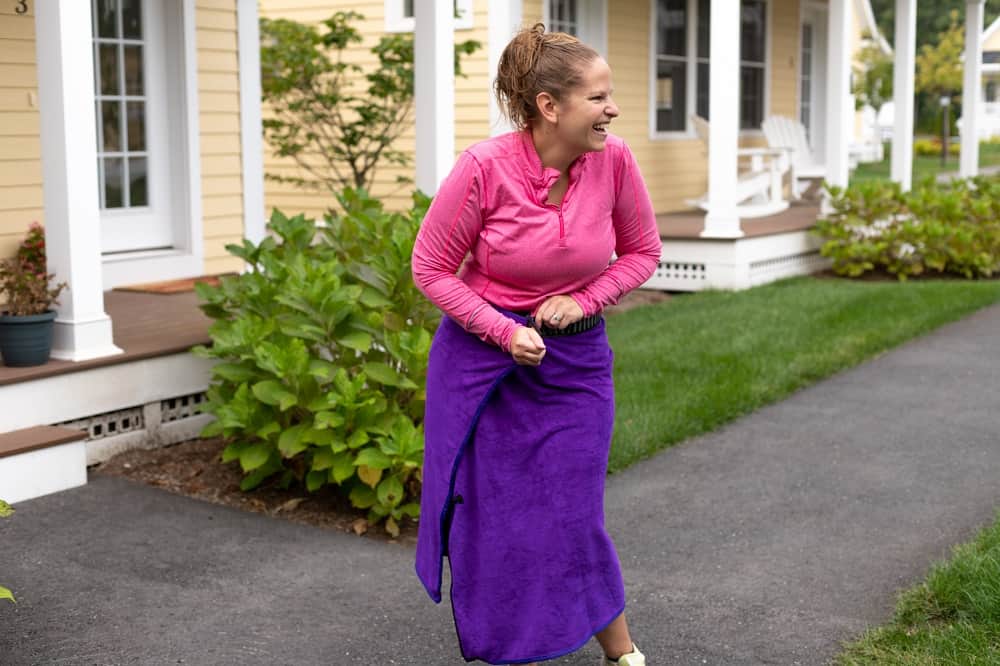 The Orange Mud Transition Wrap is amazing for post-race travel, or if you've been out on the trails running in not-so-nice weather. Essentially, it's a multipurpose towel that can either be used as a seat cover or changing towel.
For the seat cover, you just slip the hoodie part over the headrest of your car seat and it will stay in place. If you've just done a race and gotten all dirty, it's ideal for keeping your car clean (and keeping your seats stink-free, lol).
You can also use it to change on-site somewhere. The towel comes with loops to belt it around your waist, so it won't slip off while changing (see photo above). It does take a little maneuvering but it makes it convenient to change when you're out in the open somewhere.
Bonuses – just like a normal towel it's machine washable; it comes in fun colors to fit your gift recipient's personality, and it's reasonably priced.
7. GripSling Raw Training Straps (*coupon code available!)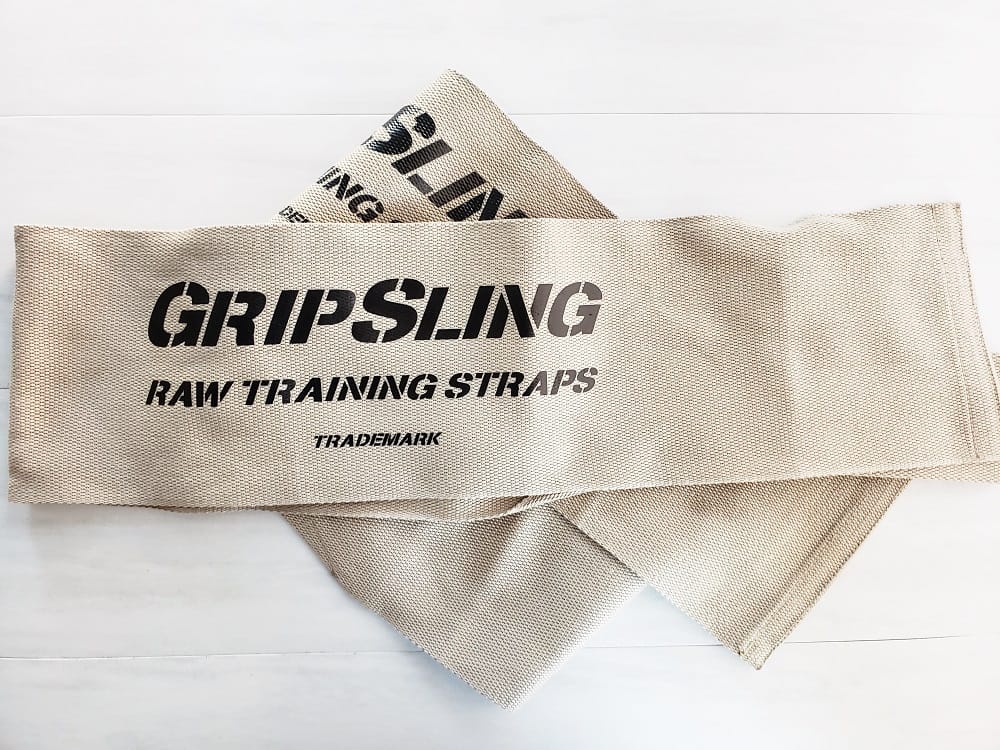 One of the biggest challenges with OCR racing is grip strength – especially for obstacles that involve rope climbs or swinging transfers. Grip Sling straps are a great way to help your obstacle-lovin friend or family member improve in that arena.
Essentially, these are inelastic (but flexible) cotton straps. They material is extremely durable and strong. Athletes can use them in two main ways:
Suspended body weight exercises, like using them to do a pull up, or using them to do a suspended push up
Attaching them to regular or unconventional weights, and using them to lift those while working on grip strength (for example, attaching them to a kettlebell or cinder blocks)
The standard model (4 ft long) has a loop on one end of the strap (for attaching to something) and the other end is simply the strap to grip onto. The handles model (3.5 ft long) has loops on both ends of the straps. Both of these models come in a two pack.
There is also an XL model that is 8 ft long – note that this only comes with one strap (unless ordering the package deal, which comes with two).
Bonus – they can also be used for different physical therapy applications, like certain stretches (for example, using it to pull the foot in a lying hamstring stretch). This means that if you've got an injured athlete on your hands, it's a great tool to buy for them now that will still be useful when they're ready to train again at full strength.
Order directly through Grip Sling where I've got an exclusive 20% off discount code for ya! Just use code SNEAKERS20 to save 20% off your purchase.
Check out this cool video using them in a cinder block workout:
8. Force5 Equipment OCR Training Grips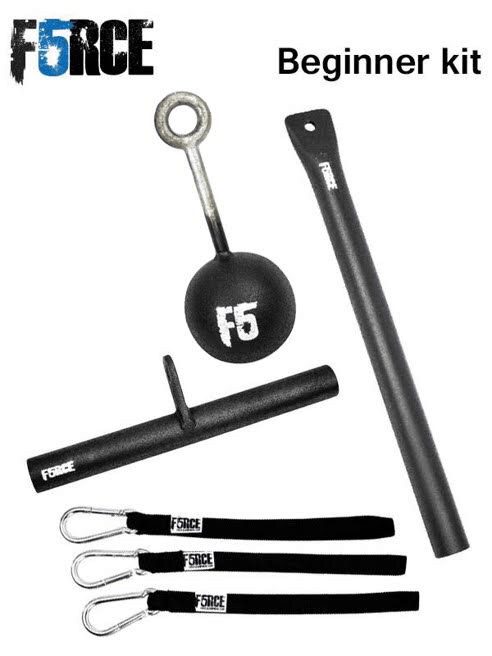 Want to build a true race simulation experience for your OCR athlete? Try ordering a few different grip options from Force5. I love the Grip Slings above as a starting option, but if your athlete already has those, this is the site you'll want to check out for additional grip options. Think things like:
Short rope grip
Peg block kit
Grip balls
Ninja hooks
And more!
9. Wall Mounted Multi Grip Pull Up Bar
A standard pull up bar is great too, but a multi grip bar offers a spartan racer the ability to target many different muscle groups.
I recommend the XMark Commercial Multi-Grip Wall Mounted Chin-Up Pull-Up Bar XM-9025. It might be a little pricier than some of the other models, but this bar is very sturdy. It also has mounting holes that are positioned so it can line up and be mounted a 2″ X 4″ stud wall. (A common complaint with some other wall mounted brands is that it doesn't line up properly, which I'm sure you can imagine is a big issue when you want to ensure the thing won't come pulling out of the wall).
This model is also very highly rated over on Amazon – definitely peek at it and read some of the reviews to see if it might be a good gift for an obstacle course racer in your life.
10. Kinesiology Tape (*coupon code available!)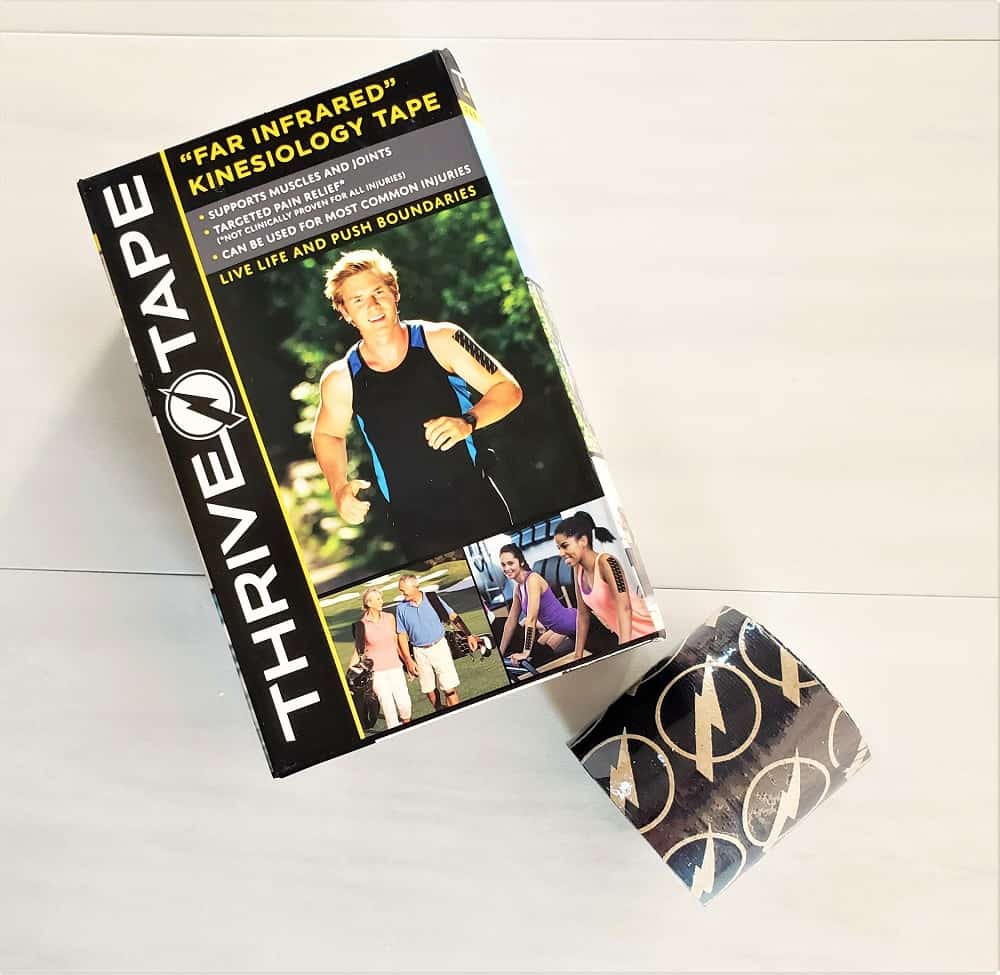 Kinesiology tape is a thin, stretchy fabric tape with adhesive on the bottom. Many athletes, including OCR athletes, use this tape on the body to help with injuries or assist with muscle recovery after tough workouts.
You can find lots of brands of kinesiology tape out there, as many running stores carry this and there are many brands available on Amazon.
But I wanted to highlight one specific option. Thrive Tape is a unique one that just recently entered the scene, and I think it's worth exploring.
While it has all the benefits of standard kinesiology tape, it also has a unique bonus feature – a proprietary formulation of minerals that is liquefied and silkscreened on to the tape. The thought is that this induces 'far infrared' effects on the skin for extra support.
Now, I'm not at all an expert in far infrared technology, but as far as I can tell – it's essentially a subdivision of the electromagnetic spectrum. When the minerals on the tape come into contact with the skin, it's thought these far infrared effects may cause subtle heat transfer that could benefit the muscles as far as support and healing.
When I first read all this, I thought it sounded a bit crazy – but I dug into the research a bit. While there's not anything on this tape in particular, there is some evidence about possible benefits of far infrared delivering fabrics. This review article about far infrared technology offers fascinating information in the section about FIR emitting fabrics, including highlights of studies on Raynaud's syndrome, menstrual cramps, and foot pain.
So – while there's no conclusive research yet, why not grab this as a gift for someone and let them try it out? Who knows, y'all may be among the first to experience the benefits of FIR in kinesiology tape!
You can order here and use code THRIVERUN to save 20% off.
Or, you can search your local running shops to see what kind of kinesiology tape brands they carry, and see what they recommend.
Here's an example of how you can use this type of tape – we used this strategy on my lower back when I injured it a few weeks ago!
11. Medal Display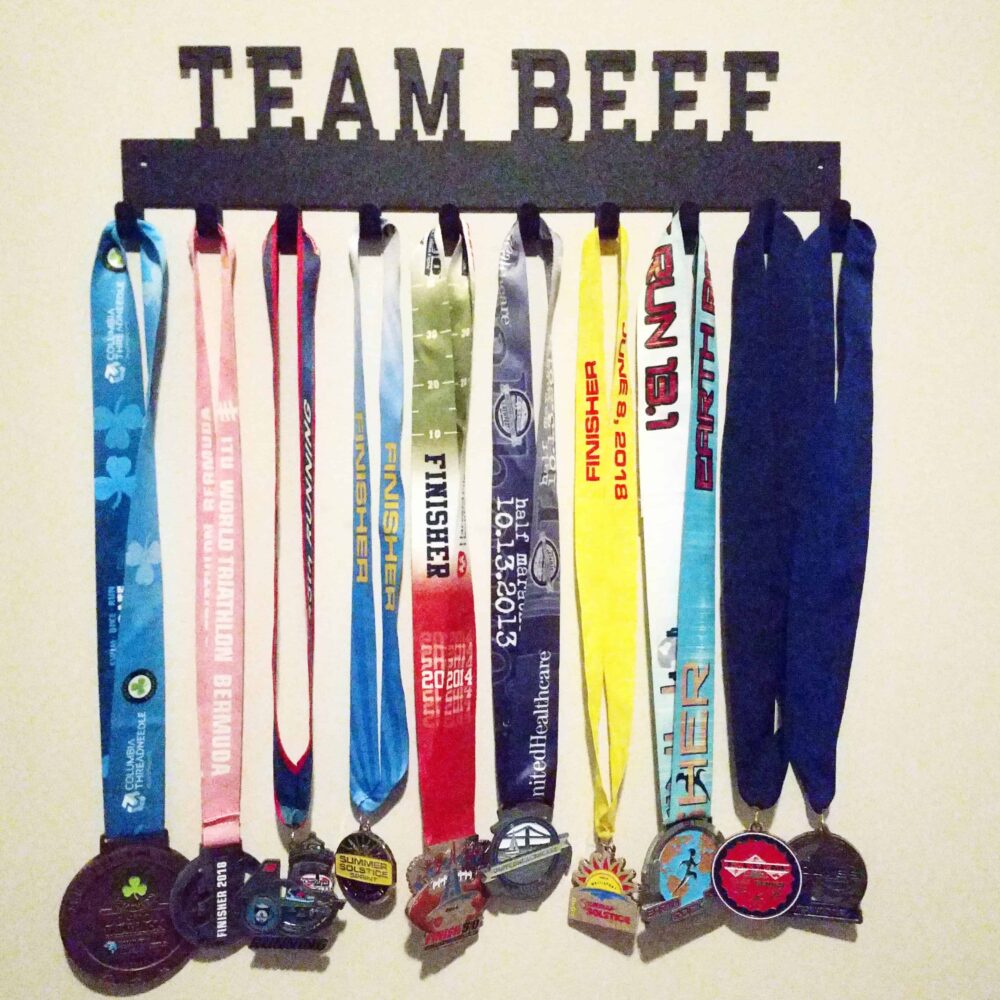 After all that hard work tackling races, what could be better for an OCR gift than a medal rack?! Allow your friend or family member to show off their hard work with a fun rack where they can hang their bling.
I lucked out with this amazing Team Beef rack (shown above) since I love reppin' them at local races.
But if you're not lucky enough to have one of these, haha, you can order tons of different options on Amazon – here are a few of my favorites:
You can also look into ordering customized ones, which are offered from several sellers on Etsy or online retailers. (I don't have experience ordering any customized options – but if you're reading this and know of any reputable sellers for buying these, be sure to leave that in the comments!)
12. Noxgear Tracer360
If you're buying a gift for someone that does most of their run training at night or early mornings, this is a must-have. The Noxgear Tracer360 is a brightly lit, color-changing safety vest. It keeps runners highly visible to cars on the road – up to a mile away!
The vest fits over any outfit and can be used in all weather (we all know that snow is coming soon). My husband loves his! 
13. Bleggmitts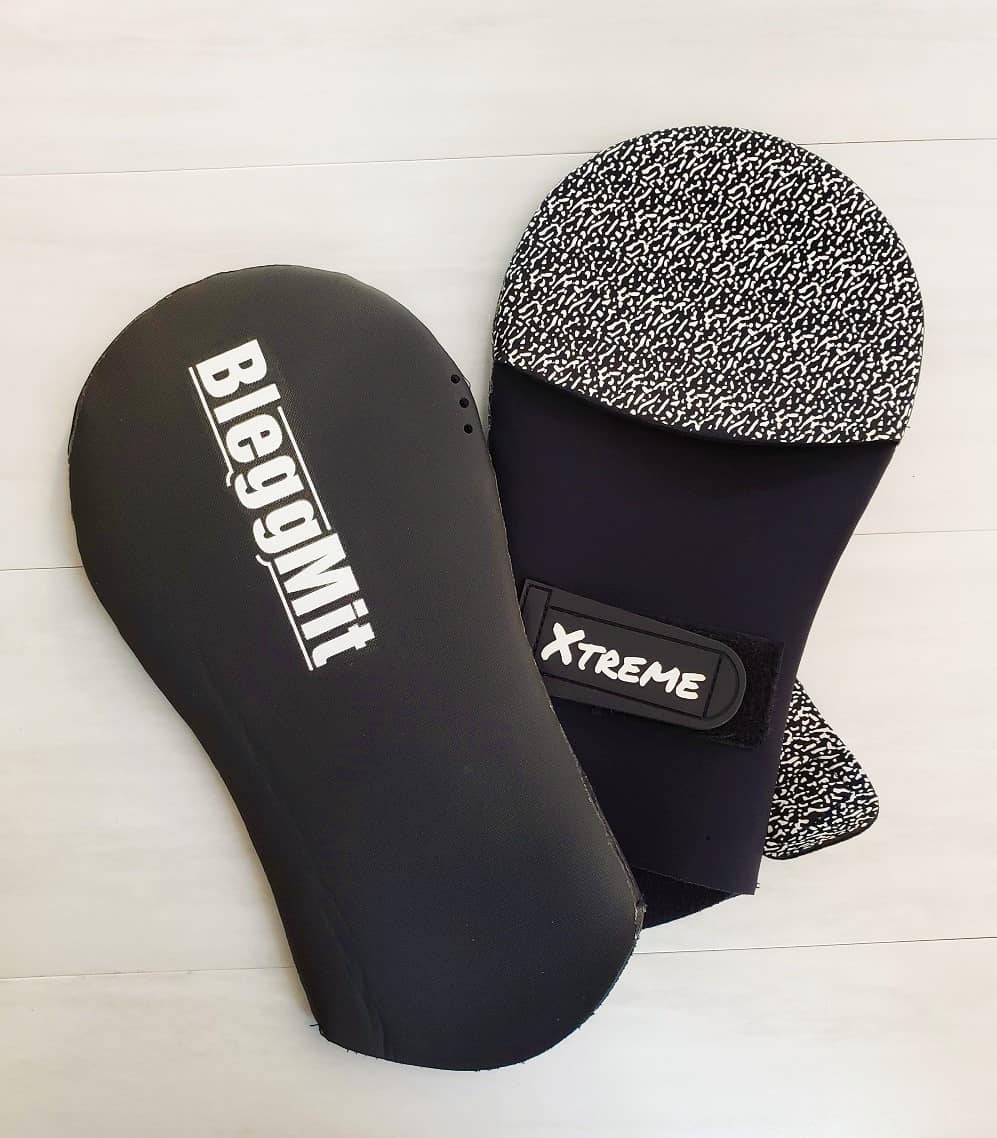 These are the ultimate in "gloves" when it comes to OCR. Essentially, Bleggmitts are mitten-like attire that are made from neoprene. Because your hand and fingers are housed together in the mitt, it allows the warmth of your hand to keep your fingers warm. The neoprene is amazing for keeping hands warm in both dry and wet conditions – something many other gloves or mittens don't allow.
One of the best features of these is that they have an overlapped split of fabric in the front, so you can retract the mitten when you need your hand to do an obstacle – then pull it back down when running to the next one to keep your hands warm.
The newest model has a fleece lining and a weatherproof outer layer, helping protect from the elements even more.
14. Hydration Vest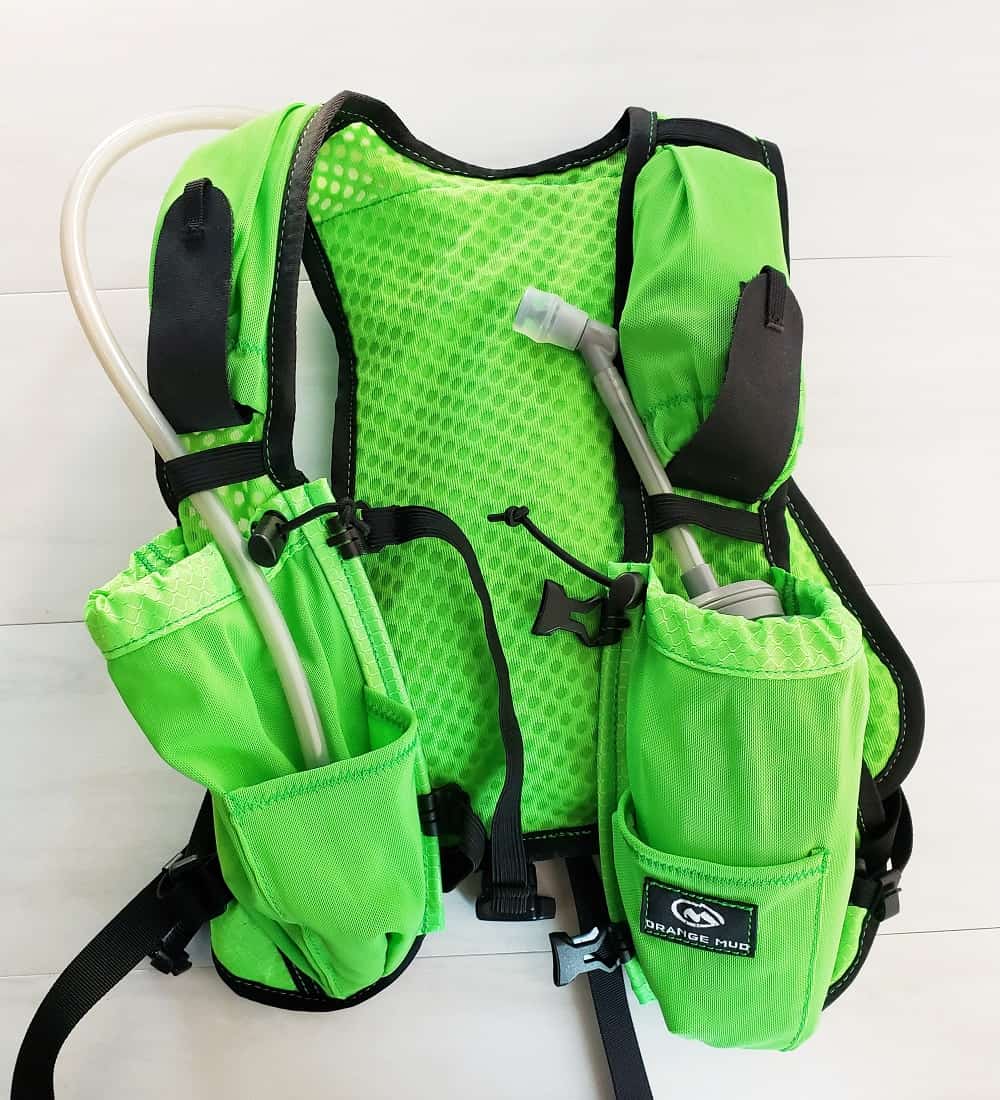 Unlike road running where I can carry a fuel belt along my hips – OCR athletes need to be agile for obstacles and a waist belt with bulky bottles isn't going to cut it. A hydration vest is a much better option.
You can find a ton of hydration pack options on Amazon. Our pick? The Orange Mud Endurance Pack 2.0 (shown above in lime green). It has a close-to-the-body fit so it's not bouncing around driving you crazy. It also breathes easy in summer months, and has a 2 liter bladder for optimal hydration.
15. Race Registration
If you're shopping for a gift for the obstacle course racer who already has all the gear – there's nothing like gifting race registration for an event they've been eyeing.
Some race companies (especially those that put on multiple events) may offer gift certificates so that the recipient can select an event of their choosing. Or, if you know your pal has been talking about doing a particular race but hasn't yet signed up, you can give 'em a Visa gift card that covers the registration cost with a note about the intent.
Yeah, it's essentially the same as giving cash – but at least if you write in a card what it's for, you know you're giving something with meaning. And believe me, almost anyone would welcome more money to race with! 🙂
There you have it – the 15 best gifts for spartan athletes and obstacle course racers. I hope this helps knock some Christmas gifts off your list for your loved ones.
Feel free to pin this post to save for later and share with others.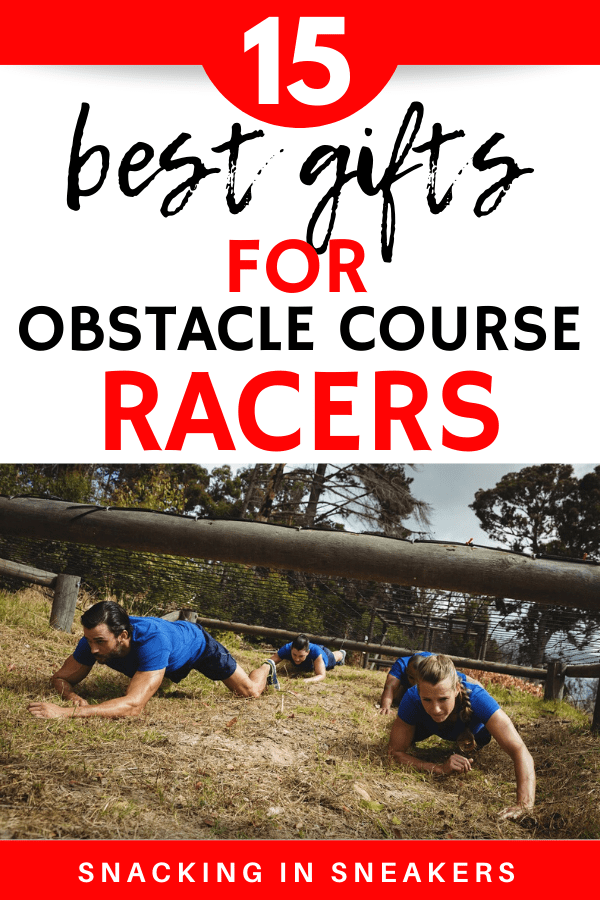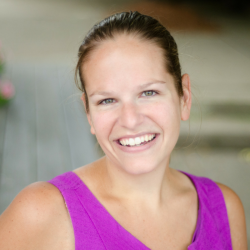 Latest posts by Chrissy Carroll
(see all)