Continuing with our healthy holiday gift roundup, today we present Part 2: Gift Ideas for Fitness Lovers! Whether you are looking for a gift for a gym-goer or a zumba fanatic, these ideas should help you check a present off your list. Check out the 9 ideas listed below, and feel free to share your ideas in the comments.
Disclosure – This post contains Amazon Affiliate links. As an affiliate, I earn a commission on qualifying purchases.
9 Gift Ideas for Fitness Lovers
1. Fitness Tops – In addition to the hilarious shirt on the roundup image, I also put together this collage on Polyvore (new obsession, thank you Rebecca at Flex and Shout Fitness for introducing me to this!) of my favorite fun fitness tops. They're all reasonably priced gift options (think $15-$30 range) and would be welcome by any fitness lover.
2. Dirty Dancing Official Workout DVD (or another DVD of your choice!) – This workout DVD is not new, and it's seriously silly – but if you know someone that loves to laugh and have fun in their workout, this is a great gift. It's cheesy but will definitely get your heart pumping, and includes great music from the original film. Of course, feel free to search out another workout DVD that might be better suited to your fitness fanatic's tastes – perhaps a kickboxing or bellydancing DVD is more their style!
3. Khataland Travel Yoga Mat – These fold up easily to store in carry-on luggage and are lighter than traditional mats. It makes them perfect for those fitness fanatics who travel frequently. The Khataland mat in particular has fantastic reviews on Amazon. You could also think about combining this with a great yoga DVD for the ultimate travel set.
4. FitDeck – This 56 card deck features body-weight exercises with photo-based instructions. Each card has 3 levels – beginner, intermediate, and advanced – so it's appropriate for any fitness level. Picking cards from the deck makes it easy to create a challenging workout that constantly changes since you never know what you'll get!
5. Fitness Trackers – For a bigger gift, consider a fitness tracker like a FitBit, Garmin VivoFit, or (for budget conscious) a Jawbone UP Move. There are plenty more brands out there, so do your research on the features of each and choose one that fits the personality of your friend or family member.
6. Gift Certificate for a Massage – For the people on your list that work out a lot, there's nothing more rewarding than some hands-on attention by a massage therapist. A gift certificate for an hour long massage will surely be appreciated.
7. Homemade Overnight Oatmeal Mason Jars – I love making handmade/homemade gifts for people. For the fitness lover, why not create a healthy homemade mason jar? These jars contain all the ingredients for overnight oatmeal except the milk that your fitness-ista will add herself. Great for a healthy breakfast fuel! The overnight oat jars in the image are from Home to Heather – check out her site for the recipe and even a free download of the adorable printable labels. As an alternative, you could do other types of homemade mason jars too – like some soothing bath salts for them to use after a workout.
8. Subscription to E-Meals – With tons of different meal plans to choose from (I'm a fan of the "clean eating" plan), this subscription sends you a week's worth of dinner recipes with an accompanying grocery shopping list. It makes it easy to prepare healthy meals even during the busiest weeks.
9. Zumba Fitness Exhilarate Body Shaping System – This kit comes with a 7 disc DVD workout set and Zumba toning sticks. If you have a Zumba fanatic in your life, it's a great option for a gift – perfect for when they can't make it out to an in-person class.
Be sure to check out Part 1: Gift Ideas for Runners & Triathletes; and stay tuned for Part 3: Gift Ideas for the Healthy Foodie!
Share with me: What are your favorite gift ideas for fitness lovers??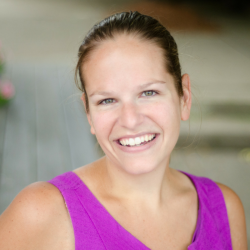 Latest posts by Chrissy Carroll
(see all)