Do you ever feel like your muscles are tight or stiff after runs? Or do you experience soreness or heaviness in your muscles during a training season? If so – you're not alone! Many runners deal with these concerns as they push themselves to new fitness levels. But good news – foam rolling is a great option for runners to combat muscle tension.
Of course, keep in mind that muscle soreness or stiffness can be caused by several factors, including improper stretching, incorrect form, inadequate recovery time, poor nutrition, or even occasionally medical issues. Foam rolling can certainly help with relaxing muscle tension, but don't forget to address these other factors. And of course, always check with a doctor if you've got ongoing concerns.
Ready to learn more? Let's take a look at what foam rolling is, benefits and risks for runners, and specific exercises you can do.
Disclaimer: This post was written by JayDee Vykoukal, Doctor of Physical Therapy. It has been reviewed by Chrissy Carroll, MPH, RRCA Running Coach, ACSM cPT. This post is for informational purposes only and does not constitute medical advice. Please consult a physician for any medical concerns.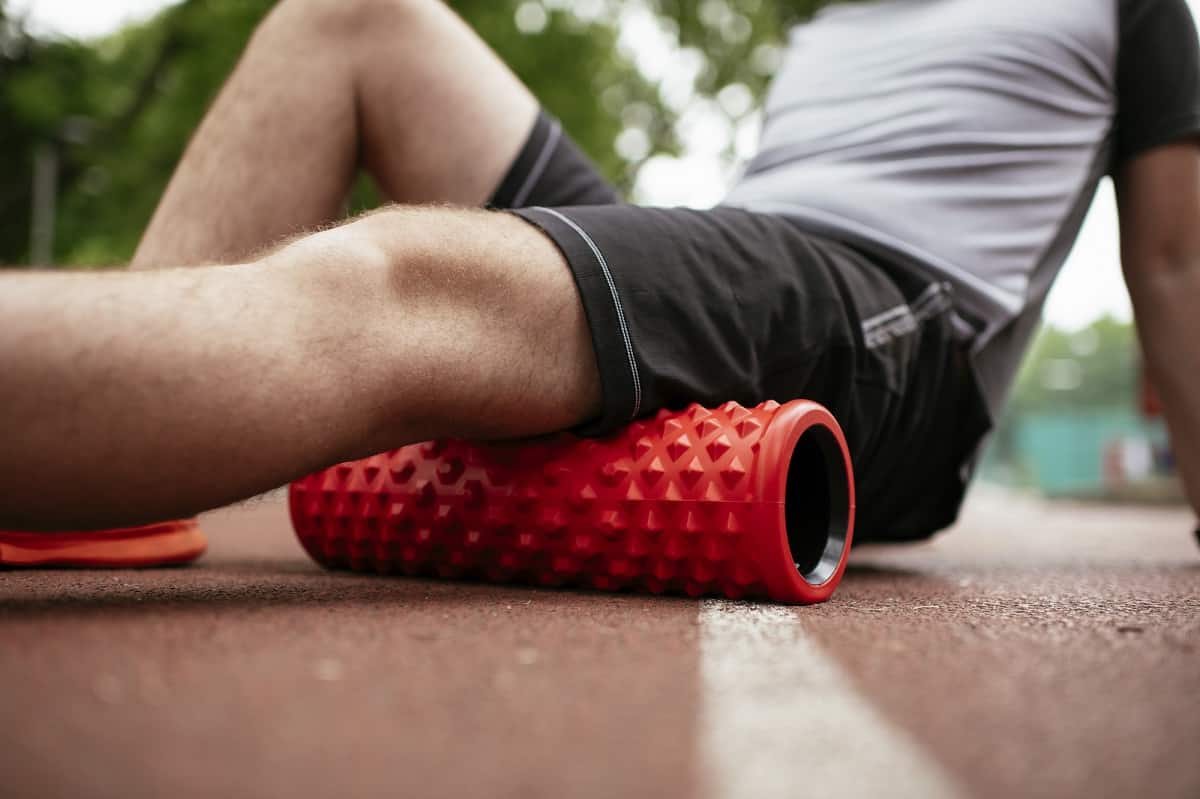 What is foam rolling?
Foam rolling is a type of self-administered massage that uses foam cylinders to help relieve muscle pain and tension. It can be performed on any area of the body but is most commonly used on the large muscles of the legs, such as the hamstrings and quadriceps.
Regardless of what area of the body is being addressed, the key is to focus primarily on the muscle belly fibers of the affected area (rather than bone or other connective tissue).
Just like any type of massage you get, the goal with foam rolling is to promote relaxation of any tense areas. This is done with two primary techniques: myofascial massage and trigger point release.
Myofascial Release
Myofascial tissues are the very dense layers that surround our muscles to provide shape and strength. Thus, slowly moving up and down a muscle and its myofascial layers (also known as "stripping") can be an excellent way to reduce overall muscle tension.
Trigger Point Release
A trigger point, otherwise known as a knot, can be addressed by applying prolonged pressure directly to the tender spot until tension begins to release (typically 60+ seconds). The pressure needs to be strong yet tolerable enough to be able to relax and breathe throughout the hold.
Benefits of Using a Foam Roller
Depending on what circles you run in (literally), you may have only heard the good or bad stories surrounding foam rolling. While foam rolling can be painful, it shouldn't be with the right techniques and awareness. Instead, there are many benefits of foam rolling, whether you are running your first 5K or a seasoned runner. These include:
Improved flexibility and joint range of motion. This is huge for runners that have notoriously tight muscles, such as the hip flexors, calves, and hamstrings. It can be especially helpful when dealing with lower cross syndrome.
Decreased muscle pain and tension. Secondary to a release of endorphins and an increase in local circulation.
Enhanced performance. Local muscle groups in the core and legs can coordinate themselves significantly better when there is less pain and tension and more flexibility. This allows you to push your running (for both training and race days) to new speeds, distances, and beyond.
Decreased risk of injury. Ultimately, the three benefits listed above equate to a reduction in unnecessary injuries that occur secondary to muscle imbalances.
Risks of Foam Rolling
Like anything good for you, either too much foam rolling or improper technique comes with inherent risks. Below are a few of the risks associated with foam rolling, including the following:
Muscle soreness. Although it may seem counterintuitive, foam rolling can cause some muscle soreness, especially if you are new to it or overdo it. However, this soreness typically goes away within a few days (if not, make sure to talk to your doctor or physical therapist asap).
Tissue injury. Foam rolling can cause injuries if done incorrectly. It is important to listen to your body and not push yourself too hard. This is particularly true if you are addressing extremely tender areas, such as the iliotibial band, or ITB (there will be some tips in the exercise section below for this!).
Hypermobility risks. Anyone with joint laxity or other issues related to being too flexible needs to be cautious with the use of a foam roller. Since hypermobility can lead to muscle soreness too, the foam roller can feel great but needs to be done under close supervision initially.
Other risks. If you have been diagnosed with osteoporosis, cancer, or any other disease that affects your overall health or lower body health, talk to your doctor first before using a foam roller.
The Bigger Risk: Not Having a Recovery Plan
When it comes to foam rolling, I'd say the bigger risk is not having a strategy in place for regular stretching and massage.
In fact, it's been found that at least 50% of runners get injured each year, ranging from mild to severe. While trauma like a fall accounts for some of these injuries, the bigger issue is related to overuse. Thus, adequate rest, recovery, and attention to your muscles can make a big difference in keeping you on your feet and moving forward.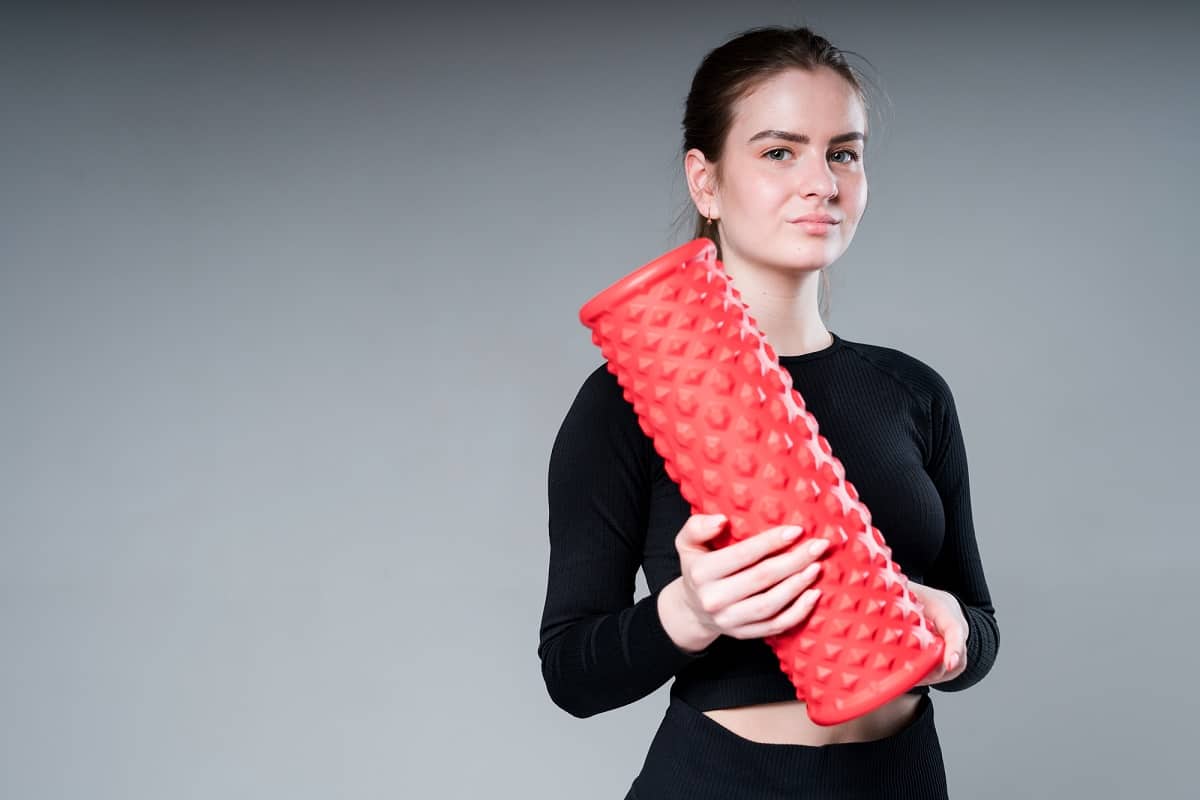 Foam Roller Q&A
Before we dive into exercises, let's quickly review some of the commonly asked questions surrounding foam roller use.
Should runners really foam roll?
Yes, runners should foam roll. Foam rolling can help improve flexibility, decrease muscle pain and tension (research shows it can reduce delayed onset muscle soreness, or DOMS), increase range of motion, and enhance performance. It can also help reduce the risk of injury.
Should you foam roll before or after running?
It depends. Some people prefer to foam roll before running in order to loosen up their muscles (important if they're battling chronic tension), while others prefer to foam roll after running to help relieve any muscle pain or tension.

Experiment with both methods and see which one works best for you. Too much tissue manipulation before running may affect your performance, so make sure to keep tabs on that.
How often should you foam roll?
Foam rolling can be utilized at the same frequency as stretching. Thus, some people might find it helpful to foam roll daily, while others may only do it a few times a week. It is important to find what works best for you and stick with it.

How long you will foam roll each session will depend on your recovery goals. In general, you will want to spend one to five minutes on each major muscle group in your legs, taking you anywhere from five to thirty minutes. If you are specifically addressing an injury, it will tend to be on the longer side of this range.
Why does the foam roller hurt?
If you are new to foam rolling, it may take a little while for your muscles to get used to it. During the first few sessions, you may experience some discomfort as the foam roller breaks up any knots or tension in your muscles. This is totally normal. However, this should go away within a few days.

It's also important to note the difference between slight discomfort and intense pain, which most runners should be very familiar with. You can cue into your body's response by making sure that you are always staying relaxed and taking deep breaths throughout your foam rolling session. If you can't seem to relax or breathe, it's a sign that you need to reduce your pressure or modify your positioning.
How should I start foam rolling?
You can purchase a foam roller, borrow one from a friend, or utilize one at your gym. It may be helpful to work with a physical therapist to learn the correct techniques the first time you foam roll.

Best foam rolling exercises for runners
There are six primary muscle groups in the legs that you can easily address daily with a foam roller. Choose one, or all, of these exercises to yield the best results for your running routine.
Start by rolling slowly back and forth along each muscle group for at least one minute. Stop and apply extended pressure to any particularly tender areas as needed. Then, repeat up to three times per day as needed.
Don't forget to stay relaxed and breathe. If the pressure is too much, place more of your weight through your arms.
Here are the different exercises you can try out:
1. Calves– sit on the floor and place the foam roller under your calves. Slowly roll up and down, avoiding the knee and ankle joints.
2. IT Band– while on the floor, place the foam roller on the side of your leg. Roll up and down the entire length of the IT Band (between the hip and knee) if tolerated. Many people have trouble tolerating this movement, so skip it if needed.
3. Hamstrings– place the foam roller under your hamstrings (the back of your thighs) and slowly roll up and down.
4. Quadriceps– from your hands and knees, get on your forearms with the elbows bent while placing pressure on the quadriceps (front of the thighs). Roll up and down the length of the quadriceps. You can also roll up onto the front edge of the hips bones to specifically address your hip flexor tendons.
5. Piriformis and glutes– sit on top of the foam roller with it perpendicular to your legs. Address one side of your butt at a time by leaning sideways and completing small rolls along the glute muscles. To get deeper and address the piriformis, bring your right ankle to the left knee to address the right side (don't forget to switch).
6. Adductors – while on your hands and knees again, bend one knee and point it outward as you place the foam roller on that inner thigh. Keep your weight in your forearms as you roll side to side along the inner leg. Repeat on the other side.
7. Bonus: Upper back and chest. Whether you run or spend all day at a desk, it's common to get stiff in the chest and upper back from too much slouching. This can lead to discomfort with running and less than ideal mechanics that exacerbate the problem. Try negating this by lying with your foam roller along the entire spine (supporting both the head and butt). Then, simply relax with your arms out to the side with palms facing up. Let gravity stretch out your chest and spine. It'll feel good.
Enjoying foam rolling? Other areas that could benefit from foam rolling include the shin muscles, plantar fascia (muscles of the feet), and deep calf (also known as the posterior tibialis).
No matter where you choose to roll, take care to avoid bony areas, joints, or any area that you can seem to address without staying relaxed.
Choosing a foam roller
When selecting a foam roller, here are some factors to consider:
Density – There are three types of densities available in foam rollers- soft, medium, and hard. Most runners will do best with a medium to hard density roller. If you find that your muscles are very tight and painful, then go for the softer option. However, I recommend a hard roller if you can tolerate it.
Size – Foam rollers come in a variety of sizes from 12 inches to 36 inches long. The longer ones can be harder to control, so it might be best to start with a 12 or 18-inch roller. However, a 36-inch roller can be more useful for other applications, particularly the upper body.
Surface – The surface of the roller can also vary. Some are smooth, others have ridges or bumps. The best option may be to find one with a variety of surfaces and experiment to see what feels best on your muscles. A smooth roller will be easier to tolerate while a bumpy surface can help address particularly troublesome areas.
Extras – These days there are tons of fancy options you can opt for, such as vibration, heat, ice, and more. These extras can be fun and boost your experience, but you can still get a perfectly good rolling session without them..
Ultimately, it all comes down to preference. Here are some favorites based on consumer reviews, client feedback, and my own personal favorite.
Disclosure: This section contains Amazon affiliate links. As an affiliate, we earn a commission from qualifying purchases.
Personal Favorite: ProsourceFit High Density Foam Roller
This is a smooth 36″ hard density roller. It's low cost, versatile, and high density, meaning it'll last you for years.
Highly-Rated: Trigger Point Grid Foam Roller.
This is a consumer favorite because of its variety of surface densities. Plus, it's hollow and 13 inches, making it easier to store and use (as well as easier to travel with).
Great Experience: Vibrating Foam Rollers.
If you want to jump on the bandwagon of the latest technology, recovery devices that vibrate are all the rage. This is because of the extra benefits they can provide for circulation and relaxation. They're not necessary but can be fun. Check out all the latest models.
The Final Word
Foam rolling is a great way to loosen up tight muscles and can be used as part of your routine whether you're running or not. It's important to find the right density, size, and surface for you, but with so many options out there it's easy to find what works best for your body. Experiment and have fun with it!
Share: As a runner, do you incorporate foam rolling into your routine? What are some of your favorite exercises to do?
Feel free to pin this post to refer to later!
Latest posts by JayDee Vykoukal
(see all)