Has a 5K race been on your bucket list, but you haven't taken the plunge just yet? Go sign up for that race right now, because this beginner 5K training plan is all you need to cross that finish line!
This is an 8 week 5K training schedule which offers the perfect amount of time for a new runner to get ready for a race. You'll gradually build up your running over those two months until your body is ready and able to run a full 3.1 miles. You got this!
Here's everything you need to know about this 8 week 5K training plan:
The printable plan is at the bottom of this post, so you can feel free to scroll on down – but I'd recommend you read all these helpful tips first, as they may answer some questions you have.
Who is this training plan for?
This 8 week 5K training plan is designed for:
Beginner runners that want to do their first 5K race
Recreational runners who have already completed a 5K, but took time off for injury (or another reason) and need a structured plan to return to running
Walkers that want to start incorporating some running intervals into their 5K race
Keep in mind this is a "cross the finish line" type of plan for beginners. It is not designed for intermediate or advanced runners who are looking to gain speed and PR for their race. I'll be sharing some more advanced plans here in the future, but in the meantime you could browse the good ol' interwebs if you need that type of plan.
What level of fitness do I need to start?
You should be able to comfortably walk 1 mile to start this plan. You do not need to be able to run that distance yet, and you do not need to have experience running to start this plan (woohoo!).
You should not have any injuries that affect your ability to walk/run. If you are questioning whether an injury precludes starting this 5k plan, ask yourself – does this affect my stride and/or cause pain during running? If the answer is yes to either, take care of the injury first and then return to this plan when you are healed later.
*Disclaimer: I am not a physician; check with your doctor prior to starting any new exercise program.
What is the schedule like?
This training schedule includes three weekly running workouts which start out at 1 mile and end at the race distance of 3.1 miles.
Depending on your running/walking speed, these workouts will range from around 10-20 minutes during the first week up to 25-50 minutes towards the end of the plan. Do not worry about how fast or slow you are; just focus on consistency!
I would recommend structuring the workouts with rest days between the runs. You want to avoid doing all the running workouts back-to-back.
You can also include a strength training day and/or cross training days in between your runs. This is optional; however even minimal body weight strength training like squats, bridges, and lunges can help with running form. I would recommend including body weight exercises like this 1-2 times per week if you feel comfortable doing these. If you do not feel comfortable with them, feel free to just focus on the running.
Here is an example of how you might structure your week based on this information:
Monday – Run 1
Tuesday – 15-20 min body weight strength OR Rest
Wednesday – Run 2
Thursday – 15-20 min body weight strength OR Cross Training OR Rest
Friday – Rest
Saturday – Run 3
Sunday – Rest – OR Cross training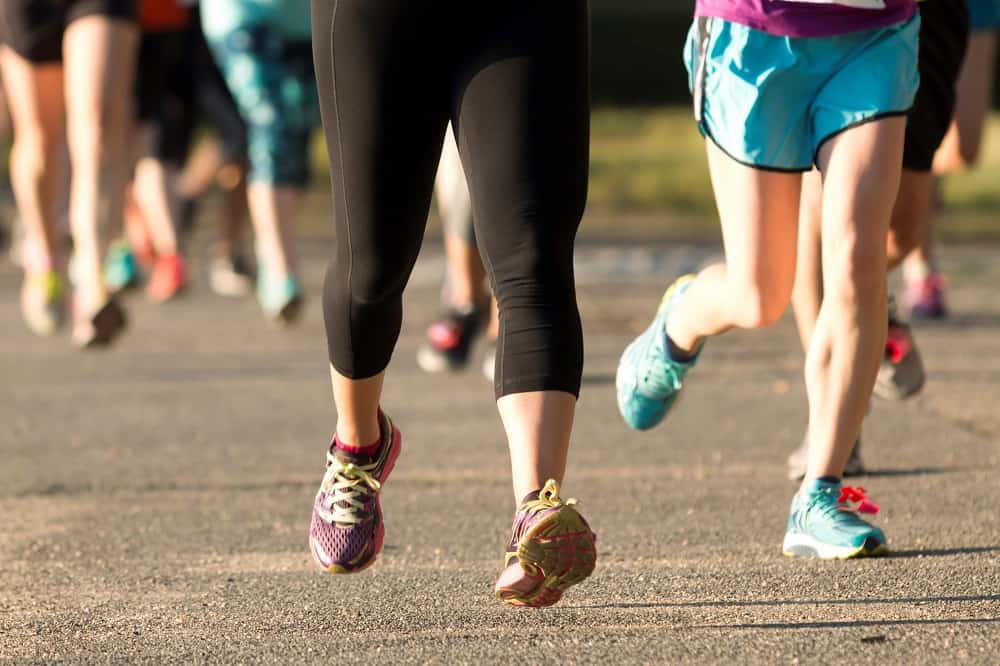 A guide to your 5K workouts
Running Workouts
This beginner 5K training plan is fairly simple to follow. There's no heart rate training or zones or anything like that; it's a combination of distance and time-based intervals.
Each workout will look something like this:
1.5 miles
Run 5 min
Walk 4 min
This means the total distance you'll cover that day should be 1.5 miles. To cover that distance, you'll alternate back and forth between 5 minutes of running and 4 minutes of walking until you complete the mileage listed.
I find this combination of time and distance is ideal for beginners, because it ensures that you're ready to cover the full 3.1 mile race at the end – regardless of your running speed.
There are also a few runs at the end of the plan that are "run as much as you can" workouts for a certain distance. For these, it's just like it sounds – run as much of the distance as you can and add in any walking breaks as needed.
Your speed is not as important in these runs as trying to stay slow and steady so that you can finish the distance. Pace yourself slower than you think you might need to at the beginning; you can always pick up the speed in the second half of the distance.
Optional Strength Training Workouts
As I mentioned, body weight strength exercises are helpful for improving your running form and preventing injuries. If you choose to include these, here are the exercises I would recommend:
Lunges
Squats
Plank
Side plank
Bird dog
Bridges
You can include these 1-2 days a week. Do a 5-10 minute warm up walk first. Then complete two sets of each, approximately 10-15 reps (or approximately 20-30 seconds holding the planks) per set.
Additional 5K Training Tips:
Warm Up/Cool Down: I recommend taking a few minutes at the start of your workout to do a warm up walk. It doesn't have to be long, but just 3-5 minutes of easy walking will help your body get ready to run. Similarly, it's beneficial to end with a few minutes of easy walking to cool down.
Extra walking breaks: With any of the workouts in the beginner 5K training plan, don't feel discouraged if you need to add in more walking breaks; everyone's fitness level is different! The most important part is simply to make sure you're completing the mileage – whether that's running or walking.
Stretching: Be sure to stretch after your runs. If you struggle with tight muscles (like tight hamstrings or tight calves) on a regular basis, consider adding foam rolling.
Proper Sneakers: One of the biggest reasons for shin splints and blisters in beginner runners is improperly fitting sneakers or worn sneakers. If you've been wearing your sneakers for years now or if you find them to not really fit, invest in a new pair of kicks. Local running stores are great for helping you find a sneaker that's right for your foot.
Nutrition: Luckily 5K training doesn't require any special nutrition strategies. It's wise to follow a balanced diet everyday that will help you feel your best during training though!
Your 8 Week 5K Training Plan for Beginners
You can pin or print the graphic below so that you have a copy of this training plan at home. You can also download a simple PDF version of it here.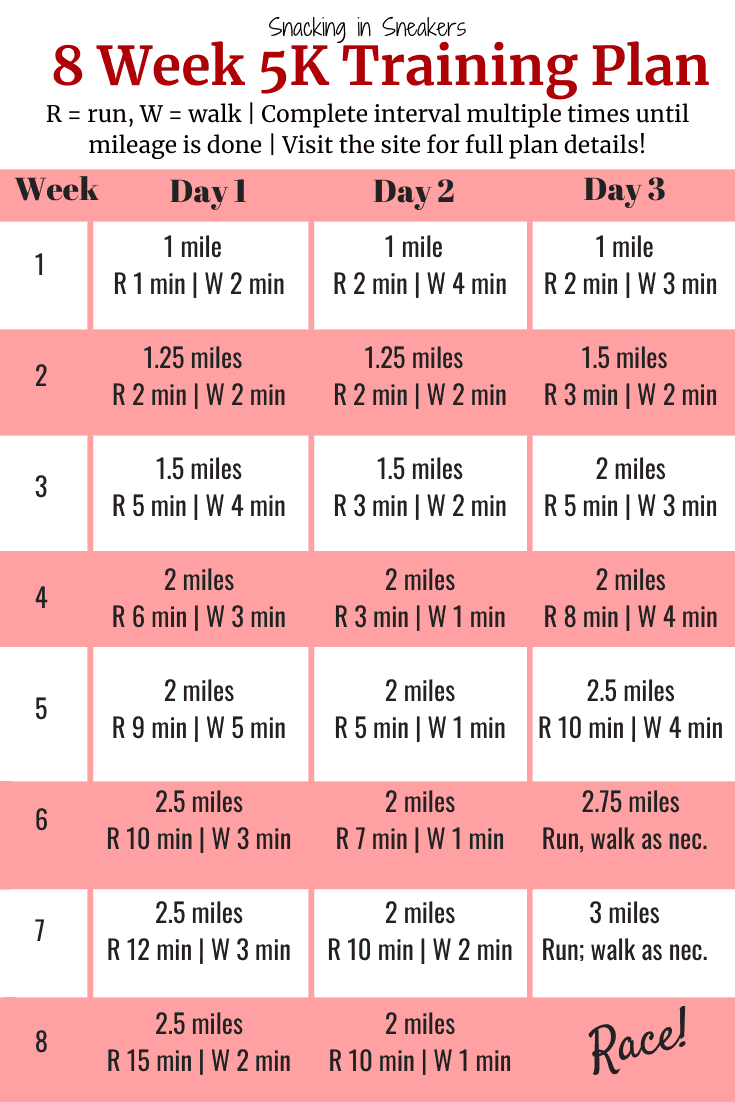 There you have it! Everything you need to know to cross that finish line of your first 5K!
If you finish this race and decide you want to branch out to a 10K, be sure to check out our 12 week 10K training plan or 6 week 10K training plan. And you can check out all of our current free running training plans here.
Share with me: What 5K race are you looking to run? If you used this 8 week beginner 5K training plan, what did you think?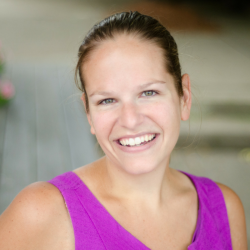 Latest posts by Chrissy Carroll
(see all)