Thinking about tackling a 10K race this summer or fall – but nervous because you're a beginner runner? No need to worry, my friend! You'll find a perfect beginner-friendly 12 week 10K training plan below.
The 10K race is a great distance for beginners. The 6.2 mile distance is a longer challenge than a 5K, but often feels more attainable than a half marathon (especially when you're just starting out with races).
Plus, this training plan features a modest 3 days a week of running with very gradual mileage increases. This not only makes it feasible for anyone's schedule, but that gradual uptick in distance means reduced injury risk.
Here's everything you need to know about this 12 week 10K training plan:
You can scroll to the bottom of this post to view and print the training plan, but be sure to read over these important tips before starting it:
Who is this plan for?*
This plan is ideal for several groups:
Beginner runners who want to do their first 10K
Runners prone to injury that need very gradual mileage increases
Experienced runners who prefer lighter training plans and have no time goal in mind
If you are an experienced runner looking to PR in a race, this is probably not the plan for you. (Feel free to check out my intermediate 10K training plan here, which might be a better fit!).
*Disclaimer: Check with your doctor prior to starting any new exercise plan, especially if you've had any injuries or have a medical condition that may affect your fitness.
How far should I be able to run before starting this plan?
You should be able to either run OR walk (or a combination of those two) for a mile straight when starting this program.
If you cannot currently run a mile but you can walk a mile, and you are hoping to run as much of your 10K as possible, you will follow the same training schedule below. Just incorporate as many walking breaks as needed to finish the mileage each day. For example, on Day 3 of the first week, you might alternate between 1 minute of running and 2 minutes of walking until you finish the 2 miles assigned that day.
[Tweet "If you can run or walk a mile, you can train for a 10K using this 12 week plan!"]
Your running schedule:
You'll run three days a week on this 12 week 10K training plan. Space out the days that you plan to run. For example, you might choose a Monday, Wednesday, and Saturday schedule — or a Tuesday, Thursday, and Sunday schedule.
Your pace:
You can run or walk with this training plan, or use a combination of these methods. For most beginners, I recommend doing your training runs at a comfortable pace that you can maintain the entire time. OR, alternate between a run/walk schedule that you can maintain the whole time (for example, 5 minutes running and 1 minute walking).
If you are trying to run the entire 10K race without stopping, try to maintain steady, consistent pacing during your training runs. You might want to start at a pace that feels a little too slow for you, as most people tend to start out too quickly. If you get to the later half of the run feeling like you are still going too slow, then pick up the pace. The goal is to avoid going out too fast and having to slow down considerably mid-run.
Speedwork:
Since this plan is developed for beginners, I have not included any speedwork. However, if you're a more experienced runner and you want to build on this plan, you can add in an additional day with either speedwork or hill training.
Warm up & cool down:
Start each run with a few minutes of brisk walking or a slower paced jog to warm up. After each run, give yourself a few minutes of brisk walking to cool down.
It's also worthwhile to stretch after your runs. If you struggle with ongoing tight muscles, try foam rolling as well.
Cross training & strength training:
Besides the three days of running each week, I recommend also adding 1-2 days of cross training and 1-2 days of strength training as feasible.
Cross training (like cycling or swimming) will help to work other muscle groups and balance out your training. Strength training will help to create stronger muscles that power your stride and also keep you in alignment during your run.
Don't get overwhelmed with this though. If you only have one extra day to devote to exercise, that's fine. Just choose a strength training or cross training activity to fit in and don't worry about creating the "perfect" plan.
And always have one day a week that's completely devoted to rest ("active rest" like a family walk or restorative yoga class is completely fine).
Injuries:
Soreness is normal; significant pain and injuries are not. If you have any type of injury that is changing your stride, you should see a doctor before starting to run again.
12 week 10K training plan:
Here you go! Feel free to print out, bookmark, or save it on Pinterest. 🙂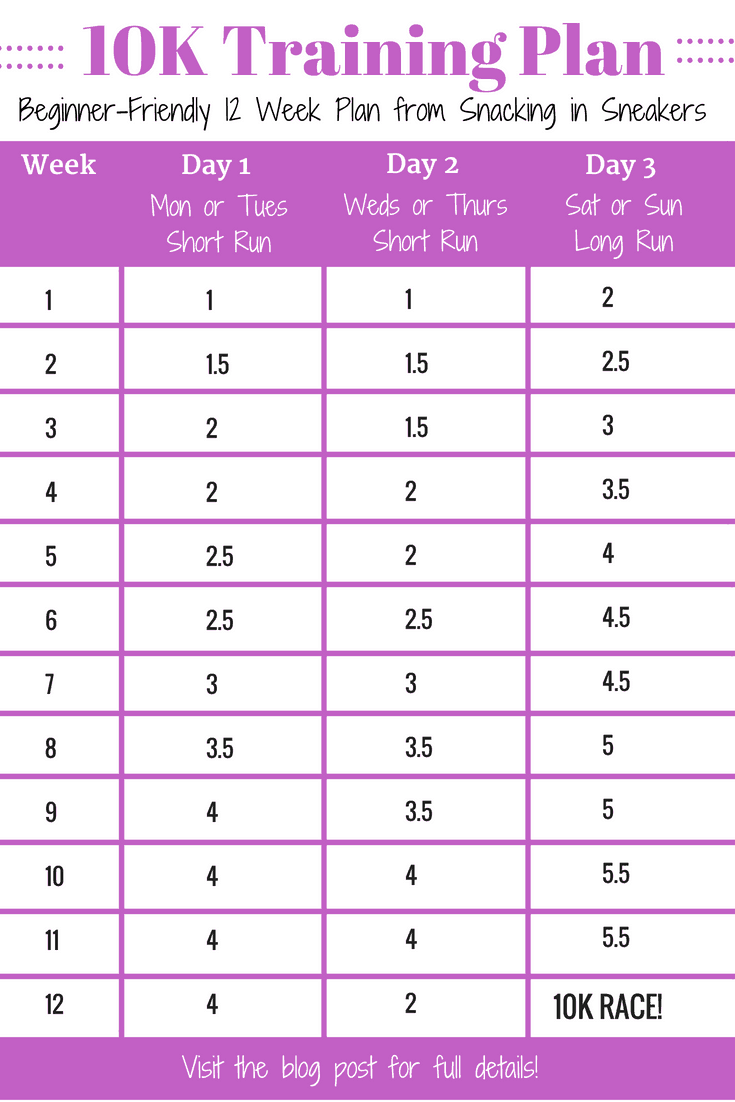 Share with me: Have you ever done a 10K? If you're a beginner runner, what are you nervous about? If you're an experienced runner, share your 10K tips in the comments! And if you've used this 12 week 10k training plan, share how it went for you below!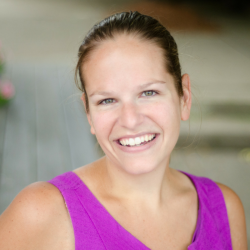 Latest posts by Chrissy Carroll
(see all)