Are you finding yourself with heavy legs when running? Wondering why that keeps happening? No one wants to feel like they're dragging two lead feet around, but luckily there are several common reasons that this sensation can occur – and most have easy fixes.
Here are ten of the top reasons that you experience heavy legs during a run, and the way you can address each one:
Disclaimer: This post was written and reviewed by Chrissy Carroll, Registered Dietitian, RRCA Running Coach and USAT Level I Triathlon Coach. It is for informational purposes only and should not be construed as medical advice. Please consult your doctor for any medical concerns.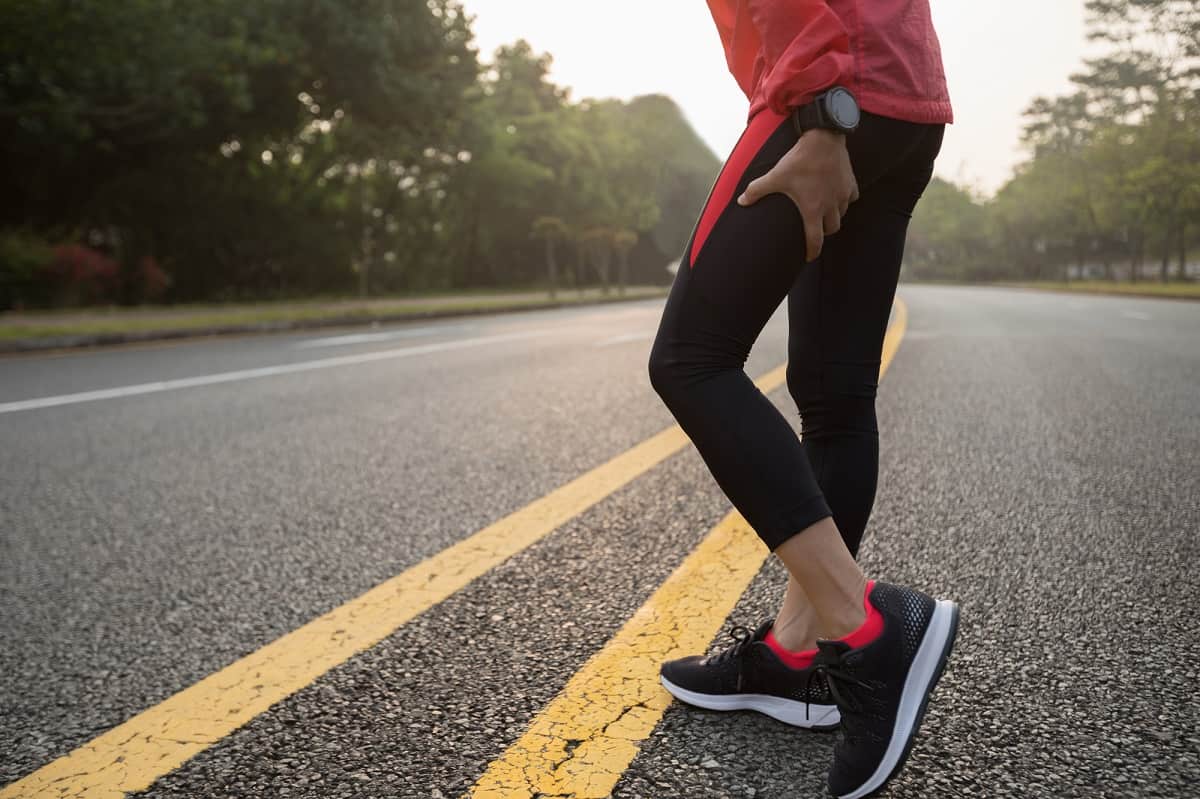 1. Not enough recovery time
After tough workouts, your body needs time to recover. Muscles in the legs, glutes, and core are activated and stressed during a run. If you're doing other workouts like strength training or cross training too, those obviously challenge your muscles as well.
Sometimes, tired legs can be a result of simply doing too much without enough rest in between.
Be sure you're got at least one or two rest days each week in your plan. (While elite athletes may get away with minimal rest days, most recreational athletes should include one weekly.)
Try tracking your workout performance and note when you feel tired legs – you may notice that it always occurs after a certain type of run (like your track day) and this could help you restructure your week to allow a full rest day after that workout.
2. Too much speed work
Speed work puts more strain on the body than steady state running, and can increase the risk of injury or heavy, tired legs.
New runners shouldn't incorporate speed work until they've developed a solid running base of several months of comfortable, steady state running. 
For experienced runners, follow the 80/20 rule to reduce the risk of heavy legs. The 80/20 rule means that you should do about 80% of your running as easy, conversational miles. The other 20% can be more challenging runs like tempo runs, intervals at the track, or hill workouts.
Remember, even world class athletes do most of their running at a comfortable pace (for them). Don't feel like you need to push it to the limit during every run.
3. Not eating enough carbohydrates
Fueling your body right helps you feel energized during your run, and helps you recover properly after a run.
Carbohydrates are one of the two main sources of energy that the body uses during a run (you mainly use a mixture of carbohydrates and fat). Carbohydrate is stored in the muscle as glycogen, and this provides fuel during your run. If you suddenly switch to a low-carb diet, you may find yourself with heavy legs due to the lack of fuel needed.
Some athletes can successfully adapt to a low-carb / ketogenic lifestyle and learn to burn fat more efficiently during long, slow runs. However, these athletes will be limited in their sprint capacity due to the lack of carbohydrates available.
As a dietitian, I recommend athletes eat a balanced diet that includes healthy carbohydrates. This includes a carb-rich meal prior to a long run, eating fuel with carbohydrates on runs that last over 75-90 minutes, and eating a recovery snack with carbohydrates after long or intense runs.
If you keep noticing heavy legs during runs, take a look at your diet and assess if there's any connection to your carbohydrate intake.
For example, do the heavy legs usually happen on your evening runs? Maybe there's too big of a gap between lunch and your evening run to fuel you properly. Try adding a healthy snack about an hour or two prior to your workout, like a banana with a handful of nuts.
Or maybe you've been following a low-carb diet, and you start to notice this heavy leg feeling every time you run. In that case, try adjusting the proportion of carbohydrates to be a bit higher on your hard workout days. You may find this helps!
4. Not eating enough protein (especially for recovery)
Protein is also important when it comes to nutrition, as it supports the muscle repair and recovery process after workouts.
Not getting enough protein means that your muscles don't have the building blocks they need to repair and strengthen themselves. If this occurs too frequently, it may lead to a loss of muscle mass, particularly among older adults (source) or among those trying to lose weight (source).
Occasionally when this occurs, people will complain of heavy legs while running.
The good news is that most recreational athletes meet their protein needs just fine. It may be a bit more challenging – though not impossible – if you're a runner following a vegan diet. This simply requires more planning.
However, protein timing is something that could be improved for many people. Often, we don't eat much protein at breakfast, but eat more at lunch and dinner. Ideally, it's best to spread out that protein intake more evenly throughout the day.
Similarly, it's a good idea to get in some protein and carbs as a recovery snack after a tough workout. This is more important for competitive athletes when it comes to performance, but may help even beginner runners with that heavy legs feeling.
Some great recovery snacks for runners include Greek yogurt with fruit and honey, a post-run smoothie, or a glass of chocolate milk. You can also simply schedule your runs so that you're eating a meal within an hour or so of finishing.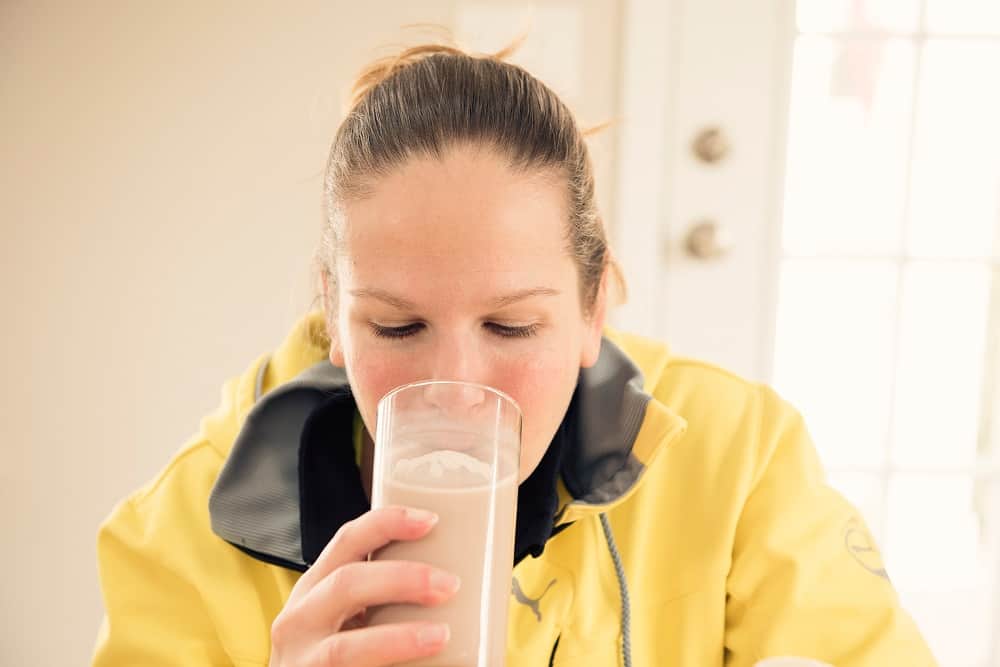 5. Too little strength training
Strength training requires careful balance when preparing for a running event. There are consequences to too much and too little.
You've probably heard people say that running "eats away" at muscles. While this isn't exactly accurate, long-distance running can unfortunately lead to a slight breakdown muscle tissue as the body uses a small percentage of muscle protein for fuel.
(As an aside, note that shorter, faster running workouts appear to be more conserving of muscle mass than long, slow jogs. You can often see these muscular differences by comparing the body types of elite sprinters versus elite endurance runners – though much of that is genetics. Read more about jogging vs. sprinting in this post.)
However, this muscle breakdown can be alleviated by:
a) fueling correctly before, during, and after exercise (as already mentioned above), and
b) mixing in strength training workouts each week.
Without any strength training, you may experience that heavy legs feeling if your body is losing muscle mass (especially in conjunction with improper fueling).
In addition, strength training specific to the core and glutes is key for maintaining proper muscle form.
If you do not actively work on core strength, your form can falter as you get tired. This is common on long runs. Improper form leads to excessive reliance on certain muscles (as others are weak or fatigued and unable to maintain the form) – which can cause heavy legs.
Clearly, the solution to this is incorporating some type of strength work in your training plan. This doesn't necessarily have to be intense sessions at a gym; it can be as simple as bodyweight exercises or resistance band exercises at home.
6. Too much strength training
Remember, the flip side is also a problem though – too much strength training can cause your legs to feel fatigued and tired. We've all probably experienced that soreness after a tough leg day at the gym!
For most runners, here's a general guide to the amount of strength training that is beneficial (note that this can certainly vary based on the athlete and their goals):
2-3 days a week of strength training in the off-season
2 days a week in the base-building phase of training
1-2 days per week as you build up your race-specific training
No strength training during the week of a major race
Even though you might feel inclined to do strength training on your rest days, remember that true rest days should not include it. Instead, try building it into your schedule and still leaving at least one full rest day. For many runners, you may end up doing an AM/PM workout on one day where you have a run in the morning and strength training in the afternoon/evening (or vice versa).
7. Poor running form
As mentioned above with strength training – poor running form can lead to tired, achy legs on a run. Lack of strength training can be one contributor to poor form, but so can your personal running style and tightness in the muscle.
While running form comes naturally for some, it may not for you – and that's OK! Here are some quick tips to optimal form:
Keep your body upright and tall, engaging your core.
Keep your neck in a neutral position; avoid running with your head looking down.
Use a natural, relaxed arm swing, and avoid crossing them in front of your body.
Keep your shoulders relaxed and avoid hunching them forward.
Use quick feet with a comfortable stride. Avoid overstriding (taking giant steps on your run) – this is one of the most common form issues with runners.
In addition, tight muscles may cause you to adjust your form, which could lead to leg issues. Try stretching and foam rolling after runs to prevent that.
Proper running form is key to feeling like your legs are light and swift on your run.
8. Iron deficiency
Iron is involved in the production of hemoglobin, which is part of your red blood cells. Hemoglobin binds to oxygen, allowing your body to transport it to those hard-working muscles.
When your body doesn't get enough iron, it can have trouble transporting the right amount of oxygen to your muscles during a run. This can cause overall feelings of fatigue, as well as heavy legs.
For example, research shows that iron deficiency can impair muscle function and reduce training adaptations. Additional studies have found that low iron levels can lead to a reduced VO2 max. None of this is good news when you're training for a race.
If you're experiencing heavy legs and fatigue and have ruled out other causes, it's worthwhile to ask your doctor to check hemoglobin and ferritin levels. These are lab tests which can determine if you have an iron deficiency.
If you do have a deficiency, your doctor may instruct you to eat more iron-rich foods or take a supplement.
Good food sources of iron include:
Oysters
Beef
Crab
Dark chocolate
Tofu
White beans
Lentils
Fortified cereals
(Learn more about iron deficiency and runners in this post.)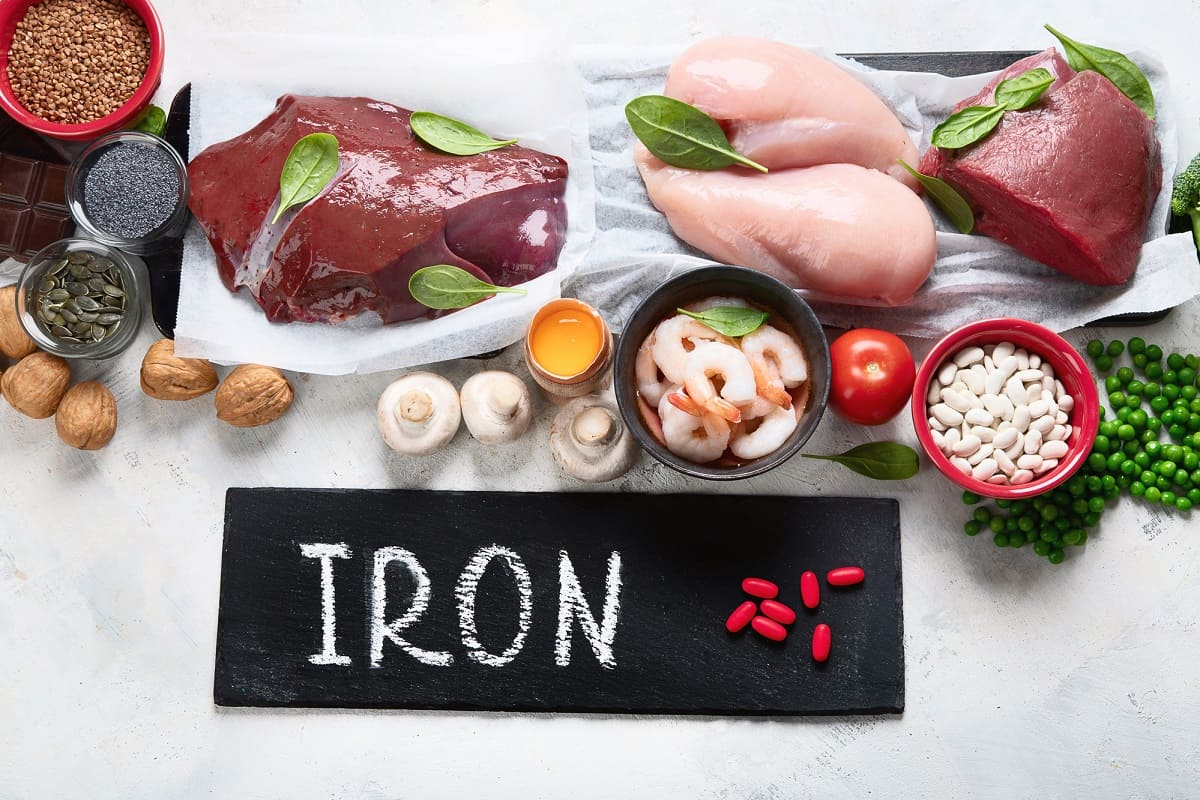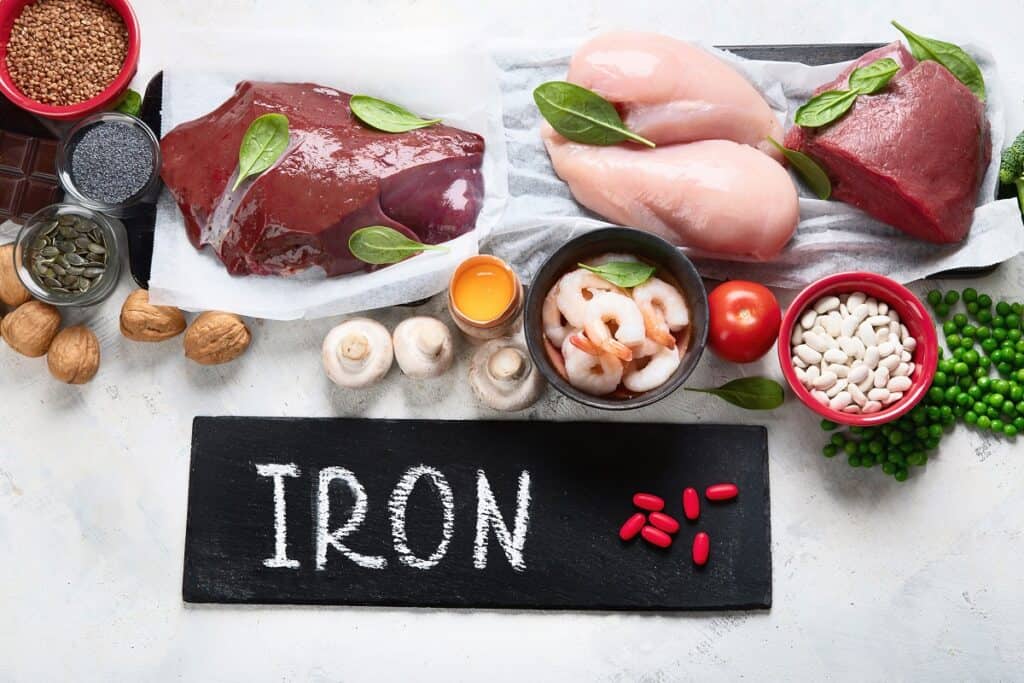 9. Heavy shoes
Yes, it sounds silly and overly simple. But sometimes, a new pair of shoes that are heavier than your old ones can cause your legs to feel weighed down. Stability shoes in particular are known for this.
I recommend trying on shoes at a local running store so that you can get a feel for them before purchasing them.
Sometimes, it may be as simple as completing a few runs with the new shoes to get used to them – especially if you're wearing them for a certain purpose. For example, if you suffer from overpronation (foot rolls too far inward when running), then a slightly heavier stability shoe may be needed to support your foot compared to lightweight minimalist shoes.
Other times, you may find it beneficial to try a lighter shoe and see if that helps your legs feel better.
10. Medical conditions
Less commonly, heavy legs may be caused by different medical conditions. These include (but are not limited to):
Superficial Venous Insufficiency (SVI) – This can occur with a pooling of blood in the veins of the legs.
Peripheral arterial disease (PAD) – This occurs when plaque builds up in the arteries and blood flow decreases. The body has a hard time getting oxygen to the legs.
Pregnancy – Additional weight, increased blood volume, and hormonal changes can lead to slight swelling in the legs and vascular issues that cause heavy legs.
It's best to discuss any medical concerns with your doctor.
The Final Word
As you can see, tired legs may be related to any number of issues, from overtraining to fueling. Most of the time, this can be fixed with adjustments to your training plan and diet. However, it's always worthwhile to consult a physician for any concerns about heavy legs when running, as they can rule out any more serious medical conditions.
Share: Have you ever experienced these problems during a run? How did you handle it?
Feel free to pin this post to share with others.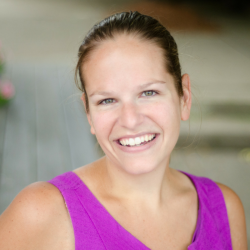 Latest posts by Chrissy Carroll
(see all)