That thermometer is rising, and with the high temperatures come a few extra considerations for running or triathlon training. Take a look at 3 tips for pounding the pavement in the heat…
Disclosure: This post contains Amazon affiliate links. As an affiliate, I earn a commission on qualifying purchases.
Tip #1 – Acclimate!
It takes your body a bit of time to get used to running in hot weather – about 2-4 weeks depending on your fitness level, training regimen, and the specific weather conditions. If you have a race coming up that's in a warm weather area and you anticipate it being hot, you'll likely want to do some of your training in the heat so your body can make the necessary adaptations.
Start with a slower pace and reduced intensity at first until you get used to the heat. Once you train regularly in it, your body can increase plasma blood volume which helps carry blood to the skin surface for cooling. Acclimating also means that you are able to sweat more efficiently and you lose less sodium in that sweat.
All this being said, train smart. If there is a major heat advisory out there, it's not the time to try to prove your superhuman strengths with a mid-day long run. Train early in the morning or once it's cooled off in the evening, or train indoors on the treadmill.
Tip #2 – Hydrate smart!
Be sure to carry enough hydration with you so that you are comfortable during your workouts. Too little hydration can compromise your workout due to the risk of dehydration, and excessive hydration can put you at risk for hyponatremia (a dangerous drop in blood sodium levels typically caused by fluid overload).
If you're doing a long run or ride, it may be beneficial to conduct a sweat test during one of your workouts so you know your sweat losses. A sweat test is great because it can give you an idea of if you need to carry or plan for more hydration during your workout. Basically, you weigh yourself before and after a workout to analyze any differences in weight. Generally, we aim to keep our sweat losses less than 2-3% of your body weight. This means if you're a 150 pound athlete and you lose more than 3 or so pounds during your workout, you may want to aim for a bit more hydration. If you happened to have gained weight, you may be drinking too much during your workout. Even with a sweat test, above all – pay attention to your body's cues for thirst (dry mouth, craving water) and overdrinking (sloshing, nausea) – and be sure to honor those cues.And of course, if you're training and you start to experience any warning signs of heat related illness or hyponatremia, stop and get help. Heat exhaustion may present itself with lightheaded, dizziness, confusion, muscle cramps, nausea/vomiting. Hyponatremia often presents with similar symptoms, and can dangerously progress to issues like seizure or unconsciousness.
Tip #3 – Remember the sodium!
Sodium is important for runs or rides lasting over an hour. Sodium recommendations are hard to give as generalized advice because the rate at which people sweat varies considerably, as does the concentration of sodium in a given amount of sweat. As a starting point, the ACSM recommends that you take in about 500 to 700 mg of sodium per liter of fluid you drink during exercise that lasts more than an hour. If you're a heavy salt sweater or you find yourself struggling in the heat, you may need a bit more.
Many commercial sports drinks will provide sodium in the 500-700 mg/liter range. If you're curious about your sports drink, check the label. If it's a standard 8 ounce serving, you can multiply the mg of sodium by 4.25 to tell you how much sodium would be in a liter of fluid. As an example, 120 mg per 8 ounces x 4.25 = 510 per liter.
If your beverage does not fall into this range, you might consider a higher sodium sports drink product (Powerbar Perform is a favorite of mine at 190 mg of sodium per serving; Gatorade Endurance is an even higher option at 300 mg per serving) or adding 1/8 a teaspoon of salt to your drink.
If you don't use a sports drink, check the products you are using for fuel (like gels, blocks, or food) to see if you're getting sodium through them. If not, you may want to consider adding an electrolyte fizz tab to your beverage (like Nuun tablets or Endurolytes, for example) or choosing a higher sodium fuel source.
Share with me: Do you prefer hot weather or cold weather running? Any other tips you have for conquering the heat?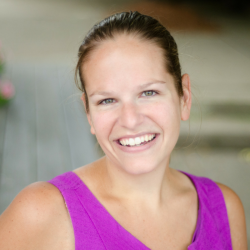 Latest posts by Chrissy Carroll
(see all)