Starting to use a treadmill and looking for a good workout? Try this 30 minute beginner treadmill workout! It will help improve your cardiovascular fitness, burn calories, and keep you feeling great. It's a great option for beginners and can be modified to fit your needs.
Disclaimer: This post was written by Chrissy Carroll, RRCA running coach and USAT Level I Triathlon Coach. It is for informational purposes only and is not intended to be advice. Always check with a physician prior to starting any new exercise program.
Benefits of a treadmill workout
The treadmill can be a great option for beginners who are looking to start exercising – here are just a few highlights:
Comfortable environment: Because it's done indoors, you don't have to worry about the elements of outdoor workouts – like a sweltering hot summer day or a snowy winter day. The controlled environment can be more comfortable for many people.
Preferred location: Similarly, a treadmill can be used in either a gym or in your home, which offers the ability to workout in your preferred environment. Some people love being around others and enjoy a treadmill in the gym where they can enjoy the company of fellow fit friends. Others prefer working out solo, and a treadmill in the home can be a convenient way of doing so.
Control speed and incline: Exercising on a treadmill also gives you the ability to control speed and incline. While we certainly can control our own speed outdoors, we don't have the ability to alter the terrain around us. If you live in a pancake flat area, the incline on a treadmill offers you the ability to walk or run "hills".
Health benefits: And of course, like all exercise, treadmill workouts provide numerous health benefits. Cardiovascular exercise like walking or running cause the heart to pump faster, helping strengthen the heart. Exercise also burns calories and can help with any weight maintenance goals (if that's a priority for you). Lastly, exercise can improve mental health by relieving stress.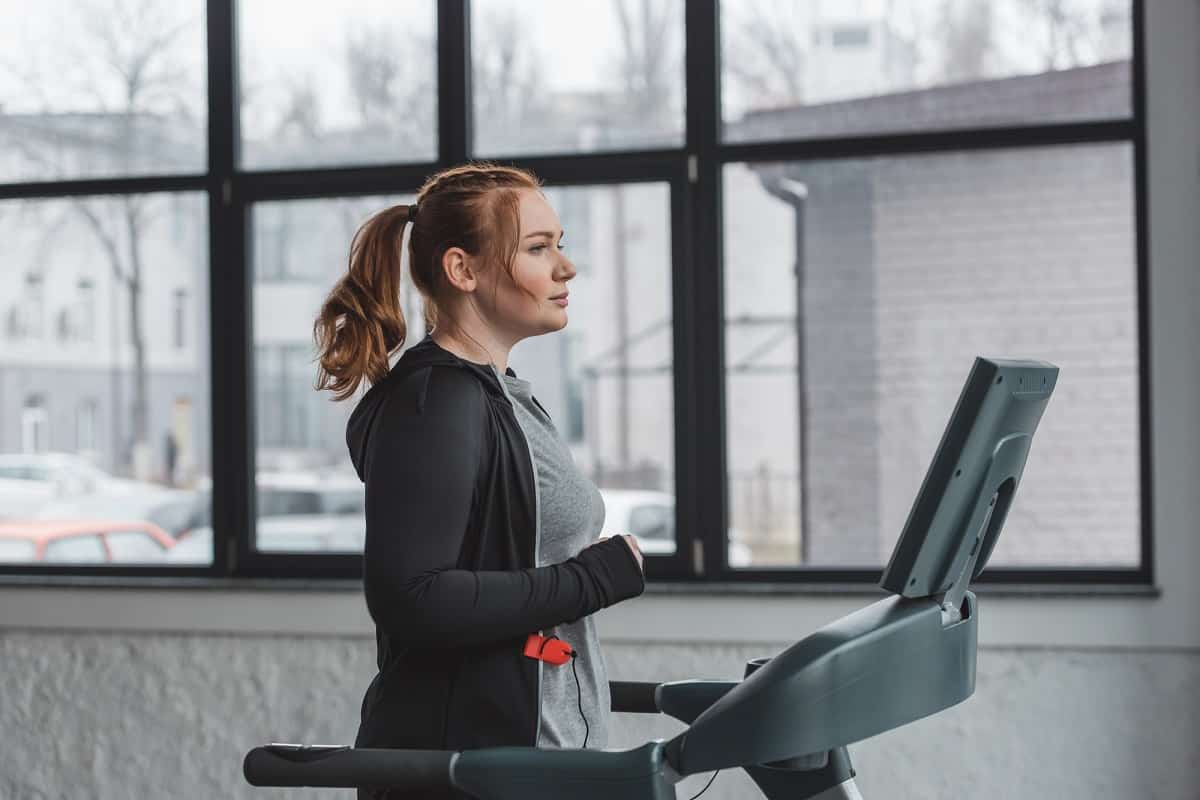 FAQs about beginner treadmill workouts
As you look at the workout example below or start putting together your own workouts, here's a few common questions that may arise:
What's a good speed for beginners on the treadmill?
For most beginners, a good walking speed is somewhere between 2mph and 4mph, while a good beginner jogging speed is around 4mph to 5.5 mph (learn more about jogging for beginners here). However, every body is different so you should use a speed that works for you.
What's a good incline for beginners on the treadmill?
This varies a lot based on your body and fitness level. Generally, beginners might choose somewhere between a 0% to 5% incline during their treadmill workout. The incline is usually ramped up for short intervals, like in the workout below, rather than using a high incline throughout the entire session.
If you're creating workouts on your own, you can manipulate either the speed or incline to make a workout more challenging. However, don't start increasing both too fast at the same time.
Is it OK to hold on to the treadmill?
Most people should use the treadmill at a speed and incline that does not require you to hold on. Holding on affects your posture and gait, and makes the workout less efficient. By not holding on, your body has to work harder to maintain your form, which helps strengthen your core muscles and increases the calorie burn.
However, if you have any medical issues that cause problems with balance, then it may be wise for you to hold on to the treadmill handles during your workout. In addition, if at any time you feel unsteady on the treadmill, it's wise to hold on while reducing the speed or incline.
Is it OK to do the treadmill every day?
You can certainly walk on a treadmill every day. If you have been sedentary for a while, you may need to work your way up to this frequency. The CDC recommends at least 150 minutes per week of moderate intensity exercise (or 75 minutes per week of vigorous intensity exercise) each week. Walking on the treadmill is a great way to meet these needs.
Some people also prefer to run on the treadmill daily. This is a bit more controversial than daily walking, as it puts more force on the body and may lead to overuse injuries. Most coaches and trainers recommend at least occasional rest days from running.
30 minute beginner treadmill workout
This workout is geared towards beginners and uses intervals that mix up the speed and incline of the workout. It is mostly walking, with two short jogging intervals. If you'd prefer not to jog, these can be modified to be walking as fast as you can for that interval.
Keep in mind that "beginner" can encompass a wide range of physical abilities. If any of the speeds or inclines are too challenging for you, just adjust them to meet your needs! For example, if walking at 2.8 mph at a 3% incline is too much, try reducing the speed to 2.5 mph.
On the flip side, if this workout feels too easy for you, increase the speed or incline for each interval to make it more challenging.
Ready to get started? Here's your 30 minute beginner treadmill workout!
0-5:00: Walk at 3 mph at 1% incline.
5:00-10:00: Walk at 2.8 mph at 3-4% incline.
10:00-12:00: Jog at 4.5-5 mph at 0% incline.
12:00-15:00: Walk at 3 mph at 1% incline.
15:00-20:00: Walk at 2.8 mph at 3-4% incline.
20:00-22:00: Jog at 4.5-5mph at 0% incline.
22:00-25:00: Walk at 3 mph at 1% incline.
25:00-27:00: Walk at 2.8 mph at 4-5% incline.
27:00-30:00: Walk at 3 mph at 0% incline.
You can also print or pin this image of the workout so you can refer to it later!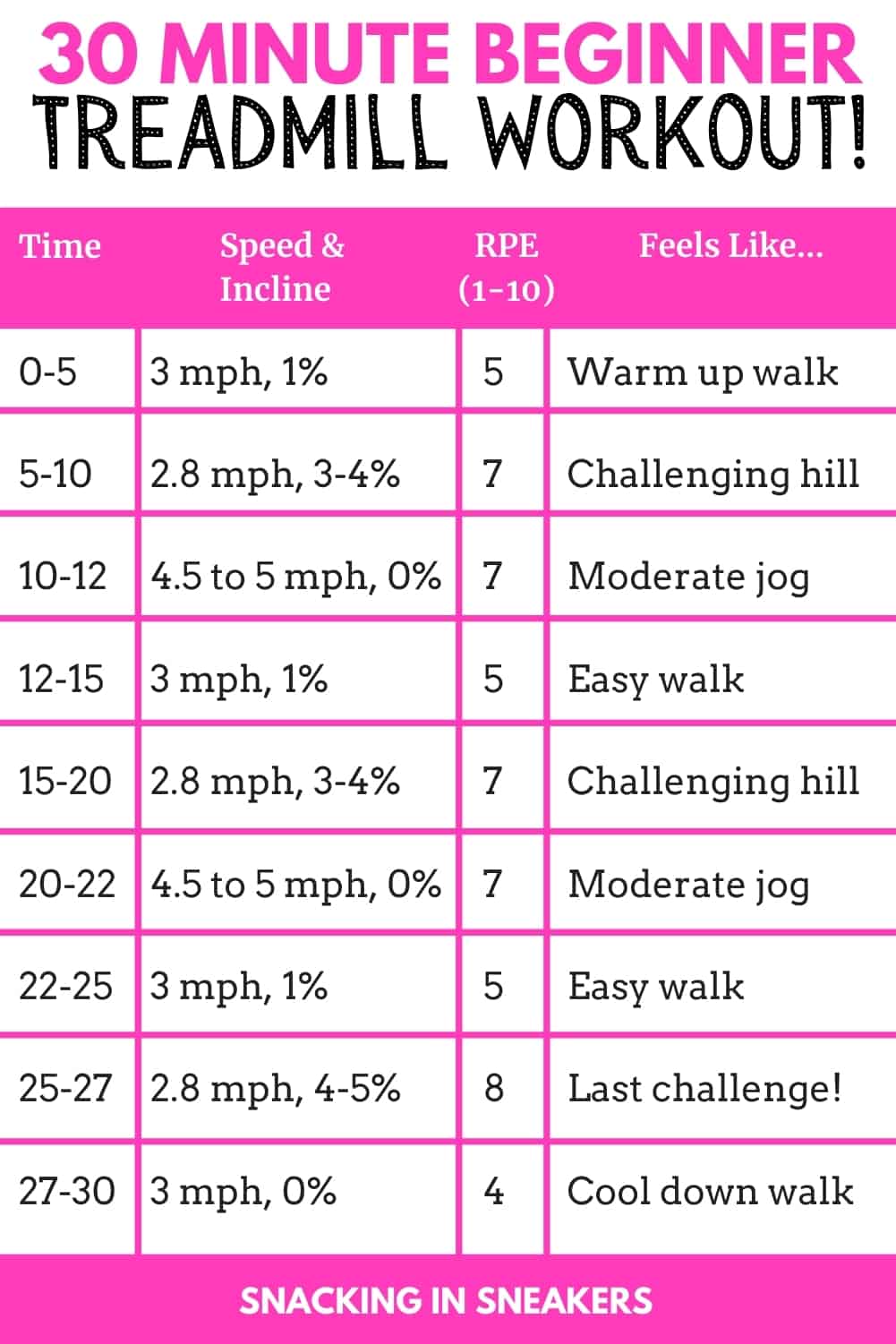 Share: If you tried this beginner treadmill workout, what did you think?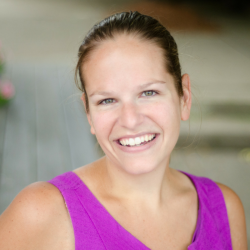 Latest posts by Chrissy Carroll
(see all)