Hoping to tackle a 5K race this year? Learn more about one of my favorite virtual race options this year and get access to a free 6 week 5K training plan! Before you know it, you'll be crossing that finish line and feeling amazing.
Disclosure: This post is sponsored by Wounded Warrior Project. As always, all opinions are my own.
Disclaimer: This training plan is for informational purposes only and should not be construed as individual advice. Consult your doctor prior to beginning any new exercise program.
Why run a 5K?
I'm assuming if you stumbled across this post, you're already leaning towards jumping into a race. But in case you're still on the fence, here's a few great reasons to train for a 5K:
A 5K is equal to 3.1 miles, which is feasible for most beginners to train for in just 6 to 12 weeks.
Running is a form of exercise that requires very little equipment or gear (just a good pair of sneakers!) and can be done (almost) anytime, anywhere.
Signing up for a race gives you a goal to work towards, and provides an amazing sense of accomplishment when you achieve it. Plus, with one of my favorite races (below), you'll also be able to give back to an important cause.
Running strengthens the cardiovascular system and helps burn calories.
You may find that you love the feeling of completing the race so much that you decide to stick with running as a lifelong habit.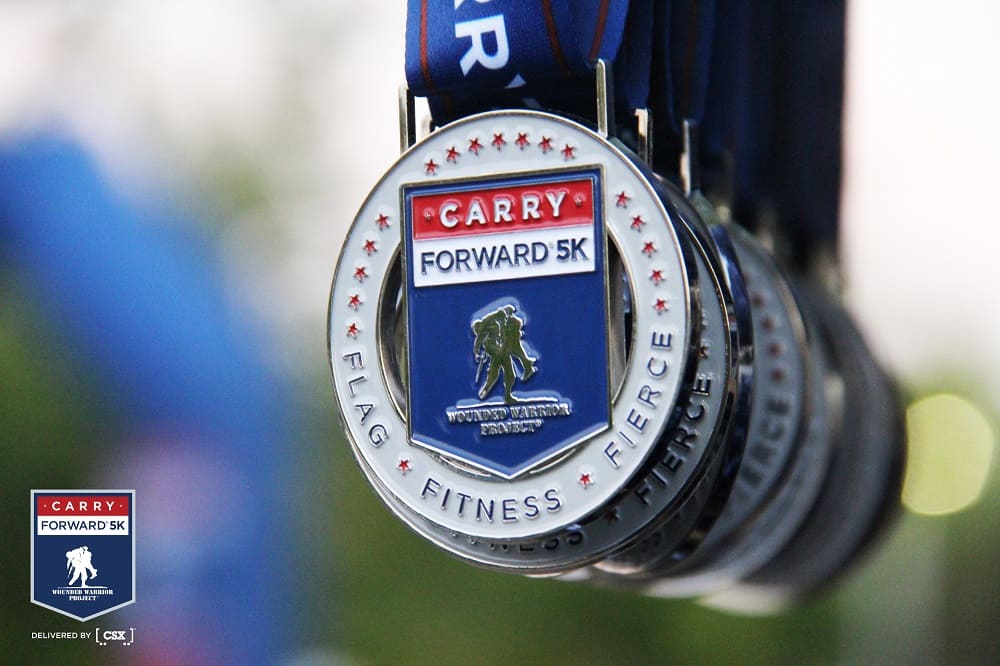 Recommended race: Wounded Warrior Project Carry Forward 5K
If you're thinking about running a 5K but don't have a race in mind yet, I highly recommend considering the Wounded Warrior Project (WWP) Carry Forward 5K, delivered by CSX. This event supports the mission of Wounded Warrior Project, which strives to support veterans who have suffered a physical or mental injury or illness while serving.
As someone who has extended family members in the military, I feel strongly connected to the mission of Wounded Warrior Project and the services they provide to veterans. If you feel the same, signing up for the Carry Forward 5K is a great way to raise awareness and support.
Plus, with everything going on this year, it's easier than ever to participate in this event. You can sign up for the virtual event and select any day that you'd like to complete the race, and complete it anywhere that works for you (even a treadmill)!
You'll also have access to a personal fundraising page that allows you to share your goals with family and friends and raise funds to support Wounded Warrior Project.
And here's a fun twist on this event compared to other virtual races – there are three categories of competition to participate in, which adds a little extra meaning to the race:
Carry a flag (to show support) – This could be as simple as one of those small little flags (great for kids who want to be involved) or a full-size large flag.
Carry a weight (to represent the responsibilities veterans carry) – You can carry a rucksack, weighted vest, weighted leggings, a medicine ball, or whatever else you have on hand!
Carry another person (to symbolize one warrior carrying another in their time of need) – Partner up with your spouse, roommate, or close friend, and enter this division, where one person carries another! You can switch off between who is carrying throughout the race. Most people fireman-style carry, but you can also do piggyback or another way that works for you.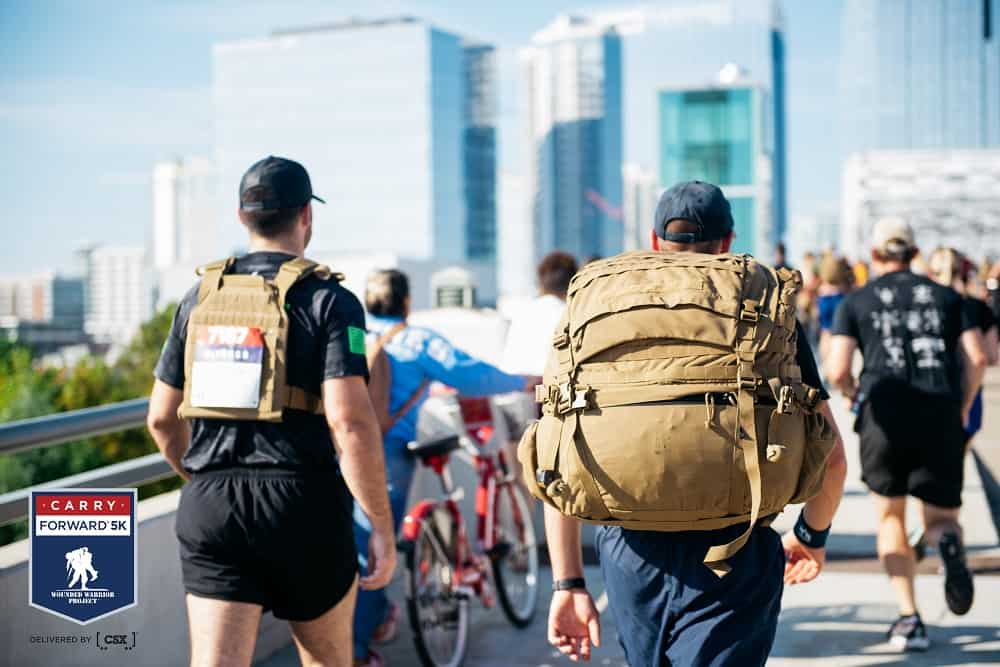 I'm signed up to do the event on Sunday, November 8th and will be carrying a weight, so it'll be a fun way to keep me motivated through the fall.
If you're ready to race, go ahead and sign up here for the virtual 5K. You can start the training plan in this post with me on September 27th, which will lead up right to my race day on November 8th. Or, feel free to choose any virtual date that you'd like to run and you can start this plan on the right day for your schedule!
5K Training Guide
You can find the printable and pinnable training plan at the bottom of this post, but please do read through all this helpful information first! It will help you understand if the plan is right for you and key training tips.
Who is this training plan for?
This 6 week 5K training plan is designed for:
Beginner runners who would like to complete their first 5K race (but aren't concerned about time)
Recreational runners who have done a 5K in the past, but took time off for a while and are looking to get back to running
Walkers that would like to start incorporating a little running into their routine
This running plan is not designed for advanced runners; it's a "cross the finish line" type of plan. However, the ability to use a weighted vest or speed intervals (more on those below) can make it challenging even for experienced runners.
What level of fitness do I need to start?
You should be able to comfortably walk 1.5 miles to start this plan. You do not need to be able to run this distance to begin. You should be able to run up to 3 minutes currently without stopping.
You should also not have any injuries that affect your ability to walk/run.
What is the schedule like?
This is a three-day-a-week running plan. The workouts range from approximately 25 minutes to 45 minutes. The distance covered in each workout will depend on your speed, but beginners can expect to cover around 1.5 miles at the beginning, working their way up to the full 3.1 miles at the end.
Try to structure your run days so that they are not back to back – instead, include rest days, and/or some optional strength or cross training workouts in between. Here's what this might look like:
Monday – Run 1
Tuesday – Rest OR Bodyweight strength circuit
Wednesday – Run 2
Thursday – Rest OR Bodyweight strength circuit OR Cross Training
Friday – Rest
Saturday – Run 3
Sunday – Rest OR Cross training
Workout descriptions
With the exception of a few days, all the workouts in this plan are comprised of a five-minute warm up walk followed by run/walk interval-based training. For example, you might see a workout written like this:
Run 5 min / Walk 3 min
Repeat 3x
That means you'd do the following:
5 minute warm up walk
5 minute run
3 minute walk
5 minute run
3 minute walk
5 minute run
3 minute walk
As you can see, the "repeat 3x" is the total number of times you do the interval. Don't worry too much about your speed or distance – just focus on consistency!
There are also a few runs at the end of the plan that are "run as much as you can" workouts for a certain distance (i.e. 2.5 miles, 2.75 miles). For these, it's just like it sounds – run as much of the distance as you can and add in any walking breaks as needed.
Your speed is not as important in these distance-based runs as trying to stay slow and steady so that you can finish the distance. Pace yourself slower than you think you might need to at the beginning; you can always pick up the speed in the second half of the distance.
Intermediate Modifications – weighted vest or speed intervals
This is a beginner friendly plan that is designed to get people to the finish line. However, if you have already been running for a while, there are two easy options that you can use to modify the plan to be more challenging for you.
a) Weighted vest
As I mentioned, I'm signed up in the Carry Forward 5K category that includes carrying a weight. I'll be using this 6 week 5k training plan in conjunction with the weighted vest for a fun challenge! I've chosen to use a weighted vest (rather than another type of weight) for a few reasons:
It distributes the weight evenly and can be purchased inexpensively online.
You can find them in a variety of weights – this vest that I purchased comes in 4, 6, 8, and 12 pounds. I recommend starting off at a light weight if you've never used one before. I will be using the six-pound vest. Don't exceed 10% of your body weight with a weighted vest.
Weighted vests have been shown to be beneficial in a few ways. For example, this study found that walking with a weighted vest increased the challenge and burned more calories. Another study found that using weighted vests to do strides improved peak running speed and running economy.
You can use a weighted vest to make the beginner plan more challenging as written, with no modifications to the plan itself needed. I do recommend doing a few walks or short jogs in the weighted vest first to make sure it's comfortable on your body and a feasible challenge for you.
Here's me in my weighted vest (and amazing shiny blue leggings, haha) so you can see how easily it fits on the body: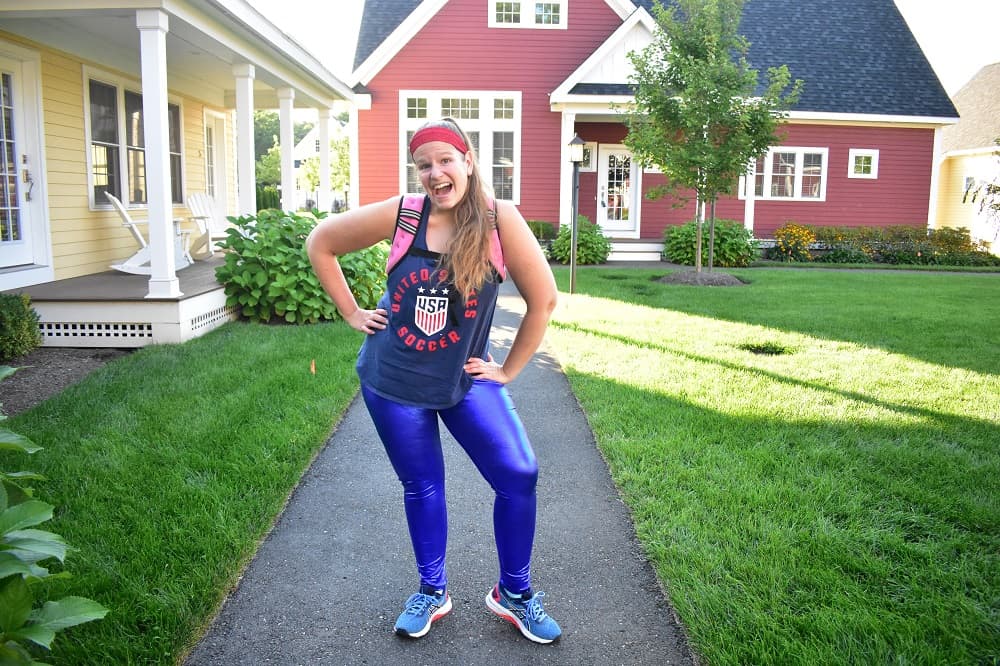 b) Speed intervals
This is an alternative to the weighted vest and is not meant to be done in conjunction with it. Instead of comfortably paced run/walk intervals, you can use these as a chance to do some speed intervals for your training.
Instead of following the plan as written, aim to do three days a week of comfortably paced 2 to 4 mile runs.
Then for a fourth workout of the week, choose an interval workout from the plan and use it to improve your speed. You'll perform it slightly differently than beginners:
For intervals 1-2 minutes, aim to do best effort run sprints for that time frame, and then walk for recovery in between.
For intervals 3-5 minutes, aim to alternate between hard running ("run" interval) and easy running ("walk" interval).
For intervals 7-15 minutes, aim to run "comfortably challenging" during the interval (slower than race pace), and recover with easy running during the "walk" interval.
Do not do a ton of speed interval workouts each week – you need a balance of comfortable paced and speed workouts.
Additional training tips
Warm up and cool down: Take a few minutes at the start and end of each workout to warm up by briskly walking for a few minutes. This helps the body gradually get ready for the run and (on the flip side with a cool down) gradually recover from the run. You'll notice the training plan specifically says to start each workout with 5 minutes of walking; I also recommend ending each with 3 to 5 minutes of walking too. Some workouts will naturally end like that based on the interval but others will need an extra few minutes of walking added in.
Extra walking breaks: Take extra walking breaks if you need to. A six-week plan is pretty quick, and not every fitness level is ready to progress to the longer running bouts this fast. That's completely OK! The most important part is just making sure you're consistently moving (this applies to training and race day)!
Stretching: Do static stretching after your runs. You may also want to consider foam rolling if you have consistent issues with tight hamstrings or tight calves.
Sneakers: Be sure you're wearing properly fitted sneakers that are not too old. Good fitting sneakers will help beginner runners with foot mechanics and may reduce the risk of issues like shin splints.
Optional Strength Training: This plan focuses solely on the three runs per week. If you are just getting started exercising, that will likely be enough to focus on right now. If you've been exercising for a while, though, it's also smart to include strength training. You can find a great bodyweight circuit for beginners here, which you can add in 1 to 2 days per week.
6 Week 5K Training Plan
Here you go – you can pin this plan or you can download it here. Please note this plan is for personal use only and is not to be distributed on other websites.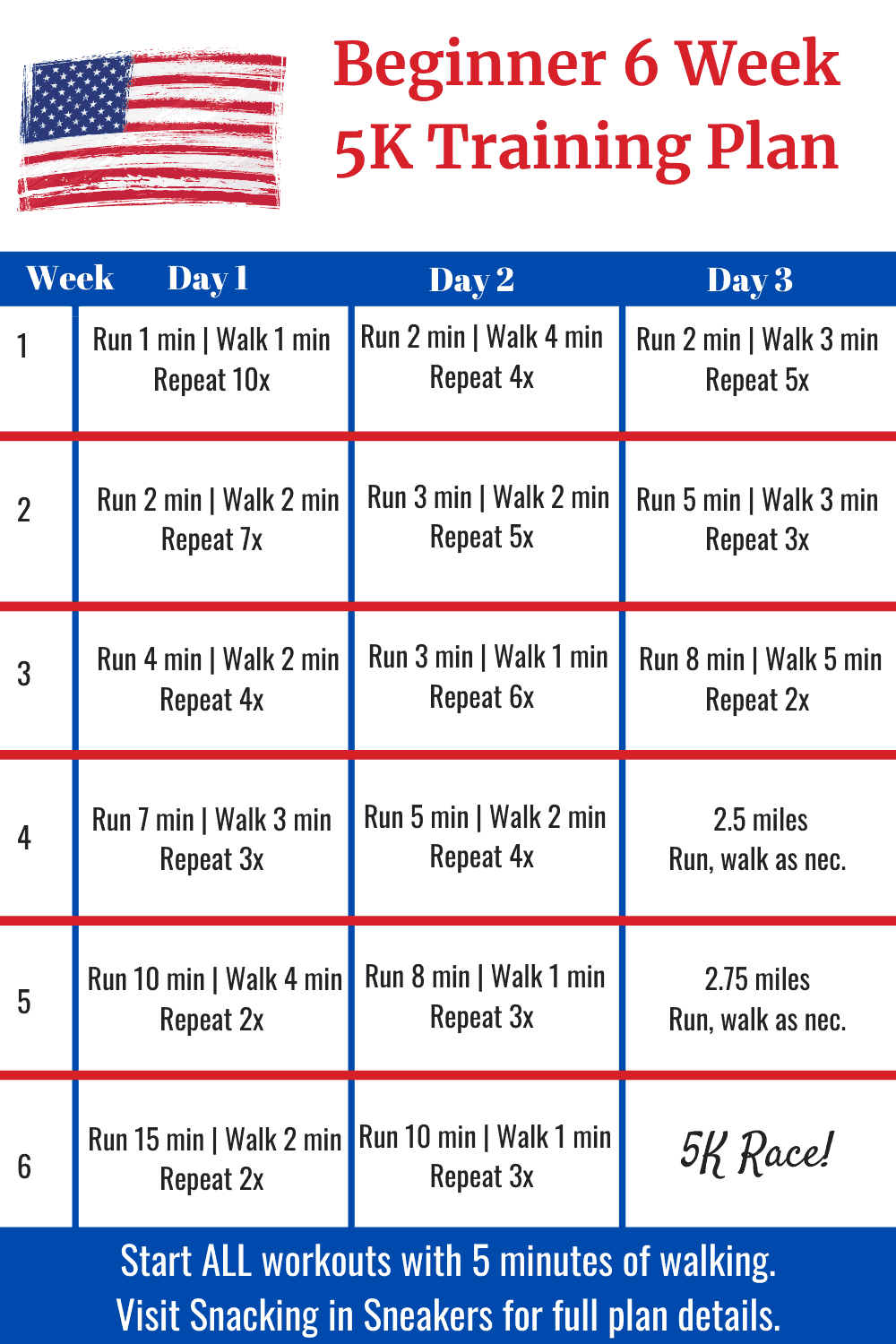 I hope you enjoy training for your 5K race – and hope that you'll join me virtually in completing the Wounded Warrior Project Carry Forward 5K race! If you're signed up to participate, please do leave a comment below and let me know what division (flag, weight, or carry another person) you'll be doing and what date your race is.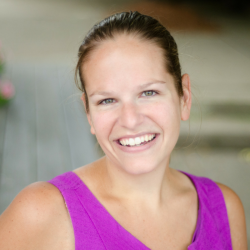 Latest posts by Chrissy Carroll
(see all)