Looking for a way to challenge yourself after completing a 5K? Why not step it up and try the next big distance in the racing progression – a 10K race! This 8 week 10K training plan is ideal for beginners who want to tackle their first 6.2 mile race.
Getting Started with The 8 Week 10K Training Plan:
You can scroll to the bottom of this post to view and print the training plan, but be sure to read over these important tips prior to beginning the plan:
Who is this training plan for?
This plan is ideal for beginner runners that are looking to run their first 10K. It's also great if you've run a 10K in the past, but maybe didn't actually follow a training plan to prepare for it – and now you're looking for something more structured leading up to another race.
This is a "cross the finish line" type plan. It's not a plan for experienced runners looking to achieve a PR. If you've run a 10K before and want to shave your time a bit, I'd recommend checking out my 6-week intermediate 10K training plan instead. That plan incorporates speedwork to help improve your pace.
What level of fitness do I need to start?
You should be able to comfortably jog 2-3 miles to start this plan. It's OK if you use run-walk breaks in this distance as long as it feels comfortable and not overly challenging.
If attempting 3 miles feels very difficult right now, I recommend stepping back and using a more gradual plan, like my 12 week 10K training plan for beginners.
You also should not have any injuries that affect your ability to walk/run. If you are questioning whether an injury precludes starting this 10K plan, ask yourself – does this affect my stride and/or cause pain during running? If the answer is yes to either, take care of the injury first and then return to this plan when you are healed later.
*Disclaimer: I am not a physician; check with your doctor prior to starting any new exercise plan, especially if you've had any injuries or have a medical condition that may affect your fitness.
Workouts and Schedule
What is the schedule like?
This 8 week 10k training schedule includes 4 days per week of running – two easy runs, one long run, and one (optional) recovery run. I also included an optional but recommended day of cross training.
You can fit these into your week as works best for your schedule – I personally recommend something like the following schedule:
Monday – Rest
Tues – Easy Run
Weds – Cross Train (optional)
Thurs – Easy Run
Fri – Rest
Sat – Long Run
Sun – Recovery Run (optional)
Completing the cross training and recovery run will help round out your training, but it's 100% feasible to do a 10K based on just running three days a week.
Types of Running Workouts and Pacing Information:
This plan includes several types of runs – here are descriptions of each:
Easy Pace – These are your normal, comfortably paced runs. You should finish these and feel fairly good – not overly tired, sore, or huffing/puffing.
Long Runs – Just like it sounds, these are the longest runs of your week. They are meant to help build endurance for the 10K event. Complete them at a comfortable, steady pace. Avoid going out too fast and then dropping your pace at the end.
Recovery Run (optional) – This run is done the day after your long run, when you are likely feeling a bit tired and sore. It's meant to simply keep your body moving and help add some easy mileage to your week. Run them slow – they should be slower than the easy pace runs – or walk the distance if you're feeling tired.
Cross Training (optional) – Cross-training can be any activity that gets your body moving – cycling, swimming, yoga, etc. Avoid activities that may increase your risk of injury while training for your race (for example, two weeks before your big race probably isn't the time to try snowboarding for the very first time).
Why isn't there more speedwork?
For the most part, beginners just looking to cross a finish line don't need to worry much about speedwork. If all you want to do is finish, there's no reason to incorporate fast-paced workouts that increase your risk of fatigue and injury.
Of course, if you're a runner looking to achieve a certain time or who are more intermediate/advanced, you need the tempo runs and track workouts. Those are found in the more advanced plans on this site.
What about strength training?
My advice for strength training varies depending on what your current routine is like:
a) If you already have a current strength training routine: Incorporate that in here as it fits. Most research shows you can drop down to 1-2 days per week and maintain your current strength, which fits in nicely with the amount of running done in this plan.
b) If you do not yet do strength training: While I'm a huge proponent of strength training, if you're not already doing it, I wouldn't recommend starting any intense strength training while also starting this plan. It's difficult to balance starting a new running plan and a new strength training plan.
Instead, if you'd like to try to incorporate some strength work, just mix in some simple body weight exercises 1-3 days a week. Simply do them at another time of day on the same day as an easy run (i.e. run in AM, do these in PM) or as part of your cross training.
If you choose to include these, here are the exercises I would recommend:
Lunges
Squats
Plank
Side plank
Bird dog
Bridges
Do a 5-10 minute warm up walk first. Then complete two sets of each, approximately 10-15 reps (or approximately 20-30 seconds holding the planks) per set.
Other Helpful 10K Training Tips:
Stretching & Foam Rolling: Be sure to stretch regularly after your workouts. If you experience tight muscles on a regular basis, you should also incorporate some foam rolling as well.
Walking breaks: With any workout in the plan, feel free to use a run/walk approach – and don't feel discouraged if you need to add in walking breaks! Everyone's fitness level is different. The most important part is simply to make sure you're completing the mileage – whether that's running or walking.
Rest Days: No matter what, I recommend leaving at least one day a week as a complete rest day. You can do light activity – a walk with the family, swimming at the beach with the kids – but don't do any structured exercise. I truly believe this helps prevent overtraining and reduces injury risk.
Proper Sneakers: Poor fitting sneakers can contribute to blisters and shin splints. If you've been wearing your sneakers for a long time or feel like they don't fit quite right, invest in a new pair. Local running stores are great for helping you find a sneaker that's right for your foot.
Nutrition: Luckily 10K training doesn't require any special nutrition strategies. It's wise to follow a balanced diet every day that will help you feel your best during training though!
Soreness and Injury: A little soreness can be normal after runs, especially long runs as your pushing your body to go further. However, pain that affects your running stride is not normal. If you experience any injury that is affecting the way you run, be sure to see a doctor for an evaluation.
8 Week Beginner 10K Training Schedule
Here it is – your free training plan! You can pin or print the graphic below so that you have a copy of this training plan at home.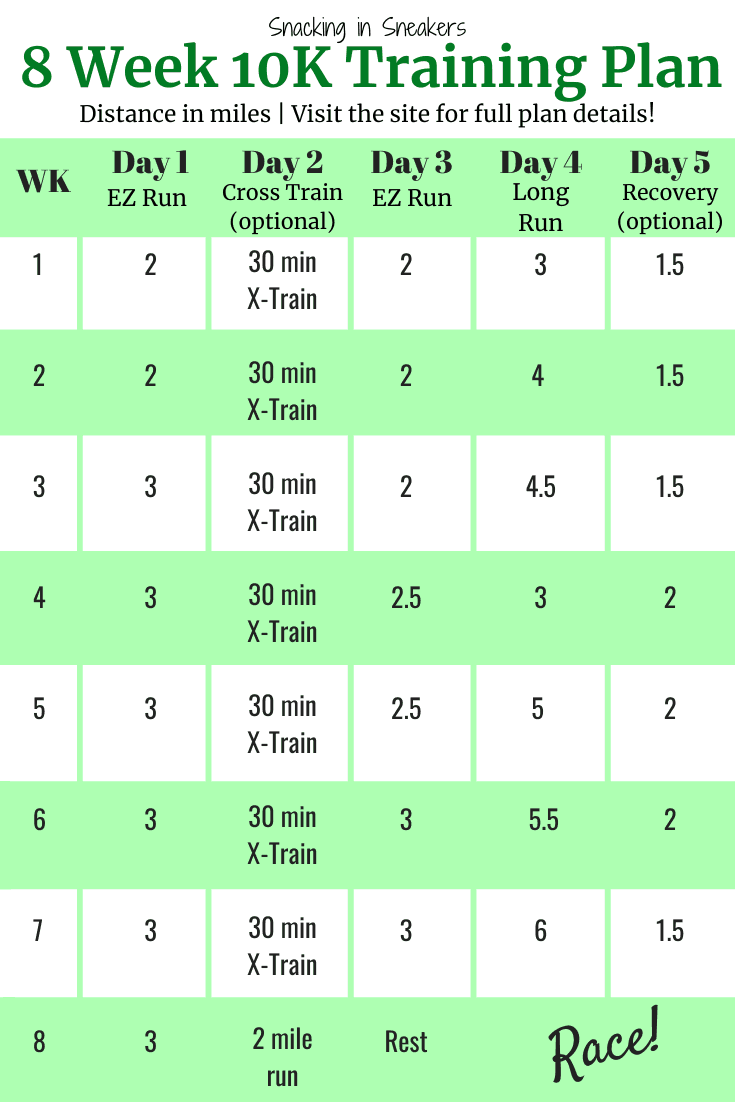 I hope you find this helpful as you tackle your 10K race. And don't forget to check out all of the other free running training plans on the site!
Share: What 10K race are you training for? If you used this 8 week 10K training plan, what did you think?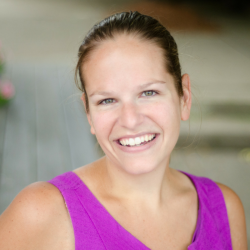 Latest posts by Chrissy Carroll
(see all)