Already done a few sprint triathlons, and looking to PR? Try following this free advanced sprint triathlon training plan. It's a 20-week plan with several focus blocks designed to improve your skills in each discipline and get you crossing the finish line faster.
This training plan was produced in partnership with Multisport Mastery. If you're an intermediate or advanced athlete that needs one-on-one coaching, definitely reach out to them.
What you need about this advanced sprint triathlon training plan:
You'll find a link to download a PDF of the plan at the bottom of this blog post – but please be sure to read all the other information in the post first! You'll find key details about the minimum fitness level needed to start the plan, how the workouts are coded, and more. (Also, feel free to bookmark or pin this post to refer to later!)
Who is this training plan for?
This program is designed for sprint-distance triathletes that have completed several sprint triathlons and are looking to improve upon their time.
If you're a beginner athlete, this plan is not ideal – the intensity is too high because of the amount of speedwork and the number of weekly workouts. Instead, I recommend checking out this beginner sprint triathlon training plan instead. That plan is focused more on consistency than speed, and is perfect for those looking to train for their first triathlon.
What fitness level do I need prior to starting?
Before starting, you should be regularly exercising at least 4 hours per week. In addition, you should be able to meet these minimum requirements for each discipline:
Swimming: able to swim 800 yards/meters comfortably
Cycling: able to cycle for 30 minutes continuously
Running: able to run 25 minutes continuously
Disclaimer: I am not a physician. Always check with your doctor prior to starting any new exercise program.
What are the phases of this advanced sprint triathlon training schedule?
The plan is broken into a few different phases, though you don't necessarily see these labeled on the training schedule:
Base Period – Weeks 1-12
Build Period – Weeks 13-18
Taper – Weeks 19-20
The base period is designed to continue to enhance your current fitness level, developing your aerobic capacity. It's also designed to help develop skills in each discipline via focus weeks.
Focus weeks are 4-week blocks in the base period that are designed to put extra attention on a specific disciple and sharpen skills. During those weeks there are 4 workouts per week for that discipline. This plan begins with a run focus, then bike focus and wrapping up with a swim focus before starting the Build Period.
The build period starts to incorporate more speedwork and race-specific workouts, helping prepare you for race-day intensity.
The taper involves a reduction in training volume that allows your body to rest and recover so you arrive at the starting line feeling fresh.
What is the time commitment?
You'll be doing 9-10 workouts per week over six days of training. Mondays are rest days.
Every week has three swim workouts, three bike workouts, and three run workouts. Many weeks contain an extra workout in one of these disciplines.
The total training time each week varies based on the week, but ranges from about 4 hours on the low end to 8 hours on the high end.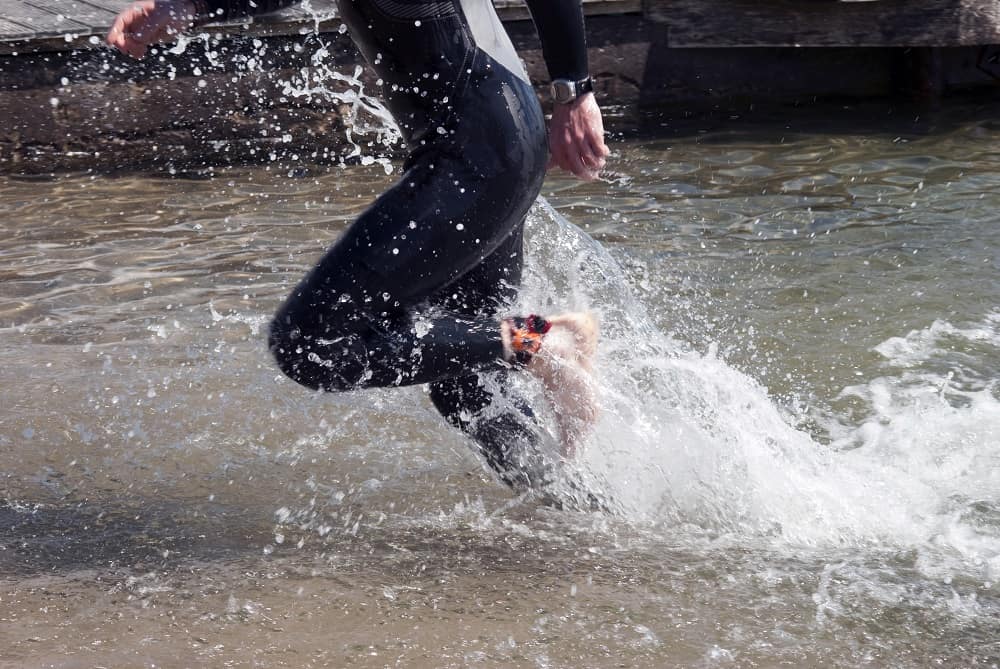 How to read the training plan document
This advanced sprint triathlon training plan is set up in table format. You'll see the weeks along the left column, and then spaces for swim/bike/run workouts underneath that. Then you'll see columns for each day. Just follow along with this to see what workout you should do that day. The workouts are coded and there are guidelines in this post and in the downloaded plan that explain the codes.
As you'll see, most days include two workouts each day. You can divide the weekday workouts into a morning and evening session. For the weekend workouts, you'll notice that some list a bike/run combo where the run is "OTB" – aka off the bike. This means you should do the run workout immediately after finishing the bike workout.
What should the workout intensity be for the training sessions?
On the bike and run workouts, you'll see some indicators as to the proper intensity. Let Rate of Perceived Exertion (RPE) help guide you on these.
For RPE, on a scale of 1-10, where 1 is laying on the couch and 10 is an all-out sprint, use the following guidelines to interpret the intensity recommendations in the training plan:
EZ = RPE 3-5
Mod. (Moderate) = RPE 7 or approximately 10K race pace/intensity
HI = RPE 8-9 or approximately mile pace/intensity
Race Pace/Intensity = pace or effort intended for Race Day
Swim Workout Notes:
The swim workouts are coded, and there is an appendix at the back of the plan that describes these. For example, the Week 1 Tuesday swim is listed as 800-A. You would go to the back of the plan to find the 800-A workout.
You can use the workouts as written for yards or meters, depending on the size of your pool.
Use the following rest times for swim workouts:
Between 25's: 10 seconds
Between 50's: 15 seconds
Between 75's: 15-20 seconds
Between 100's: 20 seconds
Between 150-250's: 30-45 seconds
Between 300+: 45-60 seconds
Cycling Workout Notes:
Some cycling workouts include guidance based on the RPE intensity scale mentioned earlier. Others may include direction with "big gear" or "sprint." If you see either of those, this is what they mean:
Big Gear = Increase resistance on your bike to simulate going up a steep hill and pedal at less than 65 rpm
Sprint= Increase cadence to 100+ rpm in a gear that prevents you from bouncing out of the saddle.
You'll notice that many cycling workouts include intervals. For example, you might see a workout listed like this:
10 min. EZ
5X (15 sec. Sprint/1:45 EZ)
10 min. EZ
This would mean you'd ride 10 minutes at an easy pace. You'd then sprint for 15 seconds at a high cadence, followed by riding easy for 1:45. You'd repeat that 4 more times (to get 5 total intervals), before finishing your ride with another 10 minutes of easy riding.
Run Workout Notes:
Similar to the cycling sessions, many run sessions contain intervals as well. Simply follow the same type of pattern for these as described above. The run session speed should be guided by the RPE intensity guidelines.
Brick Workouts:
Brick workouts are included during the build period. They're designed to help you learn to better transition from the bike to the run, and are denoted as "OTB" (off-the-bike). The run portion of the Brick workout should be done at race effort, RPE of 7-8, unless otherwise indicated. You'll want to transition as quickly as possible from bike to run, ideally with no more than 5 minutes between completing the bike portion and beginning the run portion of the Brick workout.
Download your free advanced sprint training plan!
Here's your training schedule – just click here or on the photo below to download and print the plan out for your own personal use.
*Please note, this plan is not to be distributed on other websites or used for commercial purposes.*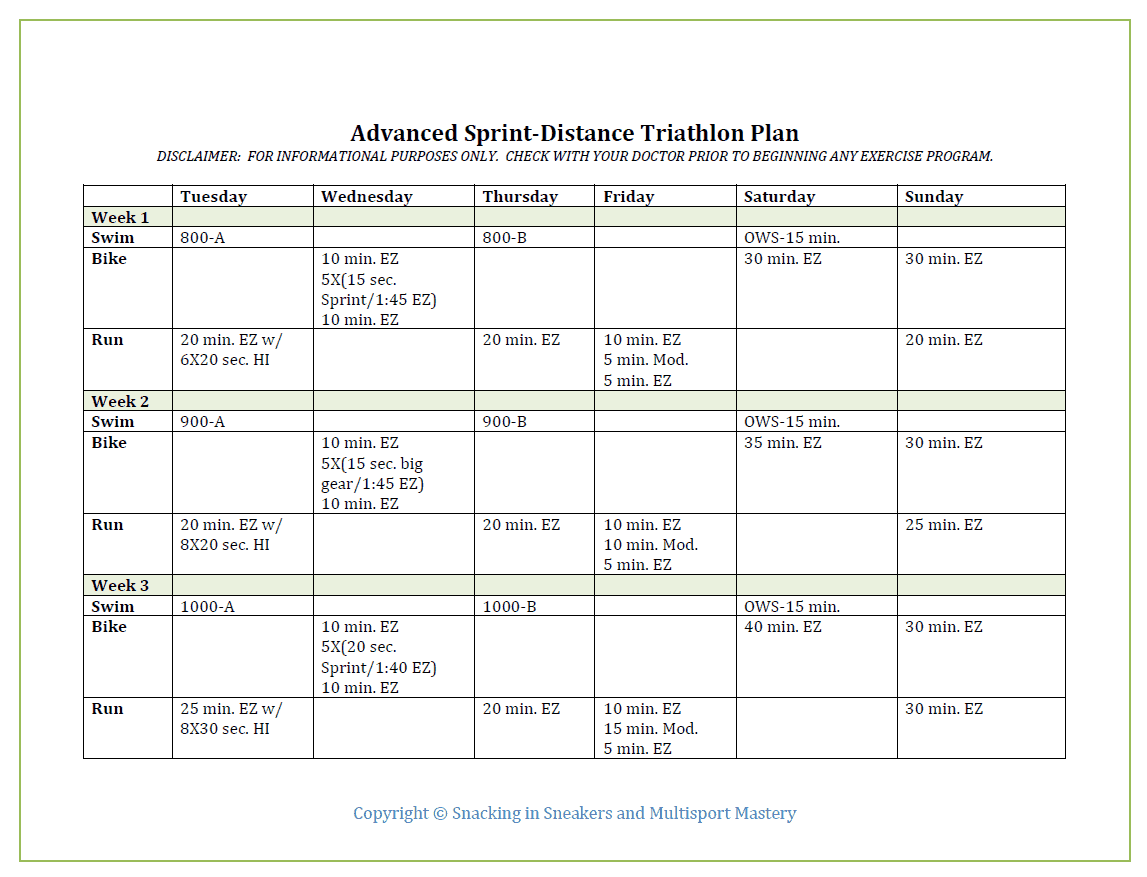 Note: This plan was produced in partnership with Multisport Mastery. Multisport Mastery is a group of endurance coaches who specialize in individualized performance plans for multisport athletes of all abilities. Whether your goal is to run a marathon, compete in a triathlon, ride in a week-long cycling event or finish an Ironman, they offer customized coaching to bring out the best in each athlete no matter who you are or where you want to go.
Looking for more triathlon training plans?
If you're thinking about branching out from sprint distance races and trying something new, be sure to check out my beginner Olympic triathlon training plan or my 36 week Ironman training plan!
Share with me: What race are you training for? If you used this advanced sprint triathlon training plan, what did you think?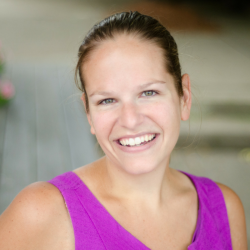 Latest posts by Chrissy Carroll
(see all)