Nervous to tackle cooking a whole fish? Not to worry! With this air fryer whole black sea bass recipe, you'll realize just how easy it is to prep a beautiful fish in its entirety. This makes a great show-stopping meal for a date night, or just to treat yourself to a fun meal.
Disclosure: This post is brought to you as part of the Massachusetts Seafood Ambassador program, sponsored by Eating with the Ecosystem. As always, all opinions are my own.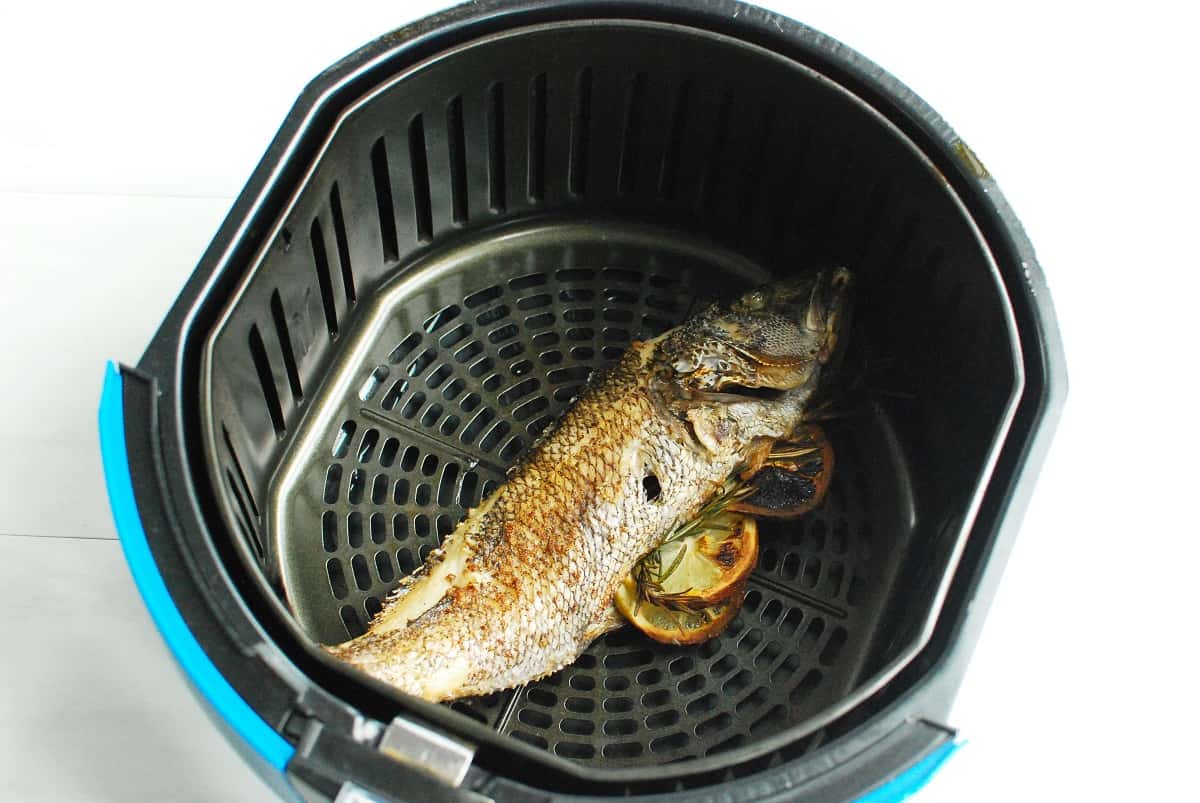 Ingredients
Here's what you'll need to make this recipe, along with selected ingredient notes: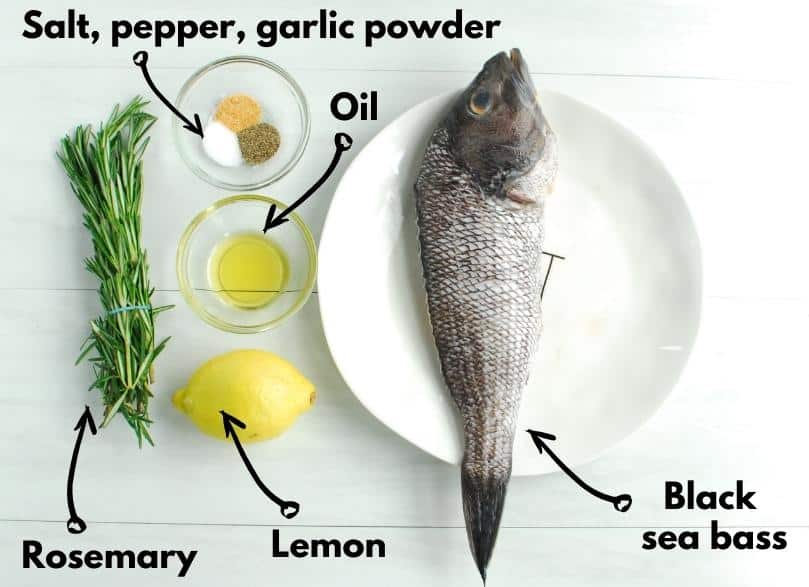 Whole black sea bass – I used this because it was in-season in Massachusetts when I made this recipe, and I love grabbing local seafood whenever possible. But you can certainly use many smaller whole fish in the air fryer, so feel free to choose whatever you are able to find depending on your location and time of year. (Pro tip – if your seafood source offers it, ask for the fish to be gutted and scaled to save you time at home!)
Rosemary – This adds a subtle herbaceous note, but you can certainly omit this if you don't have it on hand. Or feel free to substitute with other fresh herbs, like thyme or parsley.
Instructions
You'll find the full recipe ingredients and amounts in the recipe card below, but here's a helpful overview with photos.
The first thing you'll want to do is make sure your black sea bass is gutted. It's usually sold this way at the supermarket, but if you're fishing yourself or purchasing right off the boat, you may have to tackle it yourself.
Next, see if the fish is scaled. A lot of times, fish at the grocery store will be sold gutted but still have scales on.
To remove the scales, hold the end of the fish tightly. Use the back of a chef's knife (yes, the dull side) and slide it quickly and firmly along the skin. The scales will fly off, so if you're able to do this in a clean deep sink, it can prevent a bit of messiness – but otherwise, just give your counter a good wipe down after.
Continue that motion on both sides of the fish until all the scales are removed. When you're done, rinse the fish.
If you want to score the skin at this point you can, but I find it's not a huge deal to skip that step when cooking a small fish in the air fryer. (Laziness or efficiency? You tell me 😉 )
Now it's time to rub it with oil and season it!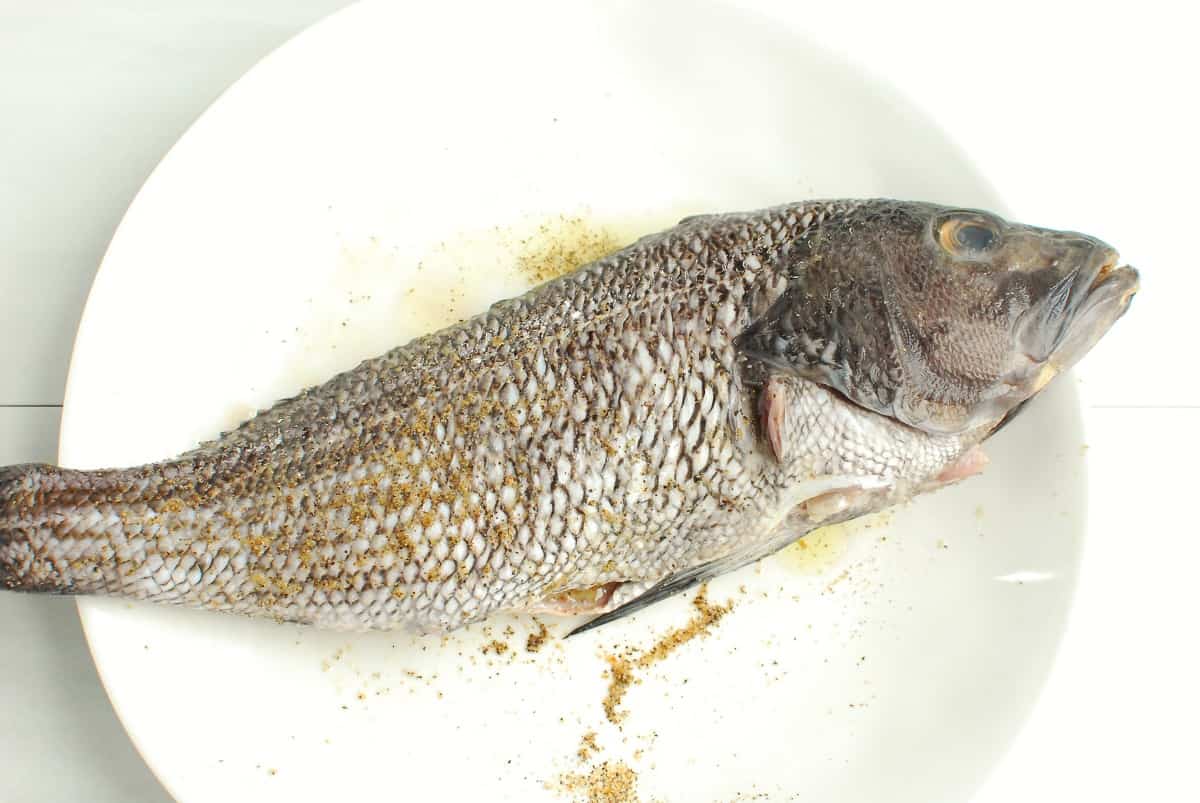 Go ahead and put those lemon slices in the cavity, along with some rosemary.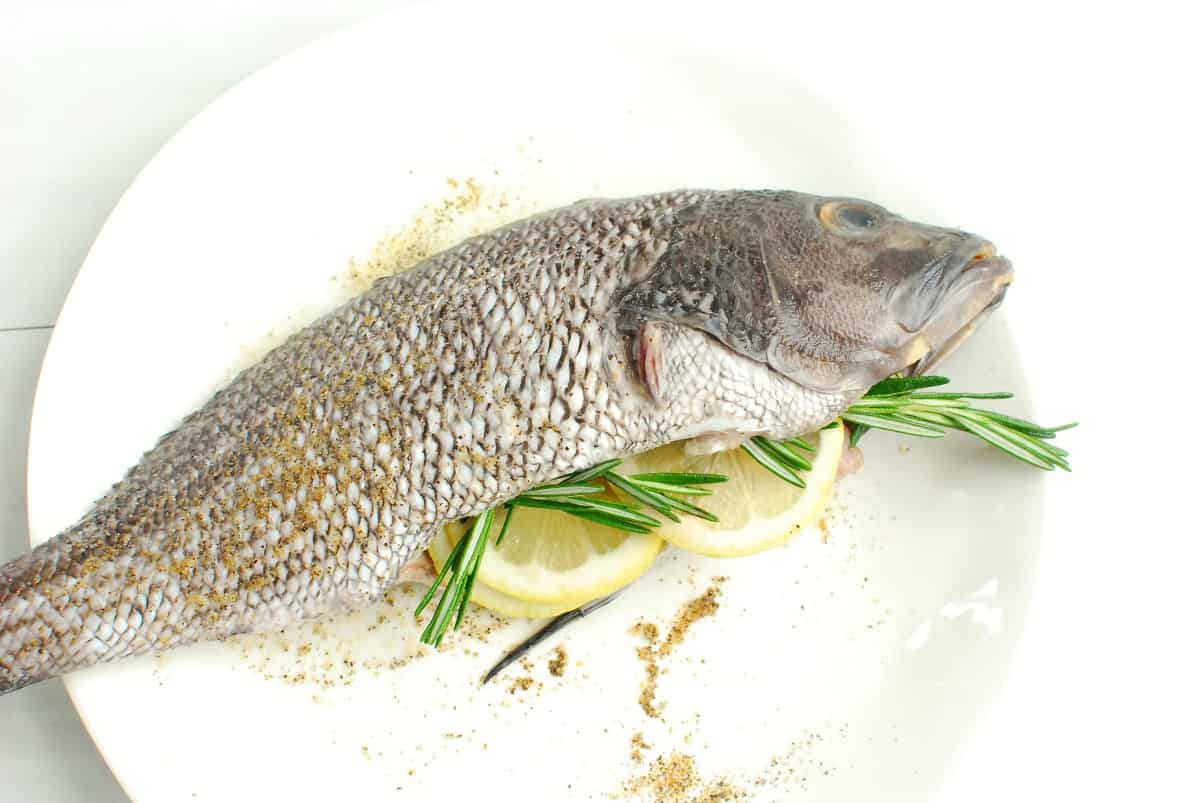 Place the fish in the air fryer basket. You'll need a larger air fryer for this recipe, not one of the small models.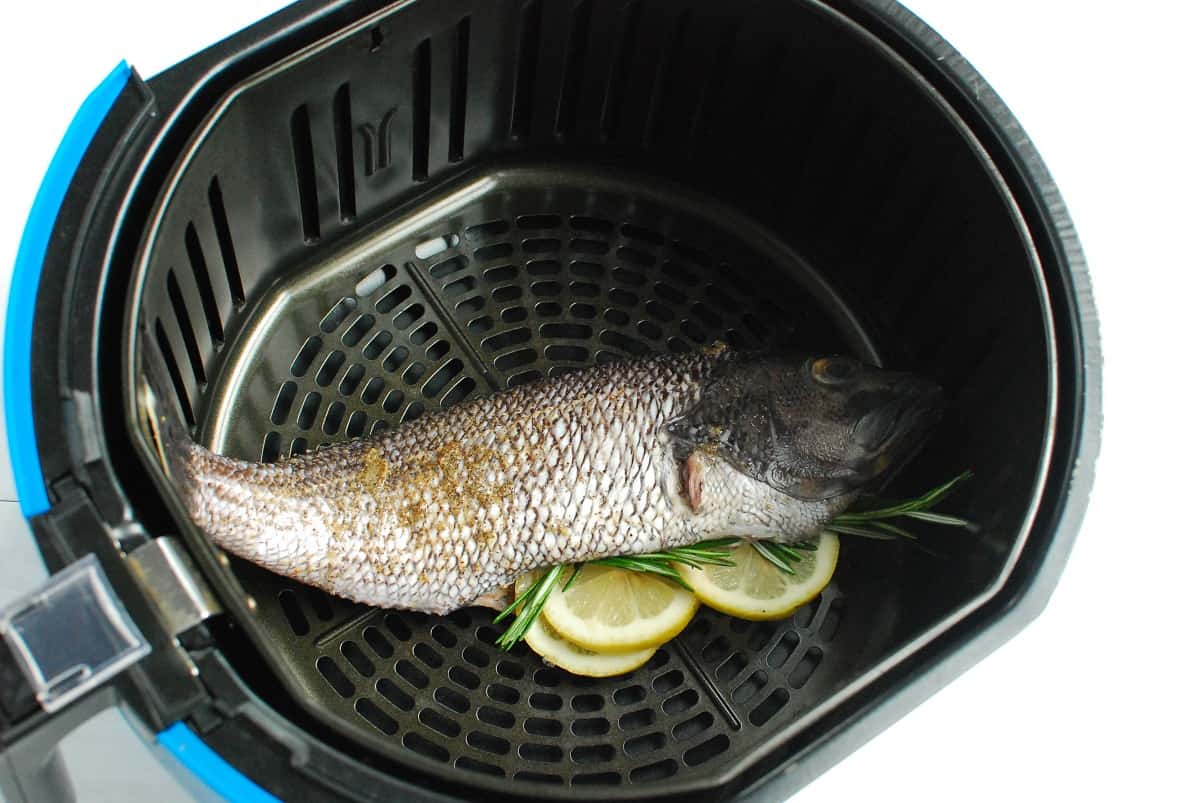 Air fry at 400 degrees F for about 15 minutes, or until the fish is cooked through. Enjoy!
I like to serve this with a bunch of sautéed veggies like green beans, asparagus, or spinach.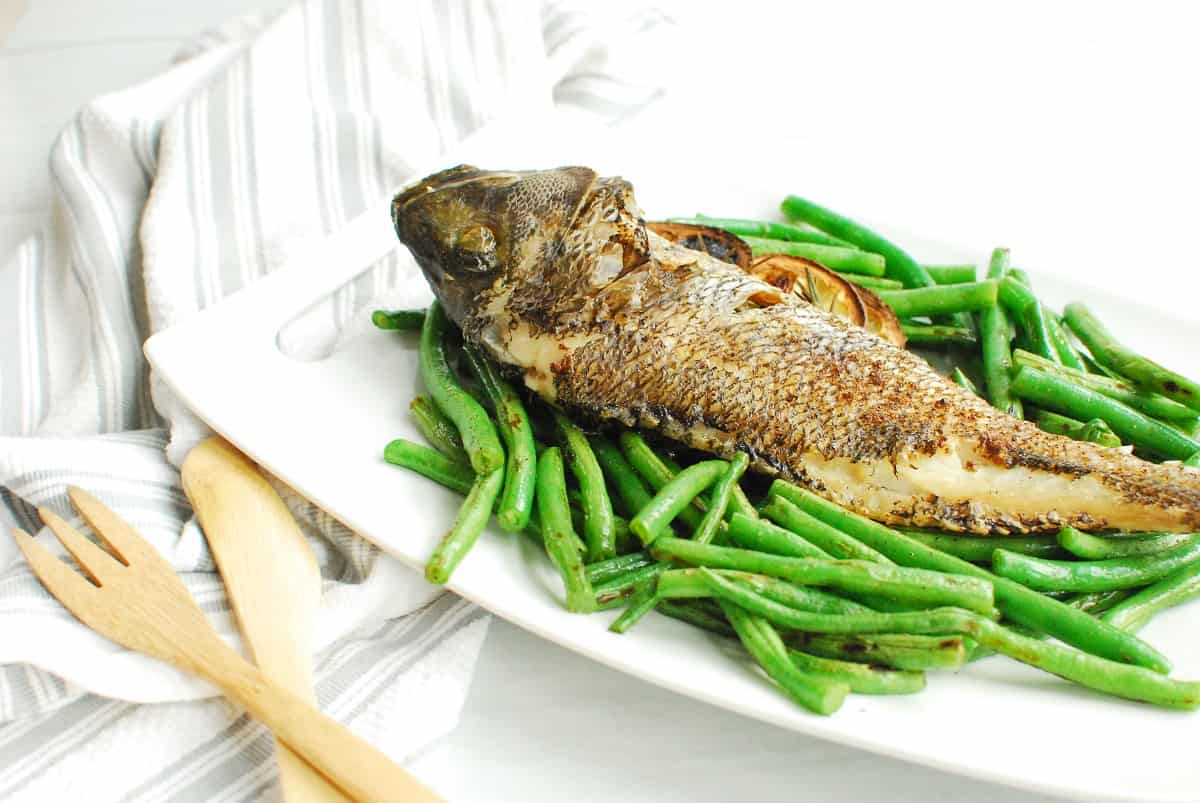 Recipe FAQ
Here are some common questions that may arise as you prepare this recipe:
Are there bones in black sea bass?
Yes. There will be pin bones located throughout the fish. Once it's cooked, though, these are quite noticeable, and you can easily pick them out or eat around them (just chew slowly to make sure).
Which fish are easy to cook whole?
In addition to black sea bass, scup (porgy) and bluefish are also great choices from the Northeast.
Can you make whole black sea bass in the oven?
Sure! If you want to cook it in the oven, season as directed then roast in a 425 degree F oven for 10-15 minutes, or until cooked through.
More Seafood Recipes
If you're looking for more delicious dishes featuring Massachusetts seafood, try one of these options:
I hope you like this air fryer whole fish recipe as much as I did! If you get a chance to try it, feel free to leave a recipe rating or comment below.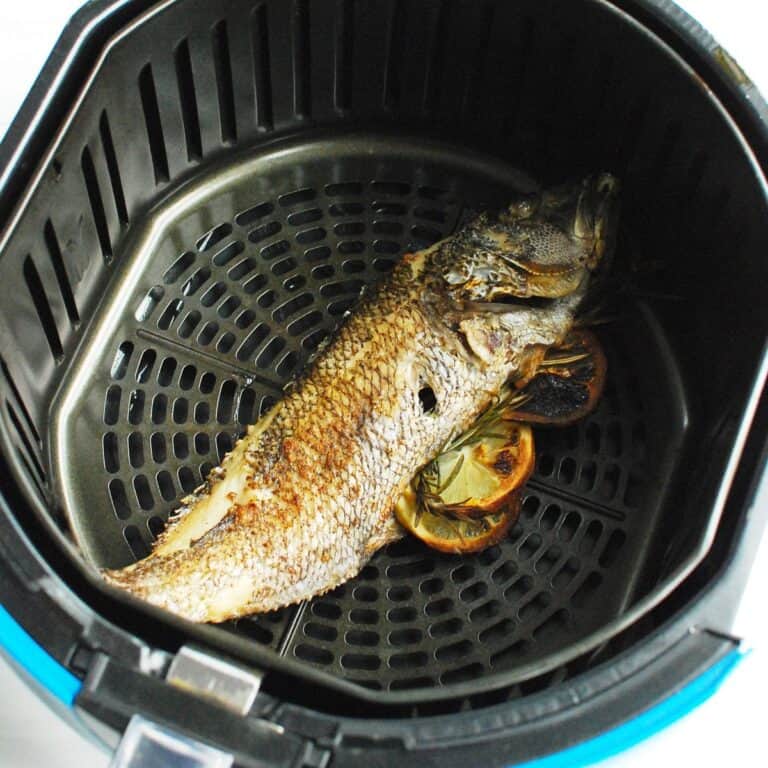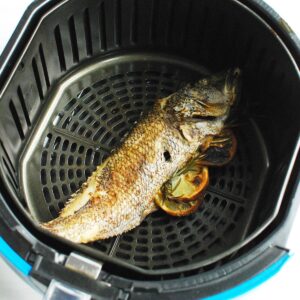 Air Fryer Whole Fish
This air fryer whole black sea bass is a simple, show-stopping main dish – and it's done in under 20 minutes.
Ingredients
1

lb

whole black sea bass

gutted and scaled

½

tbsp

olive oil

¼

tsp

salt

¼

tsp

pepper

¼

tsp

garlic powder

½

lemon

sliced

2

sprigs fresh rosemary
Instructions
Rub the black sea bass with the olive oil, then season with the salt, pepper, and garlic powder.

Stuff the inside of the fish with the lemon slices and rosemary.

Place the fish in the air fryer basket. Air fry at 400 for approximately 15 minutes, or until the fish is cooked through (flesh will be flaky white and internal temperature will reach 145 degrees F).

When done, remove the lemon and rosemary and enjoy!
Notes
The nutrition analysis below assumes a whole fish will yield about 40-50% edible filet.
Nutrition analysis (approximate per serving): 165 calories, 9 g fat, 1.5 g saturated fat, 350 mg sodium, 1 g carbohydrate, 0 g fiber, 0 g sugar, 20 g protein, Vitamin D: 0%, Calcium: 2%, Iron: 2%, Potassium: 7%
Nutrition
Share: Have you ever experimented with whole fish cooking? What's your favorite type of seafood?
Feel free to pin this post to save for later!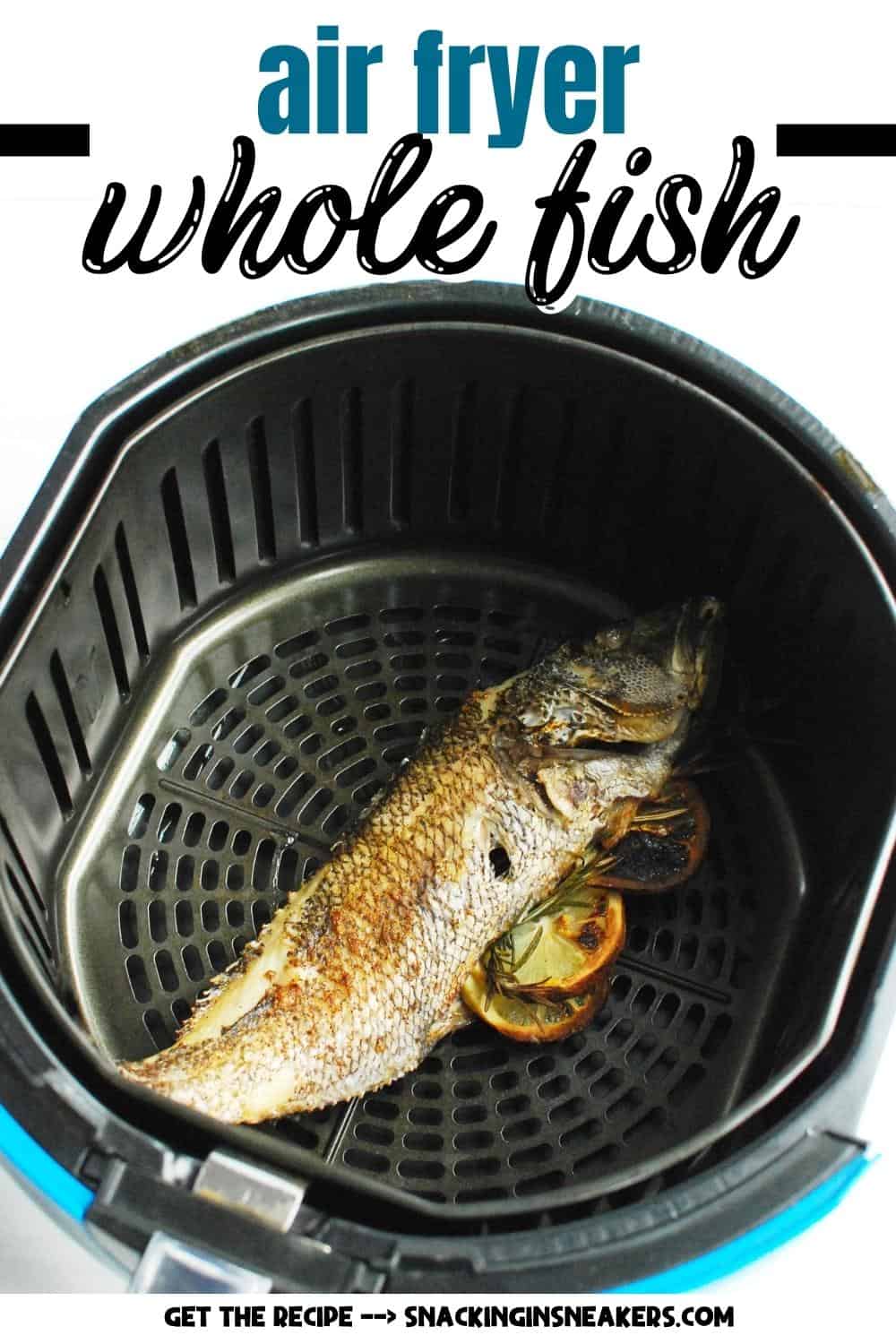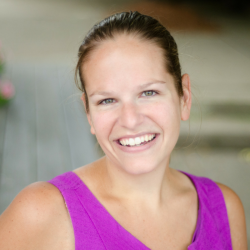 Latest posts by Chrissy Carroll
(see all)