Breathing while swimming is one of the most difficult skills to master as a triathlete or distance swimmer. If you have trouble figuring out how to breathe in freestyle, this guide provides a complete breakdown on how to breathe properly, how often, and drills to improve breathing.
As a tri coach, I love guiding athletes on the basics of swimming – but I've teamed up with a special guest to help with this article on breathing! Jorie Caneta is a former D1 swimmer from Texas A&M University, so she is well versed in the sport and has some great tips to share. Take it away, Jorie!
---
Basic Swim Breathing Mechanics
Get comfortable breathing in through the mouth and out through the nose. Blow out all your air through your nose before you take a breath (note – see FAQ below about exhaling from the mouth). If you exhale completely, you'll be able to take a quick breath and avoid pausing your stroke.
As the pulling arm begins to sweep down to the hips, rotate – do not lift – your head to the side of the pulling arm. To keep the head from rotating too far, keep one goggle lens in the water.
As the arm swings over the water, rotate the head back into a neutral position – the head in line with the spine.
Repeat every three strokes (optimally – you may need to adjust this depending on your swim mechanics, fitness, and personal preference).
Common Mistakes
The mechanics seem simple enough when written out, but can be tricky when put into practice. Here are some common mistakes that may occur:
Mistake #1: Holding Your Breath
When your face is in the water, you should be steadily exhaling until you take the next breath. Holding your breath can increase the stress you feel in the water and also cause the inhalation to last longer and slow the stroke down. If you wait to exhale until the mouth surfaces, this can cause a pause in the stroke cycle that will cause you to lose momentum and speed.
Solution: Continuously and slowly breathe out of the nose while the face is submerged. Start by letting a small and smooth consistent stream of bubbles underwater. Take notice of the large burst of bubbles exhaled as you turn your head to breathe. This may feel uncomfortable but be patient, over time it will become natural.
Mistake #2: Over-Rotating
Swimmers often make this mistake by rotating the head too far up while rolling on to the side while taking a breath. Moving the head will also cause the rest of your shoulders, hips, and feet to come out of the streamline position and slow you down.
A good rule of thumb to remember is that anytime you move your head out of alignment, often the rest of the body will follow. It is easy to self-diagnose this issue when swimmers can see the sky or ceiling when they rotate the head to breathe.
Solution: To keep the body in line and maintain a streamline position, practice standing up straight and rotating the head so that your chin aligns with the shoulder. Pause and check to see if your shoulders or hips rotate out of alignment, you should be straight as a pencil. The goal is to rotate only the head, while the rest of the body remains neutral.
This is also true while swimming, so repeat this technique in the water. Some helpful cues that may look behind and to the side while trying to keep one goggle lens in the water when you breathe.
Mistake #3: Lifting the head forward to breathe
Often, swimmers slightly tilt the head and gaze forward while they swim. This is also a common practice for open water swimmers/triathletes for sighting the target buoy or the surroundings.
While lifting the head forward for sighting is important and acceptable, try to use it sparingly because the head position dictates the rest of the body. If you swim with your head up (or your gaze fixed forwards) your hips will sink and creates lots of drag.
Solution: To fix this, fix your gaze at the bottom of the pool and keep the chin slightly tilted into your chest. Think of holding an apple underneath your chin and against your chest – this will set you up for a great streamline position.
(You can and should still sight in open water swimming, but do so only every so often to ensure you're moving in the correct direction.)
Mistake #4: Breathing late
One of the most difficult parts of breathing is getting the timing right. If you wait to breathe while the pulling arm is coming above the water you mostly are breathing too late. You might even breathe in water as it splashes from the overwater recovery. But no worries, this can be fixed!
Solution: Begin the breath as soon as you start to pull water and feel resistance against your hand and forearm. Start rotating the head towards the direction of the pulling arm when the elbow reaches the 90-degree angle during the underwater portion of the pull. As the hand begins to move towards the hips, the mouth and nose should be above the surface to allow air intake.
Once the hand starts breaking the surface, the head should start moving back to the center. The head should be back in line with the rest of the body before the hand is fully extended and ready for the next stroke cycle.
Swim Breathing FAQ
Now that we've covered the basics, here are a few common questions that may arise as you work on proper swim breathing:
1. Can I breathe out of my mouth instead of my nose?
Yes. Some athletes prefer exhaling from the mouth underwater, rather than the nose. Exhaling from the nose allows you to control the pace of the exhale better, reduces drag, and reduces the risk of inhaling water.
However, it is also OK to exhale through the mouth if it feels more natural to you and you can control the pacing of the exhale. In fact, sometimes during that intense push at the end of a lengthy swim race, mouth-based exhaling may be necessary for some athletes.
2. What's better: Unilateral vs. Bilateral Breathing?
Unilateral breathing is the fancy term for breathing towards one side. Many swimmers often have a dominant side and will breathe to the side that feels more comfortable.
So, what is bilateral breathing? Yup, you guessed it – bilateral breathing is the term used to describe alternating breaths on the right and left side.
While some swimmers can get away with unilateral breathing, it is best to do bilateral breathing. Breathing on each side prevents swimmers from having a dominant, or stronger, arm. This is helpful to maintain a smooth and strong stroke and to prevent shoulder injuries.
3. How many strokes should I take between breaths?
It is generally recommended to breathe every 3 strokes. Following this pattern will help you get into a rhythm, but also help you practice bilateral breathing. Breathing every 3 strokes allows for a smooth continuous pace that is not too challenging to maintain for long distances.
4. I sometimes feel that I get out of breath quickly, how do I get better at breathing?
For beginner swimmers, just keep practicing. If you feel out of breath after just one or two strokes, don't get frustrated – that's OK! Keep practicing your swimming, breathing as needed, and every so often see if you can make it three strokes. Your body can adapt fairly quickly when you start swimming as you improve cardiovascular fitness and form, so just keep at it.
Competitive swimmers may set goals to push their lung capacity. One way to do this is to train anaerobically, or tolerate a challenging pace while running lower on air. To safely push your limits, there are a few tried and true drills that will make you feel uncomfortable but can be effective.
Note: do not try these drills alone; always work with a swim coach who can help guide you for when you are ready to try these. Also, do not try these in open water, they should only be done in a pool with a lifeguard available.
One drill will challenge you to hold your breath longer than usual (but not for excessive periods of time). For example, instead of breathing every 3 strokes, you can challenge yourself to breathe every 5 strokes, then maybe even work your way up to 7 strokes.
Another option some swimmers use is to not to breathe in and out of the walls in training. Swimmers do this by not allowing themselves to breathe inside the flags going into the turn, but also not breathing off of the first stroke after the streamline leaving the wall.
Both of these drills can be great ways for experienced swimmers to improve lung capacity, and can be used to track progress on that front.
A Final Word
This guide to proper breathing technique may seem overwhelming, but every tidbit of information is applicable. Take the time to reflect on what you are currently doing and focus on one or two areas each week. Set intention before each swim to focus on drills and you'll get it down in no time! Feel free to come back to this guide for reference as you start to master each aspect of freestyle breathing.
About The Author: Jorie Caneta is a former D1 swimmer from Texas A&M University. Jorie is a professional snacker, novice baker, and dietitian in training. She has an interest in clinical nutrition, sports nutrition, and recipe development. Jorie holds a Bachelor's degree in Nutrition, a Master's in Business, and is currently a dietetic intern at Baylor University Medical Center.
Share: Do you feel comfortable with breathing while swimming, or does it feel unnatural to you? Did these tips help?
PS – Don't forget to pin this post to refer to later and share with friends! And if you're looking for more helpful swim content, check out our post on swim drills and swim workouts for triathletes.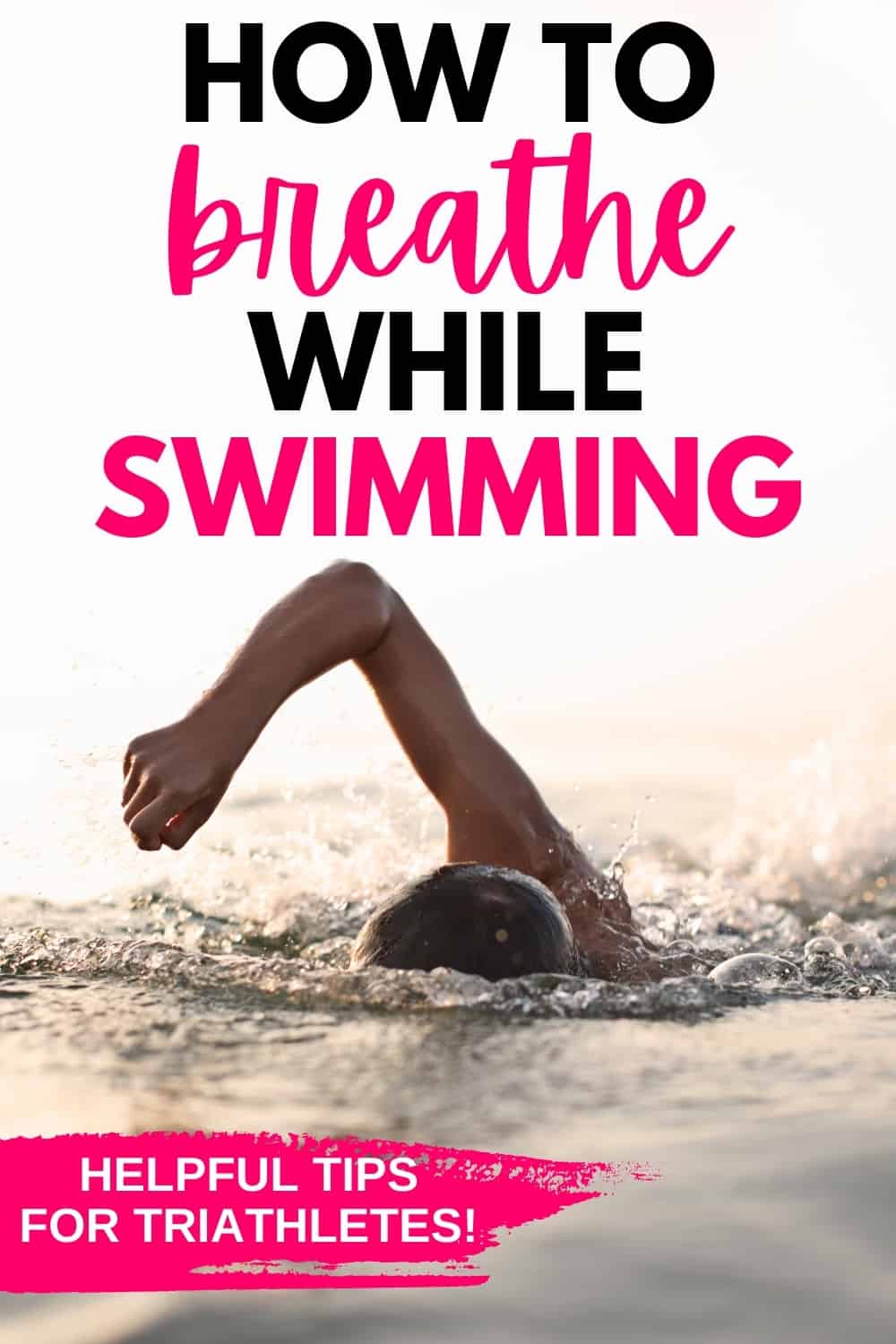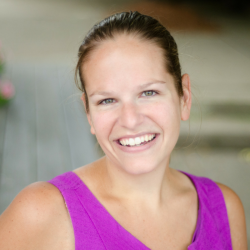 Latest posts by Chrissy Carroll
(see all)