As much as I love making an elaborate meal in the kitchen, sometimes I just want something that's easy to throw together. This cheesy buffalo chicken cauliflower casserole is a perfect dinner that takes less than 30 minutes to make.
Disclosure: This post is sponsored by StarKist. As always, all opinions are my own.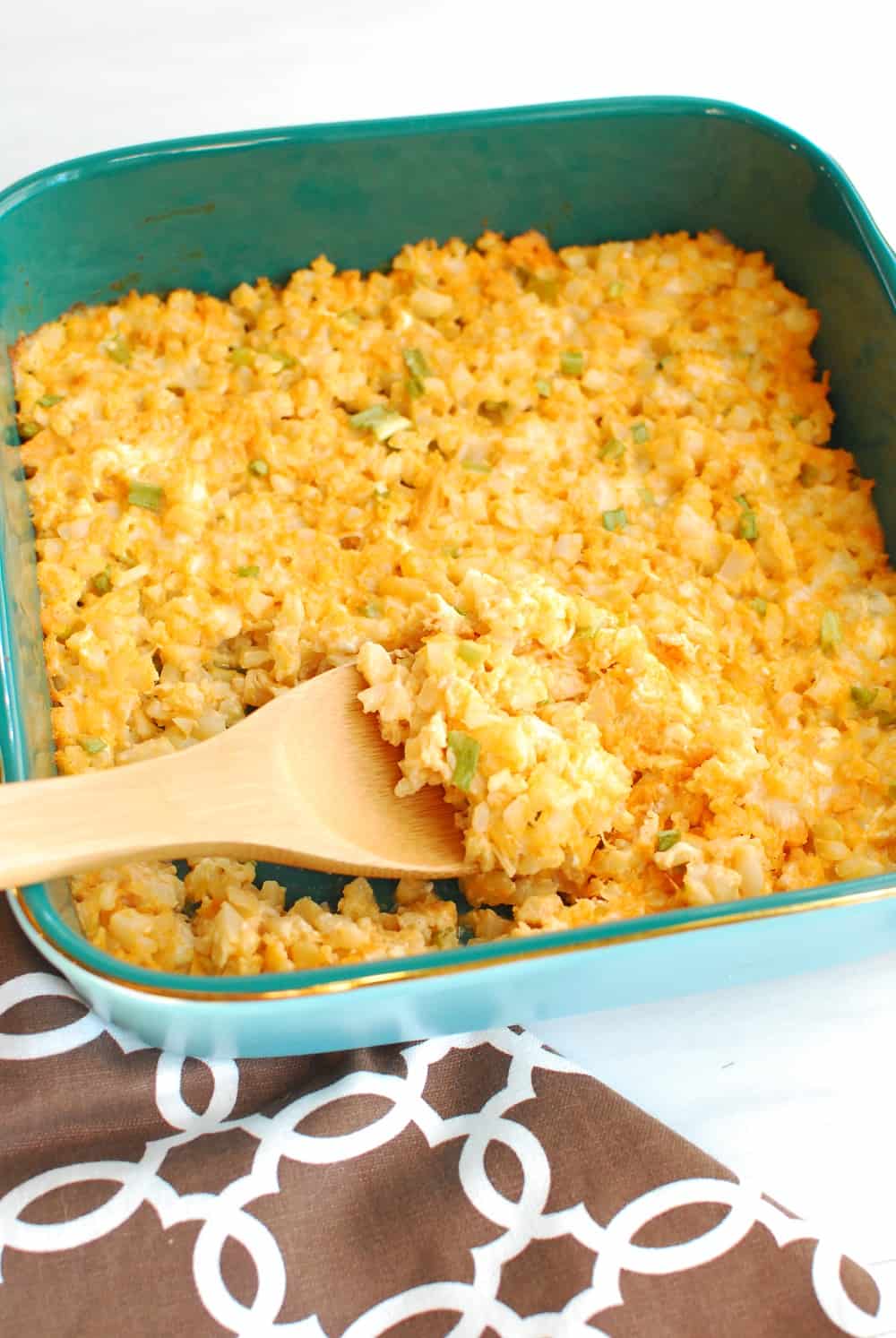 The Secret to a Quick Casserole
Standard casseroles tend to be a bit of a lengthy process, since it often involves a bunch of prep before the dish even hits the oven. But this casserole uses two convenience foods that make it so easy to throw together in a flash:
Frozen cauliflower rice – A convenience favorite. Frozen cauliflower rice is an easy staple to keep in the freezer and use for quick meals. It boosts the veggie content and makes meals more filling!
StarKist Chicken Creations pouches – A perfect lean source of pre-cooked protein! No need to worry about slaving over the stovetop to cook your meat on a busy night. It's all ready for you to tear and use in whatever way you'd like – including in this buffalo chicken cauliflower casserole.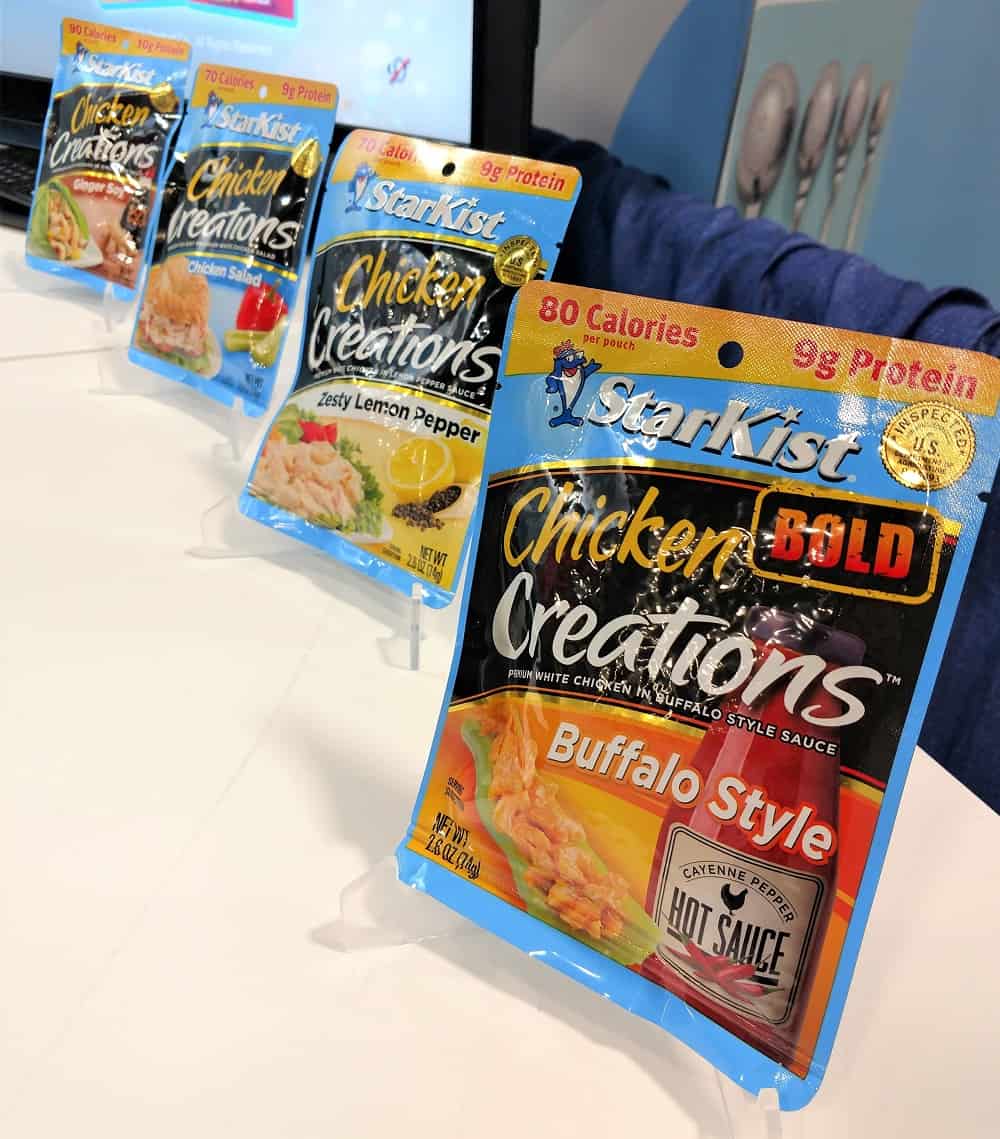 Why I Love StarKist Chicken Creations
Are you guys as surprised as me to see that StarKist was now making pouches of chicken?! I'm so excited!
You've probably noticed my past posts which have included their salmon and tuna pouches – we seriously always have them in our house. I rounded up 5 of my favorite StarKist pouch recipes last year, including the easiest ever fish tacos and a tasty curried tuna salad. And of course I love this tuna, garbanzo, and pita salad!
And now that they offer chicken as well, I feel like it opens the door to so many more quick & easy recipe possibilities.
I had a chance to meet with the dietitian for StarKist, Laura Ali, at FNCE recently. (For those who aren't familiar with the nutrition world, FNCE is basically this giant conference with 10,000+ RDs all geeking out on the latest in nutrition and food research/products.)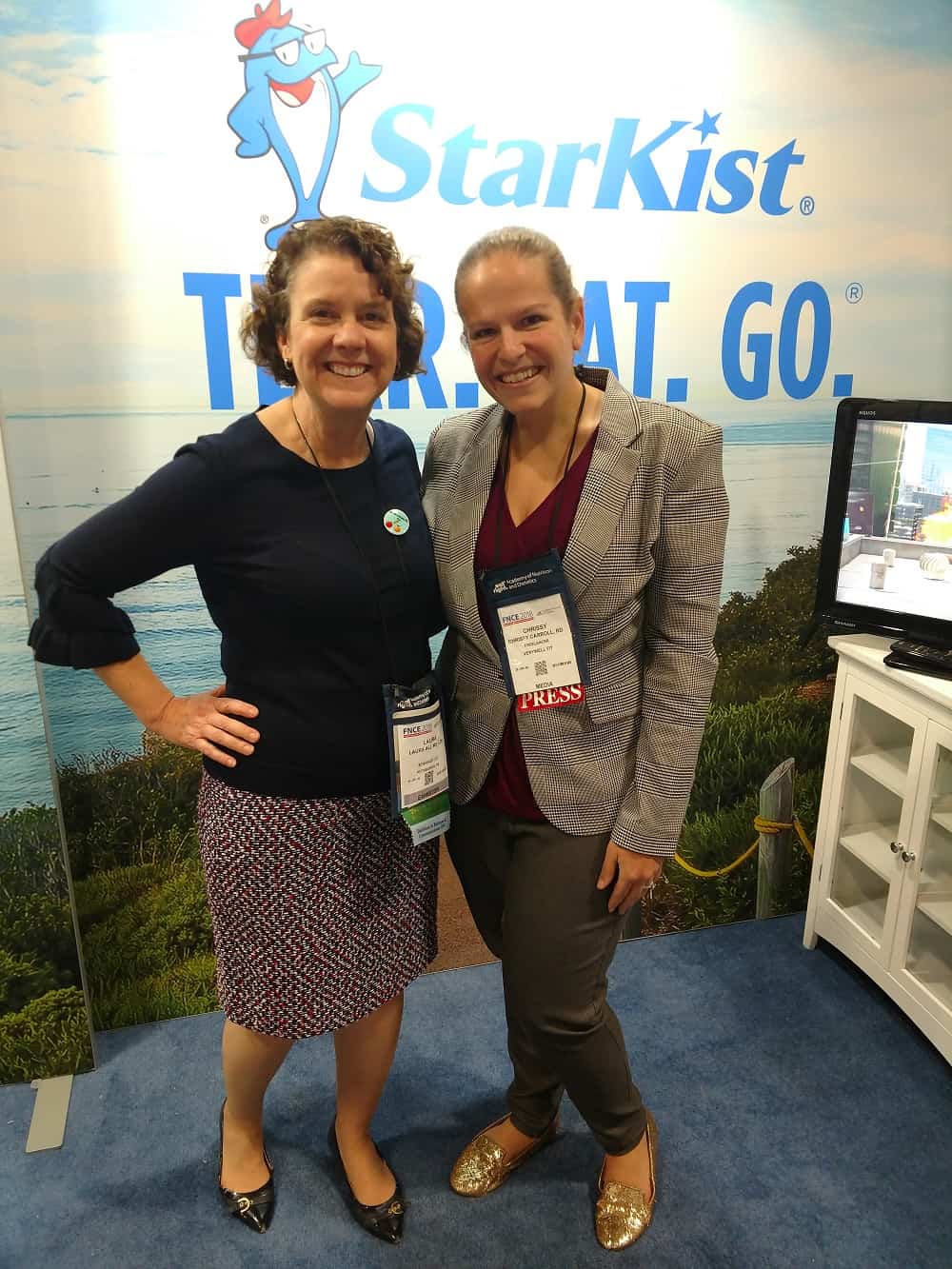 Laura mentioned to me that they were excited to launch these new StarKist Chicken Creations – kind of expanding StarKist from a seafood company into more of an overall healthy food company.
It's great to see that they're including another lean protein option – and that the chicken also comes in so many great flavors. The tear-and-go pouches are currently produced in ginger soy, lemon pepper, chicken salad, and of course – buffalo chicken. (Who doesn't loooove that bold buffalo chicken taste?!)
Most people think of these pouches as easy to throw on a salad or in a wrap – but I also love using them as a base for other creative meals too. Which brings me to this casserole…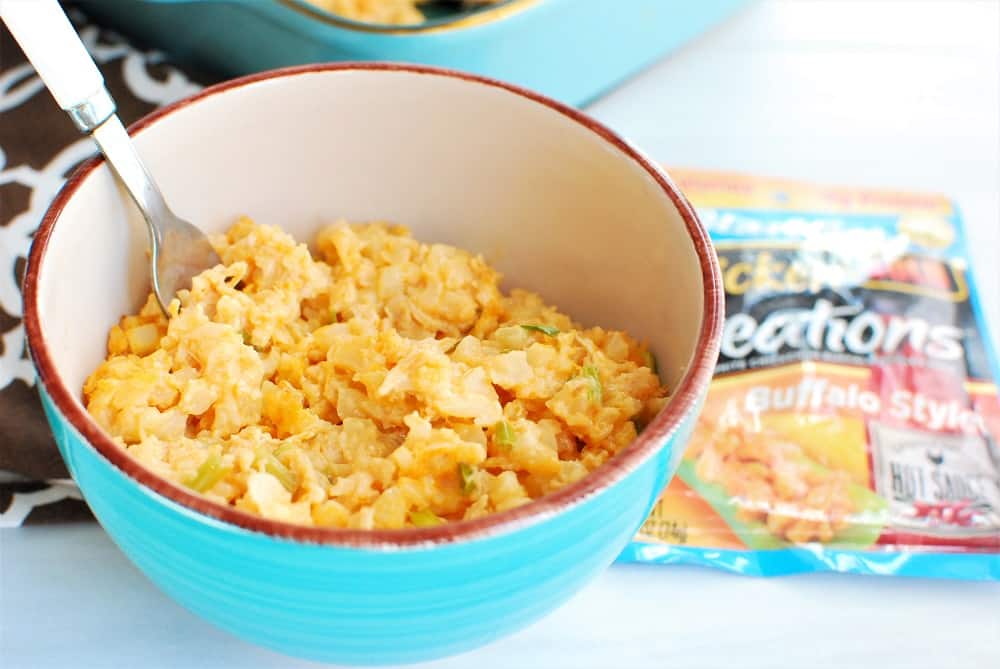 How to Make this Buffalo Chicken Cauliflower Casserole
This casserole is seriously simple to make. Here's what you'll need and what you'll do: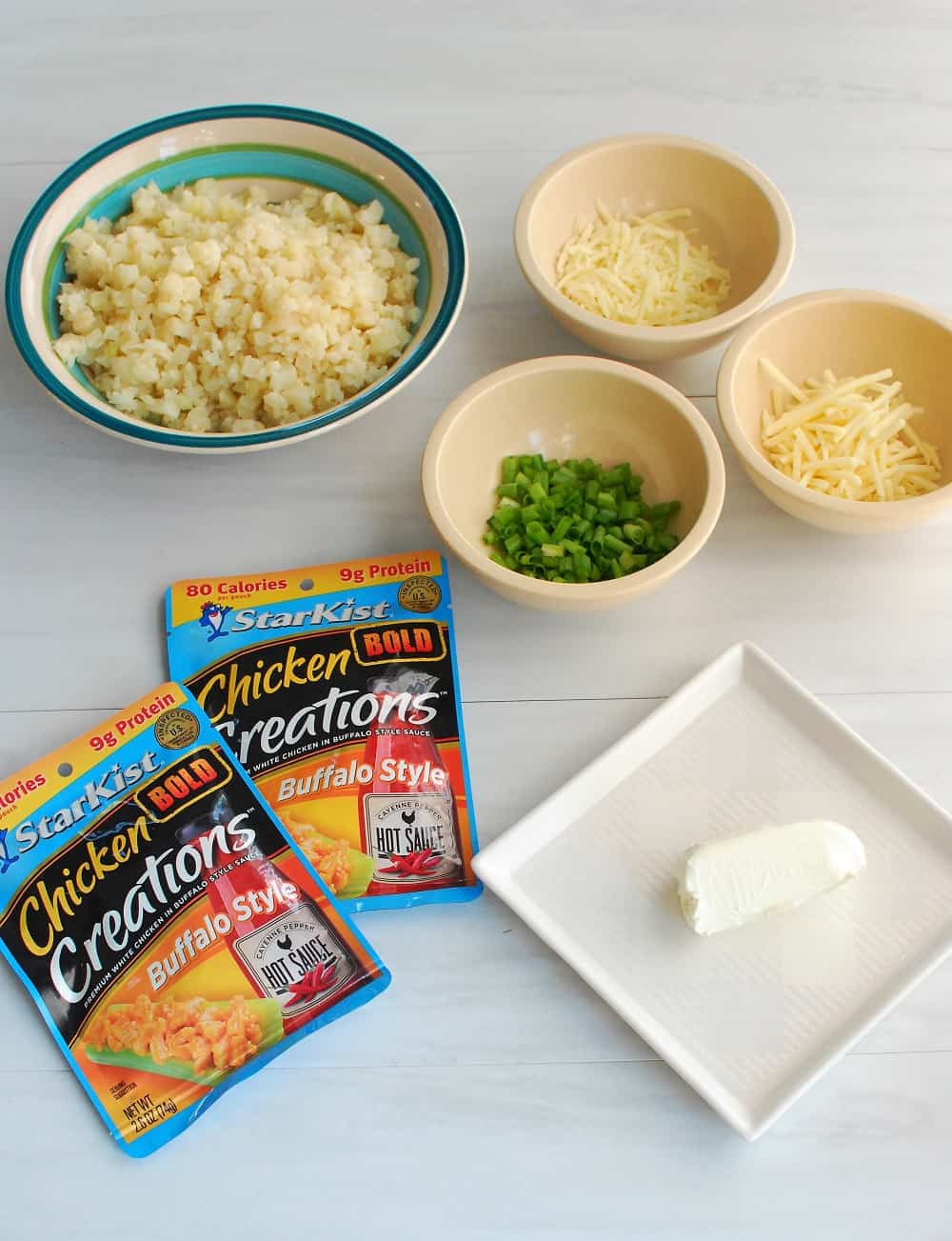 First, you'll partially cook that frozen cauliflower rice in the microwave, and while that's in there, chop up a few green onions.
Then, tear open your StarKist Chicken Creations BOLD Buffalo Style packets, and empty them in a mixing bowl. Add the cauliflower rice, green onions, and your trio of cheeses (Neuchâtel cream cheese, cheddar, and mozzarella).
Place it all in a casserole dish, then pop it in the oven and bake it for 20-25 minutes until the cheese is melty and everything is hot! YUM!
As a heads up, this makes two smaller servings or one giant serving. I like making it for myself and my husband to eat, and serve it next to a quick side salad to balance out the meal.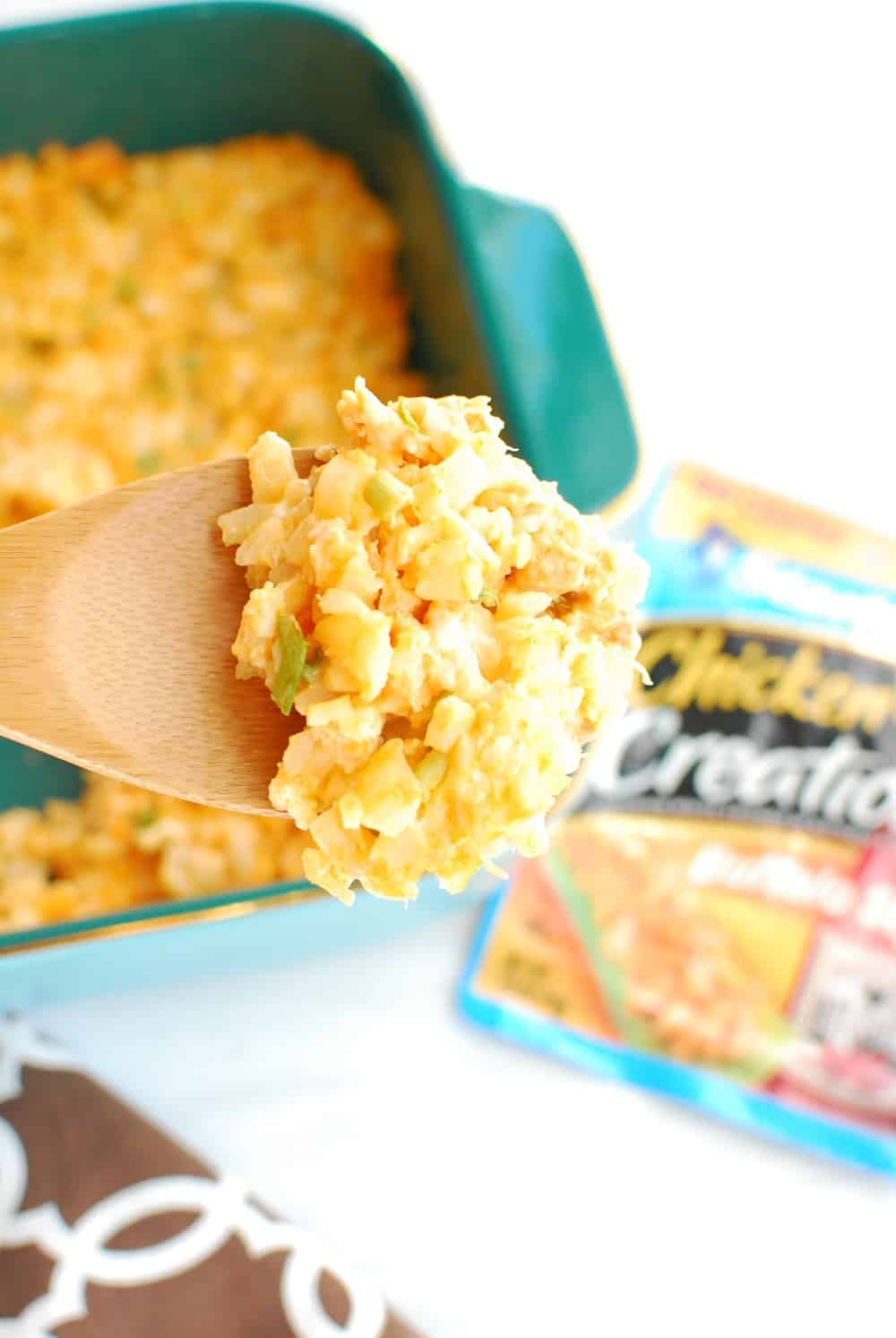 I hope you enjoy this easy, veggie-packed dinner idea! If you try this buffalo chicken cauliflower casserole, please be sure to leave a recipe rating and let me know how you liked it in the comments.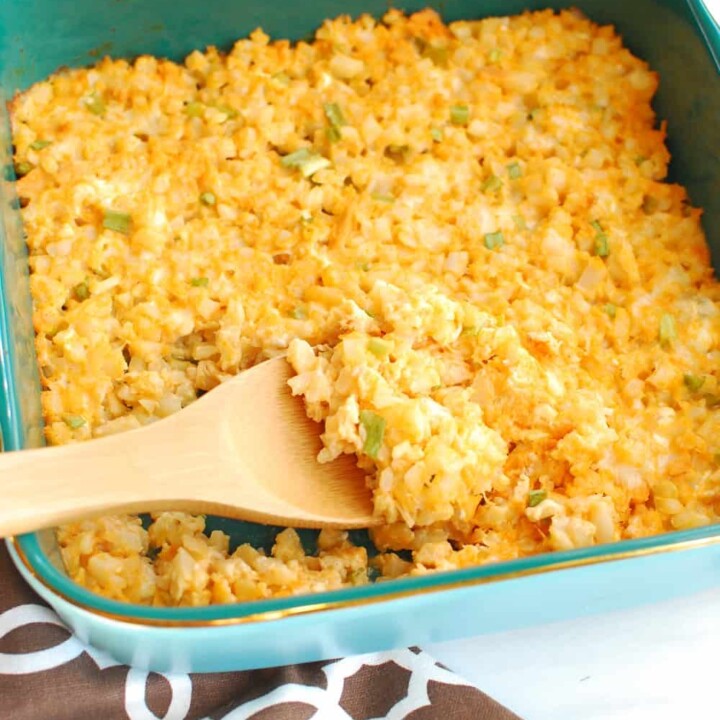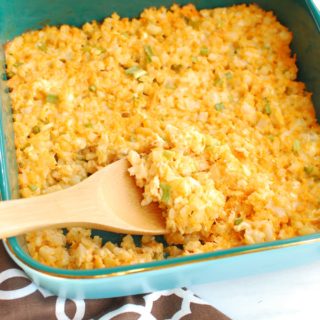 Cheesy Buffalo Chicken Cauliflower Casserole
Who's in the mood for an easy dinner recipe?! This buffalo chicken cauliflower casserole is made with just 6 ingredients and is done in under 30 minutes.
Ingredients
1

package frozen cauliflower rice

(or 4 cups of fresh riced cauliflower)

2

pouches StarKist Chicken Creations BOLD Buffalo Style

1/4

cup

sliced green onions

2

ounces

Neuchâtel cream cheese

1/4

cup

shredded cheddar cheese

1/4

cup

shredded mozzarella cheese
Instructions
Preheat oven to 350 degrees.

Cook the cauliflower rice in the microwave for about half of the time listed on the package directions. (I find this best for maintaining the texture since you'll bake it afterwards). Drain off any water in the bag.

Combine the cauliflower rice in a mixing bowl with the StarKist Chicken Creations Buffalo Chicken Flavor pouches, green onions, cream cheese, cheddar cheese, and mozzarella cheese. Give everything a few good stirs to combine.

Pour into a greased casserole dish and bake for 20-25 minutes, or until the cheese is melty. Enjoy!
Notes
Notes:
This recipe makes two smaller servings or one large serving.
Nutrition analysis (approximate per serving, assumes 2 servings):
261 calories, 14.5 g fat, 8 g sat fat, 14 g carbohydrate, 5 g fiber, 5 g sugar, 17 g protein, Vitamin A: 10%, Vitamin C: 144%, Calcium: 21%, Iron: 8%
Nutrition
Share: What's your favorite easy casserole dish? Have you ever tried StarKist Chicken Creations? Do you think you'd love this buffalo chicken cauliflower casserole?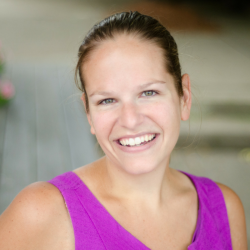 Latest posts by Chrissy Carroll
(see all)