Fall has arrived – bring on the leggings, flannel shirts, and this delicious butternut squash breakfast casserole. Seriously, is there anything better than settling in on a cold weekend morning with a delicious hot breakfast that includes one of your favorite fall produce picks?
Whether you want to call it a breakfast casserole or a butternut squash frittata, this dish is delish.
Here's what I love about this recipe
My favorite things about this recipe? For starters, it…
Is a low-calorie breakfast – but you can also adjust it to be a double portion if you need a bit more!
Packs in some protein, unlike many breakfast options.
Has got several different veggies, also unlike many breakfast options.
Can be used as a make-ahead breakfast for the week
Hits on those sweet & savory notes, with the sweet butternut squash and salty rich cheddar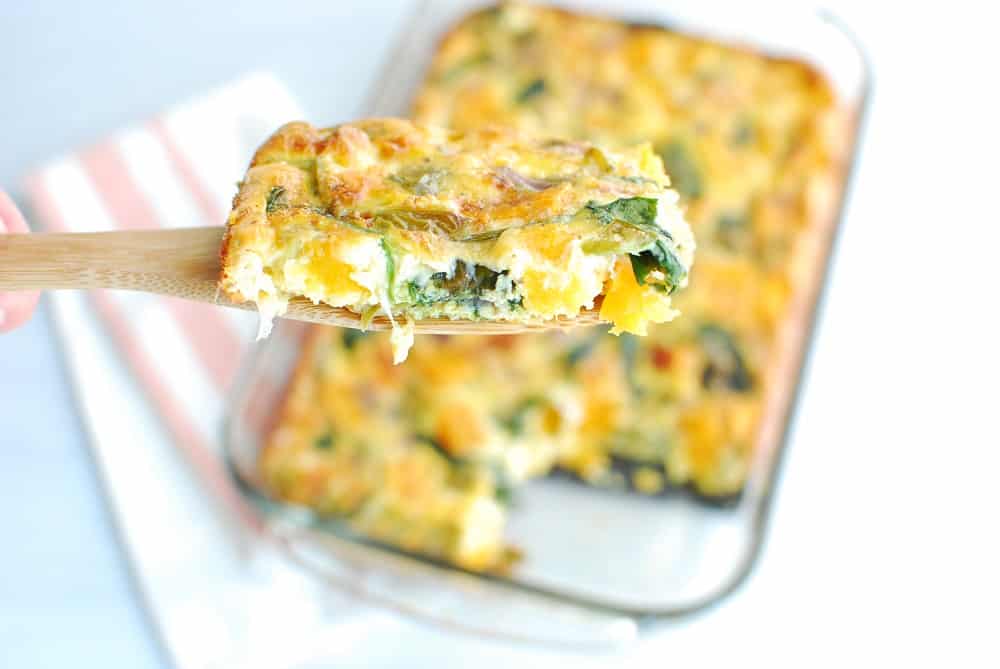 How to make this butternut squash breakfast casserole
This recipe looks a little long, but I promise – it's incredibly easy to make.
You're going to start by roasting the squash: first peel it, remove the seeds and stringy stuff, then chop it up. Toss those cubes in a little olive oil and pop it in the oven until tender.
I personally prefer roasting because I think it brings out that incredible flavor, but you can certainly just cook it on the stovetop instead. It will need more time than the other veggies, so start with the squash if you want to make it that way.
OK, moving on – as the squash is roasting, you'll sauté up some onion, bell pepper, and spinach. Let's load it up with veggies, am I right?!
Then you'll toss your veggies and cooked squash into some whisked eggs and cheddar, and pop it all in a casserole dish in the oven until the eggs set.
Yes, it takes a little time to pull it all together, but – like I mentioned above – you can use this as a meal prep breakfast! Just make it on the weekend, cut it into individual servings, and pop them in Tupperware in the fridge to pull out throughout the week. Just a quick 30-60 seconds in the microwave and it's just like it was fresh from the oven.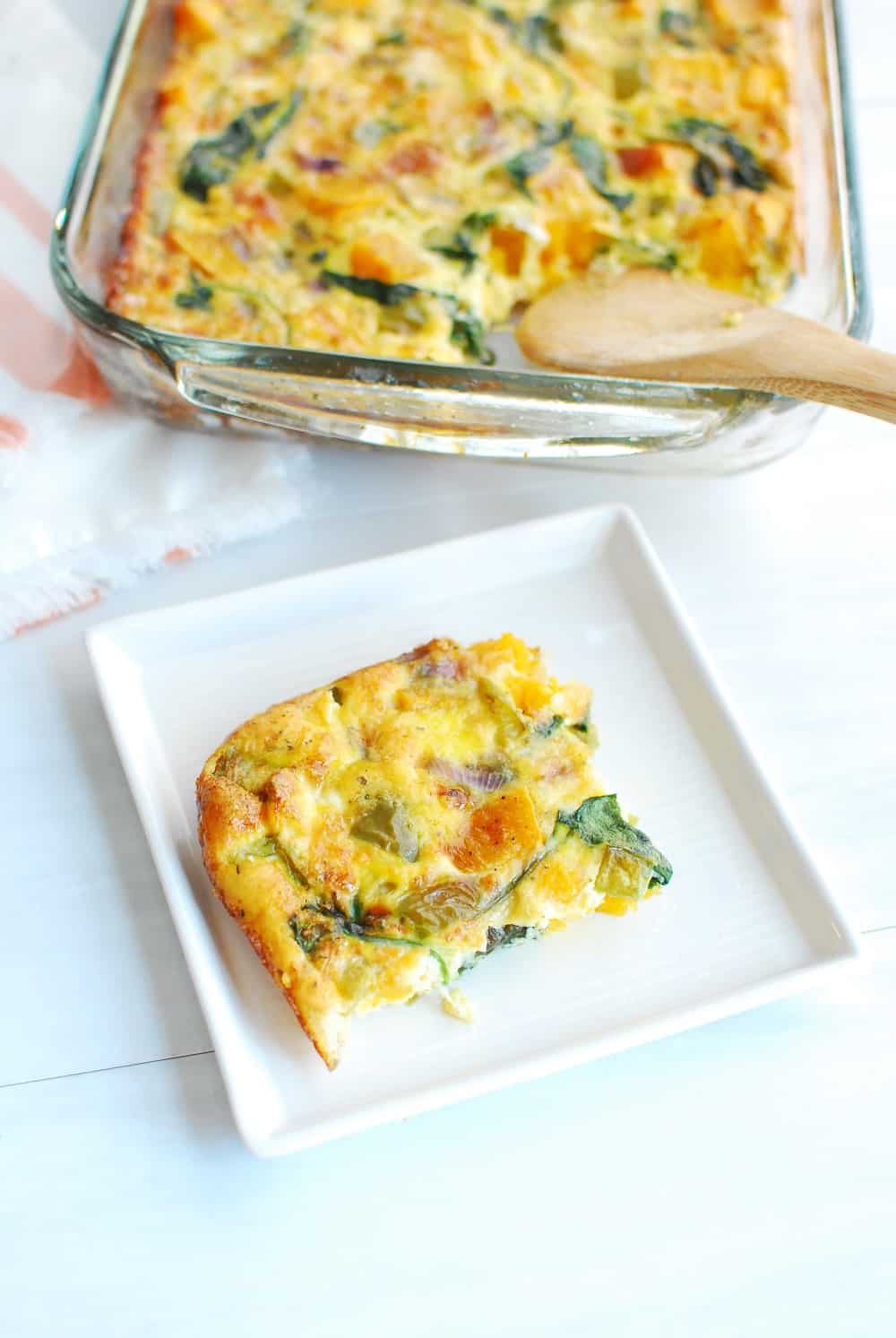 Modifications to make this recipe work for you
Keep in mind the amounts don't have to be exact in this butternut squash breakfast casserole recipe.
If you have leftover butternut squash from dinner the other night but only have a cup, that's fine! You can always increase the spinach if you want to boost another veggie, or just leave it as-is with less squash. This recipe is very forgiving and flexible.
Also, you can pretty easily adjust the recipe to account for different dietary needs. For example, you can make this recipe paleo, Whole30, and dairy free by skipping the cheddar and using unsweetened almond milk in place of dairy milk.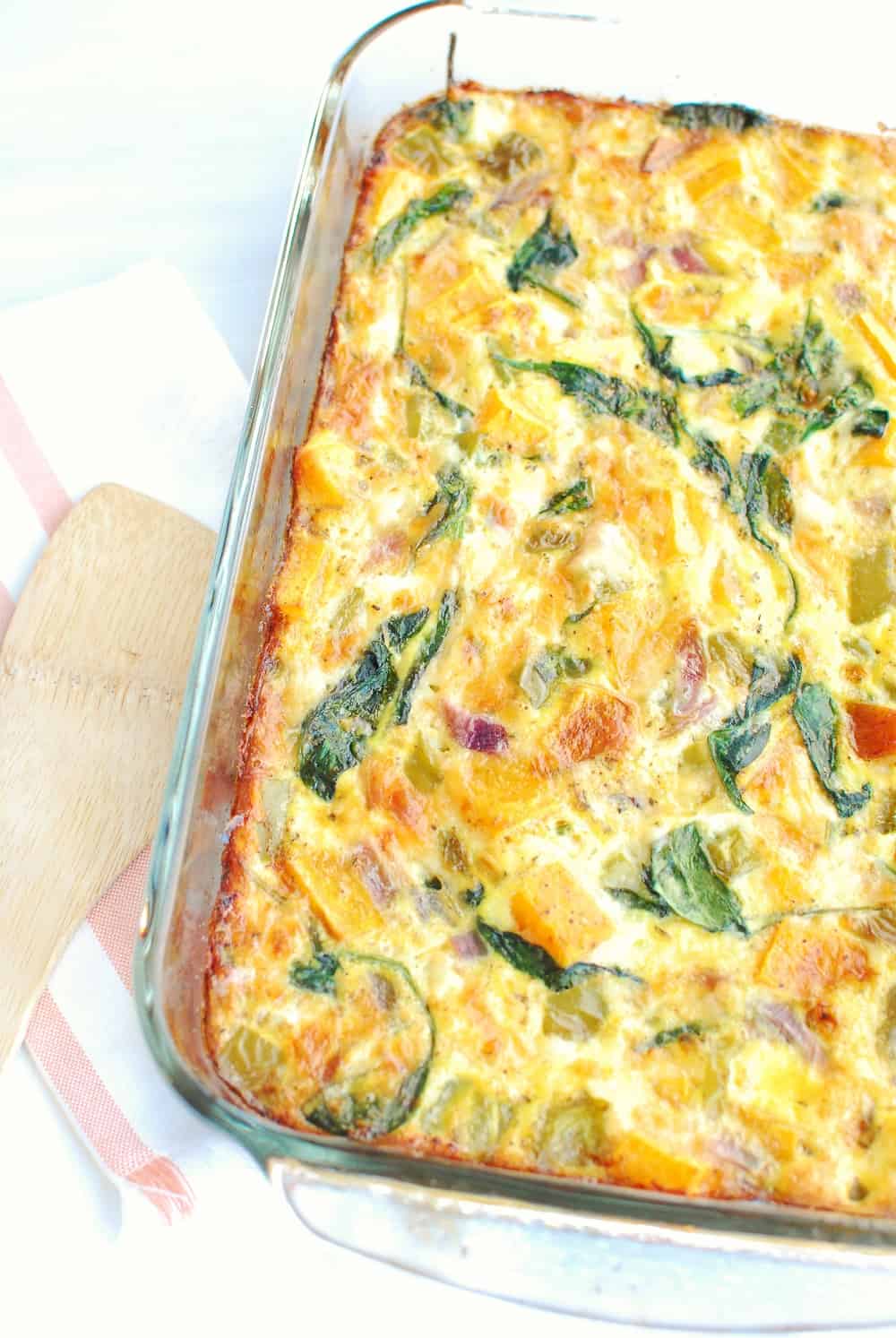 Got extra butternut squash?
A large butternut squash should yield around 4 cups of uncooked squash, so you'll use about half of it for this breakfast casserole.
If you've got extra, it's a perfect excuse to set some aside for another meal (either raw in the fridge to cook later, or roast it ahead of time now to use in another dish).
Here are some easy, delicious ways to use extra butternut squash:
I hope you enjoy this tasty fall breakfast. If you like this butternut squash breakfast casserole, be sure to rate the recipe below. And don't forget to pin it so you can make it again later!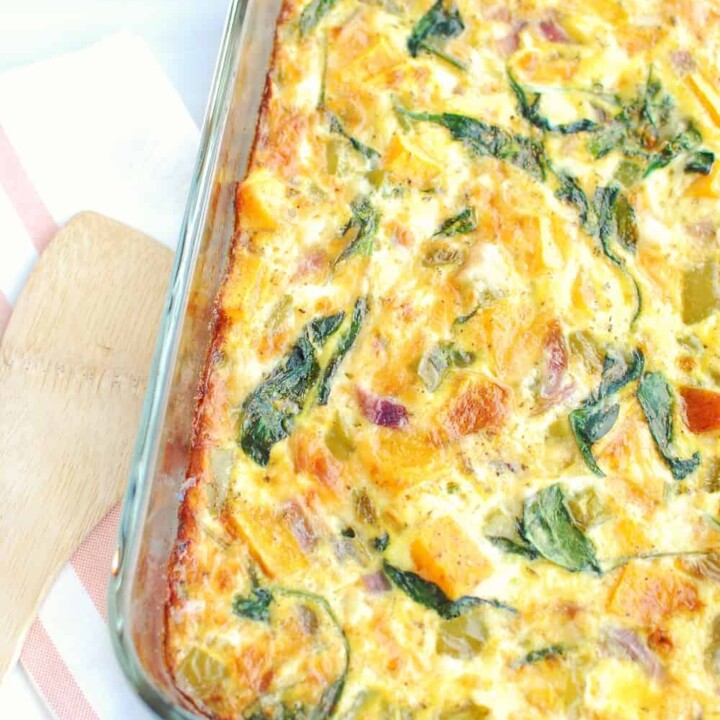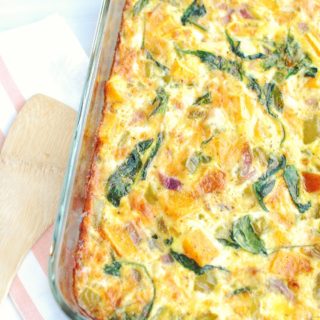 Butternut Squash Breakfast Casserole
There is nothing quite like a warm, comforting breakfast on a cool fall morning – and this butternut squash breakfast casserole is a perfect choice!
Ingredients
2

cups

raw butternut squash, peeled and cut into cubes

2

tbsp

olive oil (divided into 1 tbsp and 1 tbsp)

1/4

tsp

salt

1/4

tsp

pepper

1/2

red onion, diced

1

bell pepper, diced

2

cups

raw spinach

7

eggs

1/4

cup

milk

1/2

tsp

Italian seasoning

1

cup

shredded cheddar

(optional)
Instructions
Preheat the oven to 375 degrees.

Toss the cubed squash in 1 tbsp olive oil, salt, and pepper. Place it on a baking sheet. Pop it in the oven for about 20 minutes, until tender.

Meanwhile, about 10 minutes before the squash will be done, heat 1 tbsp olive oil in a skillet over medium heat. Add the pepper and onion and cook for 4-5 minutes, until the vegetables start to get tender. Add spinach and cook for another 1-2 minutes, until lightly wilted. Remove from heat.

Whisk together the eggs and milk in a mixing bowl. Stir in Italian seasoning and cheddar. Fold in the pepper/onion/spinach mixture, and your cooked squash (when it's done roasting).

Grease a 9x13 casserole dish. Pour everything into your casserole dish. Put back in the oven (at 375) for 30-35 minutes, or until eggs are set.
Notes
Notes:
You can make this recipe paleo, Whole30, and dairy free by skipping the cheddar and using unsweetened almond milk in place of dairy milk.
Nutrition analysis (approximate per serving):
239 calories, 17 g fat, 6.5 g sat fat, 311 mg sodium, 9 g carbohydrate, 1.5 g fiber, 3 g sugar, 13.5 g protein, Vitamin A: 129%, Vitamin C: 49%, Calcium: 22%, Iron: 11%
Nutrition
Share with me: What's your favorite fall breakfast? Have you ever tried a butternut squash breakfast casserole?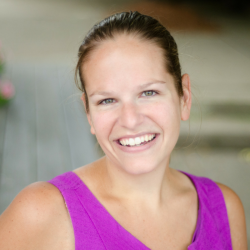 Latest posts by Chrissy Carroll
(see all)