Getting tired of the endless meal planning routine each week? Even as a blogger that often creates recipes, sometimes I don't want to have to have to plan all the meals and create all the shopping lists. It's a lot of mental energy – am I right?!
Enter: Cook Smarts. This meal planning service sends you a weekly meal plan with recipes and an accompanying shopping list. The recipes are balanced, family-friendly, good for active women, and taste delish!
Let's take a look at my own experiences in this Cook Smarts review…
Disclaimer: This post contains affiliate links. As an affiliate, I earn a commission on qualifying purchases.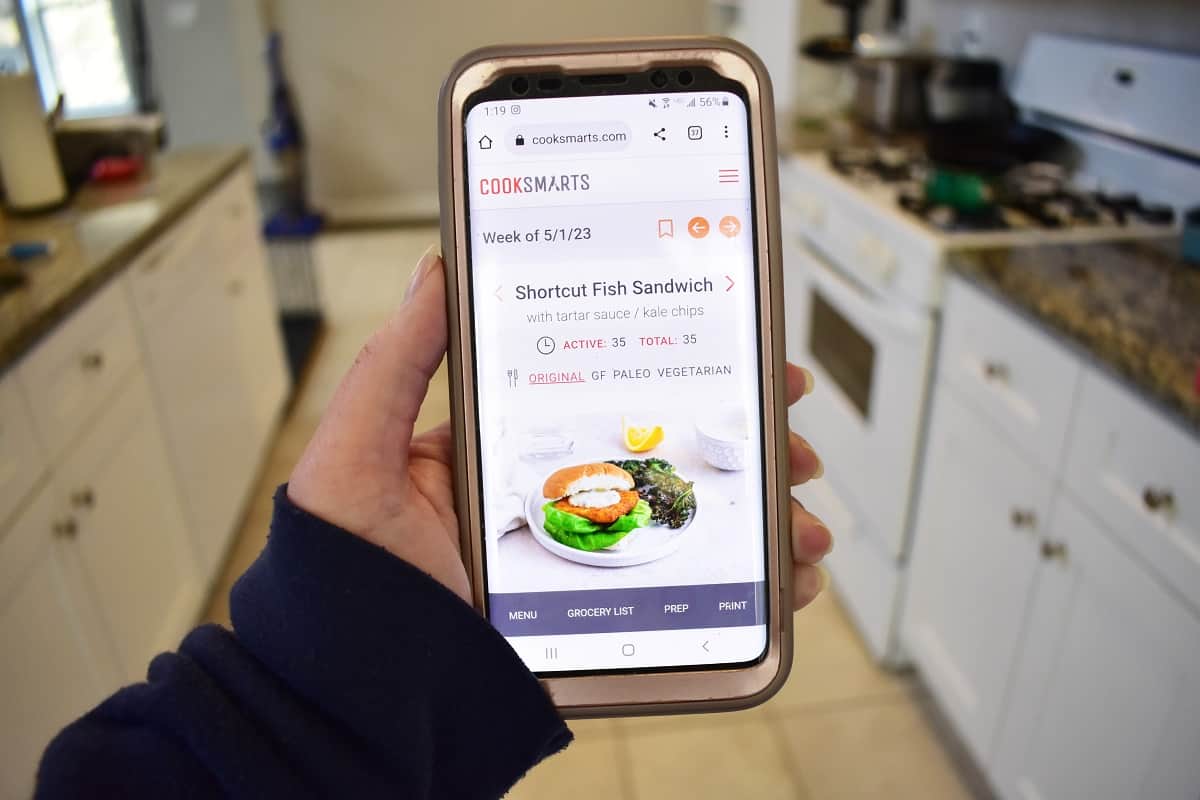 Quick Review: This meal planning service is awesome for busy weeks! I highly recommend checking it out – you can sign up for the free trial right away. Read on for the full deets on how it works and sample meals.
How it Works
When you sign up for Cook Smarts, you'll be sent your weekly meal plans on Thursdays. Here's what one of my weeks looked like:
A few things to note:
As you can see, each week populates with four meals. You can easily add additional meals to this from the recipe archives if you like to have something new to make each night, or you can use standby classics (hello Spaghetti Sunday and Taco Tuesday) to balance out the week.
If you look at each recipe, you'll notice that you can scale up or down the serving sizes to fit the needs of your family (or make extra servings for lunches). This will automatically adjust the recipe amounts and grocery shopping list to fit the scaled version.
Don't like one of the dinner ideas? Swap it out with an option from the recipe archives, which currently has over 2,000 recipes (which includes some snack and breakfast recipes too).
Once you've finalized your week, you can go to the Cook Smarts grocery list section which is automatically populated based on the meals and number of servings (those are shown at the top of the list, then all the groceries are populated underneath by category). You can then hit the print button in the righthand corner to print your list to bring to the store with you. Easy peasy!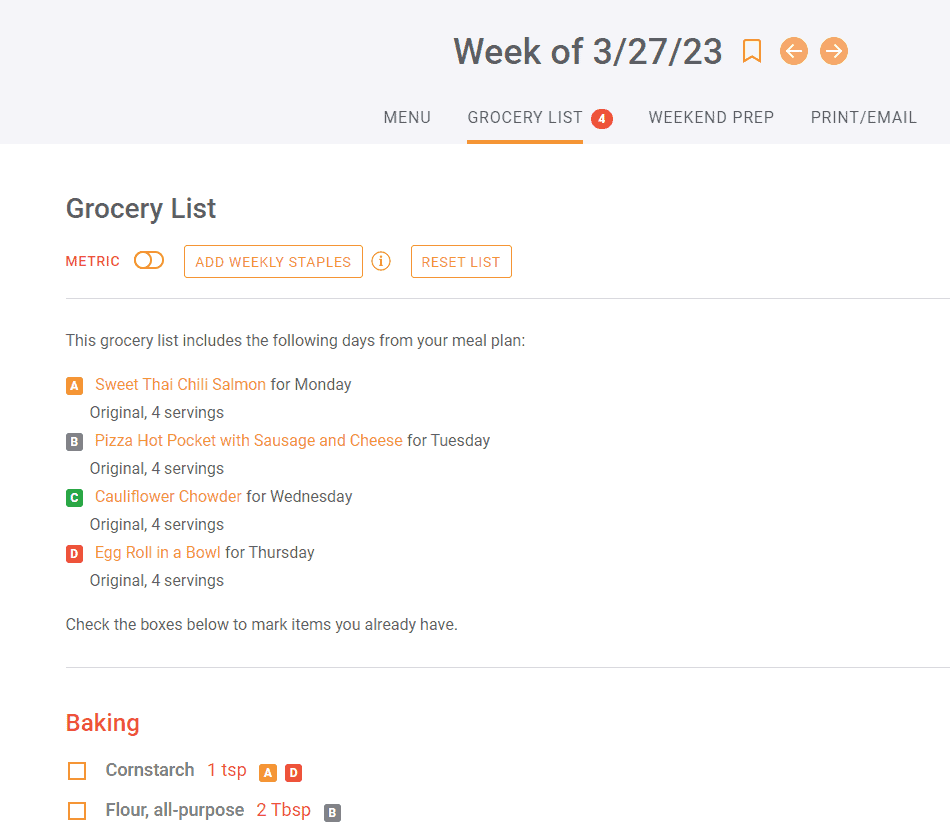 The weekly plan also includes a "weekend prep" section (you can see the tab in the navigation in the screenshot above). You can use this if you'd like to prepare parts of the recipe in advance, saving you time during the week. I personally found the meals to be fairly quick to prep each night, so I didn't prep anything in advance.
Dietary Modifications
Every recipe in Cook Smarts comes with an option for three adjustments that can be made in one click:
Gluten free
Paleo
Vegetarian

If you're following a restrictive diet, like a keto diet, or if you're vegan, then Cook Smarts is probably not the right fit for you.
But if you enjoy most foods and eat a regular diet or one of the other types of diets listed above – it is legit the perfect inexpensive solution to your meal planning woes!
Are the Meals Healthy?
Everyone is going to have a different definition of "healthy."
In my mind, a healthy meal is one that is balanced, meaning it includes a source of protein and vegetables, and contains some essential vitamins and minerals. The meal should provide adequate calories to fuel fitness goals.
I felt Cook Smarts achieved this on all the meals I tested.
If you click on each recipe for the week, you can see the nutrition breakdown per serving. This might be helpful for adjusting recipes slightly to fit certain calorie or macro goals.
I did notice that some of the meals may be a bit high in calories for women who are older and sedentary. However, by eating slowly and monitoring your own signs of hunger and fullness, you can tune into your own body's needs and stop when comfortably satisfied. (I prefer this to stringent calorie recommendations regardless of age and activity).
Also, if there is a recipe that you feel doesn't fit your personal dietary preferences, you can always swap it out for another option.
My Cook Smarts Experience
I've been testing out Cook Smarts for a while, and really enjoy it. I find the meals to be very tasty, and the service has been a life saver during busy weeks. I do sometimes modify the meals based on my own preferences or what I have on hand – but I think that's to be expected.
Here are some notes and photos on the week above that I showcased:
Sweet Thai Chili Salmon – 5/5
This meal featured salmon that had a thick sweet chili glaze, which was roasted with green beans, and then mashed sweet potatoes were made as another side.
The roasted green beans called for them to be tossed with coriander, but we decided on just salt and pepper since I was running low on coriander.
Overall, 5 stars! My kiddo ate everything except the mashed sweet potatoes, which worked out well since those were my favorite part and I got extras, haha.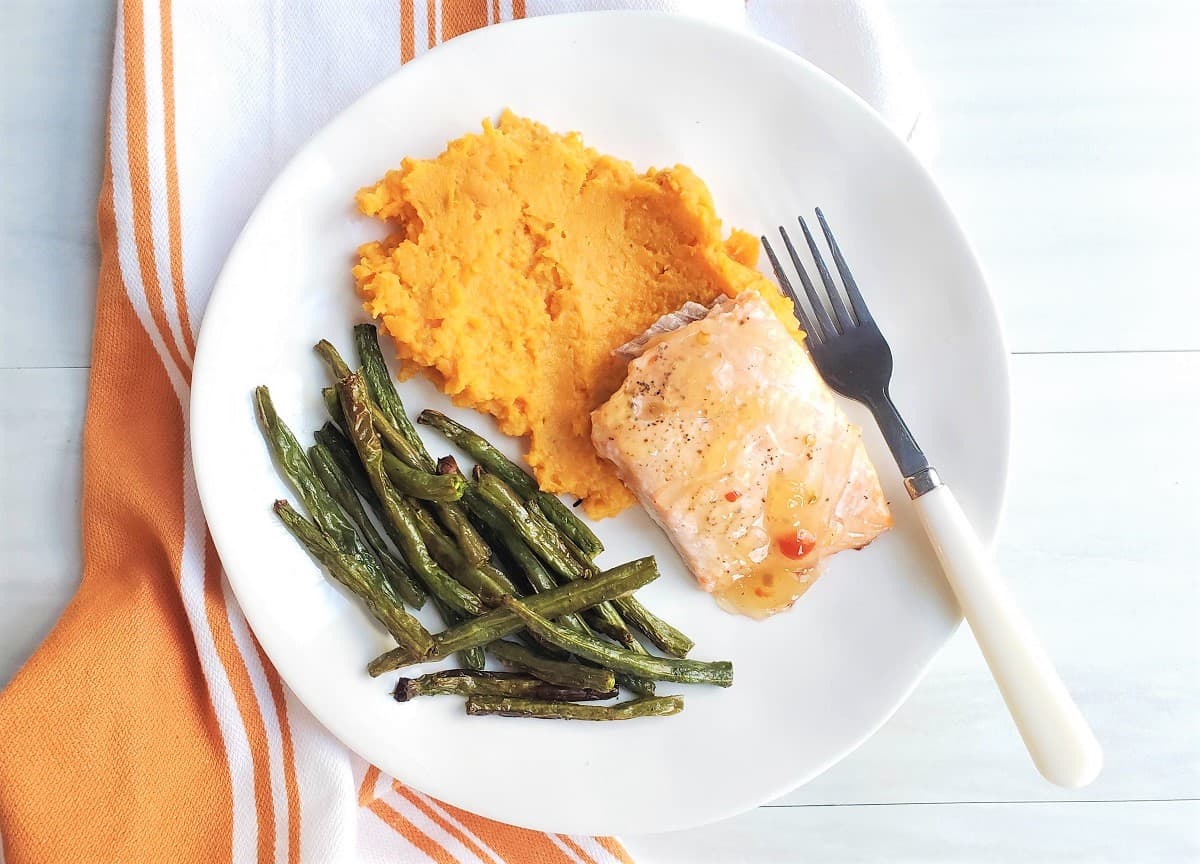 Pizza Pockets – 5/5
I mean, it's a homemade pizza hot pocket – does it get any better than that?! This version featured sausage and cheese, with extra marinara for dipping. It was served with an Italian salad.
I made a few small changes to the original recipe – making six smaller pizza pockets instead of four, which felt like a better serving size for my family (and gave us a couple extra to freeze and reheat a week later in the air fryer!).
I also just used the Italian dressing I had on hand, rather than make homemade dressing, to save time. And we skipped the olives on the salad because we're not huge fans of them.
This was my son's favorite recipe of the week, he scarfed down the pizza pocket. Another 5 star option.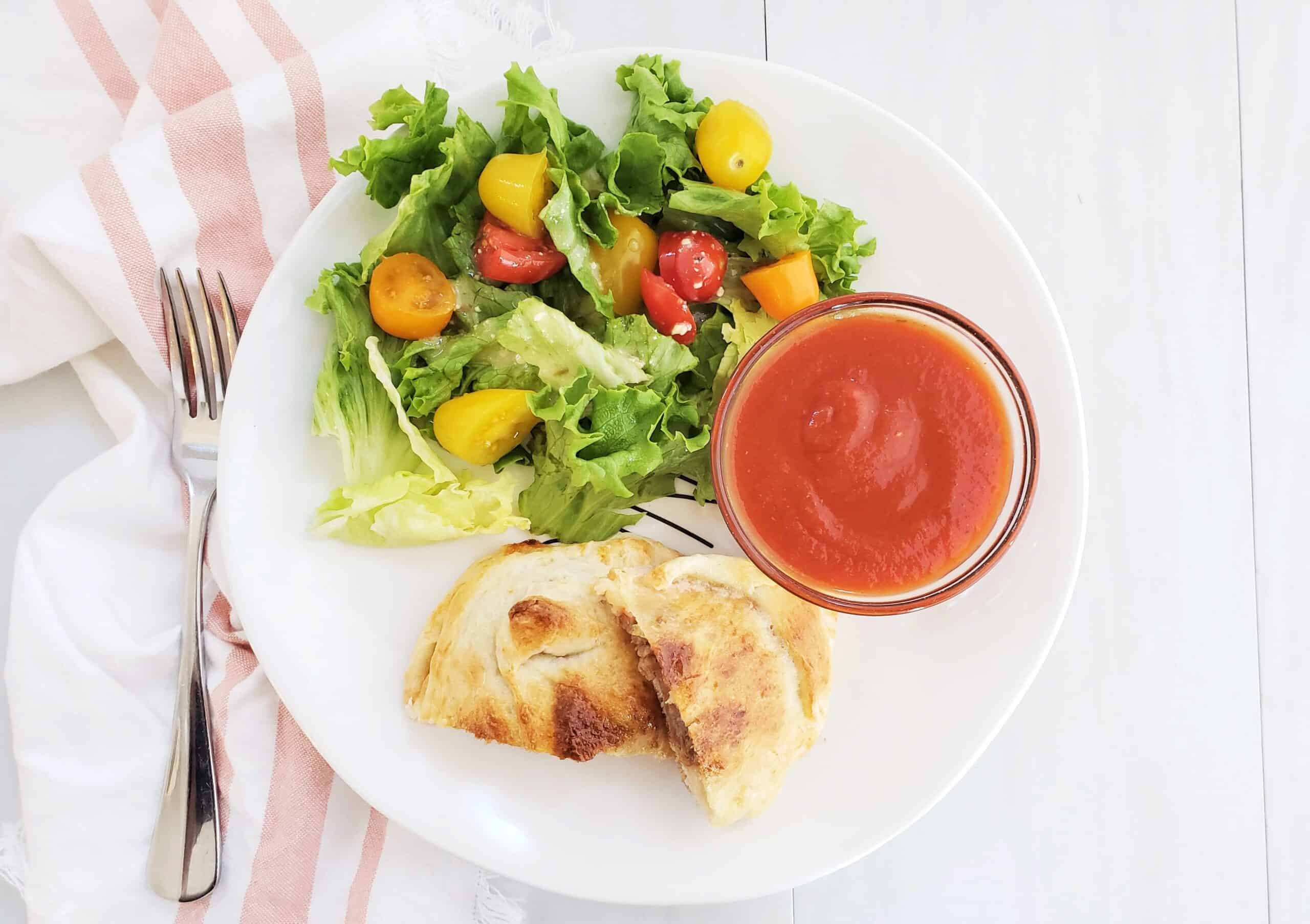 Cauliflower Chowder – 4/5
This was a veggie-rich recipe featuring leeks, cauliflower, corn, green onion, carrots, and more. White beans are added to the soup for a heartier meal.
A few changes that I made when I did this recipe: used frozen cauliflower rather than fresh to cut back on prep time and save money, and also added a little half and half to the recipe for creaminess since I had some extra in the fridge to use up.
As instructed, I did use the immersion blender to puree some of the soup to help make it thick and creamy.
My husband and I enjoyed this recipe, and it felt very filling – there was definitely no feeling hungry after a big 'ol bowl of this. My child wasn't a fan, though, so we knocked the star rating to 4.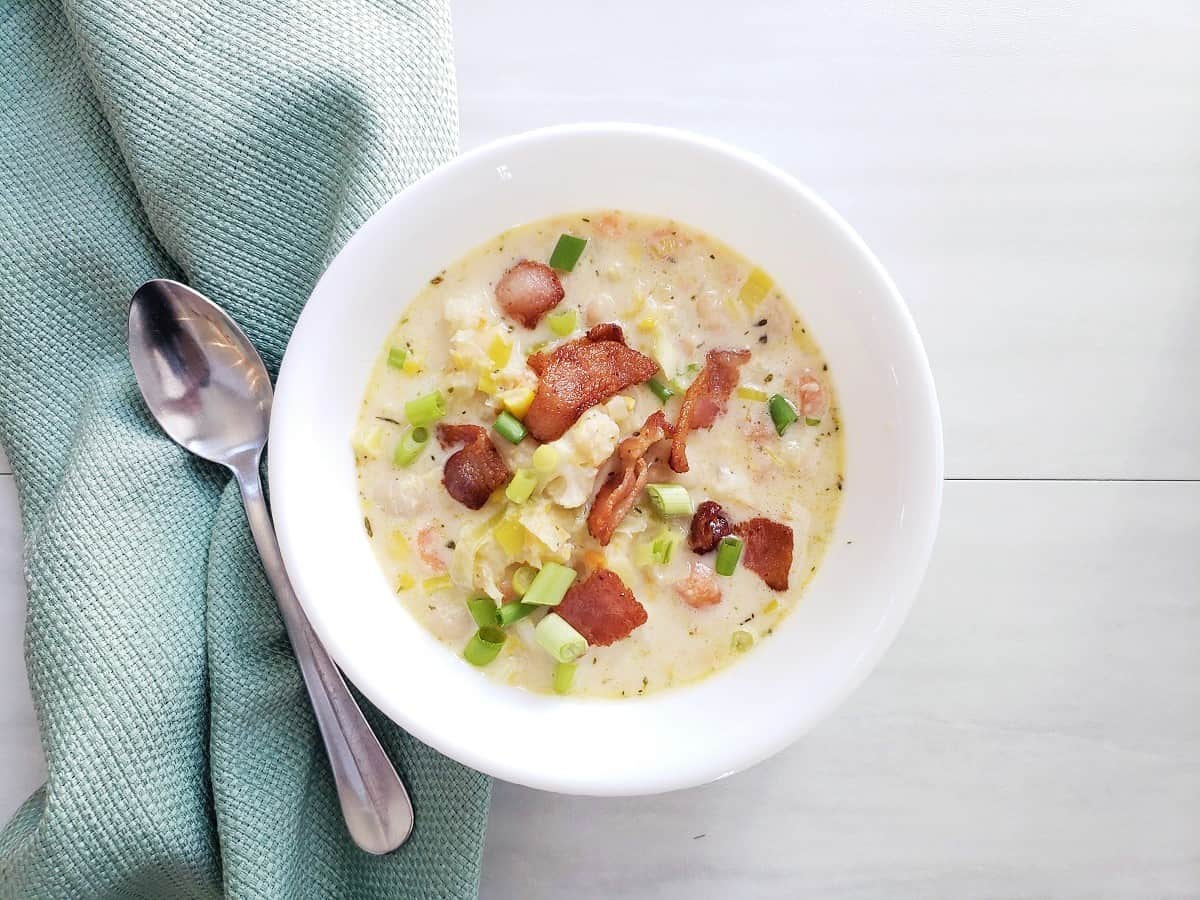 Egg Roll in a Bowl – 5/5
This dish is one that I've made several variations of in the past (I even have a shrimp egg roll in a bowl recipe here on the blog!), so it wasn't necessarily a new type of meal for our family. But I liked the twist that this recipe used sweet Thai chili sauce!
We did swap out ground beef for the ground turkey that was called for, because I already had ground beef on hand from our meat CSA share. I also used shredded coleslaw mix in place of buying a head of cabbage, since it's a time saver.
The whole family liked this one, so 5/5 stars again.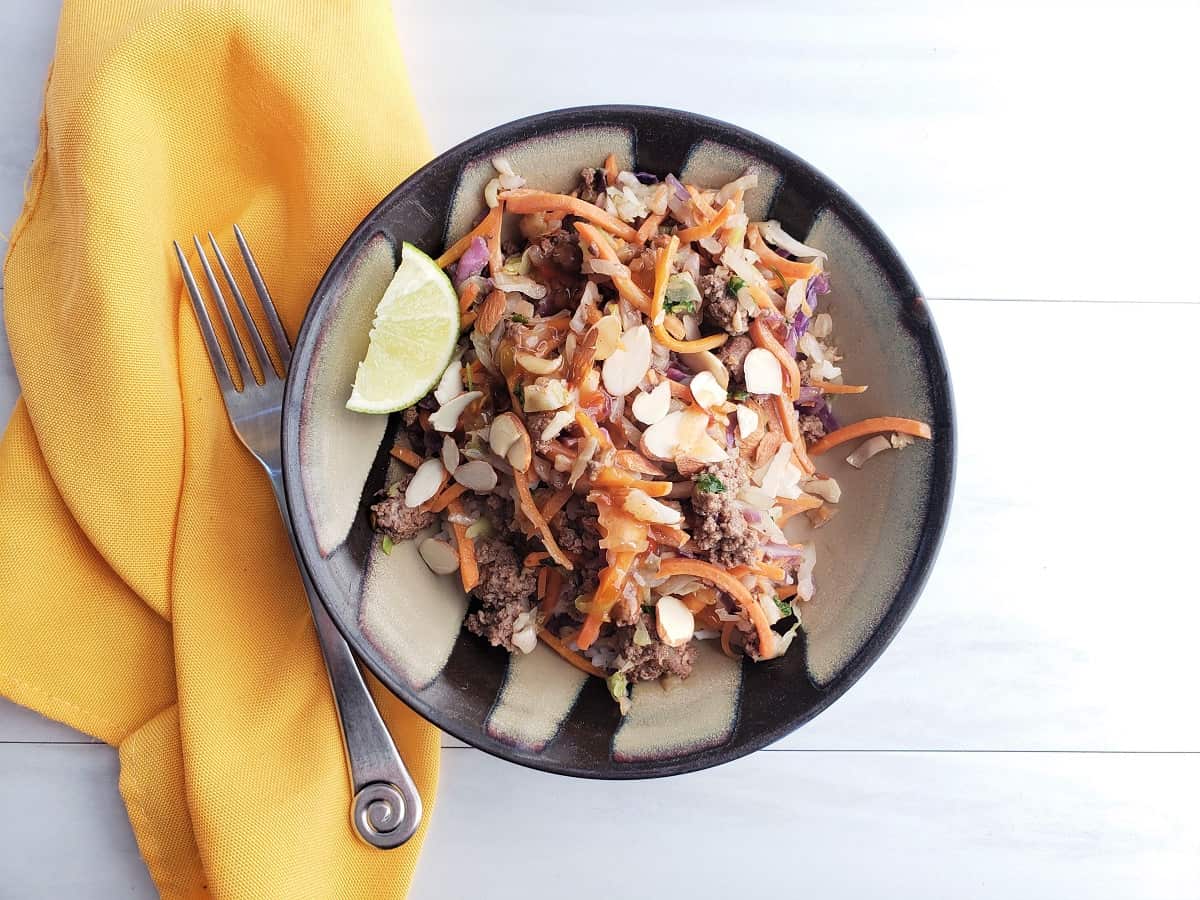 Pricing
All Cook Smarts subscriptions come with a free 14 day trial, so you'll be able to test out the service before signing up.
After that, the pricing is super reasonable:
Monthly subscribers – $14.99 / month
Annual subscribers – $7.49 / month when you pay upfront $89.99/year, which saves you 50% off the monthly price
You might be wondering – why would I pay for a meal plan service when I can do it myself?
That's a valid point, but think about how much time and stress you can save for under $100 for a year of plans. Your meals are populated each week with the grocery list, saving what would likely take around an hour of planning.
Plus, if you're the kind of person that has grand ambitions to meal plan – but then ends up grabbing takeout a few times a week because you didn't actually make a plan – this is a great solution.
The Bottom Line
If you're getting tired of spending time meal planning, or you can't seem to get around to actually doing it – Cook Smarts is a great solution. It's inexpensive, particularly when purchasing the annual plan, and provides balanced meals that are family-friendly. You can adjust recipes to fit your needs, whether for certain dietary preferences or for the number of servings. As a dietitian, I highly recommend this service.
Transparency – How was this tested?
I tested the Cook Smarts program by using the subscription, which includes their meal plans and grocery lists. I personally shopped for and cooked all the meals mentioned in this post, as well as others over the past month. As an RD, active woman, and a mom, I evaluated the meals through all of these lenses. I also considered ease of preparation and taste, as any user would care about those!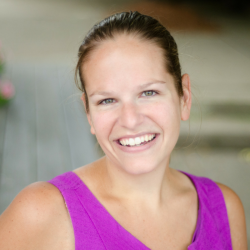 Latest posts by Chrissy Carroll
(see all)