This shrimp egg roll in a bowl is one of the best recipes to make when you've got extra green cabbage on hand! It's packed with tons of veggies, a hefty portion of protein, and a lovely mixture of salty and umami flavor – making this one of my favorite healthy shrimp recipes.
What is egg roll in a bowl?
It's just like it sounds! Essentially, it's taking the ingredients found inside an egg roll – like cabbage and a protein source (pork, shrimp, etc) – and flipping that to make those ingredients the main dish. Instead of being wrapped in a fried crispy shell, you'll end up with a big 'ol bowl of just the filling to eat.
(Note that this may not be a a traditional foundation for the filling, but is inspired by all the flavor profiles of a shrimp egg roll.)
Ingredients
Here's what you'll need for this recipe (full ingredient amounts and instructions are found at the recipe card at the bottom of this post, but this section has some helpful tips):
Olive oil – You'll use this for sautéing your vegetables.
Cabbage, yellow onion, and carrots – These veggies, in particular the cabbage, make up the bulk of the dish.
Garlic – Like most recipes, garlic is used to add flavor.
Sesame oil – This is used to cook the shrimp. Sesame oil has a unique almost-nutty flavor to it that works well in this stir fry type of dish.
Shrimp – The main protein in this recipe! Shrimp offers up quite a bit of protein and also tastes amazing.
Rice vinegar, soy sauce, sweet chili sauce – These three ingredients are used to make the sauce that your veggies and shrimp are tossed in. Rice wine vinegar adds a pop of acid, soy sauce adds salty and umami flavor and sweet chili sauce adds both sweetness and a faint underlying hint of heat.
Green onions – These are mixed in towards the end of cooking; their mild, slightly bitter and slightly sweet flavor works great in this recipe.
Sesame seeds – These are optionally added as a final ingredient to give an extra bit of nutty, earthy flavor. If you want to get real fancy, you can toast 'em for a few minutes before adding them to the dish.
Instructions
To make this dish, you'll start by prepping all your veggies – chop up your cabbage, finely chop your carrots, dicing your yellow onion, etc. We're going for "mise en place" here – that culinary phrase that means getting everything in its place. When everything is ready ahead of time, it makes it easy to move through the steps of the recipe quickly.
You'll also want to make sure your shrimp are ready to cook. If you buy frozen shrimp – which is what I always do because then I've always got some on hand! – you can easily defrost it quickly by putting it into a bowl with cool water. If you're in a rush, every 5-10 minutes, dump the water that's in the bowl and refill it again. It should only take about 20-30 minutes or so for the shrimp to defrost. You can then drain the water, and then peel the shrimp.
Now that everything is ready to go, start by heating up your olive oil in a large sauté pan. Then add your cabbage, onion, carrots, and garlic to the pan.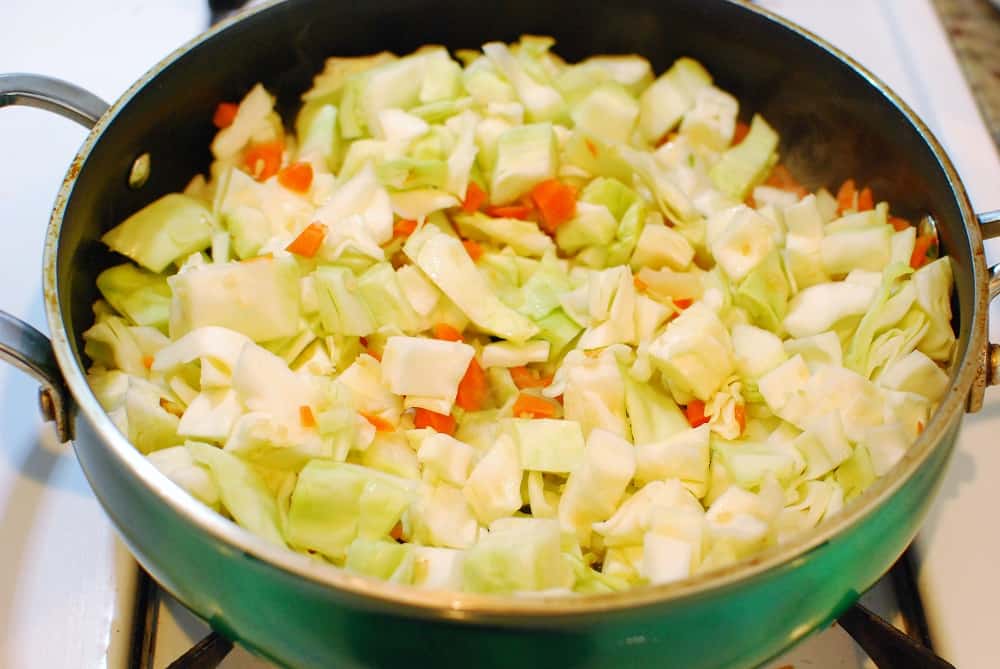 It'll look like a lot in the pan at first but this cooks down. You'll cook these until the cabbage is just starting to wilt a bit and the carrots are tender.
Next you'll push those veggies to the side a bit, creating some empty space where you can heat up the sesame oil and cook the shrimp. Here's what I mean by that: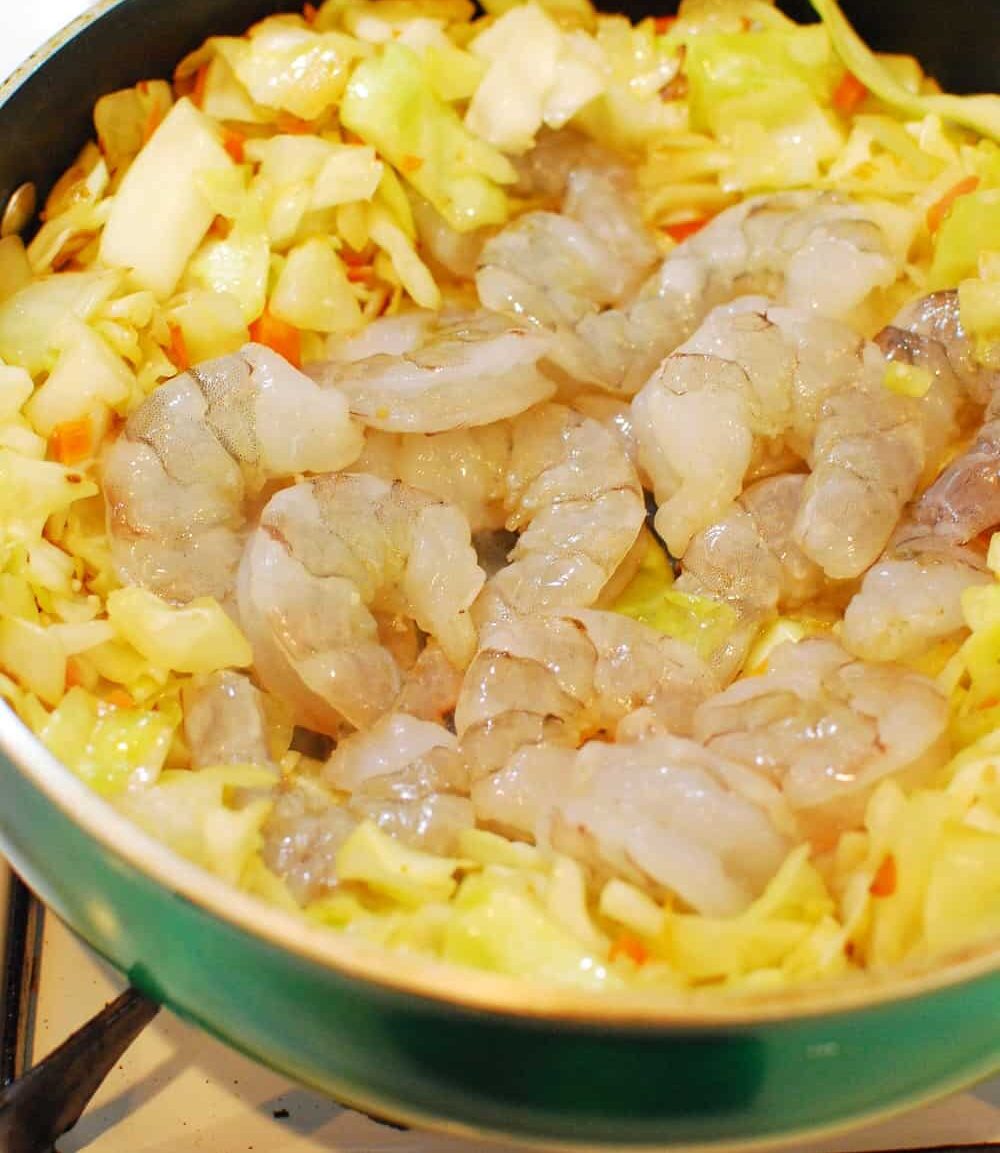 Cook those shrimp for a few minutes until they're pink and white and cooked through.
Lastly, toss in the ingredients for your sauce – the soy sauce, rice vinegar, and sweet chili sauce – along with your green onions and sesame seeds. Cook it all for another minute or two and voila – dinner is ready!
Recipe FAQ
Here are some common questions that may pop up as you prepare this recipe:
Should you serve this as-is or over rice? It's completely up to you! Both as-is or over rice taste great.
How should you store leftovers? Store leftovers in a food storage container in the refrigerators. It will stay good for up to 3 days. To reheat, just pop a serving in the microwave for 60-90 seconds, or until hot.
Can you freeze this recipe? I do not recommend freezing, as it affects the texture (in my opinion).
Can you make this recipe gluten free? Yes – you'll need to use tamari or coconut aminos instead of the soy sauce. Also, double check that the chili sauce is gluten free. I used Thai Kitchen Sweet Red Chili Sauce which (at the time of publish) did not appear to contain any gluten ingredients. Of course, always double check labels at the time of purchase. You could also substitute sriracha instead, which should be gluten free (you may need to adjust the amount; see recipe notes).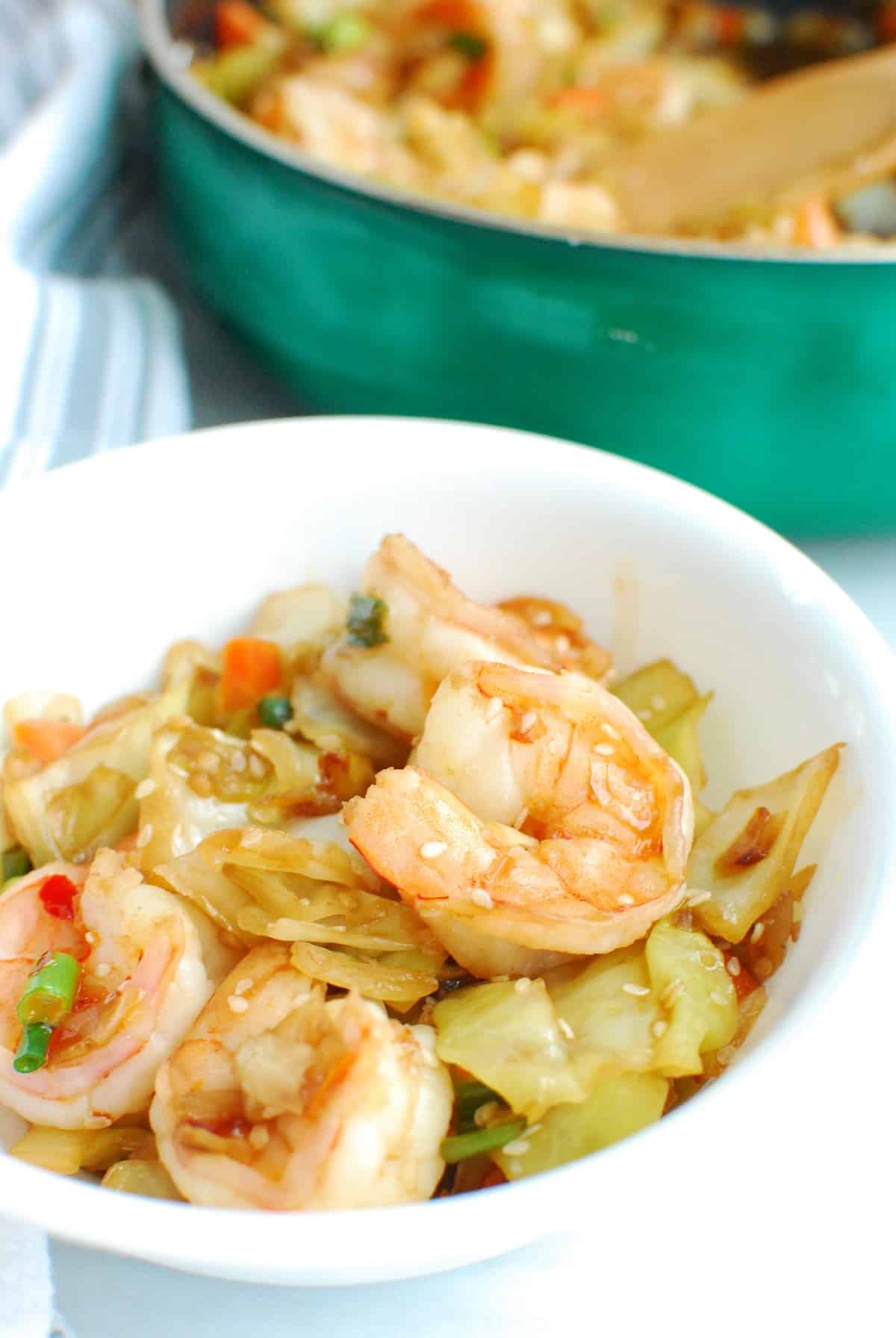 More "takeout style" favorites
If you're looking for other similar recipes – a takeout fakeout, if you will! 😉 – try these recipes: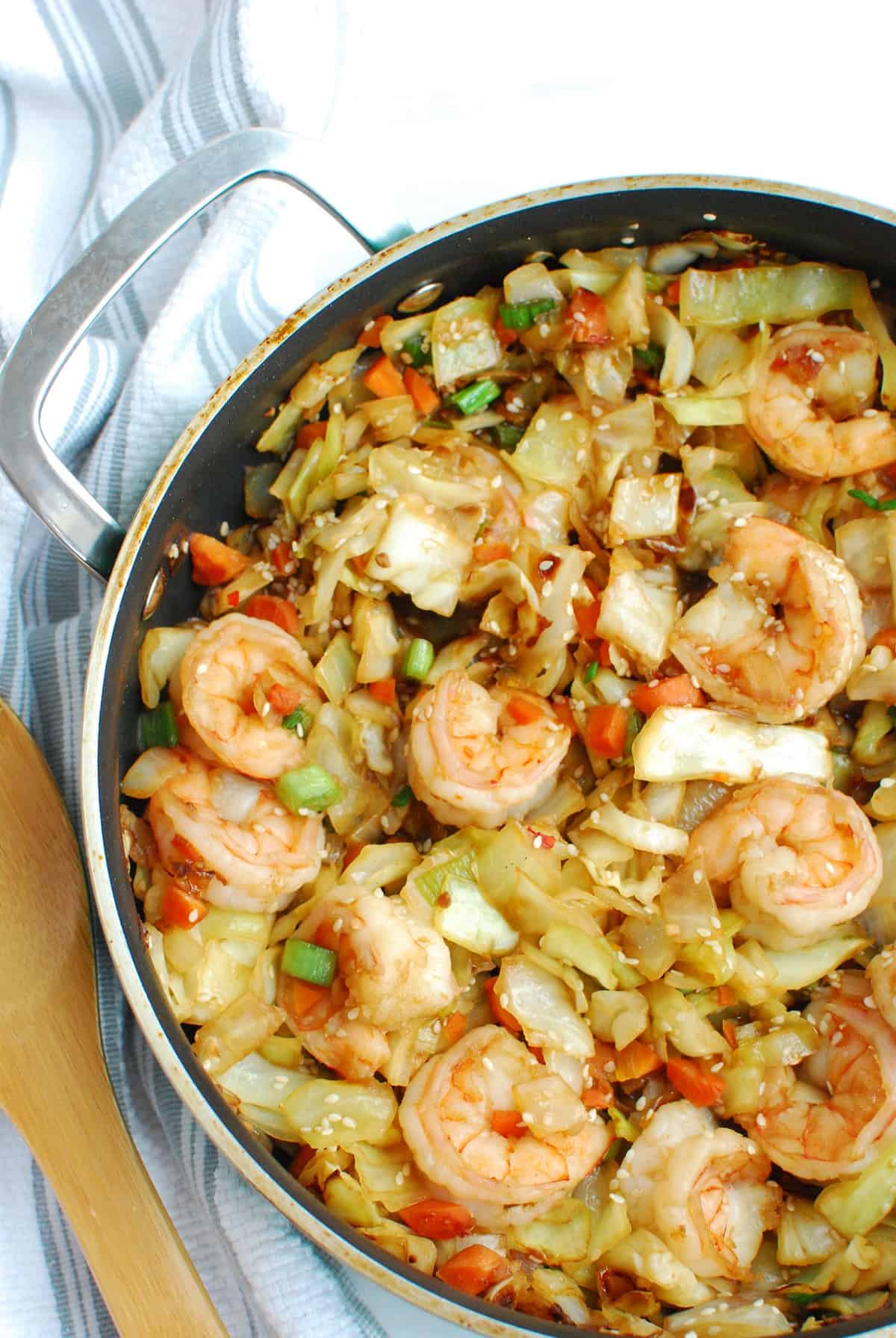 I hope you enjoy this shrimp egg roll in a bowl! If you get a chance to try it, feel free to leave a recipe rating or comment below.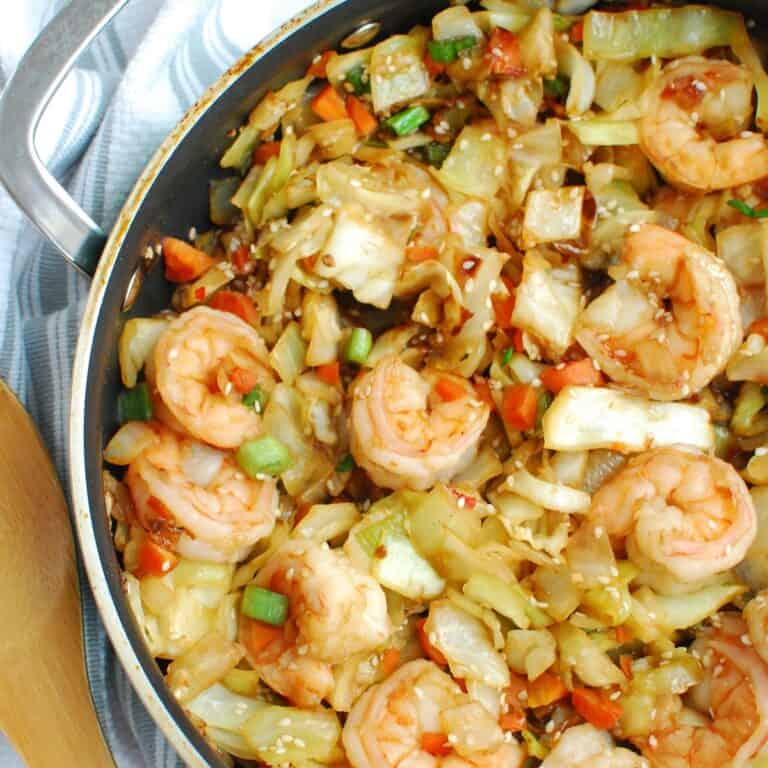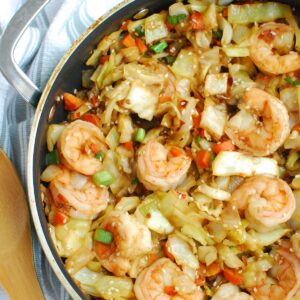 Shrimp Egg Roll in a Bowl
Shrimp egg roll in a bowl is a delicious one pan meal that the whole family will love!
Ingredients
1

tbsp

olive oil

1

small yellow onion, diced

5

cups

roughly chopped green cabbage

1/2

cup

finely chopped carrots

1

tbsp

minced garlic

1

tbsp

sesame oil

1

lb.

shrimp, peeled and deveined, tails removed

1/4

cup

reduced sodium soy sauce

1

tbsp

rice wine vinegar

1

tbsp

sweet red chili sauce

4

green onions

1

tbsp

sesame seeds

(optional)
Instructions
In a large sauté pan, heat the olive oil over medium heat.

Add the onion, cabbage, carrots, and garlic. Cook for 10 minutes, stirring frequently, until the cabbage is softened and the carrots are tender.

Push the vegetables to the sides of the pan, leaving a bit of space in the middle. Add the sesame oil to this space and let it heat up for a minute, then add the shrimp. Cook for 2 to 4 minutes, stirring occasionally, until shrimp is pink and opaque throughout.

Add the rice vinegar, soy sauce, garlic chili sauce, green onions, and sesame seeds (if using). Stir to combine and cook another minute. Enjoy!
Notes
If you are using shredded cabbage (like packaged coleslaw) rather than roughly chopped cabbage, you'll need less cooking time.
Sriracha can be used as an alternative for the sweet red chili sauce for slightly different flavor (try starting with 1 to 3 teaspoons; range depends on spice preference).
This recipe makes 2-4 servings, depending on the hunger level of those you're feeding!
Nutrition analysis (approximate per serving, assumes 4 servings): 242 calories, 9 g fat, 1.5 g saturated fat, 640 mg sodium, 16 g carbohydrate, 3.5 g fiber, 8.5 g sugar, 26.5 g protein, Vitamin D: 0%, Calcium: 11%, Iron: 8%, Potassium: 23%
Nutrition analysis (approximate per serving, assumes 2 servings): 485 calories, 17.5 g fat, 2.5 g saturated fat, 1280 mg sodium, 32 g carbohydrate, 7.5 g fiber, 16.5 g sugar, 53 g protein, Vitamin D: 0%, Calcium: 21%, Iron: 16%, Potassium: 46%
Nutrition
Share: What's your favorite way to use shrimp?
PS – Don't forget to pin this post so you can refer to it later and share with friends.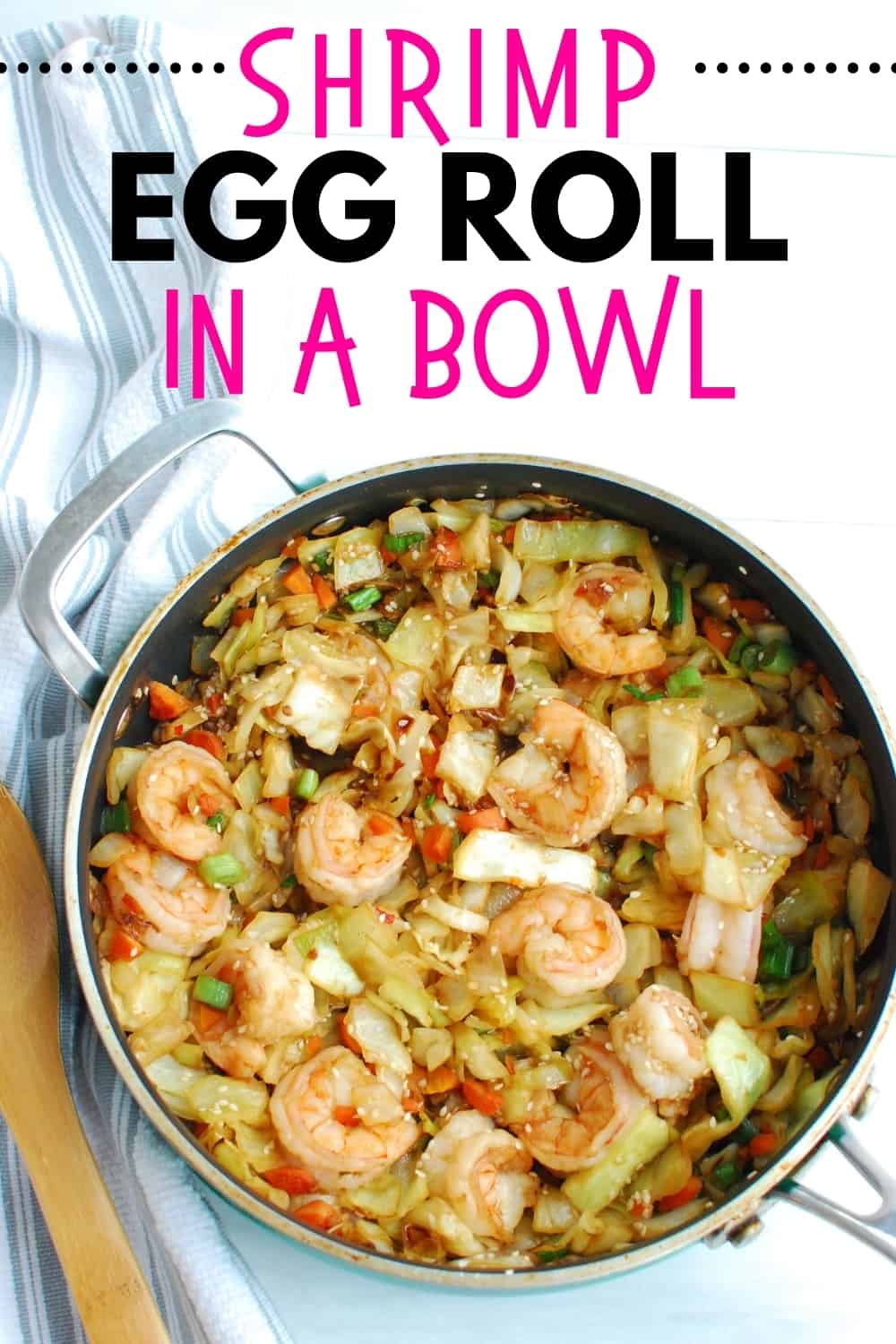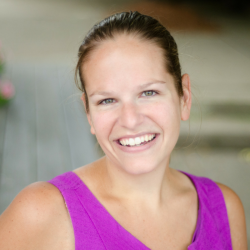 Latest posts by Chrissy Carroll
(see all)