Need something new to try for dinner this week? Add this teriyaki cauliflower to your menu! Breaded cauliflower is baked until crisp, tossed in teriyaki sauce, then baked again for a perfectly flavored takeout-style entrée.
What you'll need
You'll only need a handful of ingredients to throw this together – here's an overview of what and why:
Cauliflower – I used a medium head of cauliflower for this recipe, but really you can use whatever size you want depending on your family. You may just need to bump up the other ingredients a bit if you use a large head.
Eggs, water, salt, and pepper – This will form the first step of the breading process. The water just helps thin out the mixture a smidge.
Panko breadcrumbs – This is the second step of the breading process. After you dip your cauliflower in the egg mixture, you'll roll it in the breadcrumbs. The egg mixture helps the breadcrumbs to stick. These give the cauliflower a crisper, takeout-esque texture.
Olive oil – Once all your cauliflower is breaded, you'll drizzle them with oil before baking which adds flavor and helps with the crisping process.
Teriyaki sauce – You can use store bought or homemade here when it comes time to toss the cauliflower in sauce. If using store bought, see if you can find a reduced sodium variety, just because most tend to be quite high in sodium and we're using a lot of sauce for this recipe.
Sesame seeds – This is the final touch, and adds another texture and flavor to the dish!
Once you chop up your cauliflower, you're going to coat it in the egg mixture and then roll it in the breadcrumbs. Here's what it'll look like right before it goes in the oven the first time:
Then after it comes out of the oven, you'll toss it with the teriyaki sauce, then rebake for a little longer. Finish it off with a sprinkle of sesame seeds! When it's finally done, it has this amazing color and texture: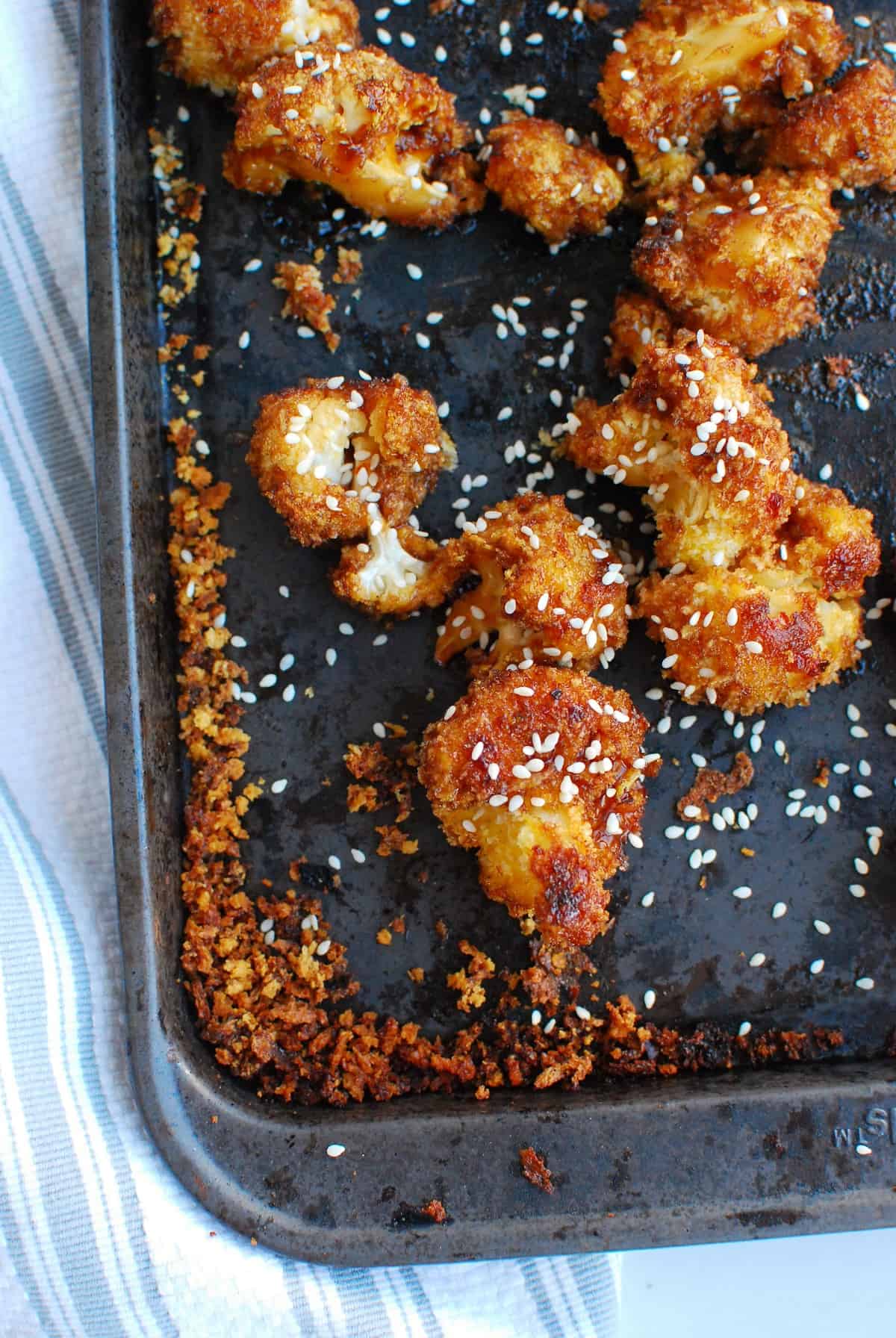 Recipe FAQ
Here are some common questions that may arise as you prepare this recipe:
Can you make this gluten free? Yes. Use gluten free breadcrumbs rather than panko, and use a gluten free teriyaki sauce rather than a standard one. There are a few store-bought versions (like Primal Kitchen) that are gluten free, and also many recipes for homemade gluten free sauces (like this one).
Can you make this vegan? Yes. Instead of using eggs, whisk together equal parts unsweetened non-dairy milk along with flour (about a half cup of each). Use this to coat your cauliflower, then roll in the panko breadcrumbs.
Can you make other kinds of cauliflower wings? Yes. The base of this recipe is perfect for any kind of cauliflower wing. Instead of teriyaki, you can try tossing them in hot sauce or BBQ sauce.
Do the leftovers stay crisp? Unfortunately the leftovers will soften when stored and reheated, but they will still taste great! If you want to get some crispness when reheating the leftovers, I recommend doing so in an air fryer.
Nutrition benefits
As an RD, I love any kind of dish that helps get more veggies into the day! Yes, it's breaded and coated in a sweet sauce – but it's still a way to increase your vegetable intake and can be a great option for picky eaters.
This dish is a good source of iron, which helps transport oxygen in the bloodstream, and potassium, which is involved in muscle contractions and blood pressure regulation. Both are really important for active women!
Lastly, a serving packs in more than 75% of your day's Vitamin C needs, which is key for immune system functioning and repair of many of the body's tissues.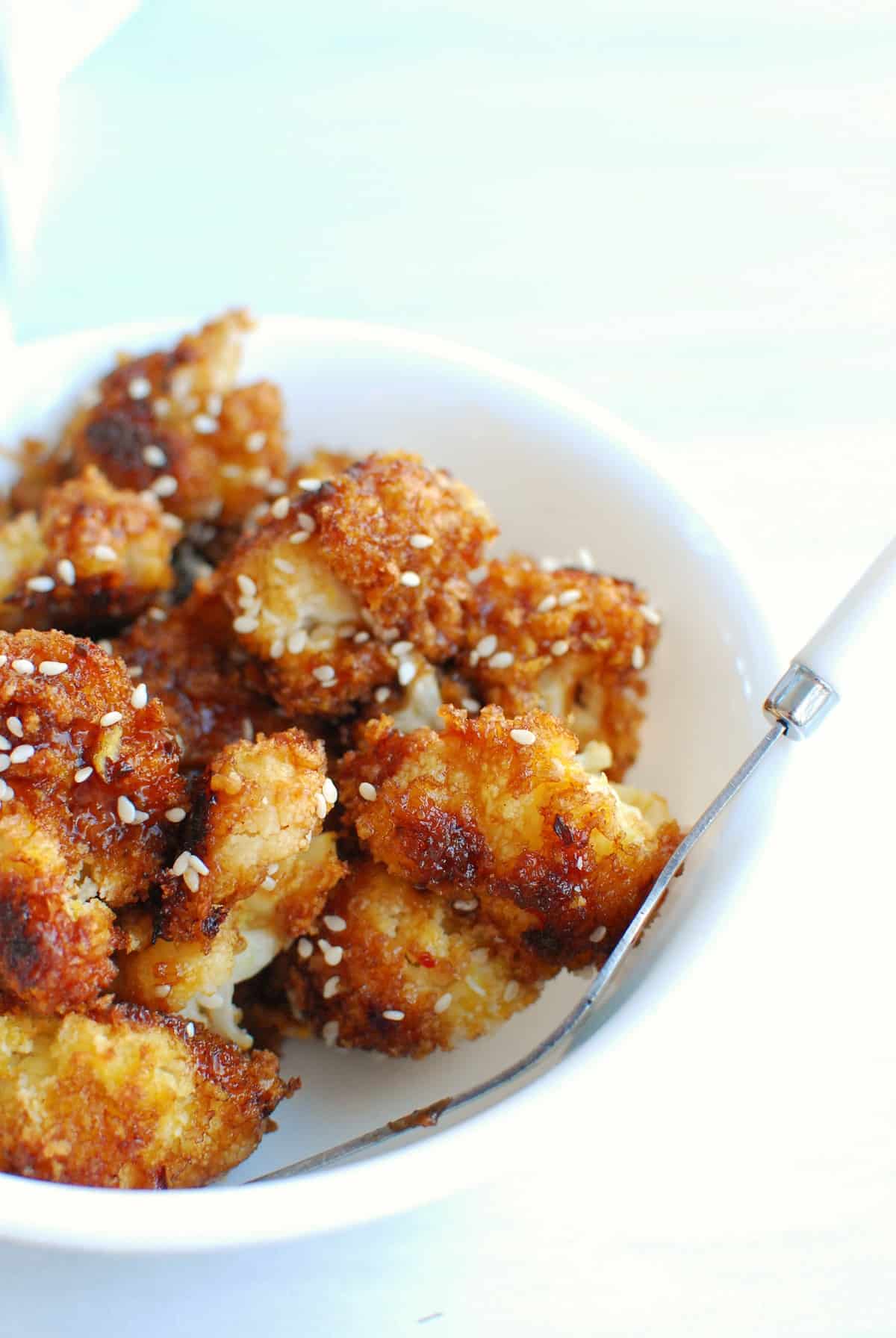 What to serve with teriyaki cauliflower
I've been known to eat a big 'ol bowl of this cauliflower as a dish on it's own. 😉 But you can pair it with other components to make a more complete meal out of it! Here are some of my suggestions:
Sticky rice – I love this dish served over a big bowl of sticky rice. This recipe post has a good tutorial for making it on your own; just remember to account for the soaking time.
Fried rice – This goes well with regular fried rice, or (doubling up on the cauliflower love!) cauliflower fried rice.
Cucumber scallion salad – This easy salad goes really well with Asian-inspired dishes.
Noodles – Whip up some rice noodles and toss them with a little extra sauce, then mix your teriyaki cauliflower in! Or, create your own noodle side dish with soba noodles, or making lo mein. Add in extra veggies to your noodle dish for a nutritional boost.
Salad – There are tons of combinations that could work as a side dish, but one of my favorites is this carrot and pepper salad with a sesame ginger dressing.
Sautéed greens and mushrooms – Easy to make and delicious!
I hope you enjoy this dish as much as my family did! If you get a chance to try it, feel free to leave a recipe rating or comment below.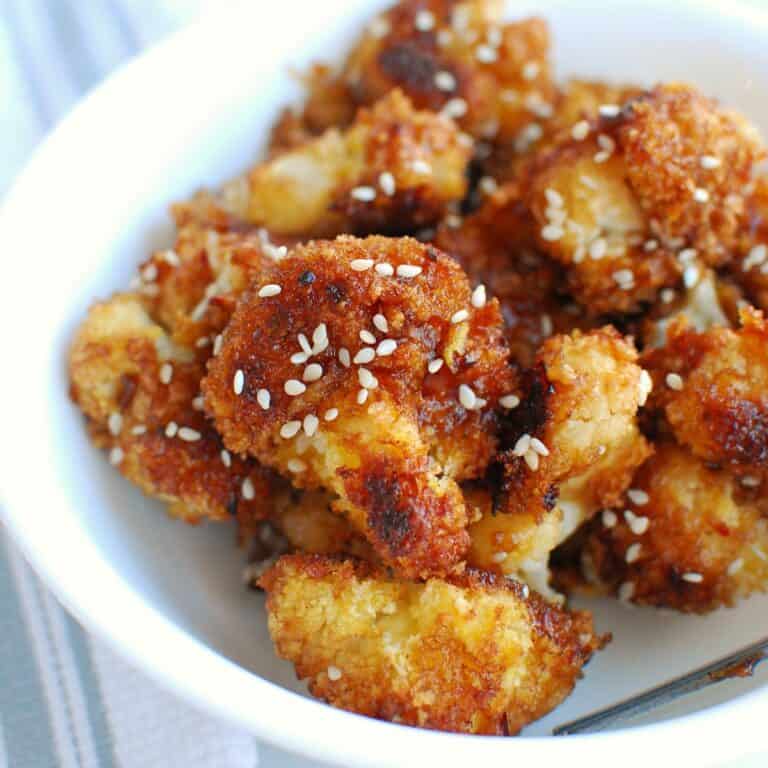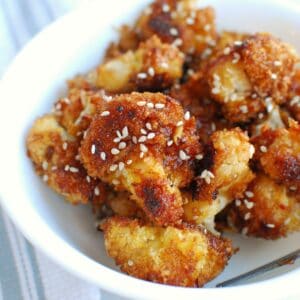 Teriyaki Cauliflower
This teriyaki cauliflower is a perfectly flavored takeout-style entrée!
Ingredients
1

medium head of cauliflower, chopped into florets

2

eggs

1

tbsp

water

1/8

tsp

salt

1/8

tsp

pepper

1 1/3

cup

panko breadcrumbs

1 1/2

tbsp

olive oil

1

cup

teriyaki sauce

(ideally reduced sodium; store bought or homemade)

1

tbsp

sesame seeds
Instructions
Preheat the oven to 400 degrees F. Set aside a baking sheet.

In a shallow bowl, whisk together the eggs, water, salt, and pepper.

Put the panko breadcrumbs on a plate, and set this next to the bowl with the egg mixture.

Dip cauliflower florets in the egg mixture, then roll in the breadcrumbs. Place on the baking sheet. Drizzle with olive oil and bake for 20 minutes.

Remove the cauliflower from the oven and place in a large mixing bowl. Pour the teriyaki sauce in, and toss the mixture several times to coat the cauliflower evenly. Pour the cauliflower back on the baking sheet.

Bake again for another 10-15 minutes, or until the cauliflower is a rich color and slightly crisp. Sprinkle with sesame seeds and enjoy!
Notes
This recipe makes 4 servings assuming you're adding it with another component like rice or noodles. If eating solo, assume 2 servings. (Just double the analysis below in that case).
For the nutrition analysis below, assume about 1 cup total of breadcrumbs are eaten (there will be some left on the plate and on the pan).
Nutrition analysis (approximate per serving, assumes 4 servings):  278 calories, 9.5 g fat, 2 g saturated fat, 1470 mg sodium, 37 g carbohydrate, 4 g fiber, 16.5 g sugar, 12.5 g protein, Vitamin D: 3%, Calcium: 4%, Iron: 12%, Potassium: 11%
Nutrition
Share: What's your favorite takeout style meal to make at home?
PS – Don't forget to pin this so you can save it to make again another time! 🙂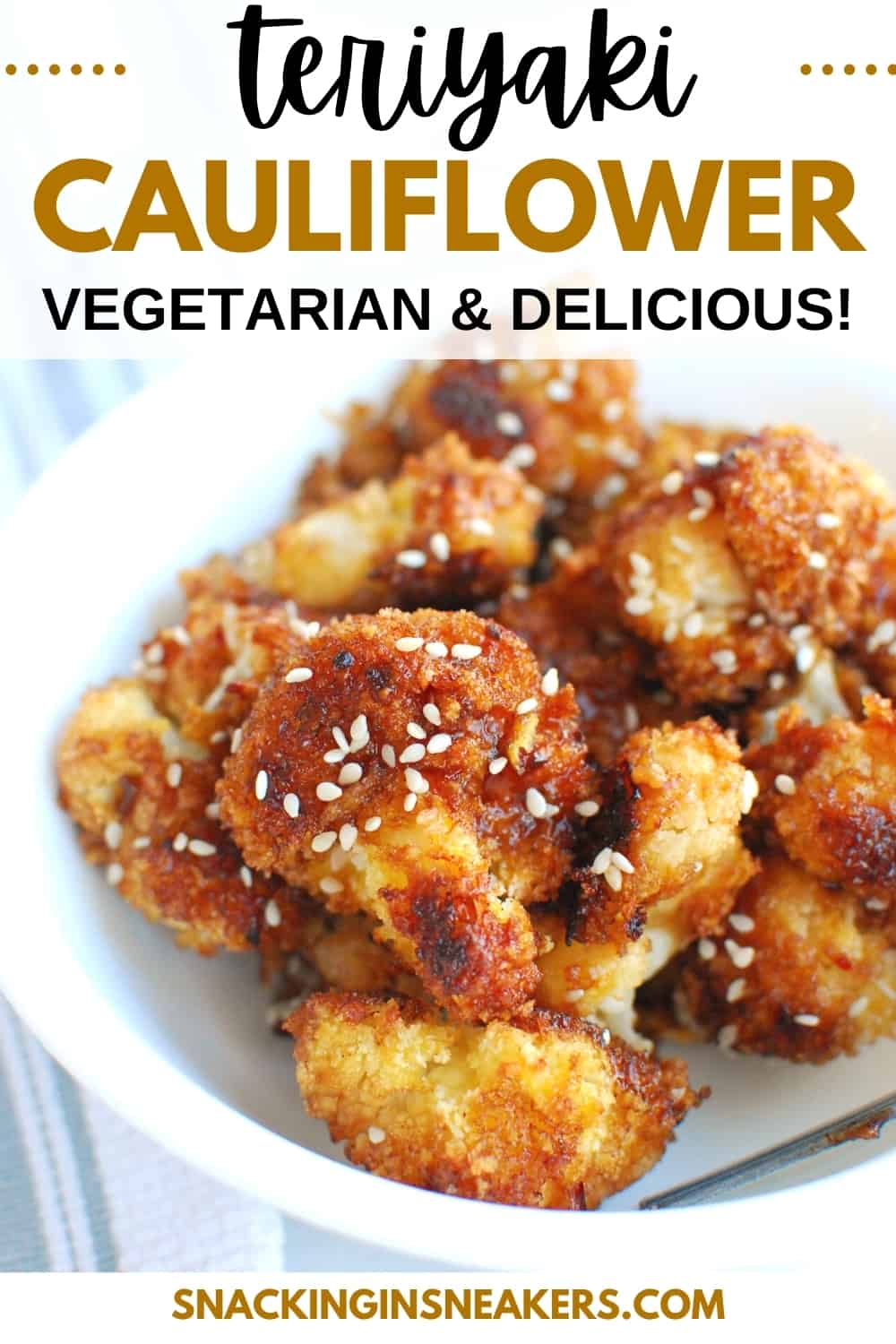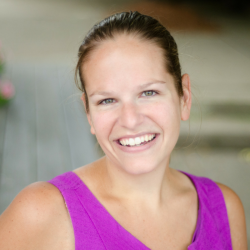 Latest posts by Chrissy Carroll
(see all)