Are you searching for an easy and delicious dinner option? Look no further than shrimp and salmon pasta! This dish is packed with protein and healthy omega-3 fatty acids. Plus, you'll only need a handful of ingredients to make this simple dinner recipe.
This is a great dinner for active women, as it provides adequate carbohydrates to fuel workouts, fats for satiation and joint support, and protein to support muscle repair and recovery. It clocks in around 620 calories per serving – but if you need more or less than that, feel free to adjust your portion sizes accordingly.
Get your pots and pans ready, and let's get cooking!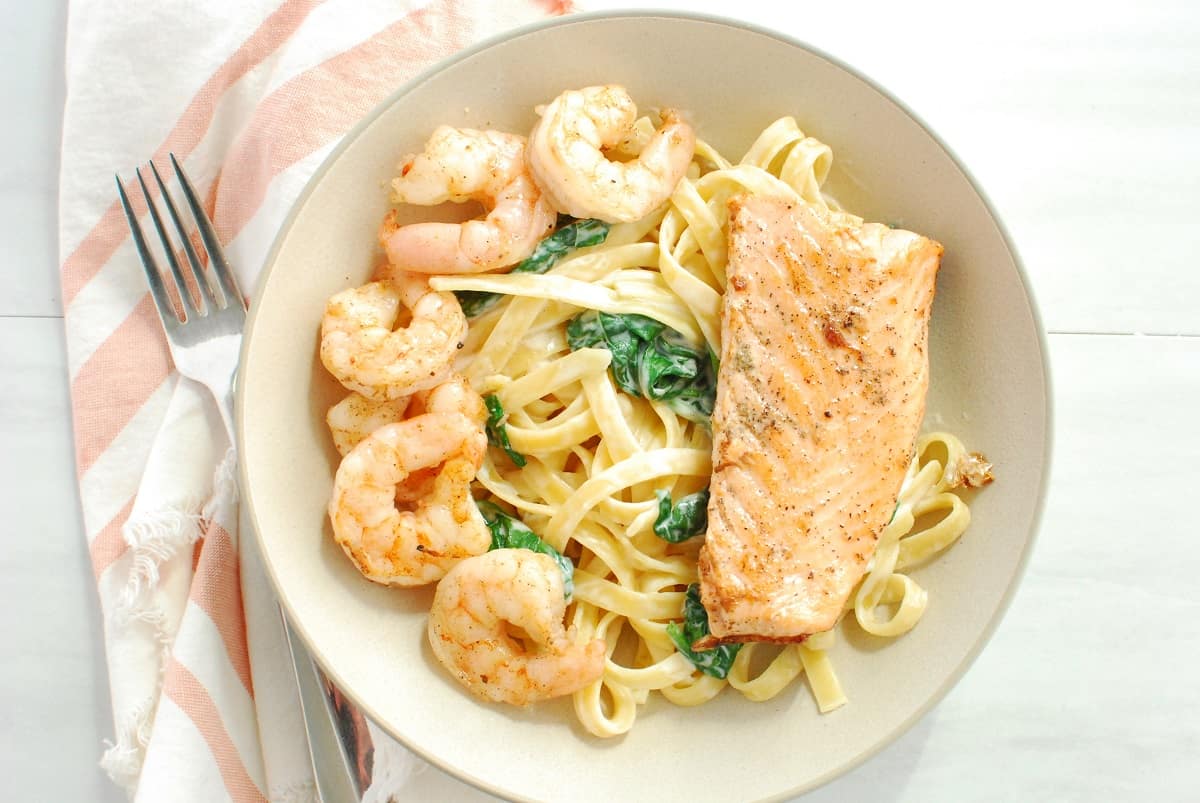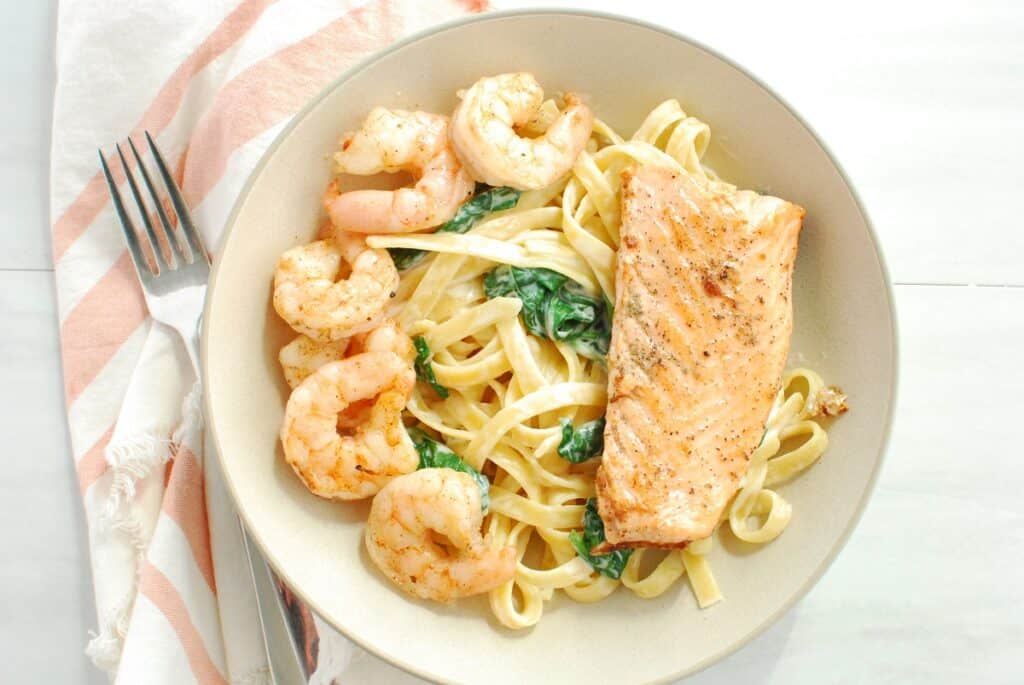 Ingredients
Here's a photo of everything you'll need to make this recipe, along with selected ingredient notes.
Fettucine – I love the thicker noodles for this recipe, but you can easily substitute spaghetti or angel hair pasta if you'd prefer.
Salmon – While I use canned salmon in a lot of recipes (like my canned salmon pesto pasta or cheesy salmon dip) – I do recommend fresh salmon for this recipe if you can swing it. There's just something about that rich, fresh-cooked filet that's delectable on this pasta.
Neufchâtel cheese – This is otherwise known as "light" cream cheese. It has a similar taste and texture to regular cream cheese, but with less fat and calories. This dish is already rich, so don't worry about missing out on anything by using this.
Shrimp – You can use frozen shrimp, or "fresh" shrimp from the seafood counter. I put fresh in parentheses, because most of the time, that fresh shrimp was actually frozen then defrosted for the counter selection. As such, I generally just buy frozen shrimp right off the bat and thaw it when I'm ready to use it.
Step by Step Instructions
You'll find full recipe instructions and amounts in the recipe card at the bottom of the post, but here's a helpful overview with photos.
Start by bringing a large pot of water to a boil. Add the fettucine and cook according to package directions. When it's done, strain the pasta in a colander and set aside for now. Leave the pot you used set aside as well.
While the pasta is cooking, heat up the butter in a large skillet over medium heat. Season the salmon with salt and pepper, then add the salmon filet to the pan skin side down.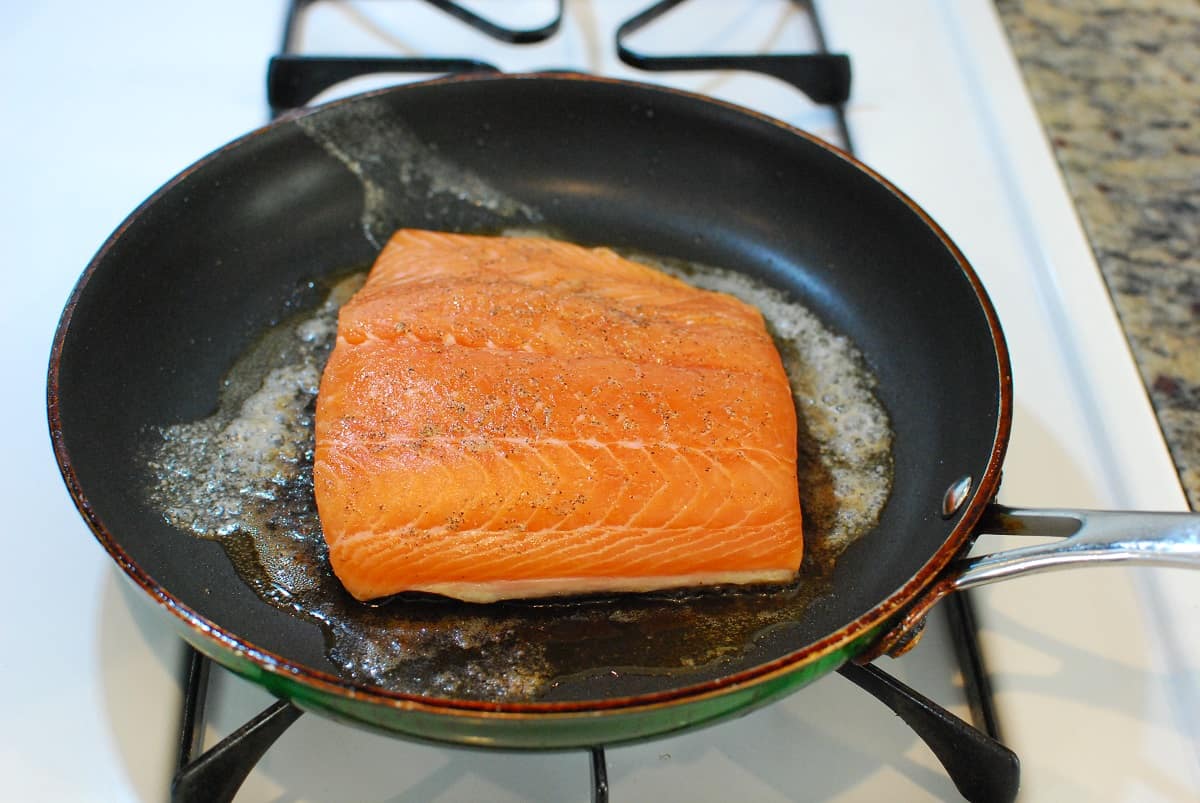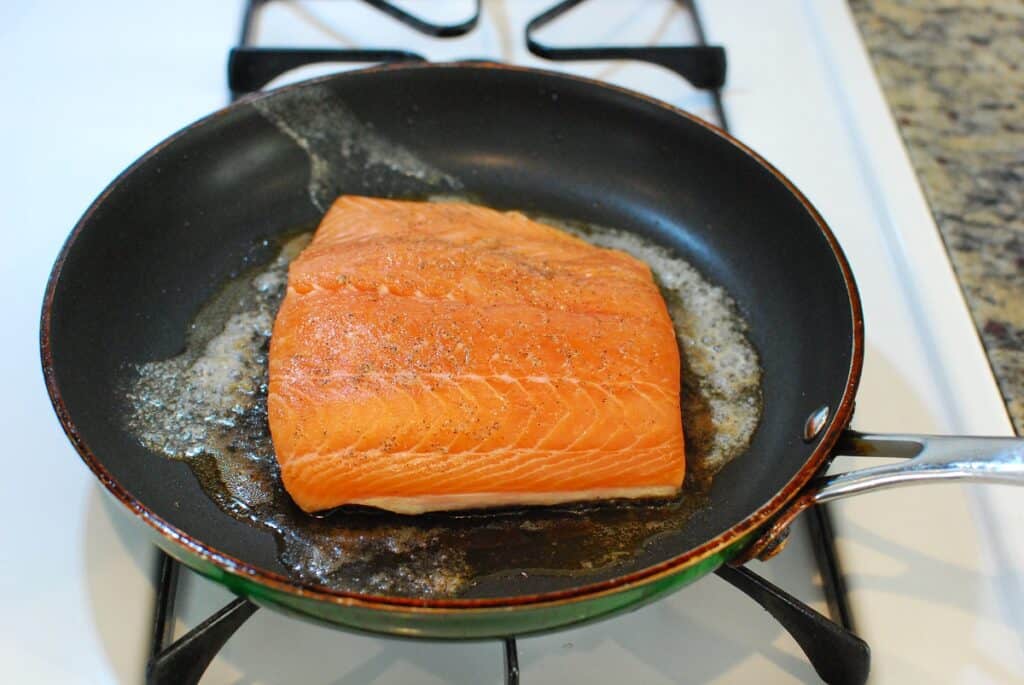 Cook for about 4 minutes, then flip and cook for another few minutes. You may need to add a few extra minutes for a thick filet. The salmon is done when it flakes easily when you press down with a fork.
Use a spatula to the remove the salmon and set it aside on a plate for now.
In the same skillet, add a little more butter. Season the shrimp with Cajun seasoning, then add them to the pan.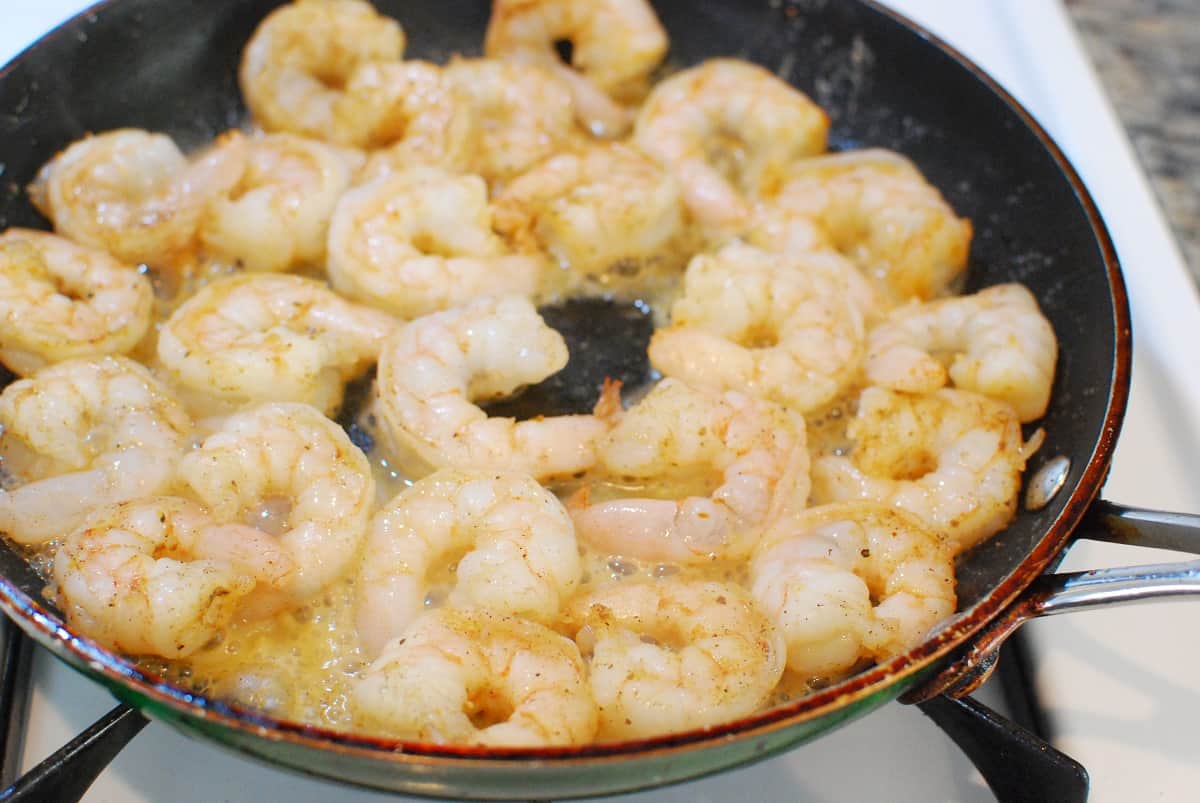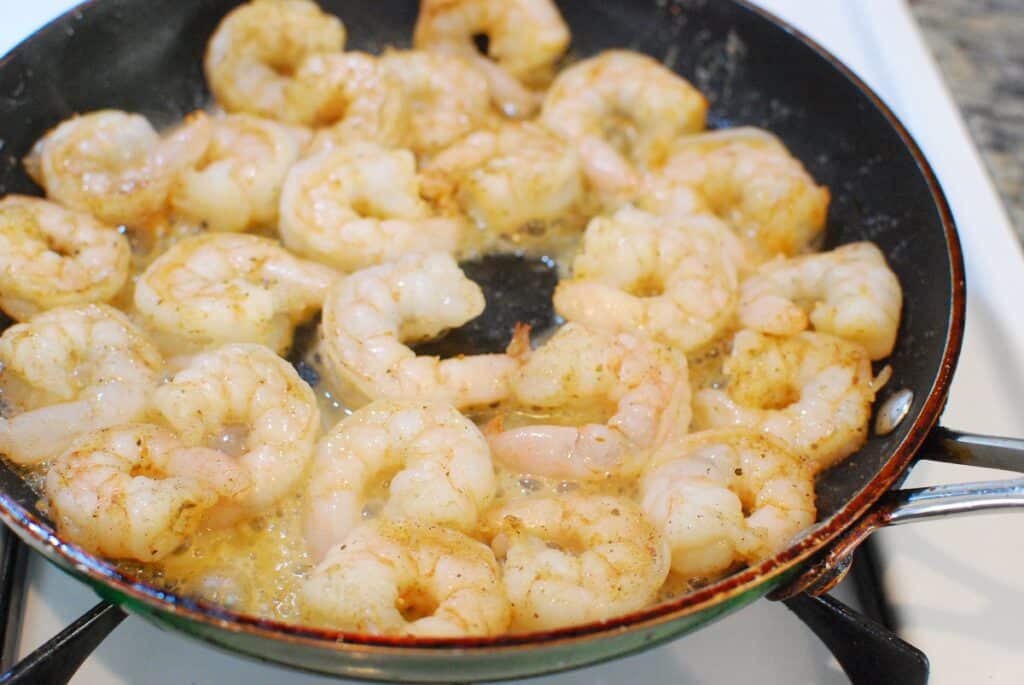 Cook for about 3-4 minutes total, flipping halfway through. When the shrimp are done, set aside on the plate with the salmon.
In the empty pot leftover from cooking the pasta, add the milk, cream cheese, and a little salt and pepper. Cook over medium-low heat, until thick and creamy, then add the spinach in and cook for a few minutes until wilted.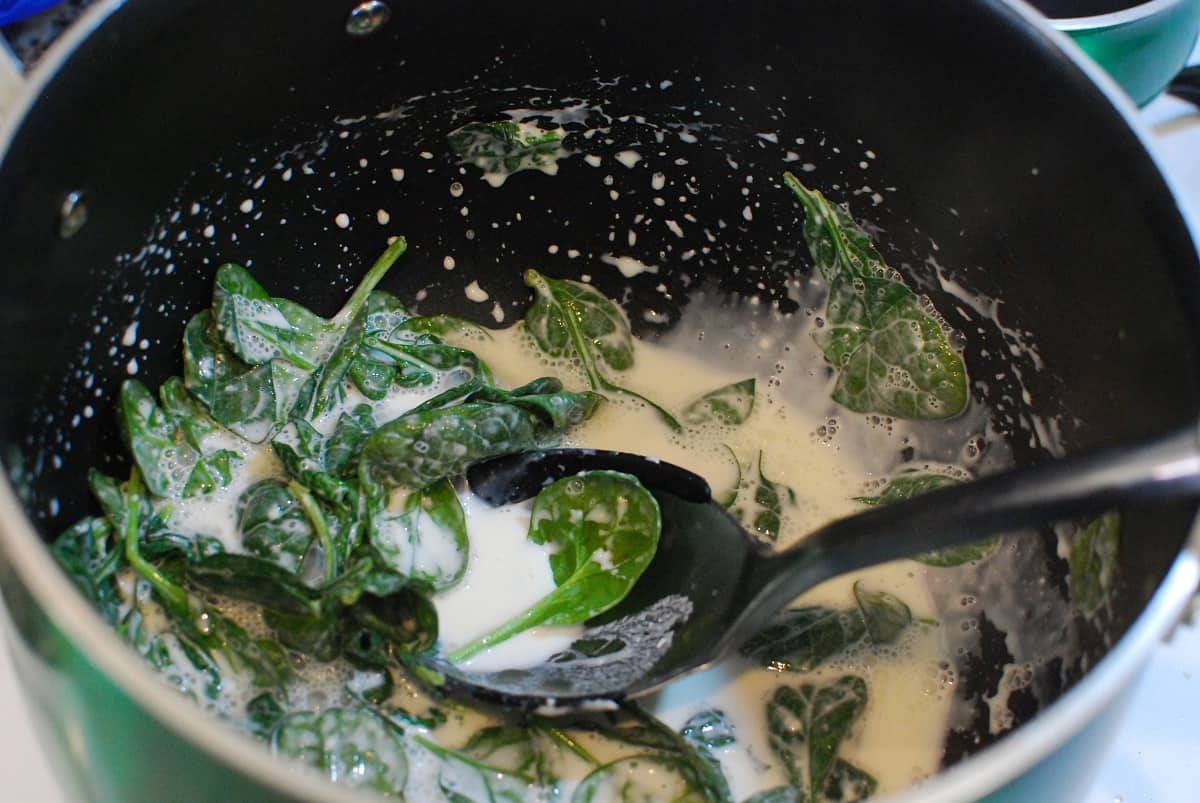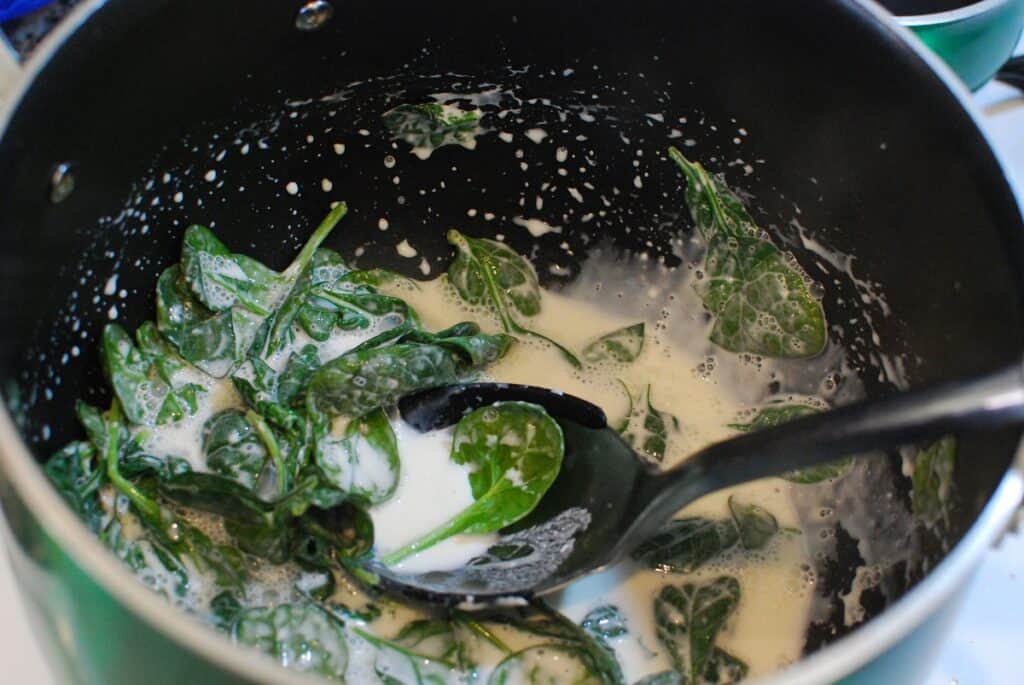 Stir in the parmesan and stir continuously until it's well mixed into the sauce. Remove from heat and toss the pasta with the hot sauce.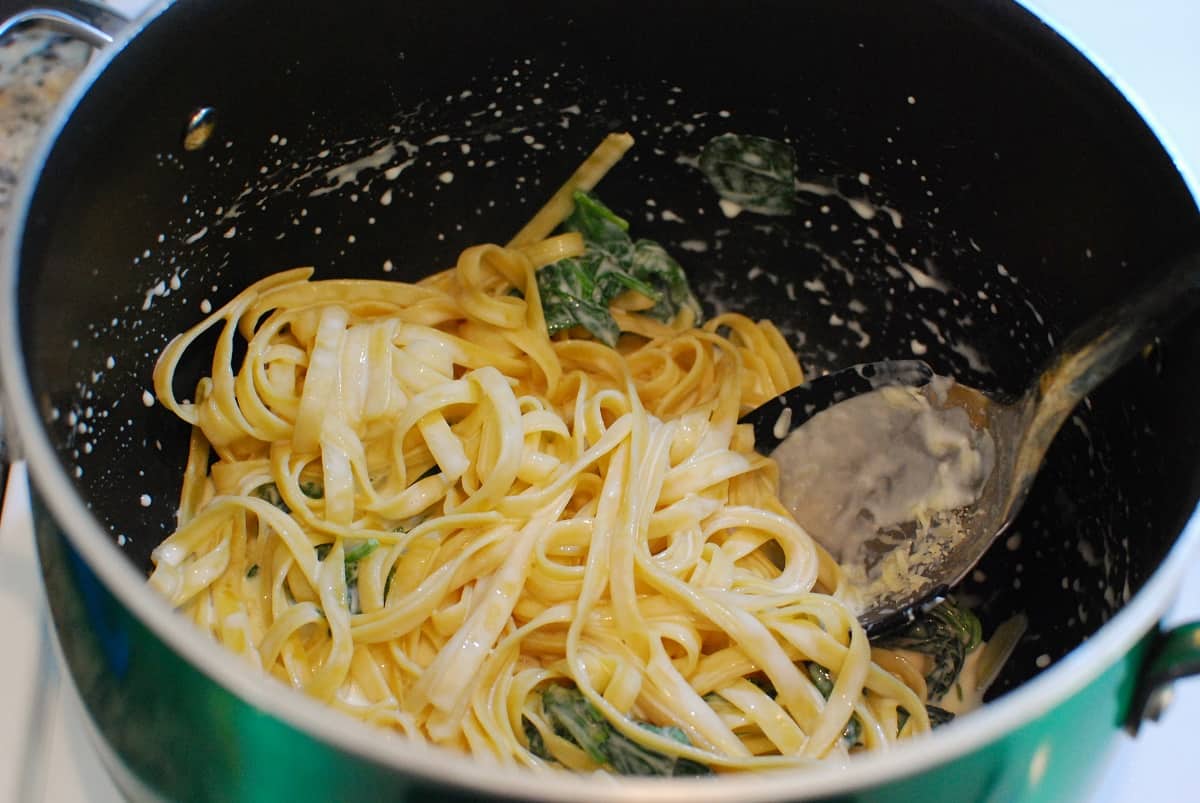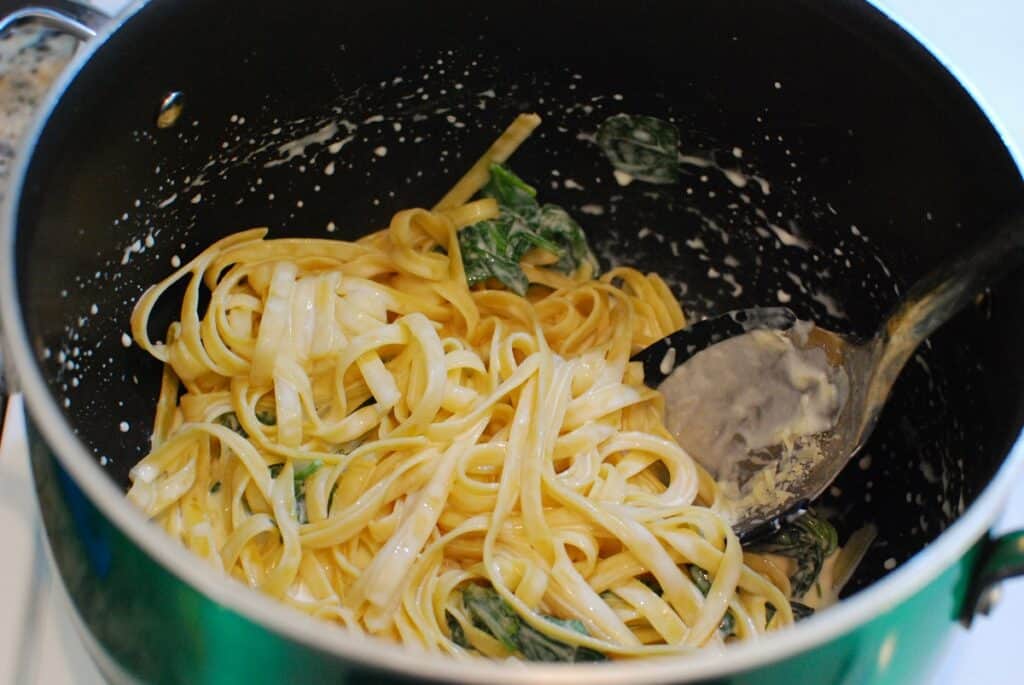 Last step is to portion everything out and add the shrimp and salmon on top. Yum!
Recipe FAQ
Here are some common questions that may come up as you prepare this recipe:
More Seafood Recipes
Looking for more tasty seafood dinner ideas? Try one of these delicious dishes:
I hope you enjoy this shrimp and salmon pasta as much as my family did! If you get a chance to try it, feel free to leave a recipe rating or comment below.
Share: What's your favorite way to use shrimp or salmon? If you tried this recipe, what did you think?
Feel free to pin this post to save for later.