There's finally a bit of a chill in the air this morning, and that makes me very excited about the fall! Apples, pumpkins, changing leaves, cute scarves – there's just so much to love about this season.
For some reason, the colder air also reminds me of spaghetti and meatballs. I think it's just reminiscent of growing up and smelling that tomatoey goodness wafting through the house on a cool day.
Yesterday, I decided I wanted to make a healthier version of traditional spaghetti and meatballs – and, since I've been trying to build up my repertoire of healthy crockpot recipes, I wanted to use that as the cooking method.
I saw a few Pinterest photos that showed a spaghetti squash in crockpot, and thought – why not combine this with meatballs and sauce for a complete dinner?! So voila – I've developed a recipe for crockpot spaghetti squash and meatballs!
Spaghetti squash is a great substitute for regular pasta, because it a) increases your vegetable intake, and b) cuts back on calories/carbohydrates in the dish. Now, there's nothing wrong with a portion-controlled serving of regular whole wheat pasta (especially if you are an athlete training often – your muscles need carbohydrate for stored energy). But if I can boost my veggie intake in a creative way while making a lighter meal, I'm always up for that.
I also went for ground turkey to make the meatballs since it was on sale. It's also typically leaner than the fattier (for example, 80/20) varieties of ground beef. But good news if you're a red meat lover – if you want to use 93/7 ground beef instead, that's just as healthy, so go for it!
This dish smelled yummy while cooking away in the crockpot, and tasted delicious. Hope you enjoy!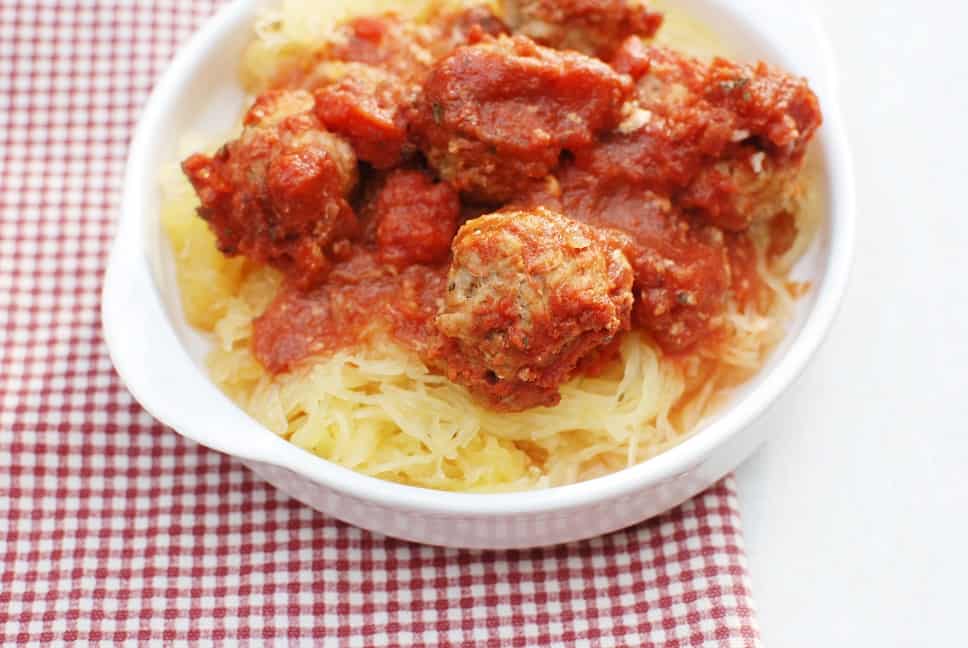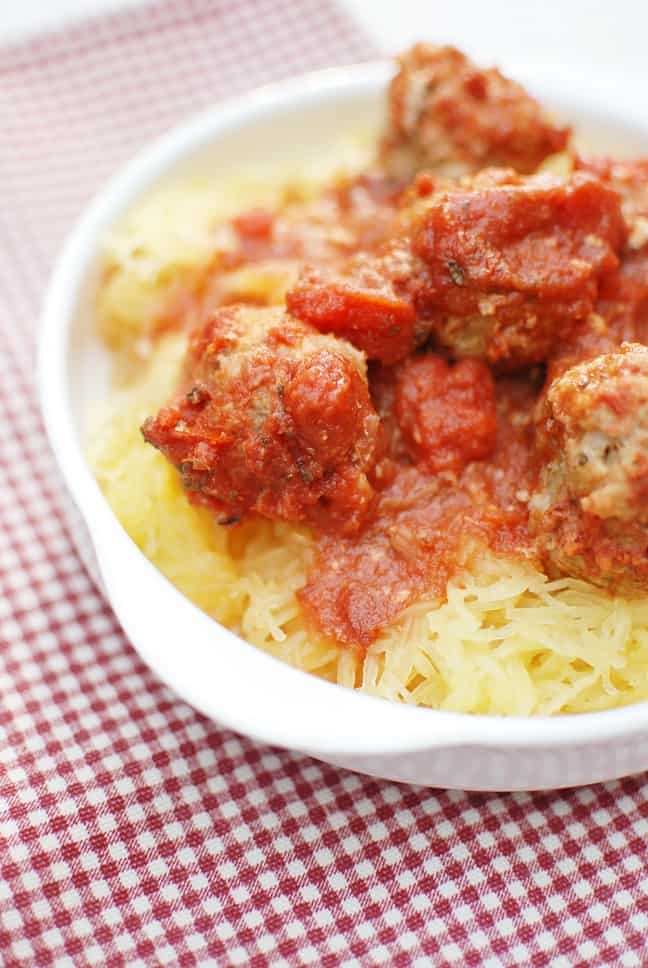 Crockpot Spaghetti Squash and Meatballs
Ingredients:
Squash:
1 Spaghetti Squash
Meatballs:
1 lb ground turkey
1 clove garlic, minced
1 egg
¼ cup fresh shredded Parmesan cheese
½ cup breadcrumbs
½ tsp dried parsley
Salt and pepper (I used about 1/8 tsp salt and ¼ tsp pepper)
Sauce:
28 oz can crushed tomatoes
2 to 3 cloves garlic, minced
½ tsp pepper
1 tbsp Italian seasoning
Small handful of fresh basil leaves, torn (optional)
Directions:
1. Slice the spaghetti squash in half and scoop out the seeds. Either place both halves in cut side down (if they'll fit that way), or place both in the crockpot on their sides (like an oyster shell). You can also cut off about 1/4 of the squash from one side so that you can scoop out the seeds that way, and then place the 3/4 in the pot.
2. Mix all ingredients for the meatballs in a bowl. Roll into meatballs and place in crockpot around the squash (or, if you have it oyster-style, place the meatballs in the squash).
3. Mix all ingredients for the sauce except fresh basil, and pour into crockpot, coating the meatballs and squash.
4. Cook on high for 3-4 hours or on low for 6 hours*.
5. Remove the spaghetti squash and place on a cutting board or plate. Use a fork to pull out the squash noodles from the inside, and discard the outer portion of the squash.
6. Meanwhile, add fresh torn basil leaves and cook with the sauce and meatballs for about 5 more minutes. *If the sauce is thin, turn off heat and let it sit for about 30 minutes before serving – it should thicken up a bit.*
7. Top the spaghetti squash with sauce and meatballs. Serve & enjoy!
Notes:
On sauce consistency
The consistency of your sauce will depend on how big the spaghetti squash is and how much moisture is in it, since the crockpot doesn't allow for evaporation of water like a traditional pot. I find the sauce is a little thin when I make this but it doesn't bother me. If it bothers you, there are a few options to fix it: a) let it sit for about 30 minutes (for the most part, this should address any problems), b) transfer it to a pot and simmer until it's at the consistency you want, or c) change up the sauce recipe I've given you and use about half the can of crushed tomatoes, plus 1-2 cans of tomato paste.
On browning meat…
Most recipes you'll see for crockpot meatballs calls for you to brown the meatballs a bit first, either in a pan or oven. The claims for this are for flavor development and to help the meatballs stay together. It's not for food safety – a proper working crockpot will cook your food to the correct temperature safely. If I'm using the crockpot, I like to toss in the ingredients and let it do its thing – I'm not looking to cook stuff first, haha. These meatballs tasted great and stayed together without browning them first – but if you really want to, feel free!
On cooking longer…
I think the meatballs would be fine in the crockpot longer. However, the squash might get mushy if you leave it in too long. If you're going to be gone for 8 hours, you may want to just do the meatballs and sauce in the crockpot, and then cook your spaghetti squash in the oven when you get home.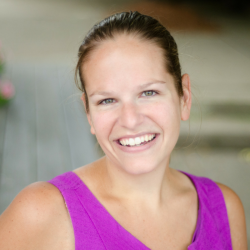 Chrissy Carroll is a Registered Dietitian and USAT Level I Triathlon Coach. She specializes in sharing nutrition and fitness tips, as well as recipes, for runners, triathletes, and active women.Chrissy holds a Bachelor's Degree in Nutrition, a Masters Degree in Public Health, and is also an ACSM Certified Personal Trainer.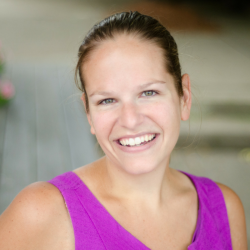 Latest posts by Chrissy Carroll (see all)