There's finally a bit of a chill in the air this morning, and that makes me very excited about the fall! Apples, pumpkins, changing leaves, cute scarves – there's just so much to love about this season. Including delicious slow cooker meals like this crockpot spaghetti squash and meatballs!
Does anyone else feel like the smell of tomato sauce cookin' all day just reminds them of being at home as a kid? I remember my mom putting on a pot of sauce on the weekends, especially on cold days, and you'd smell that tomatoey goodness wafting through the house all day. This crockpot dish gives me the same vibes and I love it.
Why this dish is a nutritious choice
This is a balanced, filling dish that's rich in fiber, protein, and vitamins. With 7 grams of fiber and 32 grams of protein, it will help you stay full and satisfied for a while. And it's an excellent source of more than 15 different vitamins and minerals (meaning it has more than 20% of your daily needs for all of them).
It also uses spaghetti squash, which is a great substitute for regular pasta. It increases your vegetable intake and cuts back on the total calories and carbohydrates in the dish.
Now, there's nothing wrong with a portion-controlled serving of pasta – especially if you're hitting the gym regularly or training for road races. Your body loves those good 'ol carbs and uses them as stored energy in your muscles!
But on an everyday basis, if I can boost my veggie intake in a creative way while making a lighter meal, I'm always a fan of that. That's why I love spaghetti squash in here.
For this recipe, I also went with lean ground turkey to make the meatballs – you can find lean ground turkey in both 93/7 and 99/1 varieties and either will work well. You can also use a 93/7 or 95/5 lean ground beef.
Not only are the leaner varieties generally a good choice for overall health (less of the unhealthy fats and lower calorie), but they are also a much better choice when making meatballs in the crockpot (you don't want tons of extra fat from non-lean varieties to just mix in the sauce as it cooks).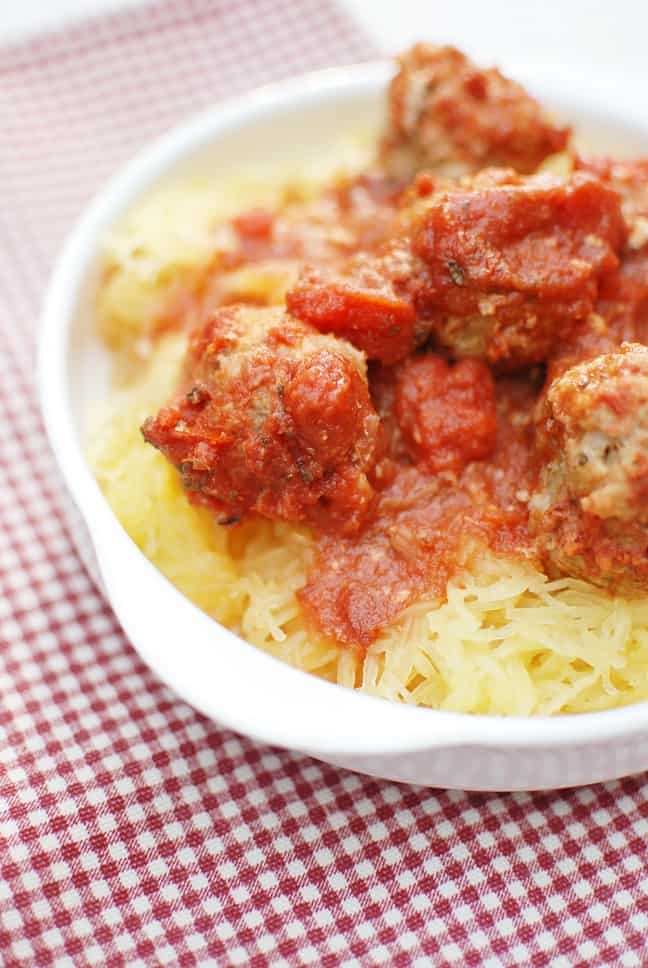 How to make crockpot spaghetti squash and meatballs
Alright, enough about why this is good for you – let's get to cooking! This is the perfect recipe to make on a lazy weekend day. Let's start with prepping the spaghetti squash.
To do this, just chop it open the long way (so you've got two oval halves in front of you). If you've never cooked with spaghetti squash before, you'll open it up and see that there are seeds in there. Kind of like cutting open a pumpkin, right?
Use a spoon to scoop these seeds out and discard them. Then you'll put your spaghetti squash in the crockpot.
Now, depending on the size of your crockpot, there are two possible ways to do this. If you have a large crockpot, you may be able to get them both to fit cut side down. That's perfect.
If they won't fit like that, no worries. Hold the two halves together (like you're putting it back together again). Then place that in the crockpot so that the cut side of each squash is in the center of the crockpot – like on oyster shell that you can open up if that makes sense.
If you're only cooking for two, you could also just put half the squash in like this:
I know it's a little confusing, but hopefully that all makes sense!
Next up, you'll make your meatballs. Here's what you need for those:
Ground turkey
Garlic
Egg
Parmesan cheese
Breadcrumbs
Parsley
Salt & Pepper
Just mix up all these ingredients in a bowl, and then roll these into meatballs about 1 to 1 1/2 inches big. You want to place these meatballs in the crockpot now – either surrounding and on top of your spaghetti squash if that's cut side down – or in the inside of each half if you've got the oyster shell style layout.
Last up is the sauce. Just mix up these ingredients, and then dump them into your crockpot:
Crushed tomatoes
Garlic
Pepper
Italian Seasoning
That's it! You'll let that cook all day and it will be absolutely awesome when it's ready. A few minutes before serving, I recommend adding some fresh basil leaves to the sauce for an extra pop of Italian flavor.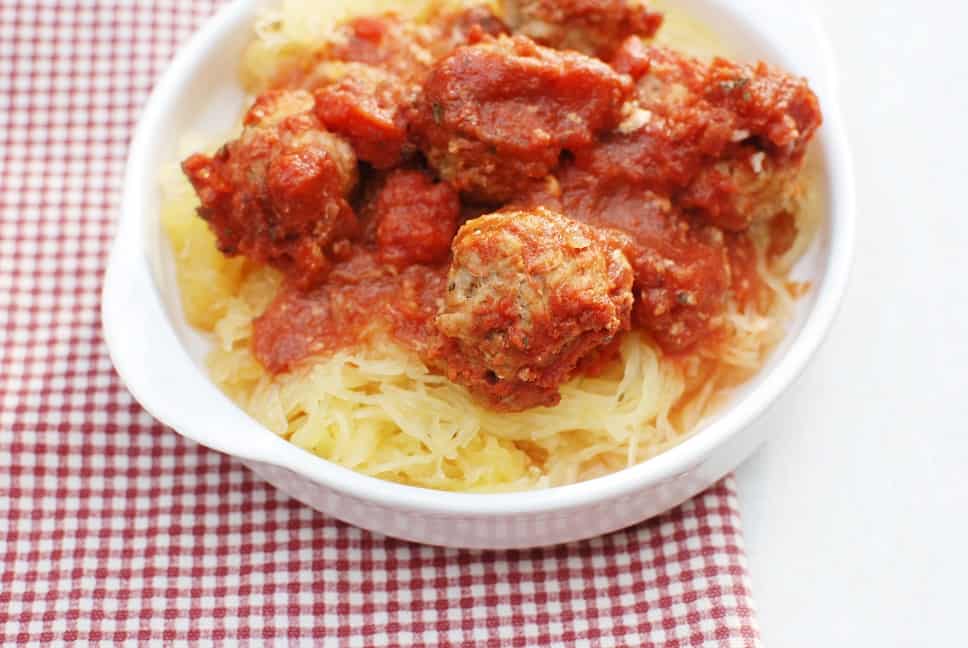 Extra tips for making this slow cooker spaghetti squash
1) Sauce consistency: The consistency of your sauce will depend on how big the spaghetti squash is and how much moisture is in it, since the crockpot doesn't allow for evaporation of water like a traditional pot. I find the sauce is a little thin when I make this but it doesn't bother me.
If it bothers you, there are a few options to fix it: a) let it cook uncovered for about 30 minutes (for the most part, this should address any problems), b) transfer it to a pot and simmer until it's at the consistency you want, or c) if you have a large squash, change up the sauce recipe and instead use half a can of crushed tomatoes and 1/2 can of tomato paste. The moisture from the squash will add extra liquid for the paste.
2) Browning meat: Most recipes you'll see for crockpot meatballs calls for you to brown the meatballs a bit first, either in a pan or oven.
Keep in mind the reason for this is for flavor development and to help the meatballs stay together. It's not for food safety – a proper working crockpot will cook your food to the correct temperature safely.
If I'm using the crockpot, I like to toss in the ingredients and let it do its thing – I'm not looking to cook stuff first, haha. These meatballs tasted great and stayed together without browning them first – but if you really want to brown them, feel free!
3) Cooking time: The meatballs would be fine in the crockpot longer. However, the squash might get mushy if you leave it in too long. If you're going to be gone for more than 8 hours, you may want to just do the meatballs and sauce in the crockpot, and then cook your spaghetti squash in the oven when you get home.
More spaghetti squash recipes
Looking for more tasty spaghetti squash recipes? Try one of these delicious options:
I hope you enjoy this crockpot spaghetti squash and meatballs! If you get a chance to try it, be sure to leave a recipe rating or comment below.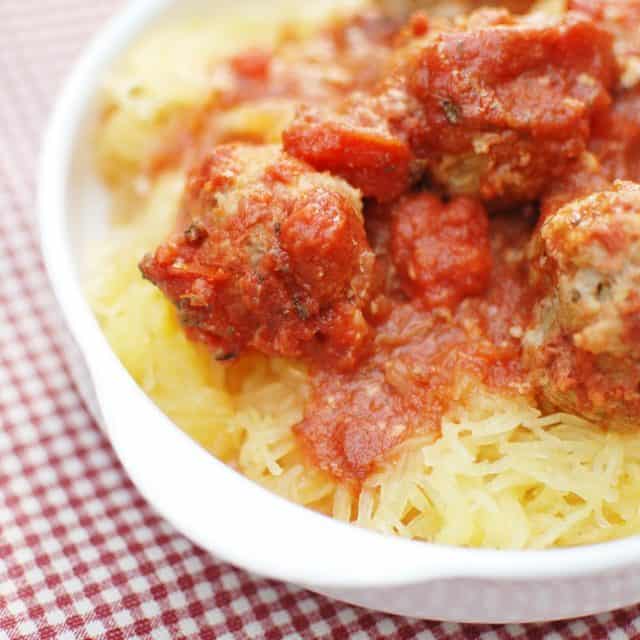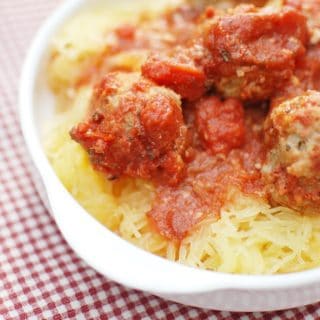 Crockpot Spaghetti Squash and Meatballs
This crockpot spaghetti squash and meatballs is an easy, healthy recipe that the whole family will love.
Ingredients
Meatballs:
1

lb

ground turkey

1

clove

garlic, minced

1

egg

1/4

cup

fresh shredded Parmesan cheese

1/2

cup

breadcrumbs

1/2

tsp

dried parsley

1/8

tsp

salt

1/8

tsp

pepper
Sauce:
28

oz

can crushed tomatoes

2 to 3

cloves

garlic, minced

1/8

tsp

pepper

1

tbsp

Italian seasoning

1/4

cup

fresh basil leaves
Instructions
Slice the spaghetti squash in half (the long way) and scoop out the seeds. Either place both halves in cut side down (if they'll fit that way), or place both in the crockpot on their sides (like an oyster shell).

Mix all ingredients for the meatballs in a bowl. Roll into meatballs and place in crockpot around the squash (or, if you have it oyster-style, place the meatballs in the squash).

Mix all ingredients for the sauce except fresh basil, and pour into crockpot, coating the meatballs and squash.

Cook on high for 3-4 hours or on low for 6-7 hours.

When it's ready, remove the spaghetti squash from the sauce and meatball mixture. Place on a cutting board or plate. Use a fork to pull out the squash noodles from the inside, and discard the outer portion of the squash.

Meanwhile, add fresh torn basil leaves and cook with the sauce and meatballs for about 5 more minutes. If the sauce is thin, keep the heat on high and let it sit uncovered for 30 minutes before serving – it should thicken up a bit.

Top the spaghetti squash with sauce and meatballs. Serve & enjoy!
Notes
Notes:
If you want to confirm the meat is cooked through, test a meatball with a meat thermometer. It should reach an internal temperature of at least 165 degrees prior to serving.
Nutrition analysis (approximate per serving):
391 calories, 14.5 g fat, 4.5 g saturated fat, 1200 mg sodium, 38 g carbohydrate, 7 g fiber, 14.5 g sugar, 32 g protein, Vitamin A: 20%, Vitamin C: 44%, Calcium: 26%, Iron: 31%
Nutrition
Share: Does the smell of tomato sauce in your house all day bring back good memories? Have you ever tried crockpot spaghetti squash and meatballs?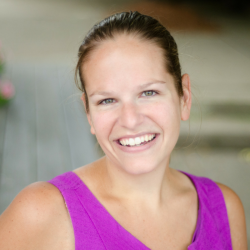 Latest posts by Chrissy Carroll
(see all)