Time for a vote – how many of ya'll have had dragon fruit before, and how many people have never tried it? I was on the later side of that vote up until this past week! Frieda's Specialty Produce surprised me with a free box of dragon fruit in the mail and I couldn't wait to test out some recipes with them. First up? A dragon fruit smoothie of course!
Before I get to the recipe, I thought I'd share some helpful dragon fruit info in case you're shopping for them!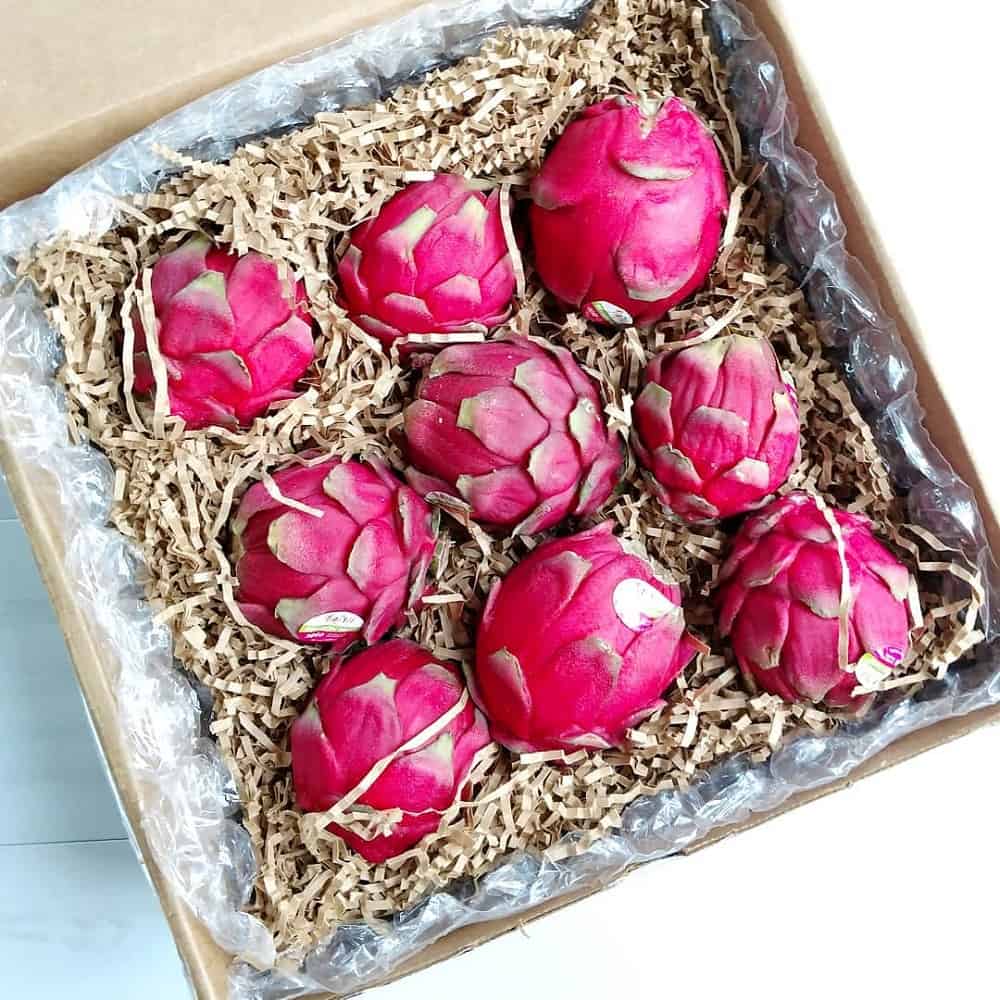 What does dragon fruit look like?
If you've never seen a pitaya – the scientific name for dragon fruit – up close, it's basically a stunningly pink, round or oval fruit. You'll see some "scales" or "spines" on the outside (some people compare it to the way a blow fish looks). These usually have a bit of a yellow or green tip.
When you slice open a dragon fruit, you'll see the flesh sprinkled with tiny edible seeds. The flesh can be either white in color, or – as in the case for the variety I received – a bright magenta to red color.
Tip – be careful with them once cut, as they can stain pretty easily! I probably should have not let me 3-year-old sit on the counter with me and try them while wearing a white shirt. 😉
How to eat dragon fruit
The simplest way to eat a dragon fruit is simply to cut the fruit in half (if it's oval, cut it the long way), and scoop out the flesh. If any of you have ever just sliced a kiwi in half and eaten it with the spoon – the dragon fruit just feels like a bigger version of that.
Of course, you can also incorporate it into recipes, like dragon fruit smoothies and smoothie bowls, popsicles, sorbet, fruit salad, salsa, and more.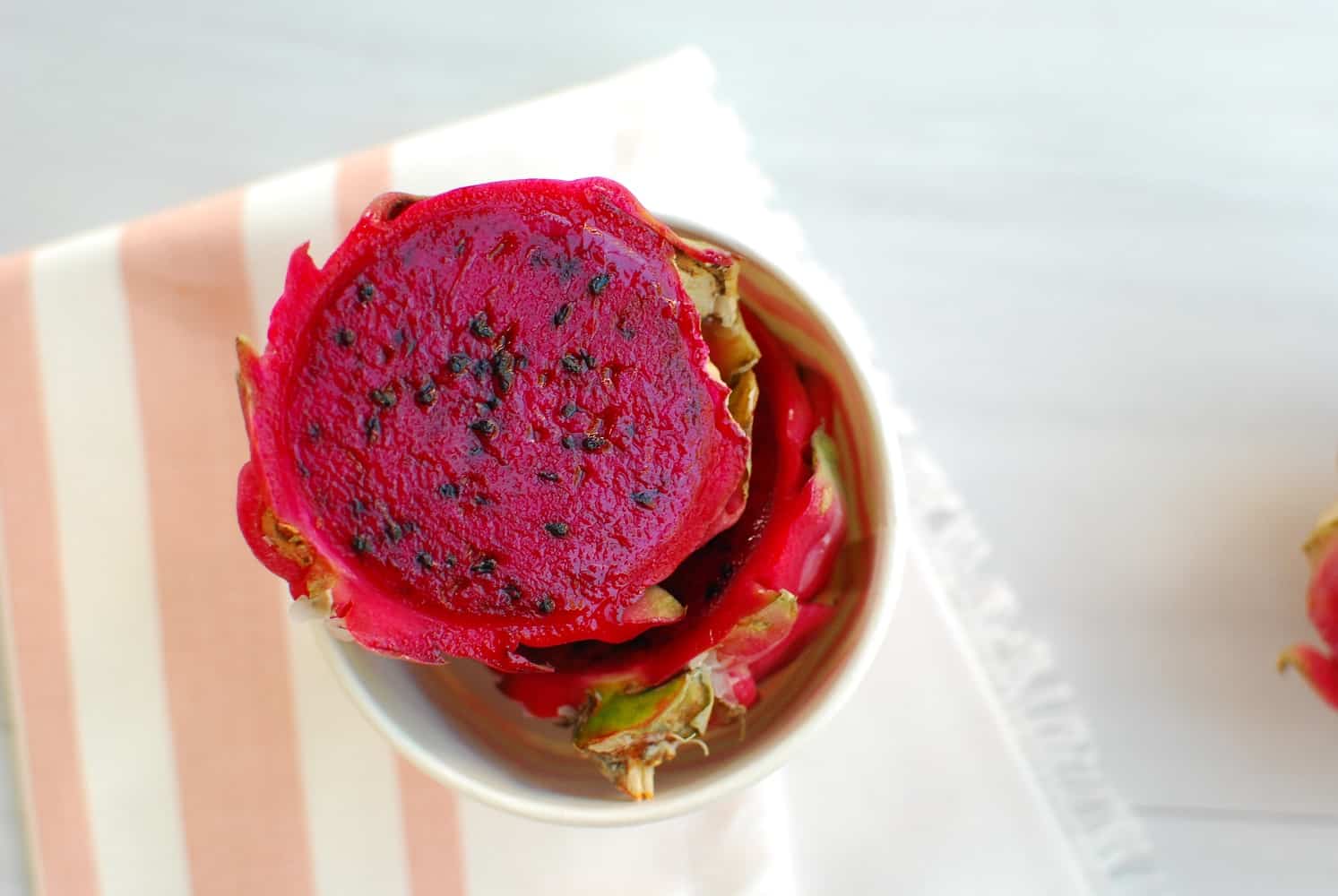 What does dragon fruit taste like?
Despite its vibrant color, the flavor is far milder than you might expect. Think of it like a subtle mix between a kiwi, pear, and watermelon – with a texture most similar to a kiwi.
Can you freeze dragon fruit?
If you're planning to use it for something like this dragon fruit smoothie – yes! Stock up when your store has a sale, cut the flesh out and slice into chunks, and freeze for later. Toss it in your smoothie frozen.
Quick tip: you may need to add a little extra liquid to your smoothie if you're using frozen rather than fresh dragon fruit.
If you want to eat dragon fruit as-is or in a fruit salad, you should stick to purchasing fresh, as the texture can get a bit mushy if you defrost what you've frozen.
Nutrition benefits of this dragon fruit smoothie
I love the plant power that's packed in this smoothie! It's made with just three ingredients – grapes, cranberries, and dragon fruit – all of which are excellent sources of Vitamin C (important for immune health). All three are also rich in antioxidants / polyphenols.
[Tweet "Need a a powerful nutrition punch at snack time? Try this dragon fruit smoothie!"]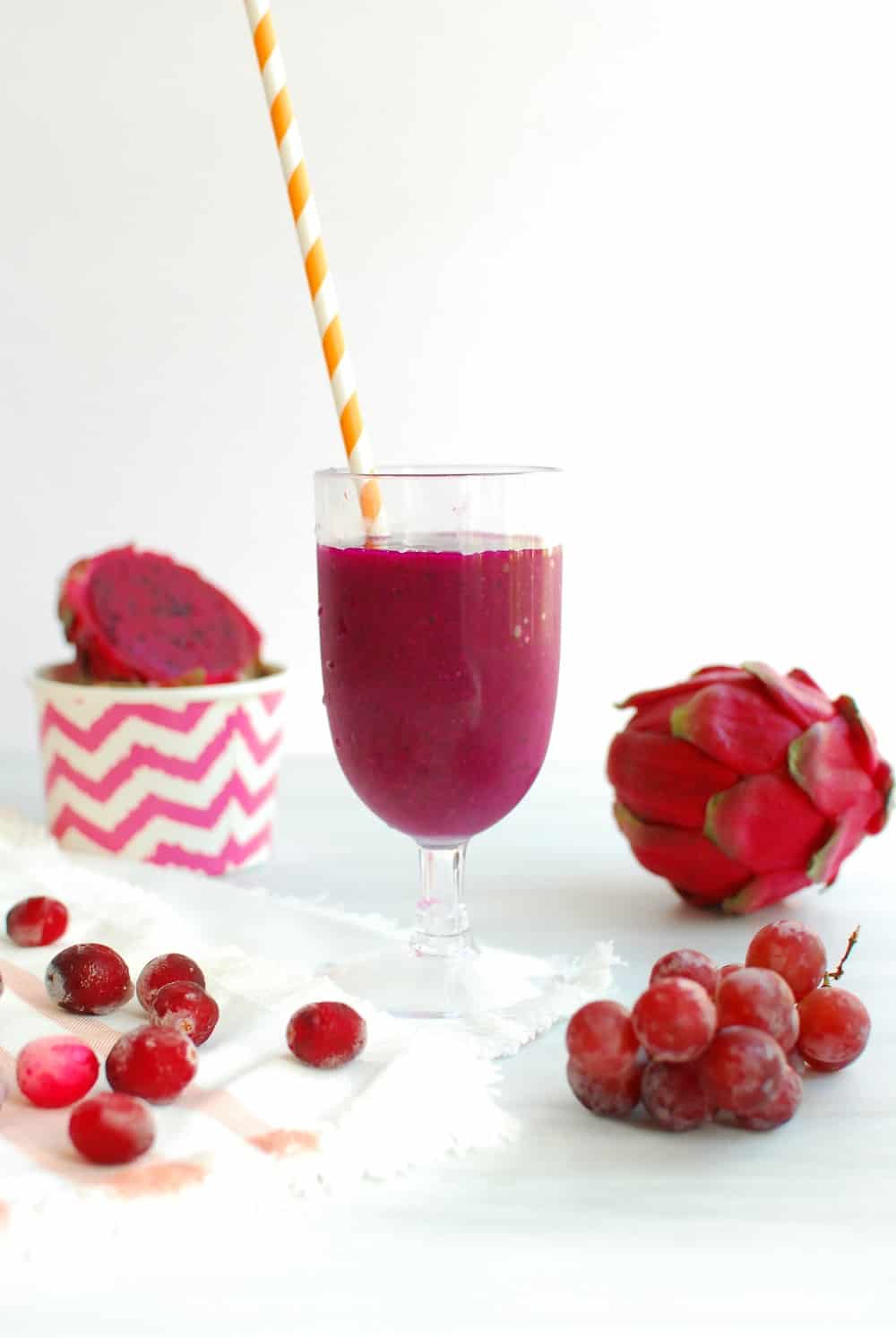 Here's a quick overview look at each of the foods in this smoothie:
Grapes
You've probably heard about resveratrol this when people talk about the health benefits of wine – but regular ol' grapes have some resveratrol too! In addition to the variety of heart health benefits associated with resveratrol, there is new research showing potential (though not proven) benefits of grape products for endurance performance and protecting against oxidative damage after exercise.
Cranberries
Cranberries are a powerhouse of several different types of antixodants. No doubt you've probably heard about possible UTI benefits with cranberries, and while the data varies a bit, many studies do suggest that some UTI prevention benefits. The plant components in cranberries may also play a role in cancer prevention.
Dragon Fruit
Pitaya contains a variety of antioxidants as well, including betalains in the red flesh variety (this is also the primary antioxidant found in beets). Betalains may have anti-inflammatory properties and help protect the body from damage after intense exercise.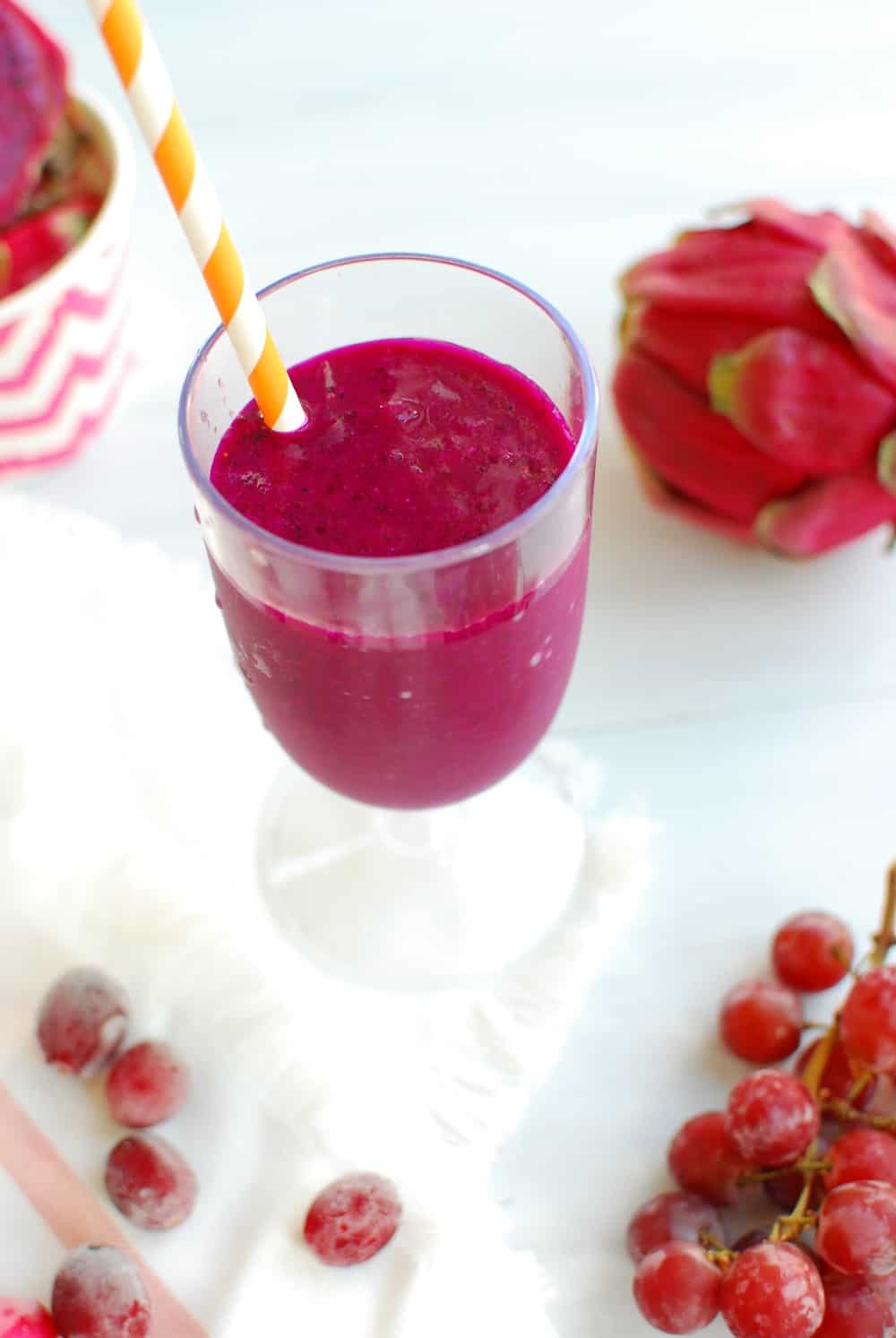 Ready to make this pitaya smoothie?
Give it a try today, and let me know what you think! I personally loved this smoothie (and as you can see from the photo, it's also kiddo approved if you're planning to share with your little ones). If you haven't had a chance to pick up dragon fruit yet at the store, pin this for later so you can try it when you do.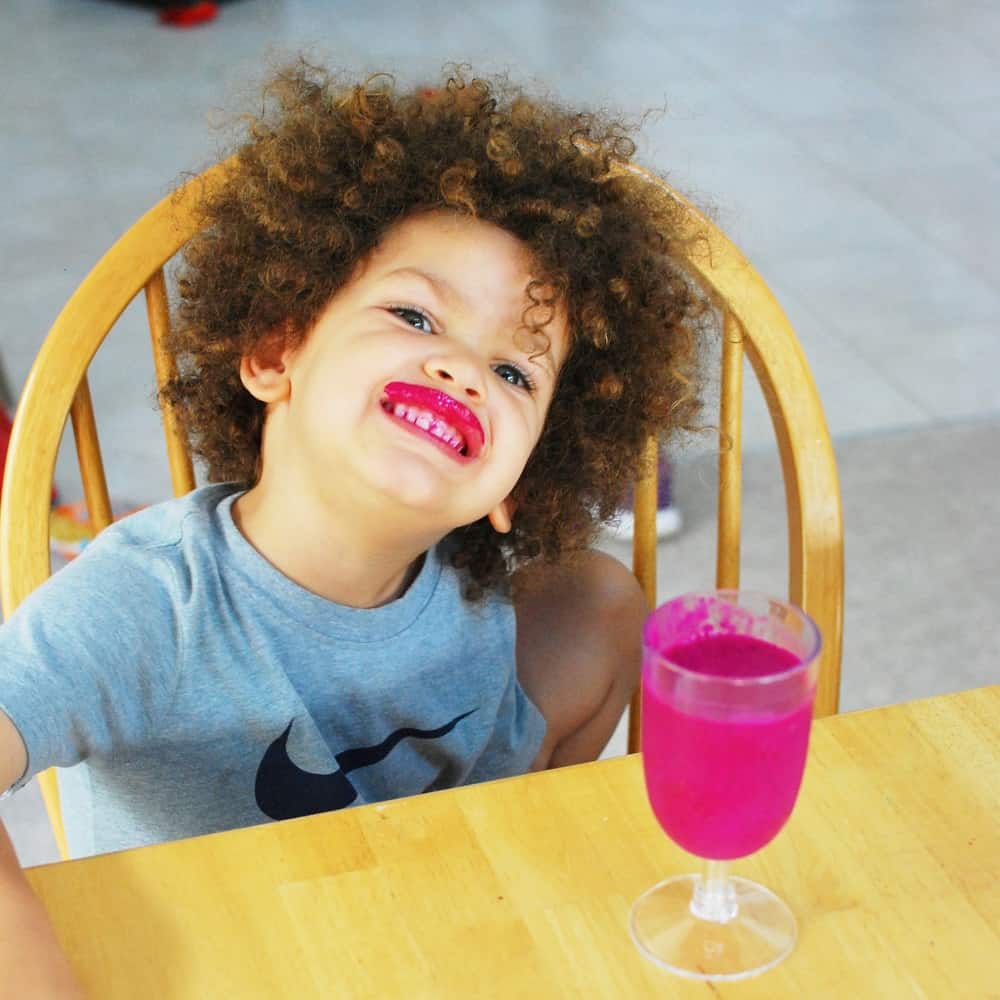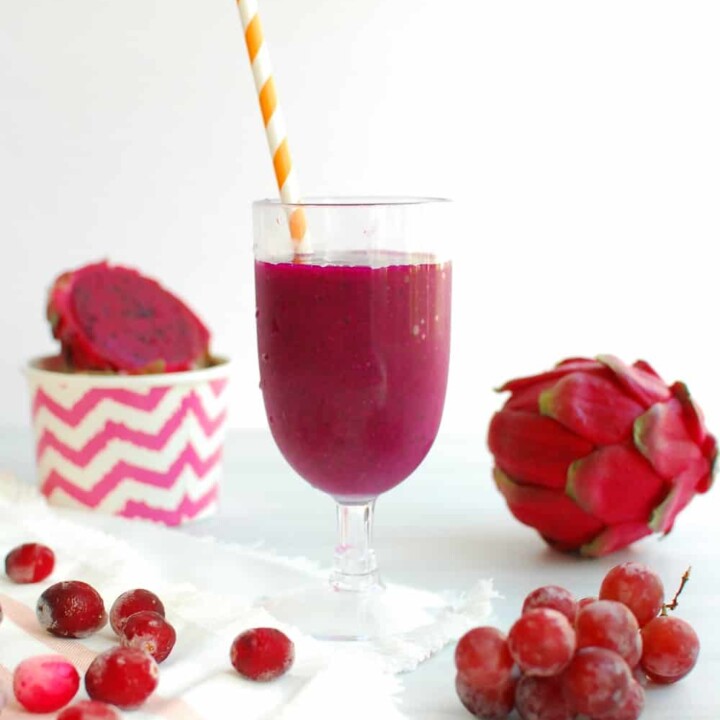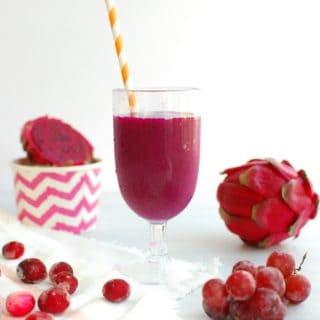 Sweet & Tart Dragon Fruit Smoothie
This sweet & tart dragon fruit smoothie is a perfect snack to boost your antioxidant intake!
Ingredients
1/2

of one whole fresh dragon fruit, flesh only

1/2

cup

red grapes

1/4

cup

frozen cranberries
Instructions
Slice the dragonfruit in half and remove the flesh from the peel using a spoon. Discard the peel.

Place half the dragonfruit in a blender with the grapes and cranberries. Turn the blender on until all ingredients are well combined. If the mixture is too thick, add a splash of water or unsweetened almond milk, and then blend again. Enjoy!
Notes
Notes:
If the dragonfruit was ripe and juicy, you shouldn't need to add any liquid. If it wasn't quite as juicy, add about ¼ cup of water or almond milk.
If you are using frozen dragon fruit, you'll likely need to add some extra liquid as well.
This recipe makes one small snack size version. You can double the recipe for a heartier snack or to split with a friend/spouse/kiddo.
Nutrition analysis (approximate):
94 calories, 1 g fat, 0 g sat fat, 2 mg sodium, 22 g carbohydrate, 3 g fiber, 16.5 g sugar, 1 g protein, Vitamin A: 1%, Vitamin C: 34%, Calcium: 1%, Iron: 5%
Nutrition
Share with me: Have you ever tried dragon fruit? What's your favorite way to use it? If you tried this dragon fruit smoothie, what did you think?!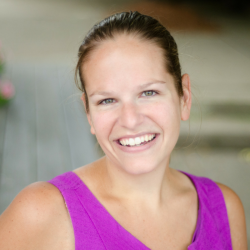 Latest posts by Chrissy Carroll
(see all)