When it comes to running, soreness and tightness can (quite literally) be a pain in the butt. The glutes (the muscles of our butt) are a common topic of discussion when it comes to our sport. From a functional standpoint, healthy glutes (meaning strong and flexible) play an important role in injury prevention and running performance.
Like any of the muscles in the lower body, the glutes can get stiff and sore with continued use – whether from an intense workout or improper mechanics. Luckily, there are some great glute stretches for runners that will feel great when you need them!
Disclaimer: This post was written by JayDee Vykoukal, Doctor of Physical Therapy. It has been reviewed by Chrissy Carroll, MPH, USAT Level I Triathlon Coach, RRCA Running Coach. This post is for informational purposes only and does not constitute medical advice. Please consult a physician for any medical concerns.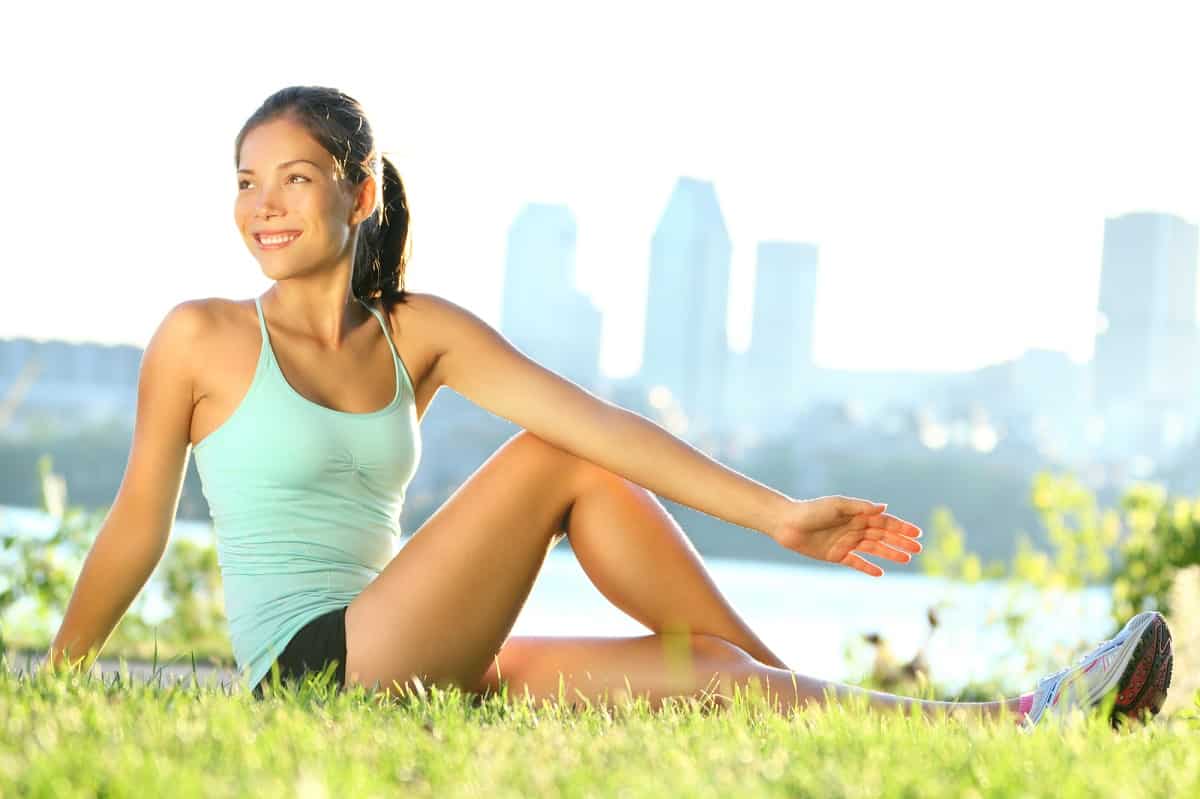 Understanding Basic Glute Function
The glutes consist of three muscles- the gluteus maximus (the largest, bulkiest muscle in your butt), minimus, and medius. These muscles are involved in the following movements:
Hip abduction (moving your legs away from each other)
External rotation of the femur (rotating the thigh outward)
Extension of the hip (raising your leg behind you)
Internal rotation of the femur (rotating your thigh inward) when the hip is flexed past 90 degrees
Stabilizing the pelvis with single-leg activities, such as running and walking
Why Glute Stretches are Important for Runners
Even though this article is all about stretching glutes, it's not necessarily the most important part of encouraging healthy muscles.
Don't get me wrong; stretching can feel great if you suffer from stiff, sore muscles. But for the best results, runners should prioritize glute strengthening exercises as these have more proven benefits (i.e. injury prevention, form improvements, etc).
Overall, stretching is just one part of the equation in nurturing a healthy lower body. With that said, glute stretches can help runners in a couple ways, including:
Maintaining or improving flexibility and range of motion (if needed), which can improve running mechanics if tight muscles are causing imbalances.
Static Stretching Versus Dynamic Warm Ups
Before we get into some different stretches, it's key to understand the difference between static and dynamic movement – and when you should do each.
Static stretches, which are what we refer in the examples in this article, are held for a longer period of time, usually 30 seconds or more. These are useful after a workout for subjective relief of tight muscles.
Dynamic stretching involves moving your body through a range of motion and is great for activating the muscles before activity. For runners, this might include bodyweight squats, butt kicks, a knee-to-chest walk, heel to toe walks, calf raises, walking lunges, leg swings, or other similar exercises.
It's important to note that static stretching before running may actually be detrimental. Some evidence shows that static stretching can negatively impact your performance, particularly with long-distance running.
Key Takeaway: The general rule of thumb is to do dynamic movement before an activity. If you enjoy static stretching, perform it after exercise. Static stretching could decrease performance before a run.
How to Effectively Stretch the Glutes
Now that we understand why glute stretches are important for runners, let's talk about the best way to stretch these muscles effectively.
Do your running or other workouts first, before doing static stretches.
Breathe deeply and never force a stretch. It should feel relaxed and relatively painless (nothing more than the "hurt so good" kind of feeling you get when stretching a sore muscle that needs it).
To prioritize your time, focus on identifying stiff areas in your body, then target them with specific stretches.
9 Glute Stretches
Now, let's review some of the best glute stretches for runners. Most of these stretches target both the glutes and deeper hip rotator muscles.
1. Standing Figure Four Stretch
A figure four stretch is the go-to glute stretch for many runners. This stretch targets your glutes and deep hip rotators. It can be done in a variety of positions. First, we'll cover the standing option.
While standing, pick your right foot up off the floor to stretch your right glutes.
Bend your right knee and rotate your hip so that you can rest your right ankle on your thigh just above your left knee.
Ensuring that you feel balanced, now start to squat (slightly) to bend the left knee and hip further as you bring your chest closer to your thigh.
Stop when you feel a deep but comfortable stretch in your right buttock.
Hold for 30+ seconds for 2 to 3 sets.
Don't forget to switch to the opposite side.
If you're struggling with your balance, you can hold on or try it in sitting or lying down (see below).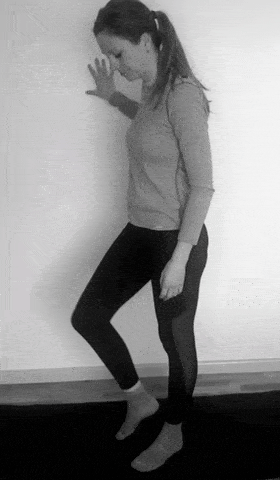 2. Seated Figure Four Stretch
The seated figure four stretch is the same as the standing version but has one key difference – you sit down to do it. The seated position can provide extra stability and sometimes allow for a deeper stretch.
Start by sitting in a chair or on the floor with your knees bent and feet flat on the ground.
Cross one ankle over the opposite thigh.
Now, bring your chest closer to your thighs to deepen the stretch in your glutes.
Hold for 30+ seconds and repeat 2-3 times on each side.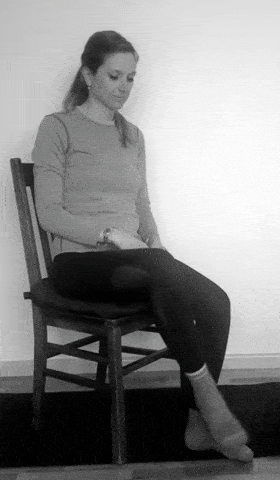 3. Supine Figure Four Stretch
The supine figure four stretch is the same as the standing and seated versions, but you do it lying on your back. This can be a great stretch if you have persistent tightness or limited mobility due to injury. It can also minimize strain on the back if this is a concern.
Start by lying on your back with both feet flat on the floor and knees bent.
Lift one foot off the ground and cross that ankle over the opposite thigh.
From here, you can use your hands to bring that knee towards your chest for a deeper stretch in the glutes by grabbing behind your thigh.
Make sure to keep your neck relaxed as you reach to avoid muscle cramping.
Hold this position for 30+ seconds and repeat 2-3 times on each side.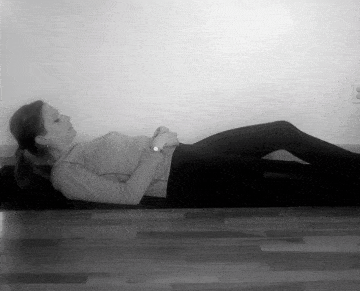 4. Seated Forward Lean
The seated forward lean is great for stretching both the hips, glutes, and thighs. It can help alleviate tightness in the groin, hips, lower back, and hamstrings.
Start by sitting with your legs crossed.
Now, bend at the waist and reach your hands forward until you feel a stretch deep in the hips and low back.
You can try a butterfly stretch if your flexibility does not allow a full cross of the legs. Make sure you lean forward to address the glutes.
On the other hand, if you're flexible and want to progress, you can stack your shins directly on top of each other and parallel with the ground.
Don't forget to switch so that each leg gets a turn on the top and bottom.
Hold for 30+ seconds for 2 to 3 sets.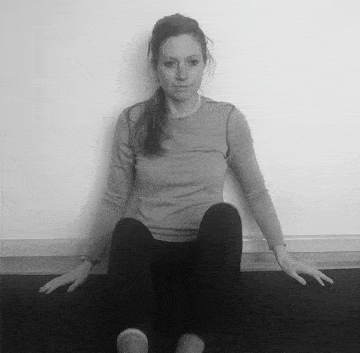 5. Long Sitting Glute Stretch
The long sitting glute stretch is a great way to target the glutes and low back at the same time.
Start by sitting on the floor with both legs extended straight in front of you.
Cross your right ankle over the left knee and rest the right foot flat on the floor.
Now, pull your right thigh toward your chest until you feel a stretch in your right buttock.
Hold for 30+ seconds and repeat on the opposite side for 2 to 3 sets each.
Additionally, you can add rotation to your stretch to address different muscle fibers in the butt and low back. Rotate your body to the right as you pull your right thigh in and vice versa.
Note: This stretch may not feel sufficient for runners that are very flexible. Simply move on to other options on this list.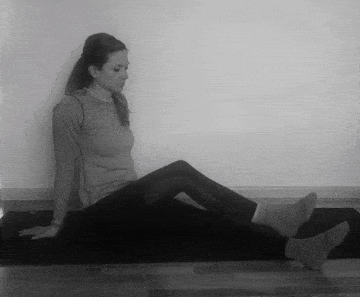 6. Supine Knee to Chest
The supine knee-to-chest stretch is similar to the long sitting glute stretch, but you lie on your back instead of sitting up.
Start by lying on your back with both legs straight.
Bend up one knee at a time, pulling it in towards your chest until you feel a deep stretch in your buttocks.
To change the stretch and target different muscle fibers, try rotating the hip or pulling your knee at more of a diagonal across the body.
Hold each position for 30+ seconds and repeat for 2-3 sets on each side.
This stretch can also be done with both legs simultaneously to get a deeper stretch in the glutes.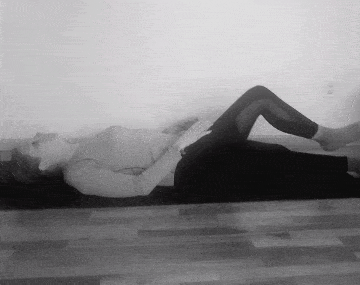 7. Pigeon Pose
The pigeon pose is a great stretch for runners because it targets the hips and glutes while also stretching the hip flexors on the opposite side.
Start on your hands and knees.
Then, bring one leg forward, resting the knee and shin flat on the ground. If your flexibility allows, try to keep the shin perpendicular to the rest of your body.
Keep your back leg straight as you push the front of your thigh down into the ground.
Relax into the position as you bring your body forward, resting on your forearms or even your head and chest if possible.
Hold for 30+ seconds, then switch sides. Repeat for 2-3 sets on each side.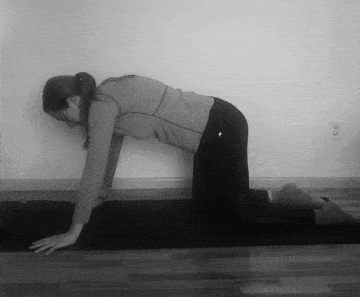 8. Runner's Lunge with a Twist
The runner's lunge with a twist is a great way all-in-one stretch for the hips and glutes while also boosting core strength.
Start in a traditional lunge position, with your front knee bent at a 90-degree angle and your back leg relatively straight.
Make sure your front knee stays behind your toes and aligned with your front toe.
Now, bring the arm opposite of your front leg down toward the floor by bringing your trunk toward your thigh.
Stretch the opposite arm up toward the ceiling to gently rotate the body.
Breathe deeply and hold for 30+ seconds. Then switch sides and repeat for 2-3 sets on each side.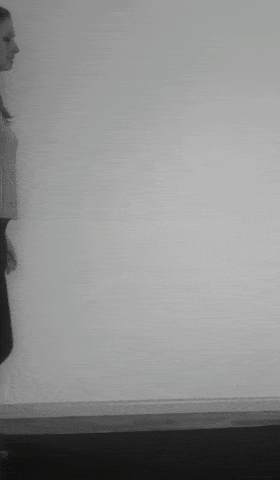 9. Other Stretches to Try
Outside of stretches specifically targeting the glutes, any rhythmic motion promoting blood flow to the hips and trunk can feel great and beneficial. Yoga poses for runners that are particularly great for this and include:
Downward dog
Child's pose
Happy baby
Lizard pose
Wide-legged forward fold
Cat/cow stretches
And more! The key is to find a movement that feels good and offers relief. Experiment with different stretching techniques until you find something that works for you. Just make sure to take it easy and listen to your body as you progress.
Other Tips for Maximizing Your Stretches
Regular stretching may not help running performance, but it can feel oh-so-good after a tough workout. Here are a few tips to get the most out of your stretching and overall running routine:
Workout first: Before you do any static stretches, you should perform your running workout first.
Listen to your body: Don't push any stretch too hard, which can lead to injury or actually cause excessive soreness.
Breathe: During your stretching routine, remember to focus on deep breathing. This will help you relax, increase muscle oxygen flow, and facilitate relaxation.
Don't forget to stretch other key muscle groups: Depending on what muscles you need to work on, supplement your routine with other stretches for other muscle groups that runners use repetitively, such as the calves, hamstrings, hip flexors, and more.
Don't forget strength training too: Remember to also include glute strengthening exercises (as well as other strength exercises for the hamstrings, quads, core, etc.) into your routine. This will help you build muscle strength, endurance, and balance and keep your running form in check.
Learn how to activate your glutes: Some runners maybe have trouble engaging them, so be sure you know how to activate them properly.
Ask for help when you need it: If you find that your muscles are too tight or sore from certain activities, don't be afraid to ask for help. A running coach or physical therapist can help determine why you're dealing with so much soreness and make recommendations.
The Bottom Line
Stretching can feel great after an intense workout, and may help address form impairments that occur with overly tight muscles. Keep in mind, though, that strength training will offer far more benefits for injury prevention and form improvements. Regardless, feel free to incorporate these stretches as they may feel great after a run (just remember to do them post-workout, not before)!
Feel free to pin this post to save for later!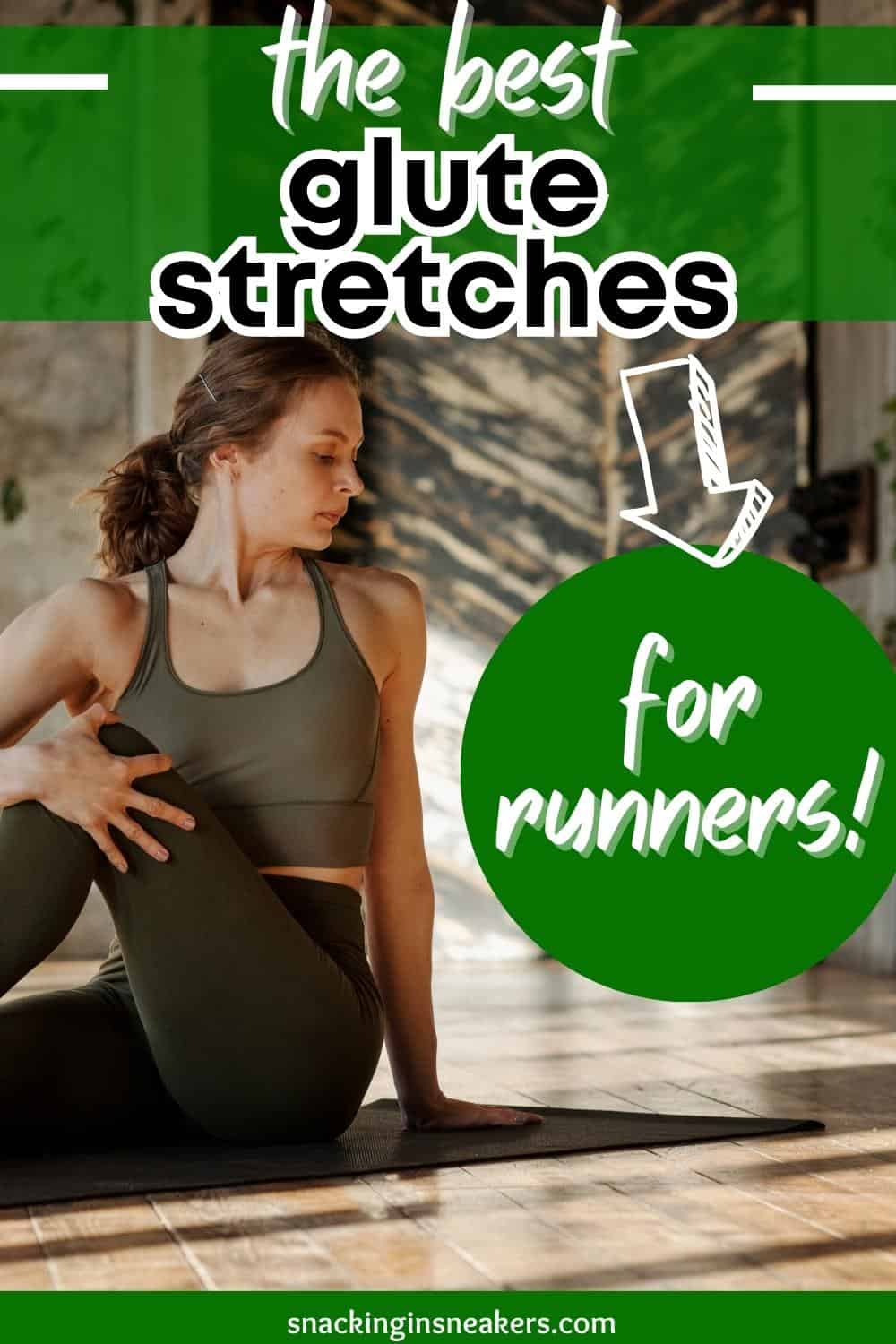 Latest posts by JayDee Vykoukal
(see all)