Smoothie bowls are a refreshing treat for any time of day, from a nourishing breakfast to a cool snack on a summer afternoon. In addition to the many flavors you can create as a base, you can also customize your meal with tons of different smoothie bowl toppings. Check out 20 delicious and healthy toppings that will take your smoothie bowl from good to great!
Disclosure: This post contains Amazon affiliate links. As an affiliate, I earn a commission on qualifying purchases.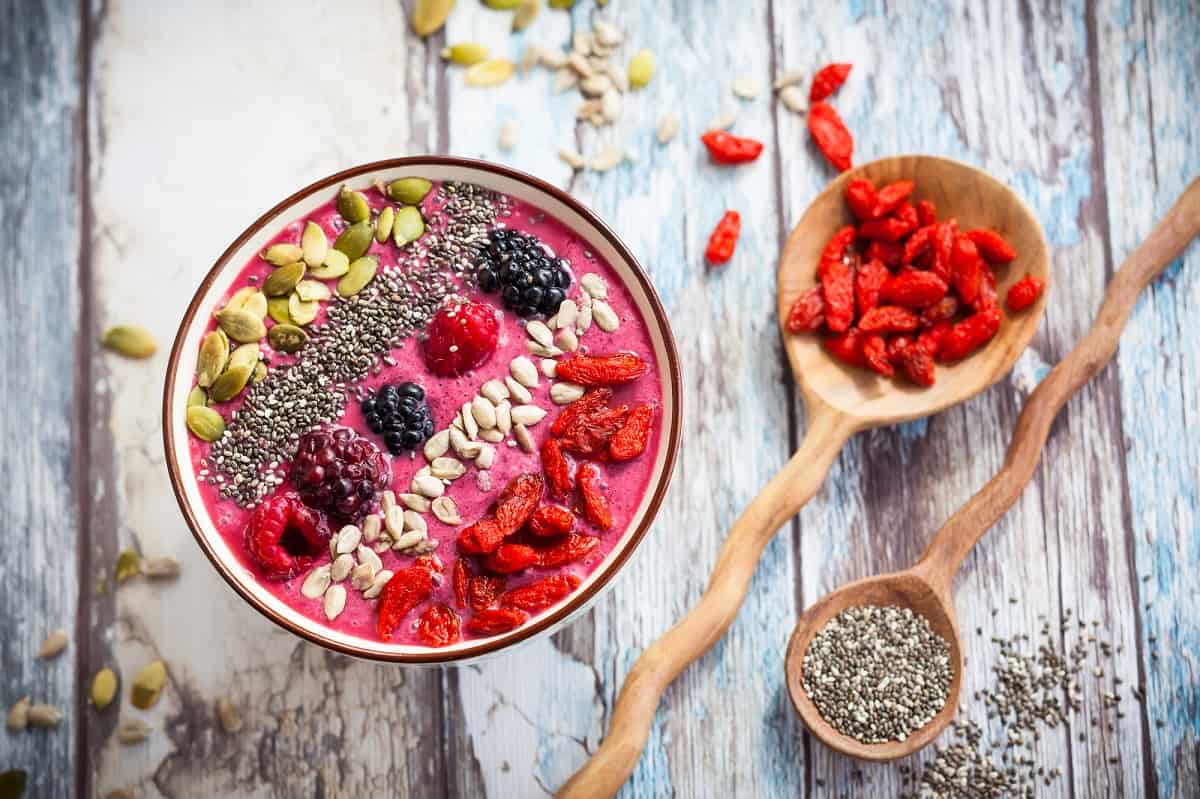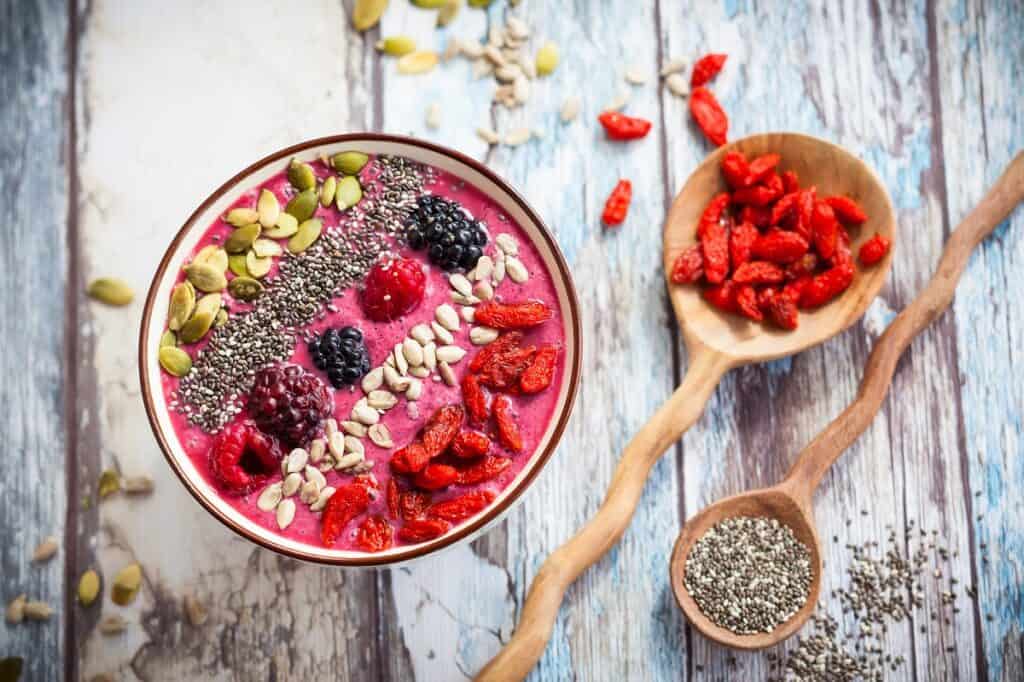 1. Sliced banana
Frozen bananas are frequently added to the base of a smoothie bowl, but fresh ones also taste great sliced on top.
A single medium banana provides about 12% of your daily potassium needs, give or take depending on size (source). This mineral helps regulate blood pressure, muscle function and nerve transmission (read more about the benefits of potassium here). This makes it especially important for active women to get, as you lose potassium in your sweat during exercise.
[PS – Frozen bananas are also great to add to the smoothie recipe itself, as it helps
create thick smoothie bowls
.]
2. Cacao nibs
Cacao nibs are one of my very favorite healthy smoothie bowl toppings! They're a raw, unprocessed form of chocolate (essentially just little bits of cocoa beans) with an intense and delicious taste. They add a great crunchy contrast in texture from the smooth base.
Unlike regular chocolate, these have no added sugar. They're also rich in magnesium (which is very important for active women), polyphenols, and flavanols, and provide a little bit of fiber to help the digestive system.
3. Chia seeds
While most of us remember chia seeds from those silly pets (you know – cha-cha-cha-chia!) – these little seeds are actually a very nutritious addition to the diet!
Chia seeds are packed with healthy fats – in fact, they're one of the best plant-based sources of omega-3 fatty acids. This type of omega-3 is called ALA. The body can convert it to EPA/DHA, though this process isn't overly efficient – so it's still a good idea to also include fish in your diet (which is naturally rich in EPA/DHA) in addition to plant-based omega-3s.
They're also rich in fiber, with one tablespoon providing about 5 grams of fiber! Fiber has several health benefits, like aiding in digestion and lowering cholesterol levels.
Adding chia seeds to your smoothie bowl will give you some extra staying power so you'll feel satisfied for much longer afterward. Sprinkle them on top of your bowl for little bit of crunch.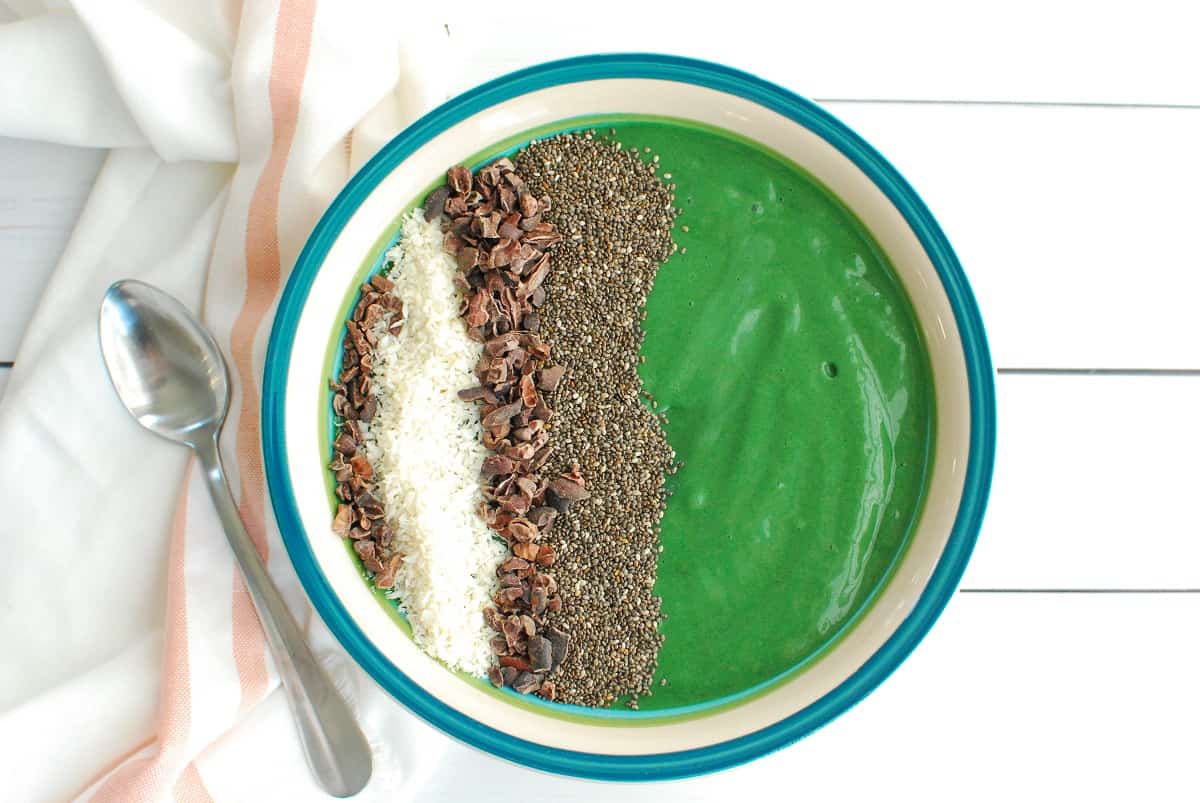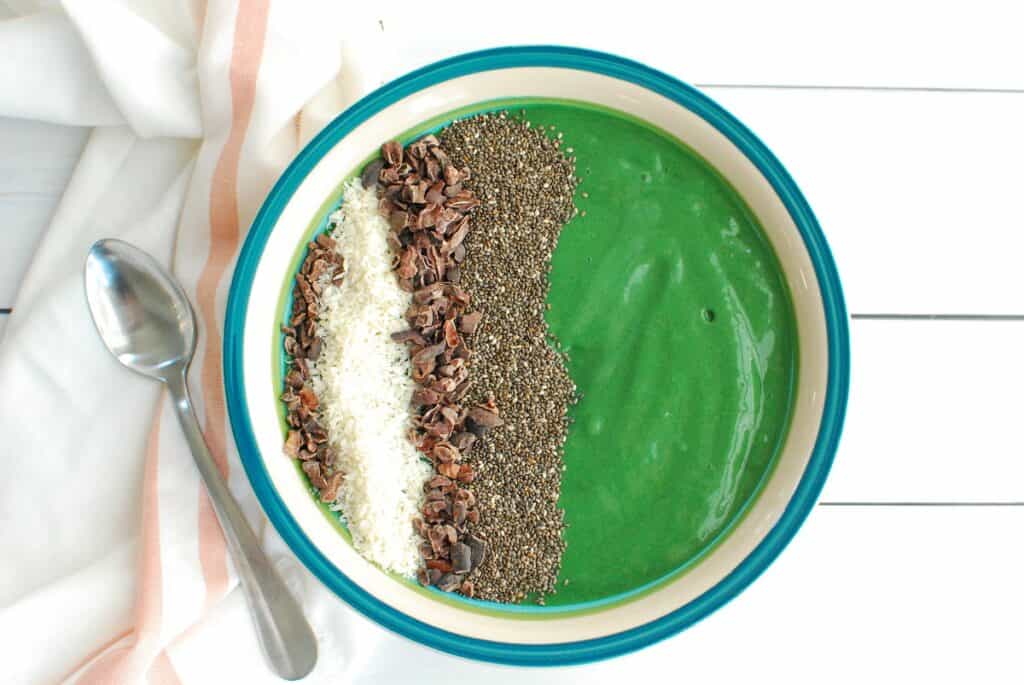 4. Shredded coconut
Coconut is another great addition into your healthy smoothie bowl, adding a little tropical flavor! I recommend buying unsweetened shredded coconut, as this type has no added sugar.
This is one of the few fruits that has a higher fat content, but that fat can keep you full and satisfied for longer. In addition, some of the fat in coconut is a specific type called medium chain triglycerides, which are processed differently than other types of fat.
Coconut also contains fiber for digestive benefits, as well as phenolic compounds that may promote health.
Note – some people do recommend limiting coconut as it's high in saturated fat. Recent research suggests that the type of saturated fat in coconut may not be as harmful as once perceived. As a dietitian, I consider using shredded coconut in moderation on a smoothie bowl to be a healthy choice – but certainly discuss with your doctor, particularly if you are on any diet that limits saturated fat.
5. Lemon Zest
By using lemon zest, you can add an additional pop of citrus flavor to your smoothie bowl!
But that's not all – research states that citrus peel contains "naturally occurring health enhancing compounds, particularly phenolic compounds and carotenoids." These phenolic compounds can act as antioxidants, helping protect against oxidative damage.
I know this sounds very science-y – but think of it this way:
Whenever you have a really intense exercise session, it causes reactive oxidative species (ROS) to form. These can be beneficial to a certain degree to allow for the adaptions we want to see with training (improved performance, strength, etc).
However, too many ROS can damage cells – which is not great. Eating foods rich in antioxidants as part of your regular diet is important for keeping this careful balance.
(This article on ROS and exercise from Examine is excellent if you're interested in learning more about the science on this topic).
6. Chopped Dates
Nature's candy! Dates are a very popular addition into many different recipes due to its natural sweetness. Try chopping up pitted medjool dates or deglet noor dates and adding them to your smoothie bowl.
According to research, dates have the highest polyphenol concentration compared to other dried fruit (like prunes and figs). Some scientists believe the nutrients in dates could help promote brain health. In addition, dates are a natural source of fiber.
7. Hemp Hearts
Hemp hearts, also called hemp seeds, are the edible seed from the hemp plant.
Hemp plants come from the same plant species as cannabis, but generally contain almost no THC. The seeds are incredibly nutritious – for example, one serving of Manitoba Harvest Hemp Hearts contains:
10 grams of protein to support muscle repair and recovery
20% of daily iron needs, essential for helping transport oxygen in your blood to your muscles (and thus very important for active women!)
45% of daily magnesium needs, which is involved in energy production, muscle and nerve contraction, and possibly exercise recovery and muscle health.
25% of daily zinc needs, involved in supporting your immune system
Plant-based omega-3 fatty acids
As you can see, these make a great healthy smoothie bowl topping!
8. Honey
While sugar is sugar regardless of where it comes from, and you do want to minimize added sugar in the diet – a little drizzle of honey can be a delectable addition to your smoothie bowl!
Honey can be a great addition for athletes that need to increase the carbohydrates in their smoothie bowl before a long workout (to provide fuel) or after a tough workout (to support recovery).
In addition to it's concentrated energy source, honey is rich in bioactive compounds, which may support cardiovascular and overall health.
Manuka honey in particular may be a great option for promoting wellness. This type of honey is produced from the nectar of the manuka tree. According to research, this type of honey has strong antibacterial and antioxidant components.
9. Nut Butters (such as peanut butter, almond butter, or cashew butter)
You probably already know that nut butters are a great way to add healthy fats into your diet. What better way to enjoy them than drizzled over your smoothie bowl?!
Peanut butter is usually the first one that comes to mind, but there are tons of other types of nut butters too – from almond butter to pecan butter to cashew butter (and more!). Each has a unique flavor that tastes great.
Different nut butters contain different amounts of protein – here's the average amount based on a two tablespoon serving:
Peanut butter – 8 grams
Almond butter – 6 grams
Cashew butter – 5 grams
Pecan butter – 3 grams
When I want to add more protein, I stick with peanut butter – but when I want to add a little sweetness and richness, my favorite option is this salted caramel cashew butter!
10. Chopped Apples
With fall rapidly approaching here in New England, apples are fresh on my mind! Chopped apples add the perfect taste and texture to a smoothie bowl.
Apples are rich in fiber to support digestive health, are are also a good source of Vitamin C, providing 14% of your daily needs to support immune health.
11. Dried fruit
Dried fruits like raisins, prunes, or apricots can be added to any smoothie bowl recipe! They are sweet by nature and will pair well with most other toppings that you include.
If you're using larger dried fruits (like prunes), try chopping them up into small pieces before using them as a topping.
Most dried fruit contains fiber and antioxidants, helping to promote overall health. Dried fruit is also a concentrated source of carbohydrates, making it a good option for athletes who are training for events.
12. Pumpkin seeds
Pumpkin seeds, also known as "pepitas", are another healthy smoothie bowl topping. In addition to providing protein and healthy fats, they are a great source of:
Iron, helping with oxygen flow in the blood to your muscles
Magnesium, for energy production and muscle health
Zinc, for a healthy immune system
Research also suggests pumpkin seeds have antioxidant activity that can help preserve cellular health.
If you've got a fresh pumpkin on hand, you can roast the seeds yourself – but feel free to just buy store-bought roasted pumpkin seeds! You can find flavored varieties on the market – like cinnamon sugar pumpkin seeds or dark chocolate sea salt pumpkin seeds.
13. Flaxseed
Like chia seeds and hemp hearts, flaxseeds are another great source of plant-based omega-3 fatty acids. It also provides fiber for digestive health, and a beneficial compound called lignans, a type of phytonutrient.
While you can eat whole flaxseeds, it's better to use ground flaxseed as a smoothie bowl topping. When ground, your body is able to better utilize the nutrients in the seed. (When eaten whole, they typically pass through the body largely undigested).
Flax has a bit of a nutty taste and can be sprinkled right on your smoothie bowl.
14. Berries
From blueberries to raspberries to blackberries to strawberries, berries are one of the healthiest additions you can make to your smoothie bowl.
Berries are loaded with antioxidants, helping protect your cells from damage. The polyphenols in berries also help reduce inflammation. Other research suggests berries may play a role in cancer prevention.
They also tend to be higher in fiber than other fruits, helping you to feel full and supporting heart and digestive health.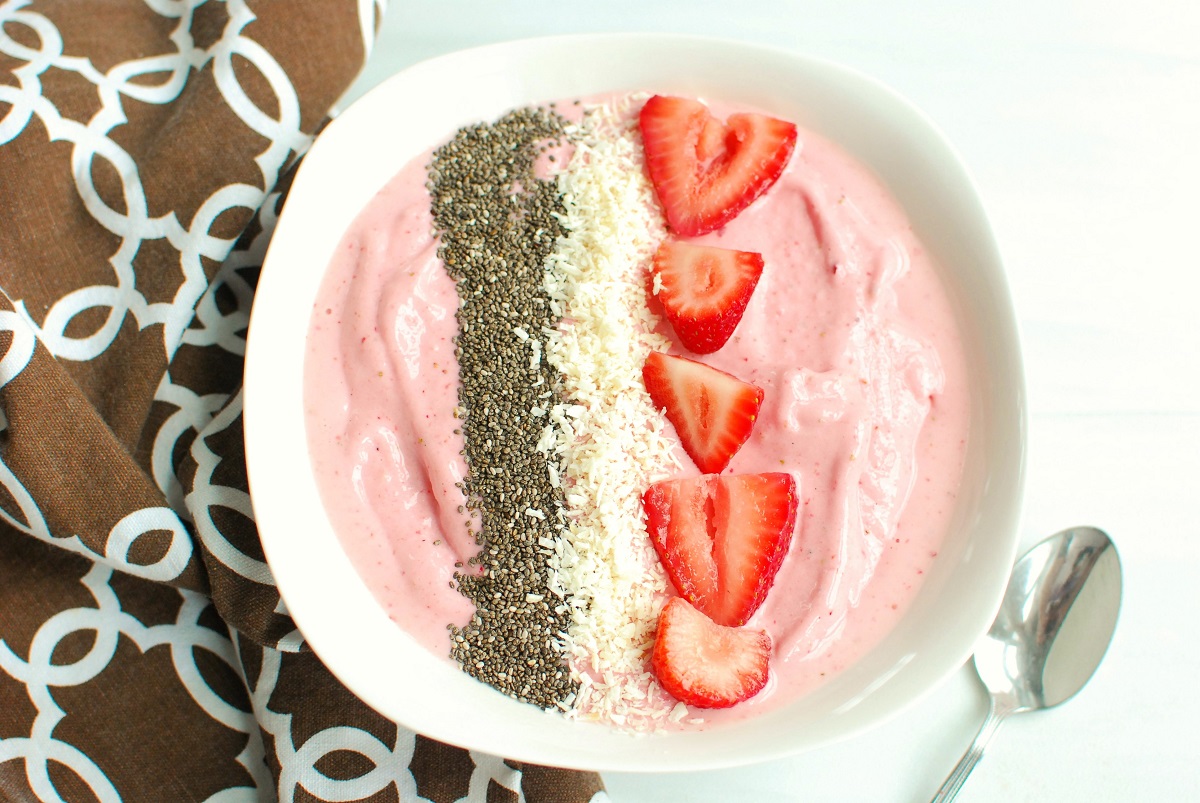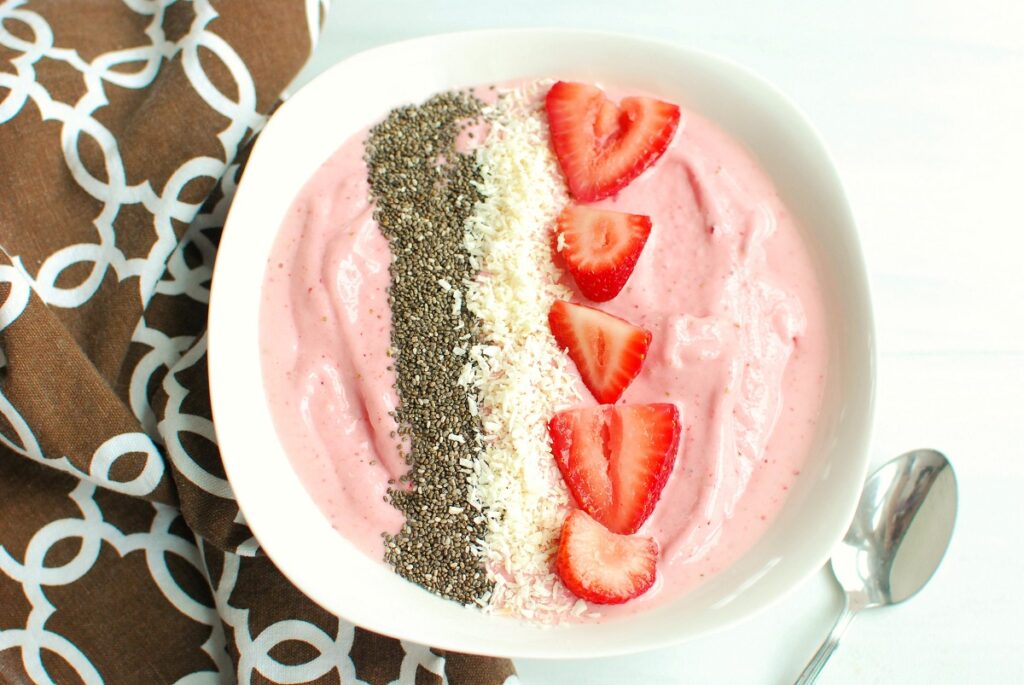 15. Pistachios
Similar to other nuts, pistachios provide a boost of good nutrition to your smoothie bowl.
A one-ounce serving of pistachios contains 6 grams of protein. As a bonus, recent research suggests that pistachios contain all the essential amino acids, making them a complete protein. Most complete proteins are animal foods, so it's nice to have pistachios as a complete plant-based options.
Pistachios also contain healthy fats, as well as antioxidants like lutein, zeaxanthin, and Vitamin E – all of which support heart health. In fact, the FDA allows the following qualified health claim for pistachios: "Scientific evidence suggests, but does not prove, that eating 1.5 ounces per day of most nuts, such as pistachios, as part of a diet low in saturated fat and cholesterol may reduce the risk of heart disease."
16. Chopped Mango
Mango gives me all the tropical feels, whisking me away to memories of Caribbean vacations. Add it to your smoothie bowl for a burst of sweetness.
Mangoes are packed with polyphenols, plant compounds that have beneficial effects in our body. Some of these polyphenols may play a role in heart health.
Mangos also contain potassium, which plays a role in blood pressure regulation. That, or the polyphenols, could have played a role in a 2017 study which found that daily mango consumption led to decreased systolic blood pressure in lean subjects.
17. Cashews
Cashews add a rich, buttery flavor to the top of your smoothie bowl. This crunchy topping works well for bowls with chocolate or peanut butter in their base.
These nuts are rich in healthy fats and antioxidants.
They also may support metabolic and cardiovascular health – for example, a 2019 study found that eating cashews daily reduced insulin levels and improved the LDL:HDL cholesterol ratio. Similarly, a 2017 study found that eating cashews helped improve total and LDL cholesterol levels.
18. Goji Berries
The goji berry is the bright fruit from a plant that's native to Asia. They have a flavor that hovers between sweet and tart.
Goji berries are rich in Vitamin A, which supports vision and immune health. They also provide fiber and iron. According to research, they are very rich in antioxidants.
You may be able to find goji berries in the natural section of your grocery store, but they're not super main stream (yet). If you can't find them there, you can find a lot of options online.
19. Slivered Almonds
Almonds are great to use as a topping, thanks to the combination of fat and protein – which makes your smoothie bowl more filling.
While some people get nervous about eating nuts because they're calorically dense, keep in mind they come packed with tons of other nutrients and benefits.
For example, did you know that almonds may also act as a prebiotic, helping feed the good bacteria in your gut and promote a healthier microbiome? Most people don't think of nuts for this purpose.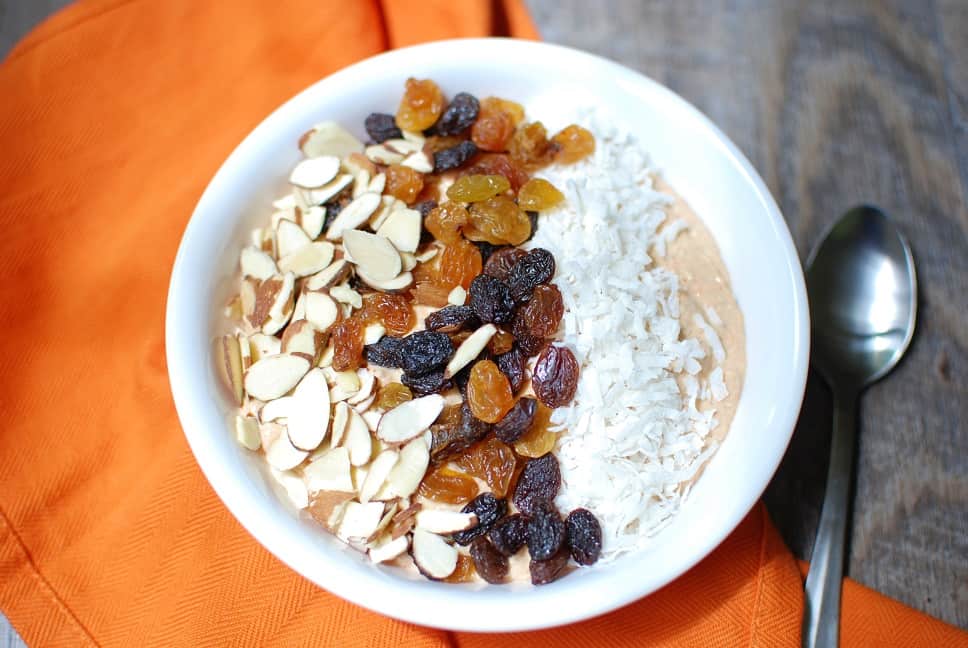 20. Cinnamon
Don't forget about your spice cabinet when it comes to smoothie bowl toppings! Adding a few shakes of cinnamon to your bowl adds aromatic, warming flavor to your bowl.
But cinnamon might not just be for flavor. Some research suggests this spice may help manage blood sugar levels, and other suggest it may impact blood lipids. Now keep in mind that many of these studies look at supplementation of cinnamon rather than use in foods – so it's unlikely you'd reach that high of a dose with normal food usage.
Nonetheless, we don't know if small amounts might be helpful, so why not use a few shakes of cinnamon here and there!
Final Thoughts
From pumpkin seeds to peanut butter to lemon zest – and everything in between – there's no shortage of creative ways to customize your meal with these healthy smoothie bowl toppings! Whichever you decide to use, these will help you add variety while keeping your body fueled with good-for-you ingredients.
Share: What are your favorite toppings?
Feel free to pin this post to save for later.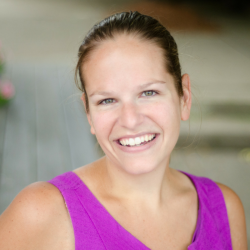 Latest posts by Chrissy Carroll
(see all)