Have you ever found yourself staring down the protein aisle of a supplement store, wondering what is best to buy? Hemp vs. pea protein, whey protein vs. plant based protein; isolates vs. concentrates….it can be overwhelming!
When it comes to protein, I'm always going to be a food first person – you can totally meet all your protein needs with whole foods. But I also understand how a protein powder can help for a post-workout or meal replacement shake during busy times. While I generally recommend whey protein powder, that's obviously not an option if you follow a vegan diet – you'll need to search for a plant-based choice.
Today I've got Eric Carey here, a dietetics student with a degree in exercise science, to break down everything you need to know about two of the most common plant-based protein powders on the market: hemp protein vs. pea protein.
The Plant Protein Face Off
All protein isn't created equal. (mic drop)
And when it comes to you, your exercise recovery, and your overall health and well being – understanding why this statement is true can make all the difference between getting all the amino acids that you need at that key post-workout time…
…Or not.
Ya heard?
Because whether it be tofu, lean meats, beans, or milk – no protein is created the same and the differences between them are actually more abundant than you might think… or taste.
For example:
BCAA content (branched chain amino acids)

EAA content (essential amino acids)

Digestibility

And a protein's effect on insulin [1]
These are actually all different depending on the source of protein in which it came.
So by taking a look at your protein options and seeing how each of them compare and contrast – you'll be able to make more informed "protein decisions" – without the mistake of ignoring those key and vital nutrients.
Today there are two specific plant sources of protein that I think we need to talk about given how common they are amongst the population. Because although these sources of protein are both in fact "plant based"… they too have some similarities and differences between that are worth pointing out for you to know.
So without further ado – let the nutritional comparison begin. And hey…
Let the best plant win. 😉
Hemp Protein vs. Pea Protein: A Comparison Between the Two
Hemp protein and pea protein are two popular plant based proteins that are an alternative to any dairy based option. This makes them a good choice if you don't currently eat dairy products for allergy reasons, or if you follow a vegan diet.
Whether in powder form, or eaten in their whole food state, both of these guys provide a nutritional punch with plenty of protein and additional nutrients per serving.
However, when it comes to their overall nutrition, BCAA content, and use for either a post work out meal or meal replacement shake – it's worth putting them side by side and pointing out where one might shine over the other.
1. Nutritional Comparison
Pea Protein:
So up first… pea protein is in the hot seat and I can already see why an athlete might use this as their post workout go-to .
Aside from having a slighhhtly different taste and being from, well… peas — pea protein more closely mimics the macronutrient profile of your traditional whey shake compared to many other plant proteins. [Of course, research on efficacy compared to whey is limited – there have been two main studies comparing whey and pea protein – which you can read about in this post – but if you need a plant-based option it can be a good alternative.]
According to one popular brand, their 30g serving of pea protein comes out to roughly 2g of carbohydrates, 0.5g of fat, and a whopping 27g of protein per serving for you to enjoy. (Some other brands fall more around 24-25 grams of protein per serving; it just depends on the formulation and other ingredients).
Here's a visual breakdown: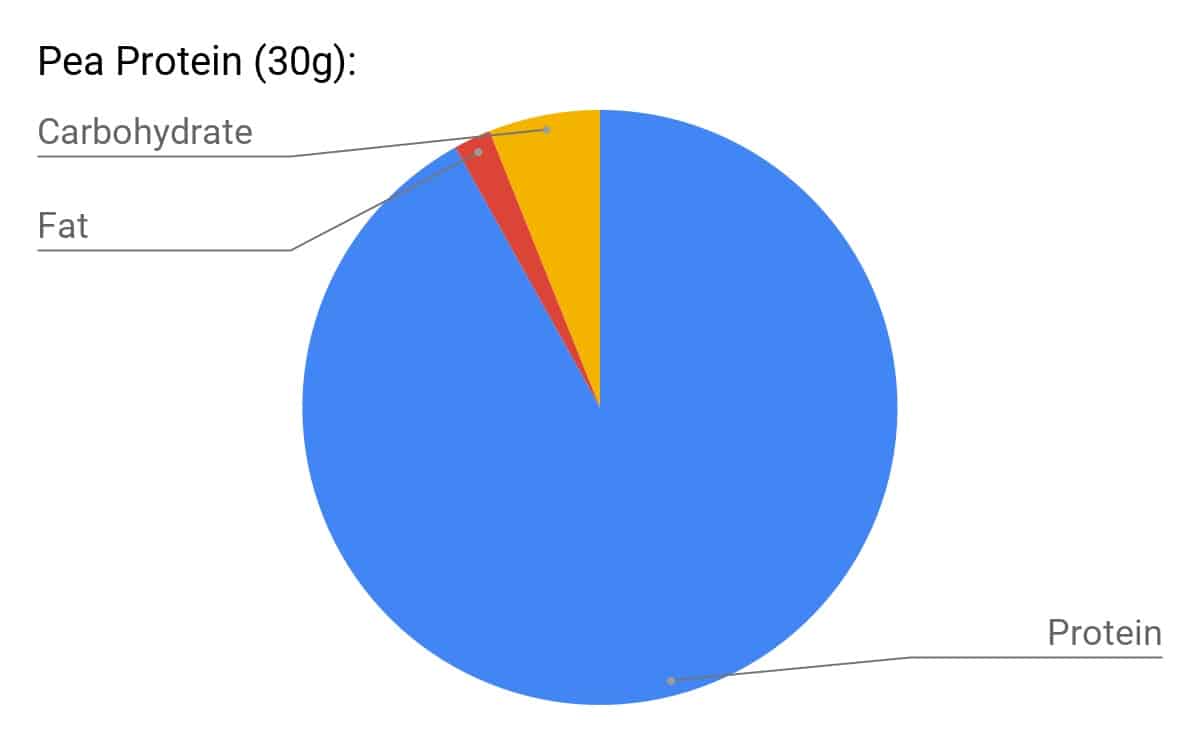 Now that's a lot of blue.
Pea protein is also a good source of B6, iron, zinc, and even choline which is a vitamin typically only found in animal products like eggs [3].
And since it contains all 9 essential amino acids per serving – pea protein overall makes for a great choice.
Hemp Protein:
So what about hemp?
Well, aside from being a little less common compared to the other plant based proteins out there – hemp protein is still a nutritional powerhouse and a great option for you to try.
Coming packed with more fiber, fat, and slightly less protein than the majority of the supplements on the market – hemp protein seems to be more of a meal replacement option than something you would go for right after a workout.
In one popular brand's 30g serving, hemp protein contains roughly 90 calories, 3g of fat, 9g of carbohydrates (8g from fiber) and 15g of protein — which is noticeably different from it's pea competitor above. (Again, exact nutrition facts will vary by brand though).
Here's a visual breakdown: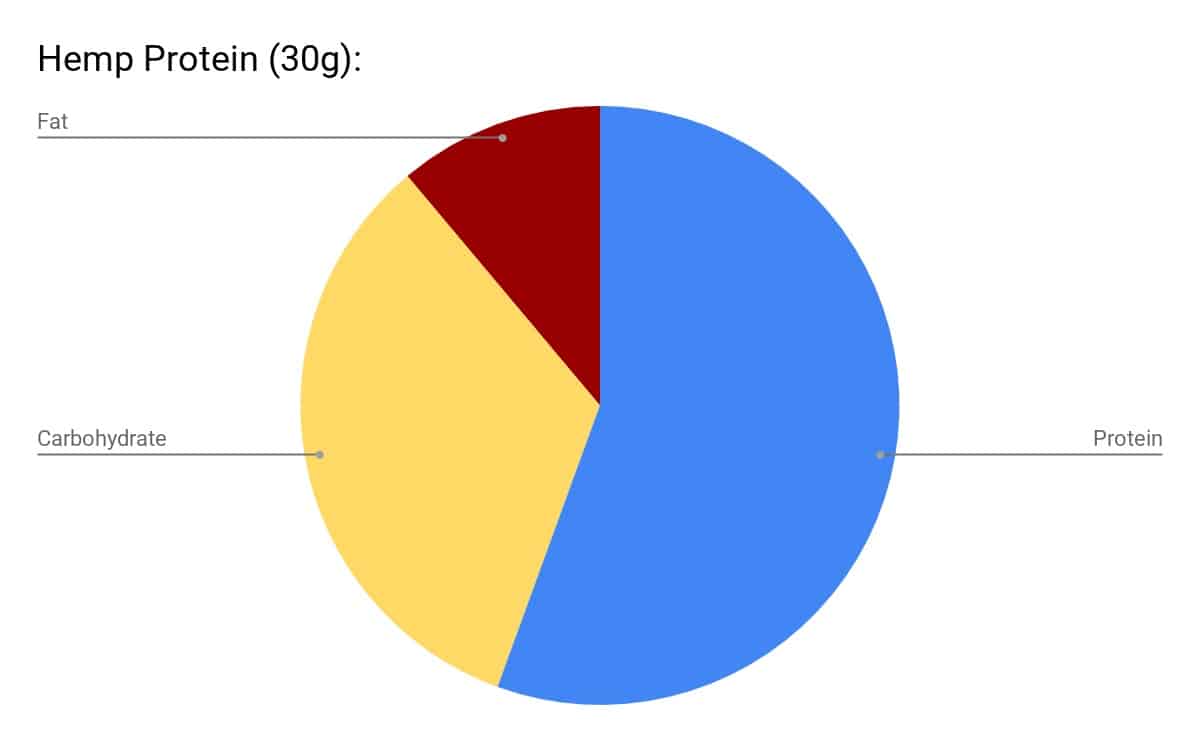 The extra fiber and fat, for this reason, might not make it the best choice for your post workout use, but as a stand alone meal or sprinkled in some oatmeal? Hey now… hemp protein will definitely help keep you feeling fuller, longer!
Definitely a win in my book. It's also loaded with magnesium [7], contains some omega-3 fatty acids [7], and even phytosterols (molecules that help to effectively clear out any LDL cholesterol lurking around [4]) – so hemp protein has a lot of cool benefits that other proteins lack.
BCAA content
So next, let's take a sneak peek under the hood of these proteins in terms of their BCAA content. But first…
Let's define what a BCAA actually is:
BCAAs, or Branched Chain Amino Acids, are simply a group of amino acids that contain an additional carbon branch to their structure… hence the name "Branched Chain" (see below)
(Photos above are available for use under the Creative Commons Attribution-Share Alike 3.0 Unported license. )
Leucine, Isoleucine, and Valine make up this "branched chained" community and are also a part of the 9 essential amino acids that we can only obtain from food [8].
Okay.. but what makes them so special?
Well, BCAAs have been shown in the literature to be beneficial in terms of decreasing exercise-induced muscle damage while promoting muscle-protein synthesis when supplemented before and/or after exercise [5].
So when it comes to hemp protein vs. pea protein, which protein comes with more BCAAs?
Behold:
Hemp Protein BCAA Content:
So per 100g serving, Hemp Protein is a bit on the lower side when analyzed against the likes of pea protein and your other animal/dairy based proteins out there.
Leucine, Isoleucine, and Valine measured 2.6g, 1.0g, and 1.3g per 100g serving respectively which fell a little lower than average when compared to the 15 other proteins [6].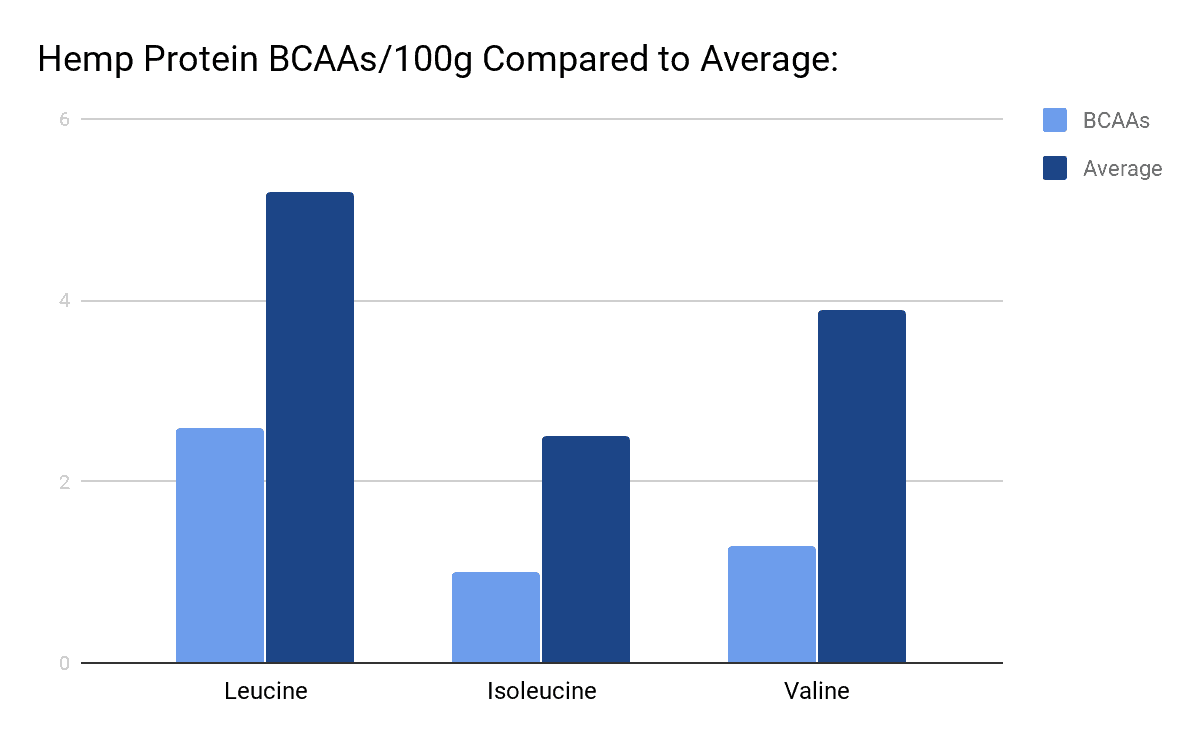 You can see the pretty stark differences between the amounts of BCAAs in the light blue bar – hemp – versus the dark blue bar, which was the average of all the proteins.
Pea Protein BCAA:
Pea protein on the other hand… performed surprisingly better.
Per 100g serving of the green guy you know and love: Leucine, Isoleucine, and Valine measured 5.8g, 2.0g and 2.8g respectively which was right up there with some other animal based options like whey and caseinate [6].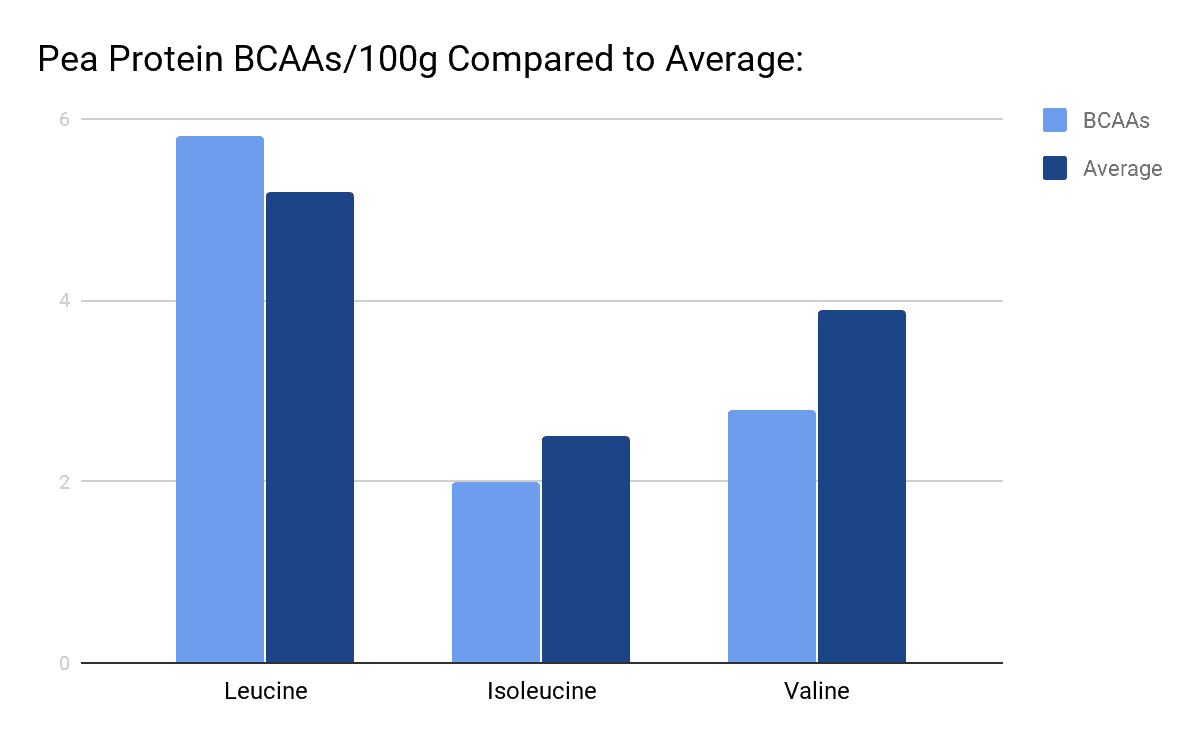 So, does this make hemp protein suboptimal to use?
And my answer to that would be: most certainly NOT when it comes to everyday eating and snacking! Because although being a little bit lower compared to the other protein options available, hemp protein also contains all 9 essential amino acids and, so long as you're eating a variety of foods, a lower BCAA content shouldn't be something to worry about if you were concerned.
Post Workout Use
Now, although both proteins are a great option for you to choose from regardless of the occasion… One protein will definitely shine after a long, hard and overloading training session – and that is Pea.
Mainly because pea protein not only contains more BCAAs per scoop (which was shown in the literature to help aid in recovery) – but also because it's lower in fiber, lower in fat, and comes packed with more protein per serving to be better absorbed.
This means in that key 30-60 minutes after a workout, pea protein will likely be an option that more efficiently starts the muscle repair process, compared to some of the other plant-based proteins.
Meal Replacement Use
However… as a stand alone meal? Hemp protein takes the cake due to the opposite reasoning we noted above. The higher fiber and fat in this situation will help slow down the protein's digestion which, during those times where you have to go without food for a while, will help keep you feeling fuller, longer.
However, if you're having, say, a high fat liquid or food with either of these protein sources, any option would be okay to use… But hemp still gets an honorable mention thanks to its macronutrient profile and its effect on digestion.
Hemp Protein vs. Pea Protein
Who won the battle?
Drum roll please… *que the snare drums*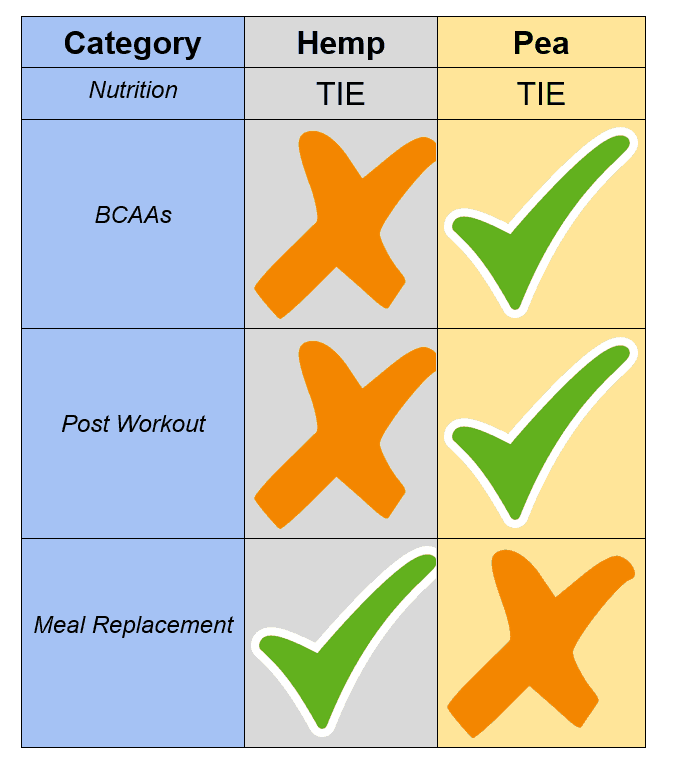 🎉 Pea is the winner! 🎉 But….
That's specifically for the post-workout phase.
Depending on occasion, situation, and intended use of either choice – both proteins have a chance to shine and are two great options to choose from when a little protein is needed.
Share: So what do you all think? Which protein would you go with when it comes to pea protein vs. hemp protein? Be sure to comment below and share this with anyone who might find it helpful!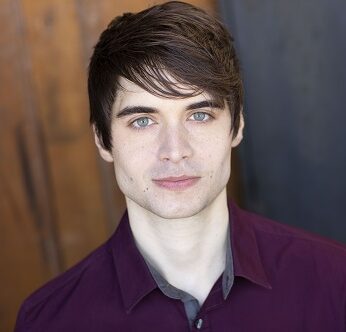 About the author: Eric Carey is a motivated student who loves to see the world and the people around him improve. Insanely fascinated by the human body and the way our physiology works, he obtained his degree in exercise science from Western Michigan University and went on in intern as NASA's Exercise Physiology Assessments of Spaceflight Exercise Countermeasures Intern. Inspired by this experience and other life events, he is pursuing his RD license while continuing to coach, learn, and be resource to those that need my help in this field. You can find Eric on his website as well as LinkedIn.
References:
[1] –https://www.ncbi.nlm.nih.gov/pubmed/20456814
[2] – https://store.nutiva.com/products/organic-hemp-seed-protein?variant=8723931856956
[3] – https://www.todaysdietitian.com/newarchives/1216p32.shtml
[4] – https://www.ncbi.nlm.nih.gov/pubmed/15166807
[5] – https://www.ncbi.nlm.nih.gov/pubmed/18974721
[6] – https://www.ncbi.nlm.nih.gov/pmc/articles/PMC6245118/
[7] – https://www.ncbi.nlm.nih.gov/pmc/articles/PMC2868018/
[8] – https://www.ncbi.nlm.nih.gov/pmc/articles/PMC6107748/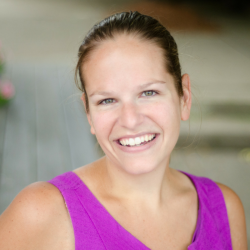 Latest posts by Chrissy Carroll
(see all)