As a runner, protein is quite important for ensuring proper repair and recovery of your muscles after a workout. You know that you get protein from foods – but should you also supplement with a protein powder? And if so, which is the best protein powder for runners to use?
Like most things in the nutrition world, the answer is: "It depends."
Let's break down some key information about protein, post-workout timing, and some of my favorite protein powder options on the market.
Disclaimer: This post was written by Chrissy Carroll, RD and RRCA Certified Running Coach. It is for informational purposes and does not constitute individualized nutrition or medical advice. For any personal nutrition questions, please visit your doctor or dietitian.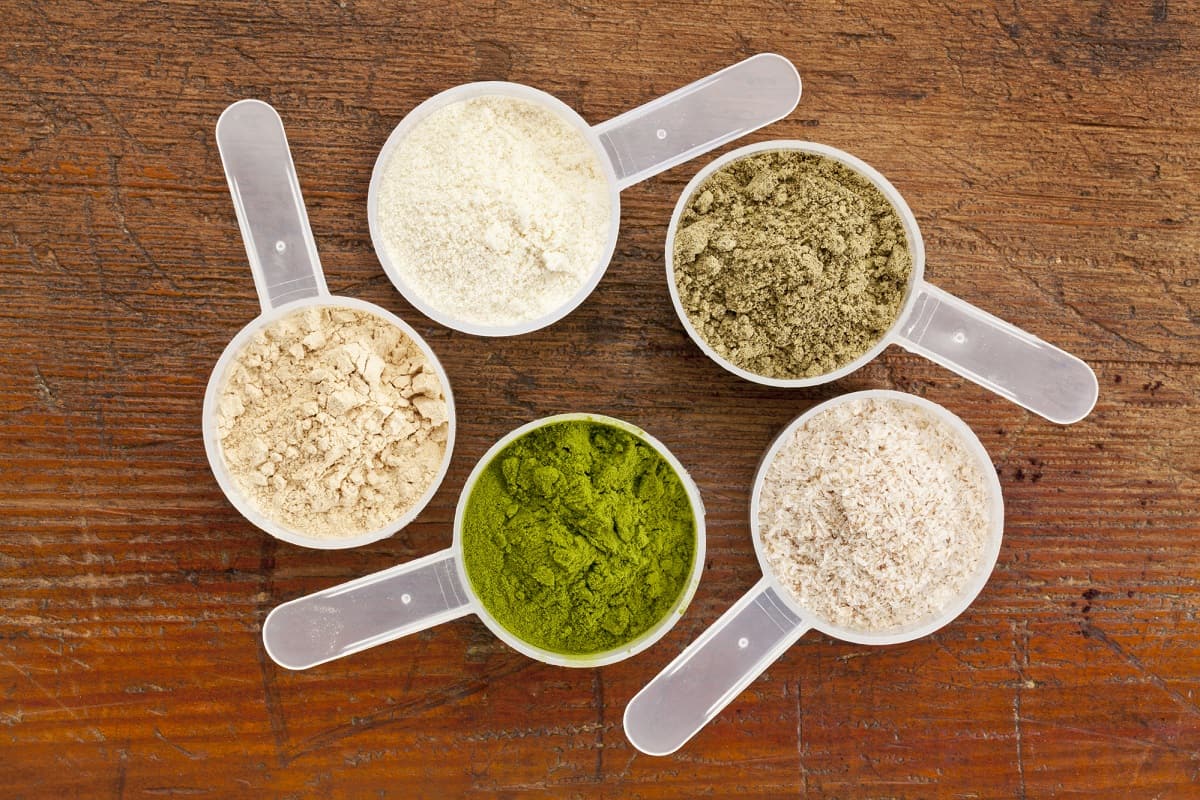 Why is protein important for runners?
Whenever you exercise, your body experiences microscopic tears to the muscle fibers. After the workout, your body needs to send nutrients to those cells, which stimulate them to repair and potentially grow.
This process is well observed in the strength training community, where resistance training plus proper nutrition leads to muscle growth (hypertrophy) and increased strength.
But during a long run, some microscopic tears also occur, albeit to a lesser degree due to intensity and the types of muscle fibers recruited.
In addition, if not properly fueled during a run, the body may start to use protein from the muscle to supply energy – which we definitely don't want (that can lead to muscle loss).
And of course, protein is important for other aspects of overall health as well, like supporting the immune system and helping you feel full after meals.
With all this in mind, it's important for runners to:
Get enough protein on an everyday basis in your diet.
Fuel your body before and during long runs (typically with carbohydrates), to prevent the use of protein for energy.
Eat a recovery meal that contains protein (as well as carbohydrates) when you are doing the first workout of a two-a-day workout plan, or after very long or intense workouts, to support muscle repair and recovery.
How much protein do runners need?
The amount of protein you need depends on several factors, including weight and training volume/intensity.
Most runners should aim for at least 1.2 to 1.8 grams per kilogram, with the higher end referencing endurance athletes with high volume training (source). This is assuming you don't have any other medical conditions that may impact your protein needs.
(The nutrition field often works in kilograms, and 1 kilogram = 2.2 pounds. As such, this equals around 0.55 to 0.8 grams per pound.)
For a 70 kilogram (154 pound) athlete, that would be about 84 grams of protein on the low end (1.2 g/kg) up to 126 grams on the high end (1.8 g/kg).
Also, while I don't personally encourage weight loss for runners, know that if you are trying to achieve weight loss, you may be better up going even a little higher – perhaps up to 2 grams of protein per kilogram. Studies among athletes suggest a higher protein intake can alleviate some of the loss of muscle mass during periods of reduced caloric intake.
In that case, that 70 kilogram athlete may aim for up to 140 grams of protein per day.
These may sound like high numbers, but they are doable with food on a varied diet. If you're curious to see if you're meeting protein needs, you can try tracking your food for a few days with an online app (like Cronometer) just to get an estimate of where you're at.
If you struggle to eat balanced meals or if you are a runner following a vegan diet, it may be a little more challenging to meet protein needs for athletes with heavy training loads.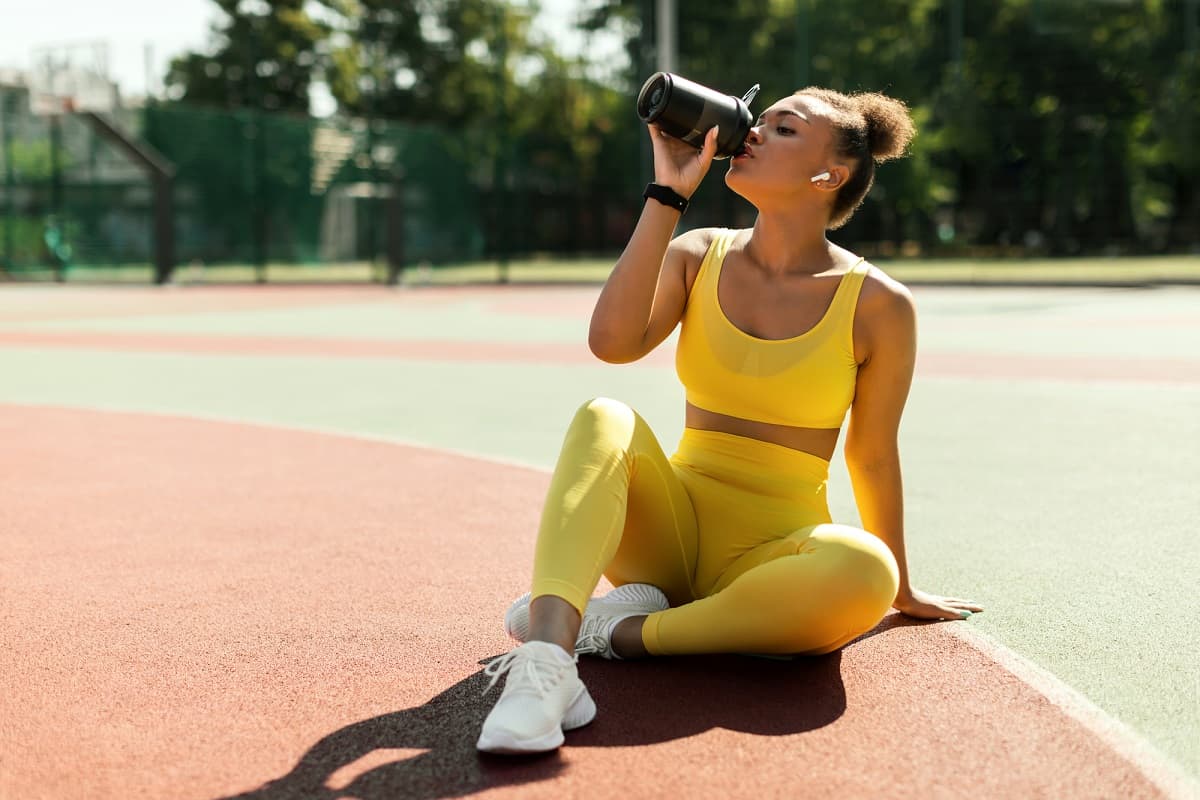 Should runners use protein powder?
Now that you know why and how much protein you need, you're probably wondering if you should use protein powder to help meet those goals. Ask yourself these two questions:
Am I getting enough protein from food?
Am I eating foods with at least 15 grams of protein within 30-60 minutes after a workout that is the first of a two-a-day workout, or after a very long/intense workout? (*Note, this meal should also contain adequate carbs to replenish the energy stores in your muscles).
If the answer to these questions is yes, you probably don't need to add a protein powder in.
If the answer to either of these questions is no, then it may be valuable to either start working on improving your protein intake from food, and/or adding in a protein powder to help support your intake (particularly after a workout, when it can sometimes be tough to get a meal in).
As mentioned above, the post-workout timing is particularly important when you are thinking about eating after your first workout of the day in a two-a-day training program. This is more common for triathletes, but some runners definitely utilize plans like this, for example with an AM run and PM strength (or vice versa).
It's also important to refuel after very long or intense workouts – like going out for an 18 miler on Sunday, particularly if you are also running again Sunday morning.
(You don't need to worry about post-workout meal timing after shorter, comfortably paced runs or similar cross-training. Your everyday diet will support your recovery needs for these.)
7 Best Protein Powders for Runners
As a dietitian, if you have no dietary limitations, my number one choice for runners is usually going to be a whey protein product. Whey is highly bioavailable, easy for most (though not all) people to digest, and research supports it's benefits:
A meta analysis linked whey protein supplementation to improve lean muscle mass and strength among healthy individuals doing resistance training.
A study among elite runners found that whey protein helped improve physiological adaptations and also improved performance in a certain type of exercise.
Similarly, whey protein supplementation helped reduce indicators of muscle damage and supported recovery among physically active females in another study.
However, I know not all runners can eat dairy (the source for whey) and some may have easier digestion with other products, or may simply prefer other options.
As such, I'm giving a variety of recommended protein powders for runners below, in no particular order, that encompass a wide range of types:
1. NOW Sports Whey Protein Isolate, Unflavored
As a disclaimer, I do work with NOW Foods sometimes on blog and social partnerships, however this post is not sponsored.
This product only contains just two ingredients – Whey Protein Isolate and Sunflower Lecithin (< 1%). It's a great base that can be mixed into smoothies, pancakes, protein bars, and other options, and then flavored according to your own preferences.
I really like this product because a 1 scoop serving provides 25 grams of protein with about 2700 mg of leucine, an amino acid that plays a role in exercise recovery.
This is also an isolate, which goes through additional refinement, typically creating a protein powder with less lactose than a whey concentrate. (That said, there is relatively minimal lactose in both products, contrary to popular belief).
This product is also Informed Sport Certified, which is helpful for competitive athletes for assurance that the products have been tested for banned substances.
–> Buy NOW Sports Unflavored Whey Protein Isolate on Amazon. You can also purchase on the Now Foods website and use code CHRISSY for 20% off (discount only applies to the NOW website, not Amazon).
2. Naked Whey Protein Powder
The only ingredient in this protein powder is whey protein concentrate, making it another nice option for creating your own flavor and cooking combinations. A two scoop serving provides 25 grams of protein and about 2900 mg of leucine.
Many reviewers rave about the taste and the fact that this powder blends really easily with no chalky flavor.
–> Buy Naked Whey on Amazon or on their website.
3. Ghost Chips Ahoy Whey Protein Powder
It's protein powder with real Chips Ahoy cookies blended in. I mean, does it get much more delicious than that?!
As a heads up, this does contain sucralose, an artificial sweetener. Because I love the taste of this one a lot, I don't mind the sucralose for the limited times I use it. If you have other feelings on artificial sweeteners, though, there are plenty of other good options on this list.
–> Buy Ghost Chips Ahoy Protein Powder on Amazon or on the Ghost website.
4. NOW Sports Plant Protein Complex in Creamy Vanilla
Can't have whey? No problem. This is a dairy-free powder that is made from pea, hemp and quinoa protein. I like plant-based complexes because they typically contain a better variety of BCAAs compared to any one individual plant-protein source (though some individual powders will supplement with extra BCAAs).
Each scoop of this powder has 22 grams of protein and about 1800 mg of leucine.
It's sweetened with xylitol and stevia, so there's no added sugar in the mix. I'm usually not a huge fan of stevia, as it tastes a little bitter to me, but I actually find it pretty unnoticeable in this powder and I really enjoy the vanilla flavor.
–> Buy NOW Foods Plant Protein Complex in Creamy Vanilla on Amazon. You can also purchase on the Now Foods website and use code CHRISSY for 20% off (discount only applies to the NOW website, not Amazon).
Note – If you are a competitive athlete that is regularly tested, check with your athletic organization about any rules related to consuming hemp during competition.
5. Orgain Creamy Chocolate Fudge Organic Plant-Based Protein Powder
If you're looking for an option that's both organic and vegan, this is a good choice. Each two-scoop serving provides 21 grams of protein, with the protein coming from peas, brown rice, and chia seeds.
The powder is sweetened with erythritol and stevia and has no added sugar. It comes in several other flavors, but I'm partial to the chocolate fudge.
–> Buy Orgain Creamy Chocolate Fudge Organic Plant-Based Protein Powder on Amazon.
6. Manitoba Harvest Hemp Yeah Chocolate Plant Protein Blend
If you hate alternative sweeteners like stevia or sugar alcohols – but also really want a flavored protein powder – this is a great option. It's sweetened with just a little bit of real sugar (8 total grams per serving). Even though as an RD I like to minimize added sugar, I find that a little bit of real sugar can make something like this so much more palatable!
Each 6 tablespoon serving provides 20 grams of protein, which comes from both hemp and peas.
Note – If you are a competitive athlete that is regularly tested, check with your athletic organization about any rules related to consuming hemp during competition.
–> Buy Manitoba Harvest Hemp Yeah Chocolate Plant Protein Blend on Amazon.
7. Opportuniteas Chocolate Whey Protein Powder
This is another option that's sweetened with real sugar rather than artificial sweeteners or alternative sweeteners. Each scoop contains 20 grams of protein and has 8 grams of sugar.
I also like that it has minimal ingredients; the only ingredients are Whey Protein Isolate, Organic Cane Sugar, Organic Cacao, Himalayan Salt, and Sunflower Lecithin.
The chocolate version tastes great mixed into my protein coffee recipe!
–> Buy Opportuniteas Chocolate Whey Protein Powder on Amazon.
The Bottom Line
Runners who eat a balanced diet with a little planning can typically meet their protein needs through food. However, if you are struggling to meet your needs, particularly in the post-workout time frame, a protein powder can be a convenient and nutritious choice. You can find animal- or plant-based options to suit your needs. Be sure to combine the protein powder with a source of carbohydrates after your long or intense workouts. Happy training!