Want to learn how to run a mile without stopping? With a little determination, consistency, and practice, soon you'll be pounding the pavement and surprised at just how far you can go before getting tired. Below, you'll find helpful tips for training to run a mile straight, along with a beginner-friendly plan.
Disclaimer: This post was written and reviewed by Chrissy Carroll, RRCA Running Coach and USAT Level I Triathlon Coach. This is for informational purposes only. Please consult a doctor prior to starting any new exercise program.
Ready to get started? Whether you've already tried to run the mile and fell short, or you're just mentally preparing yourself for when you do try – here are some helpful tips:
Familiarize Yourself with the Distance
This first step seems a bit silly but is important! If you were asked about how far a mile is from your house, would you be able to accurately identify it? Unless you were previously a runner (or you're a driver that just pays a lot of attention to distances) – you may not know exactly how far that is.
Try mapping out how far a half mile is from your house, as going out and back would add up to the full mile. Or, consider using a track for reference – four times around a track is equal to a mile.
Now here's the important next step: try walking that distance. Don't worry about trying to run any of it right now – just walk it at a comfortable pace.
Hopefully, this process helps it feel less daunting and overwhelming now that you know exactly how far it is!
If you felt like walking the mile was a major struggle, though, that's OK too. Work on building up your stamina to walk it comfortably (maybe using something like our 30 day walking challenge to help) before moving on to the rest of these tips for running.
Find Your Why
Clearly, you're reading this post because you want to run a mile without stopping. But why do you want to do that?
For example…
Will it make you feel more in shape?
Are you trying to live a healthier lifestyle?
Will it make you feel like you can keep up with your kiddos?
Do you just want to prove to yourself or a friend that you can actually do it?
Figure out your motivation, and remind yourself of it regularly. On days when you're training to run, this "why" can be the kick in the pants you need to get moving.
(These awesome inspirational running quotes can also be helpful for keeping motivation up on tough days!).
Pace Yourself
Alright, time to get into actual running strategy. Many people start a run at a pace that's too fast to maintain. If you find yourself winded and faltering out before you've finished your mile, try slowing down your pace.
For some people (especially those who may play sports or do other cardiovascular exercise), simply slowing down their pace will enable them to finish the entire mile. Try running even slower than you feel like you need to at the start, and see if that helps you stay at a pace where you can run the entire distance.
For others, it will take time to build up stamina with run/walk intervals until they are able to finish the entire distance. That's OK too! Some people may need a few weeks to a few months of gradually increase running time before they can run a mile straight. (And you'll find a plan to help with that a little further down).
Focus on Breathing
If you're feeling winded, it can make it tough to complete the entire mile comfortably. It's completely normal to have heavier breathing when you're running, but obviously feeling out of breath isn't ideal.
When you're trying to run a specific distance (like a mile or 5k), you generally want to try to run at a pace where you can still speak in phrases/sentences (a "conversational pace"). If you're panting and gasping for air mid-mile, you won't be able to talk like that – and it's a signal you're likely going too fast.
Try slowing down so that you have nice rhythmic breathing going on. Don't worry about breathing a certain way (like only breathing through your nose or mouth). Instead, just breathe in a way that feels natural to you, focusing more on running at a pace where you're not completely out of breath.
Of course, if you're starting this process having never run before, and you're just starting to add in running intervals – it's normal that during those intervals it may be challenging to hold a conversation. The key is that as you continue to build your endurance and are able to run longer stretches, that your body makes adaptations and you're able to work your way towards running at that conversational pace.
In addition, once you've mastered your goal of running the mile without stopping, you may decide to work on increasing your speed for that distance down the road. In that case, you'll likely do speed intervals to help improve your time. It's completely normal to have faster paced breathing and to not be able to speak in complete sentences during speed intervals.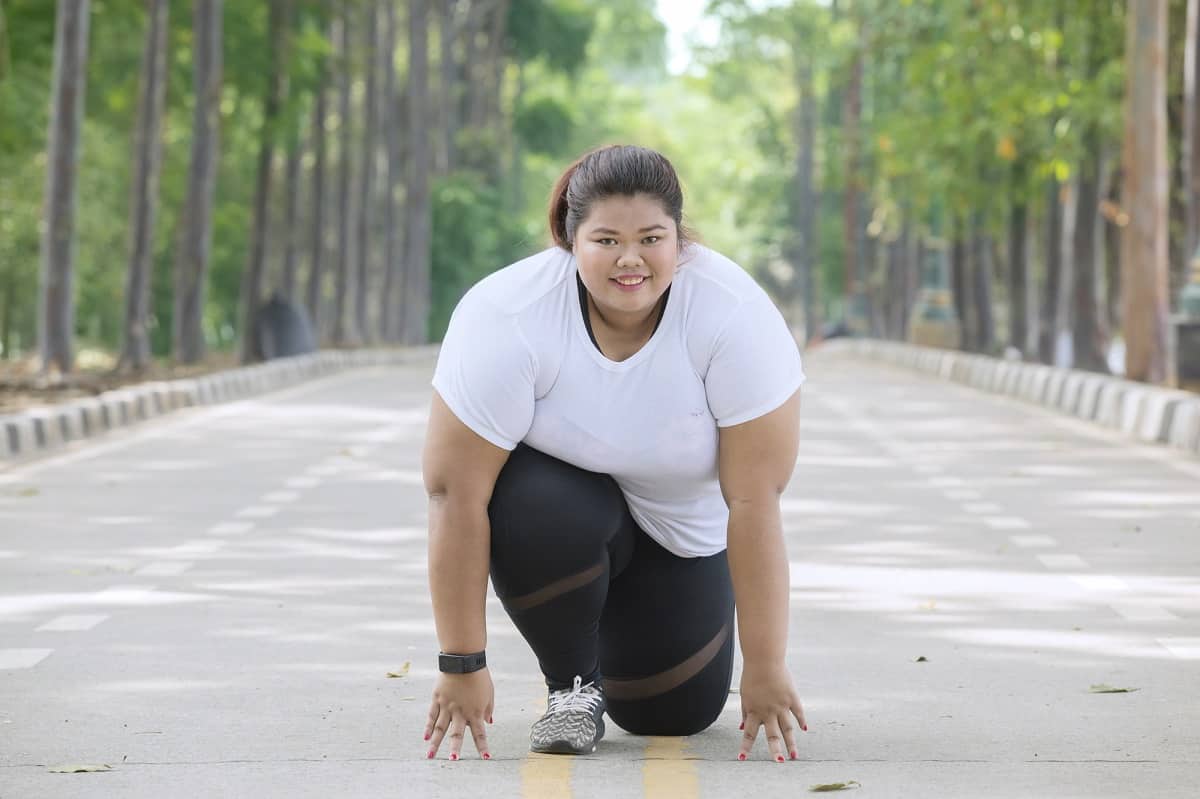 Use Good Form
Improper form can not only increase the risk of injury, but it can also waste energy and slow down your run. Keep in mind, though, you don't have to have perfect form either – each one of us runs a little differently and while it may not be "textbook correct", it may work for your body.
That said, there are three common form issues with new runners that can waste energy and are easy to fix:
Stiff arms – Your arms should naturally swing with your running stride. If your arms are stiff and not moving, you're expending extra energy keeping them like that.
Over-striding – While taking long giant leaps might seem efficient, it's actually not – and increases your risk of injury. Find what feels natural as far as stride. Think "quick feet" or "feet on fire" as a signal to keep your strides normal and keep your foot turnover rate fast.
Slouching / Looking down – Keep your body upright and let your eyes glance ahead – don't tilt your neck down and look at your feet.
If you're interested in learning more about this topic, this is an excellent video about running form.
Stay Consistent
As a running coach, there is one factor that I see that tends to separate those who achieve their goals from those who don't. Surprisingly, it's not talent or athletic ability – but rather consistency.
With consistency, you can train your body to do amazing things.
Now, this doesn't necessarily mean you can hit any crazy arbitrary goal. For example, the average Joe or Jane would have a rough time trying to break a 2:30 marathon.
But they very much could train themselves to cross the finish line of a 26.2 race with a consistency over a year's time (assuming no injuries or medical conditions would preclude them from doing so, of course).
The same goes for you trying to run a mile without stopping. If you practice enough times and stay consistent, there is no doubt that you'll meet your goal of running it straight!
And once you do hit that goal, who knows what could be next – perhaps you'll train for a 5K, 10K, or even a half marathon!
Use a Run/Walk Plan
One way to stay consistent? Follow a training plan! This makes it easy to stick with it and work gradually towards you goal.
Here's an 8 week beginner training plan to work up to running a mile straight.
Depending on your fitness level, this may be too easy or too difficult for you. If it feels too easy, you can jump in from the middle of the plan and accelerate your progress towards the goal. If it feels to hard, don't hesitate to repeat weeks as needed.
Start all workouts with a 5 minute warm up walk. Do each workout 3 times per week.
Week 1 Workouts (Do 3x/week): Run 1 minutes / Walk 3 minutes; 5X
Week 2 Workouts (Do 3x/week): Run 2 minutes / Walk 3 minutes; 4X
Week 3 Workouts (Do 3x/week): Run 3 minutes / Walk 2 minutes; 4X
Week 4 Workouts (Do 3x/week): Run 4 minutes / Walk 2 minutes; 3X
Week 5 Workouts (Do 3x/week): Run 6 minutes / Walk 3 minutes; 2X
Week 6 Workouts (Do 3x/week): Run 8 minutes / Walk 2 minutes; 2X
Week 7 Workouts (Do 3x/week): Run 10 minutes / Walk 3 minutes / Run 8 minutes
Week 8 Workouts:

1) Run 10 minutes / Walk 1 minute / Run 7 minutes
2) Run 10 minutes / Walk 1 minute / Run 7 minutes
3) Run 1 mile straight! (Time will depend on pace – 8 to 15 minutes for most people)
Note: The 2X, 3X, 4X, and 5X you see refers to the number of times you should complete the interval listed. For example, "Run 4 minutes / Walk 2 minutes; 3X" would mean:
5 min warm up walk, then:
Run 4 min
Walk 2 min
Run 4 min
Walk 2 min
Run 4 min
Walk 2 min
Here's a visual version of this plan if you'd like to print it out: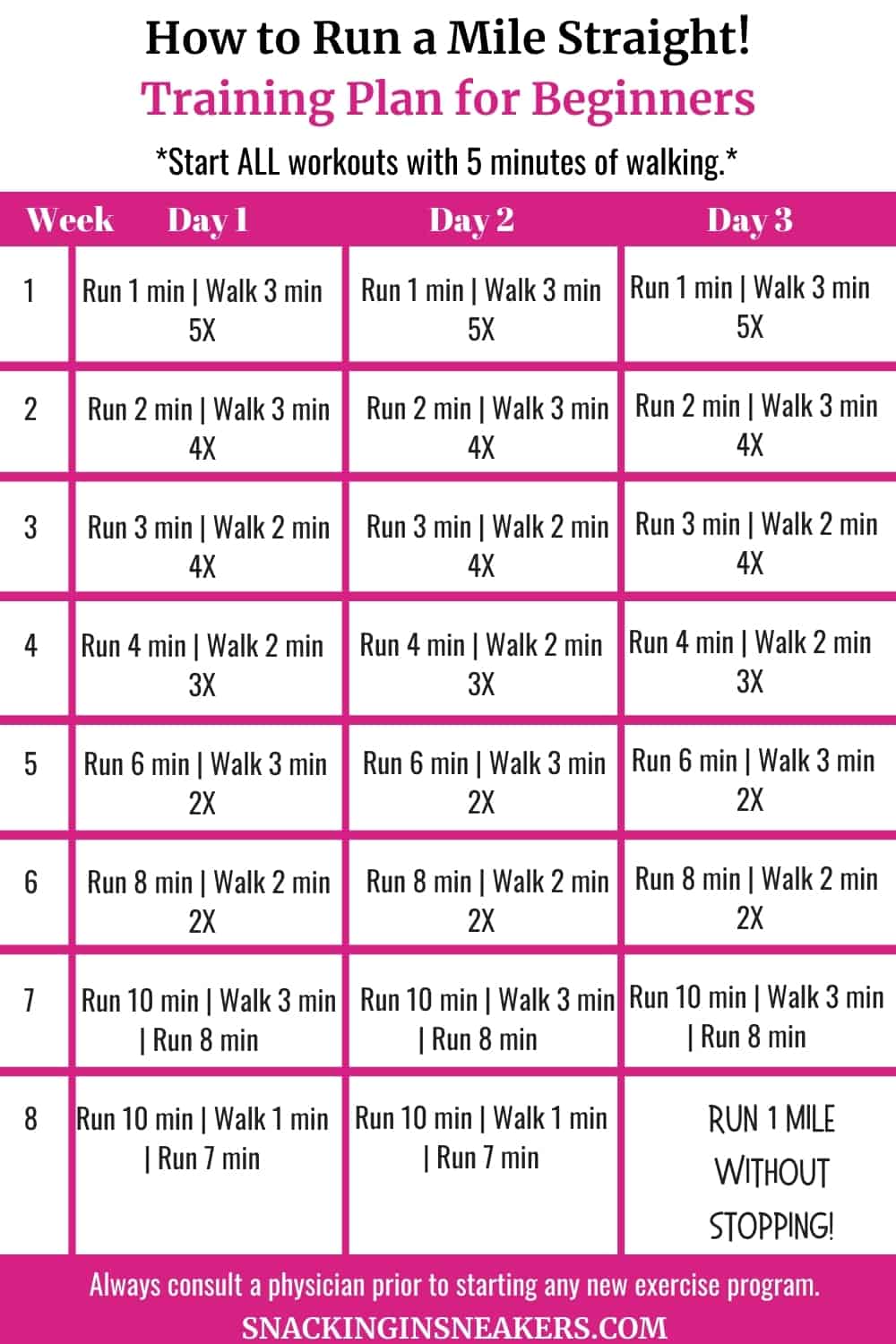 Strengthen Your Mental Stamina
Last but not least for tips – when it comes to exercise, you're more likely to give up because of your brain than your body.
Mentally, it's easy to talk ourselves out of doing a workout ("I'll do it tomorrow", "It's so cold out today", "I'm so tired", etc.).
It's also usually our brain saying during a workout – "Hey! This is hard! Walk now!" – and while that is appropriate at some points, that brain response also usually kicks in before our body really needs it to do so.
But if you prepare yourself for this, it's easier to handle while you're training to run the mile. Be proactive:
Remind yourself frequently that you can do this.
Talk yourself up before and during your workout.
Use positive mantras.
Visualize yourself being successful before and during your workout.
These are all strategies that are used by beginners and pro athletes alike!
In addition, some people prefer running when their brain is a bit occupied, like when they're listening to music or stand up comedy or a podcast. If it helps you, by all means – feel free to do so. Just remember safety precautions. For example, run in well-populated, safe areas – and be sure to keep one headphone out of your ear so you can hear cars or people nearby.
Mile Run FAQs
You've got all the tips, but now you might have some questions! Here are some common questions that new runners may have:
Should I warm up before my runs? Yes. Start your workouts with a 5-10 minute warm up walk first.
Do I need fancy running gear? No, but you should have a good pair of sneakers. Properly fitted sneakers that are not worn out will help prevent injuries as you start to run.
Is it bad to stop and walk during a run? No! If you decide you don't like running a mile straight and would rather continue to implement run/walk intervals in an ongoing way, that's completely fine. In fact, many people use a run/walk strategy for long distances like the marathon.
What if I'm at a heavier weight? Provided you're cleared medically to run – you've got this! Approach your training consistently and increase your running minutes gradually each week. While running can feel more challenging at higher weights due to the impact on joints, it's certainly not impossible (again, provided your doctor has given you the OK). Plus, running helps improve overall health and fitness regardless of weight.
Should I stretch before runs? Static stretching (i.e. holding your foot to stretch your quads, touching your toes, etc.) should be used after runs, not before. There are stretches called dynamic stretches (like lateral leg swings or butt kicks) which experienced athletes may use as a warm up before certain running workouts. For beginners just getting started, though, a simple warm up walk should be prepare your body just fine for your run/walk intervals.
Do I need a special diet to start running a mile? There's no special diet you need on an everyday basis, and no special fuel you need before the short running workouts included in this post. That said, some people feel best during a workout when they've had a carb-rich snack about an hour before – so feel free to grab a banana or a yogurt if that boosts your energy for your run.
Hopefully these tips and suggested training plan help you prepare to run your first mile without stopping! Just take it slow and steady, keep practicing, and don't give up – you'll check off that mile (and more) in no time.
Share: Do you have any other tips for running a mile without getting tired?
Pin me! Share this on Pinterest so others can discover this great content: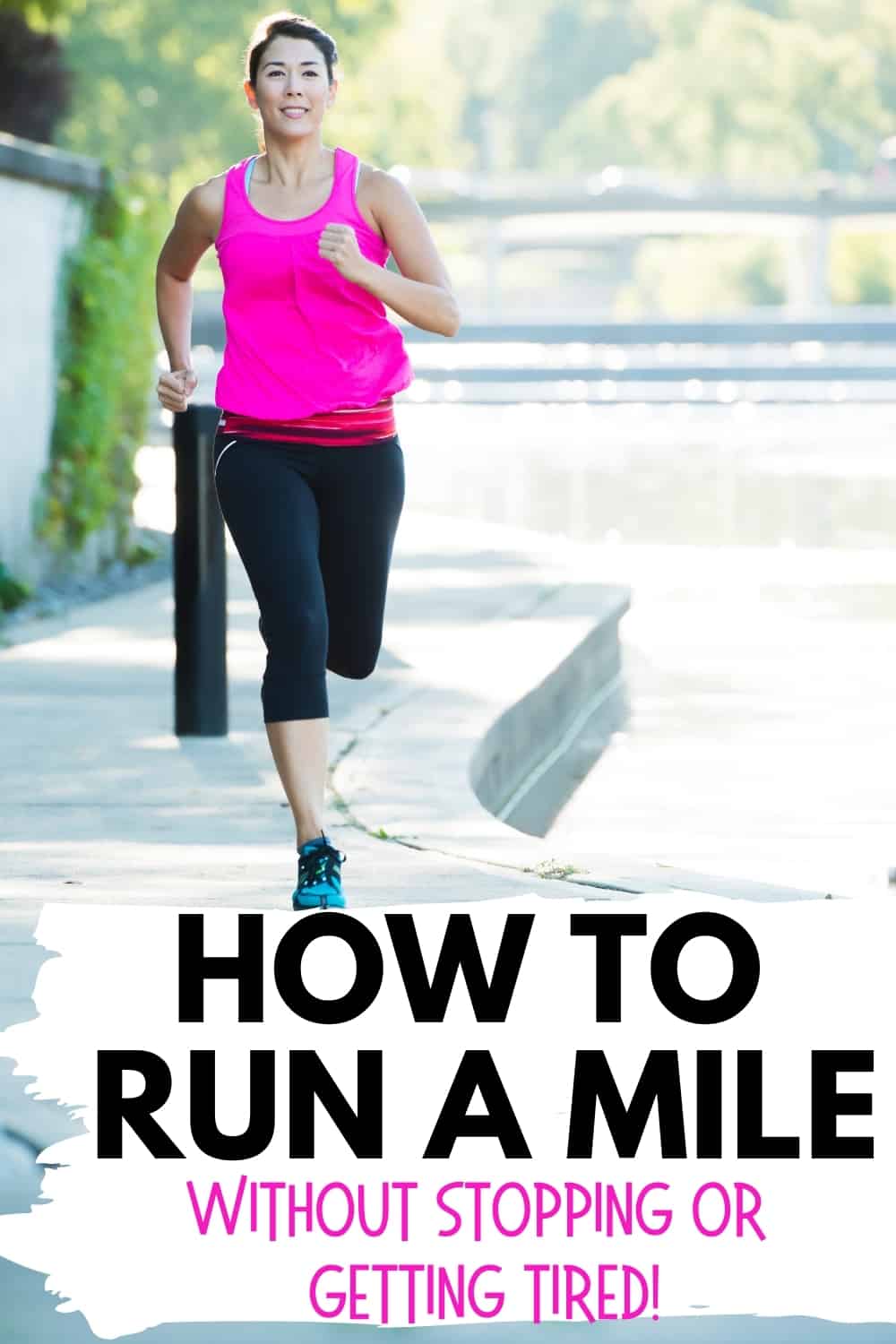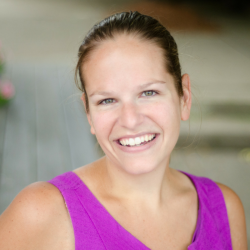 Latest posts by Chrissy Carroll
(see all)