One of the biggest struggles I see from many people is not the ability to start an exercise program – most people have started an exercise program at one point or another in their life.  The tough part, though, is sticking with that program.  Figuring out exercises you can do often that you enjoy, fitting the workouts in each week, and challenging yourself over time – this is where people tend to falter.
But there are a few things you can do to solve the struggle of how to stay motivated to workout, and ensure that you stick with meeting your fitness goals – whether that means getting to the gym a few times a week or training for your next marathon.
1.  Find something you enjoy doing.
I don't like to hear "exercise isn't fun" because there are so many activities out there that are both a good workout and fun.  Now, is running fun every single time I go out there?  No, of course not.  But racing is a heck of a lot of fun so that's why I train.  But think of all the other possibilities out there aside from what we traditionally think of as exercise.  Could you do a trampoline workout?  Take a pole dancing class?  Go hiking with friends?
2.  Schedule your workouts into your planner.
If you find that you get to the end of the week and realize you haven't managed to 'fit in' a workout, try actually scheduling them in your planner.  And then stick with that scheduled item just like it's any other priority in your calendar!  This is good because it forces you to look ahead at the week to see where you can fit in exercise time, which makes you more likely to stick with it.
3.  Set specific goals.
If you just say "I want to exercise more" – that's a really big, overarching goal.  Break it down to be more specific.  How many days per week?  How many minutes?  What will you be doing?   If you want to train for a half marathon – what training plan will you use?  What date will you start?  What days of the week will you run?  By setting specific goals, you help yourself stay more accountable and provide a measurable framework to assess your progress.
4.  Sign up for something.
I'm a runner and triathlete, so my 'go-to' task when I'm feeling a little unmotivated is to sign up for a race.  It puts a definitive goal on the calendar, and by paying for it I feel committed.  If racing isn't your thing though, consider something else you could sign up for to keep you on track.  Maybe paying ahead for 10 Zumba classes (rather than the class by class drop in fee) will help encourage you to go to classes more frequently.  Or maybe there's a new personal trainer at the gym that you feel like you'd really mesh with – then sign up for a personal training session!
5.  Consider apps that can help you stay accountable or motivated.
There are tons of different types of apps that might be useful for you – here are a few I've come across:
Pact – This requires you to set a goal for your number of weekly workouts – and if you miss one of those workouts, you have to pay up whatever you wagered.  If you meet them, you receive a small amount of money from the pool of people that didn't meet their goals.
Stickk – With this app, you wager a certain amount of money to meet your goals.  You choose who gets your money if you don't meet your goals – one of the biggest motivators for people tends to be an anti-charity, or something they don't believe in (because who wants their money to support something they don't believe in?!).  You can pick a one-shot commitment (i.e. do my first sprint triathlon by September) or you can pick an ongoing commitment (i.e. train 4 times every week).
Strava – Use this when you're cycling and running to keep track of your time, pace, and more.  Established "segments" (or cycling/running routes) in the app let you see how you compete against others who have biked/ran that same segment.
Charity Miles – Earn money for every mile that you walk or run, and it's donated to a charity of your choice from the available partners.
Jefit Workout – Create your own strength training routines, and then track your reps and sets over time.  Or, if you're new to strength training, you can access one of their already created workout options.
Wahoo 7 minute Workout – This is a 7 minute high intensity interval workout that is perfect to use when you need to squeeze in some activity on your lunch break or during a free 10 minutes in your day.
MyFitnessPal – For those with weight loss goals, you can use MFP to track your daily food intake and exercise, as well as your weight over time to work towards your goal.
6.  Treat yourself.
Consider making an agreement with yourself that when you meet "x" goal, you will get to treat yourself with "y".  For example, did you finish your first month of triathlon training?  Maybe you want to go to a triathlon seminar, purchase a new swimsuit, or get a race belt that you can use.  Did you lose 10 pounds by your goal date?  Awesome – perhaps you want to get a mani/pedi, or treat yourself to an hour of "me time" with a trashy magazine out by the pool.  Choose non-food based rewards and set a timeline for your goals – and then treat yourself if you meet them!
I hope these 6 tips are helpful as you continue on your fitness journey.  
Share with me in the comments:  What do you do to keep yourself motivated to workout?  Any tips, tricks, or apps?  I'd love to hear what works for you!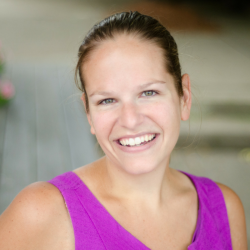 Latest posts by Chrissy Carroll
(see all)