Picture this: It's a beautiful fall day, and you and a friend just finished a nice three-mile run. You're about to sink your teeth into a juicy, sweet slice of watermelon…when your friend mentioned she heard watermelon might make you gain weight. You immediately pause and wonder – is this true? Is watermelon fattening?
Let's find out…
Disclosure: This post is sponsored by the National Watermelon Promotion Board. As always, all opinions are my own.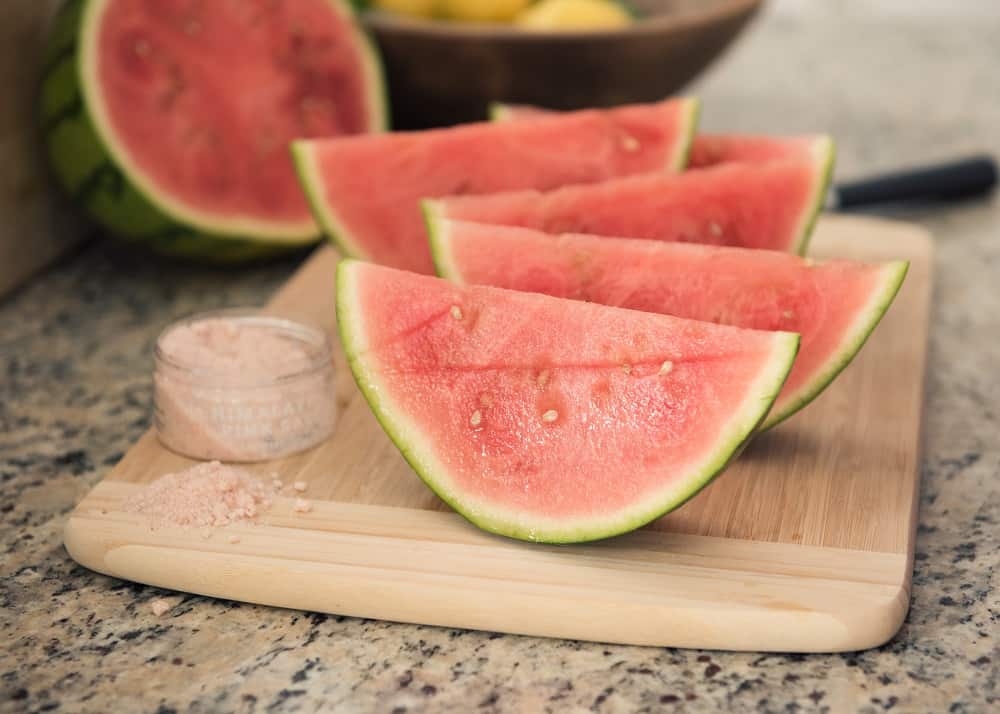 So is watermelon fattening?…
Let me give you the very quick answer – heck no!
I'll explain all the science in more detail below, but that's the short and sweet version.
We're bombarded with messages about nutrition these days, often from sources that are not actually experts in nutrition. Well-meaning folks see that watermelon has sugar an immediately assume it's not a good choice. What they fail to do is take into account all the other beneficial components of watermelon (and fruit in general) – and actually dig into the research on this.
1. Fruit, Sugar, and Weight
To start, let's consider the big picture topic of fruit, sugar, and weight.
Sugar is often villainized in the media as the cause of many health problems. While I completely agree that we need to limit added sugar in the diet, natural sugar in fruit comes packaged with many beneficial components. Depending on the fruit, this can include vitamins, minerals, fiber, phytochemicals, antioxidants, and more.
As an RD, I firmly believe in the benefits of eating whole fruits (and that they outweigh any sugar concerns).
But of course, that's just my opinion. What does the research say?
Hopefully this makes it clear that a large body of research out there does not connect fruit to weight gain; on the contrary it indicates that whole fruit may actually have some protective effects.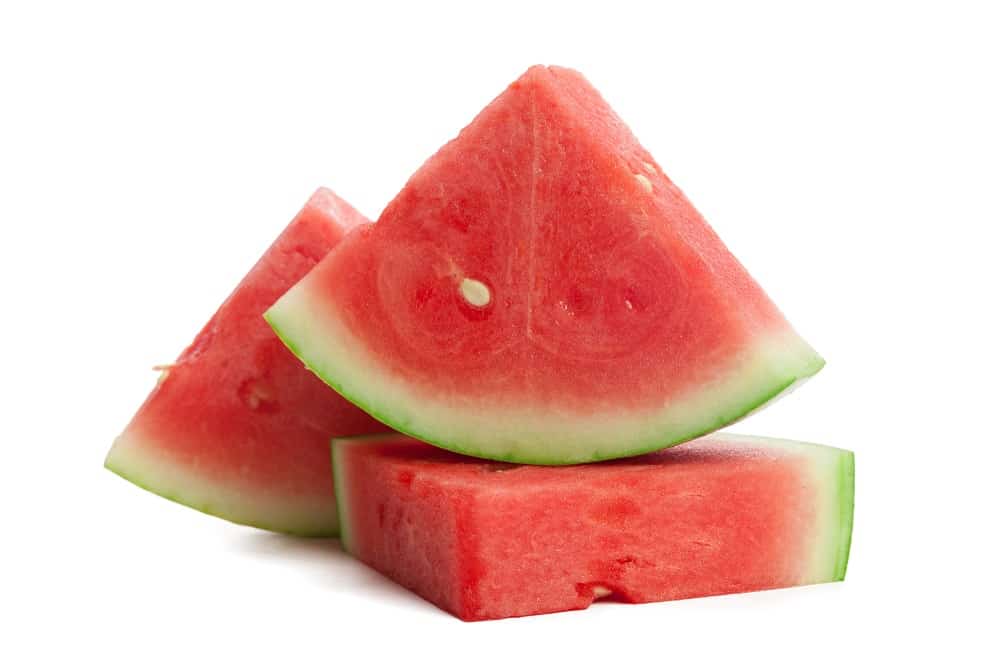 2. Glycemic Index, Watermelon, and Weight
But what about watermelon itself? Is watermelon fattening even if fruit as a category isn't – maybe because of glycemic index concerns?
Nope! Watermelon is not fattening, just like other fruits are not fattening.
One of the reasons watermelon has been called out in the past is due to it's glycemic index. Glycemic index (GI) is a measure of the relative rise in blood sugar from a certain type of food – or in other words, how quickly that food will break down into sugar in the blood. Some professionals postulate that a high GI diet may lead to weight gain.
Watermelon has a glycemic index of 72 (out of 100), which is considered high. That sounds bad, right?
Here's the thing – a normal portion size of watermelon does not actually contain massive amounts of carbohydrate. So the glycemic load (GL) – the measurement that takes into account standard portion sizes of carb-rich foods and their effect on blood sugar – is actually relatively low.
Not only is the glycemic load for watermelon low, but there's also been new research questioning whether GI or GL even matters for body weight among healthy adults.
For example, one study notes "Cross-sectional data are inconsistent both in the direction and strength of association between GI or GL and body weight, and this being the case, do not support a strong role of dietary GI or GL on body weight."
Now that doesn't mean we should ignore blood sugar impacts of food. But there's probably far more that goes into overall diet quality and its relation to weight than solely looking at glycemic impact. And even within that space, it's better to look at glycemic load which takes into account the standard serving of a food.
When we do that, it's clear we don't have to worry about watermelon.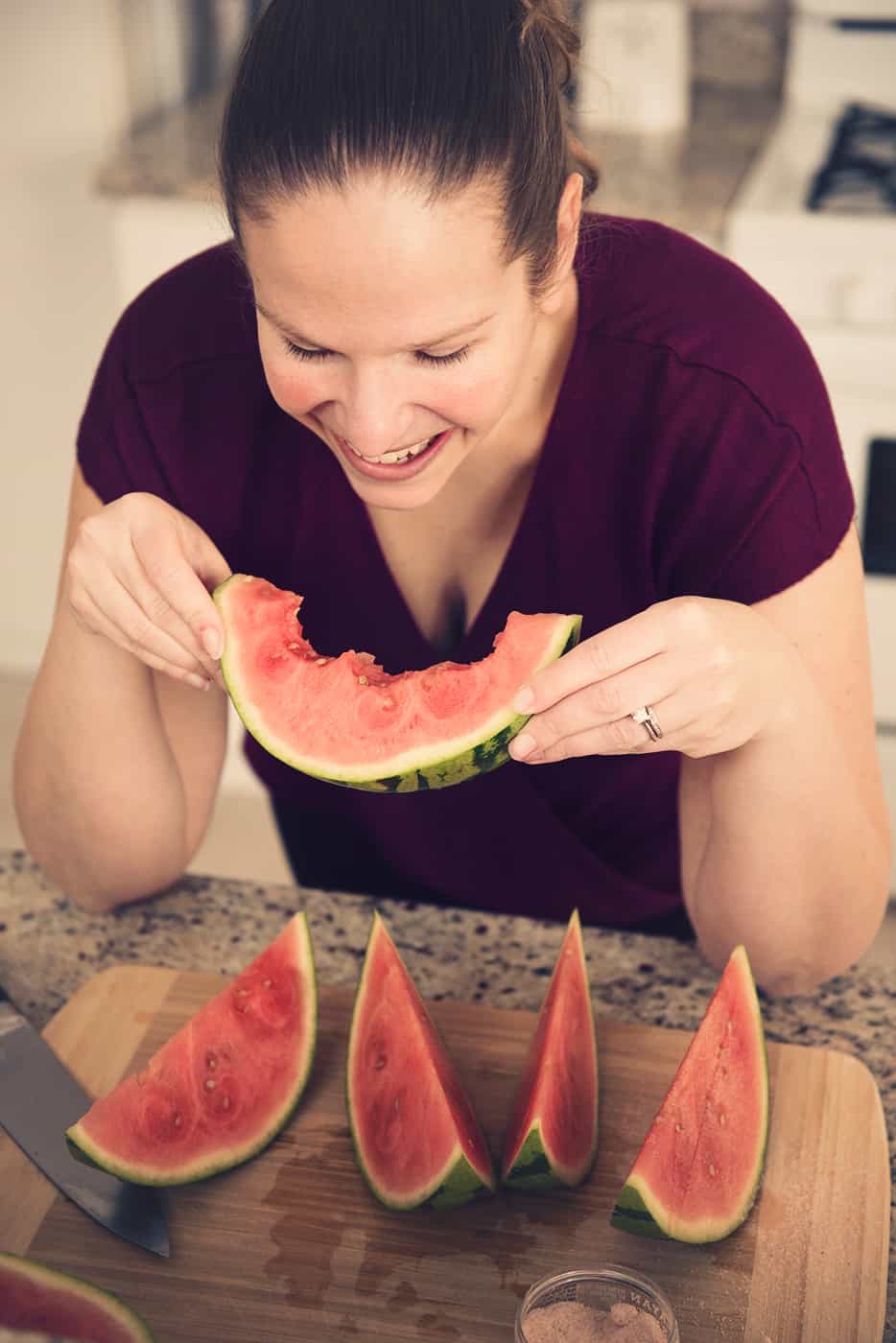 3. Watermelon & Weight Research
Now there hasn't been much research looking at only watermelon (as opposed to fruit in general) and weight gain/loss. It's a super niche topic. But there's one very interesting study released in early 2019 that I think will help ease your mind.
This study looked specifically at watermelon and several health-related measures. They gathered up a group of overweight and obese men and women, and divided them into two groups – one group snacked on 2 cups of watermelon, and the other snacked on vanilla wafer cookies.
The people participating in the study could eat their snack at any time of the day, and it could be alone or with other foods – the only instruction was they were supposed to eat it daily.
After 4 weeks of this, the groups took a short break (a "washout period" of 2-4 weeks) then returned to complete 4 weeks eating the other snack that they didn't originally have.
Both snacks had 92 calories each. Carbohydrates were relatively similar between the watermelon and cookies at 23 grams (1 g fiber) and 18 grams (0 g fiber), respectively. Watermelon was higher in sugar compared to the cookies (17 g vs 9 g).
Ready for the results? These are pretty cool:
After four weeks of the watermelon intervention, body weight and BMI were significantly lower – but after four weeks of cookies, they were significantly higher. Four weeks of cookies led to higher blood pressure and body fat as well (no change in the watermelon intervention).
The study also showed that the watermelon led to longer periods of feeling full and satisfied after eating the snack.
So even though the calories in the snack were the same, and the watermelon actually had more sugar – it led to greater immediate satiety ratings, as well as weight loss after the month-long intervention.
Pass me that watermelon, will ya?!
4. Watermelon, Weight & Overall Health
At this point, hopefully you're confident in the fact that eating fruit – including watermelon – will not make you fat. In reality, it's a nutritious part of a balanced diet!
Here are a few benefits to eating watermelon:
Watermelon is 92% water, which supports hydration for your body. Some research – like this study and this one – suggest that water intake may actually be linked to lower body weight or weight loss. It's plausible that high-fluid foods like watermelon may play a role in this too (but not conclusive of course).
It's a lycopene leader, packing in more of this powerful antioxidant than other fresh fruits or vegetables. Lycopene may play a role in cancer prevention and protecting the body from the sun's UV rays.
Watermelon is also a good source of Vitamin C, helping maintain immune health, as well as Vitamin A, which is key for eyesight.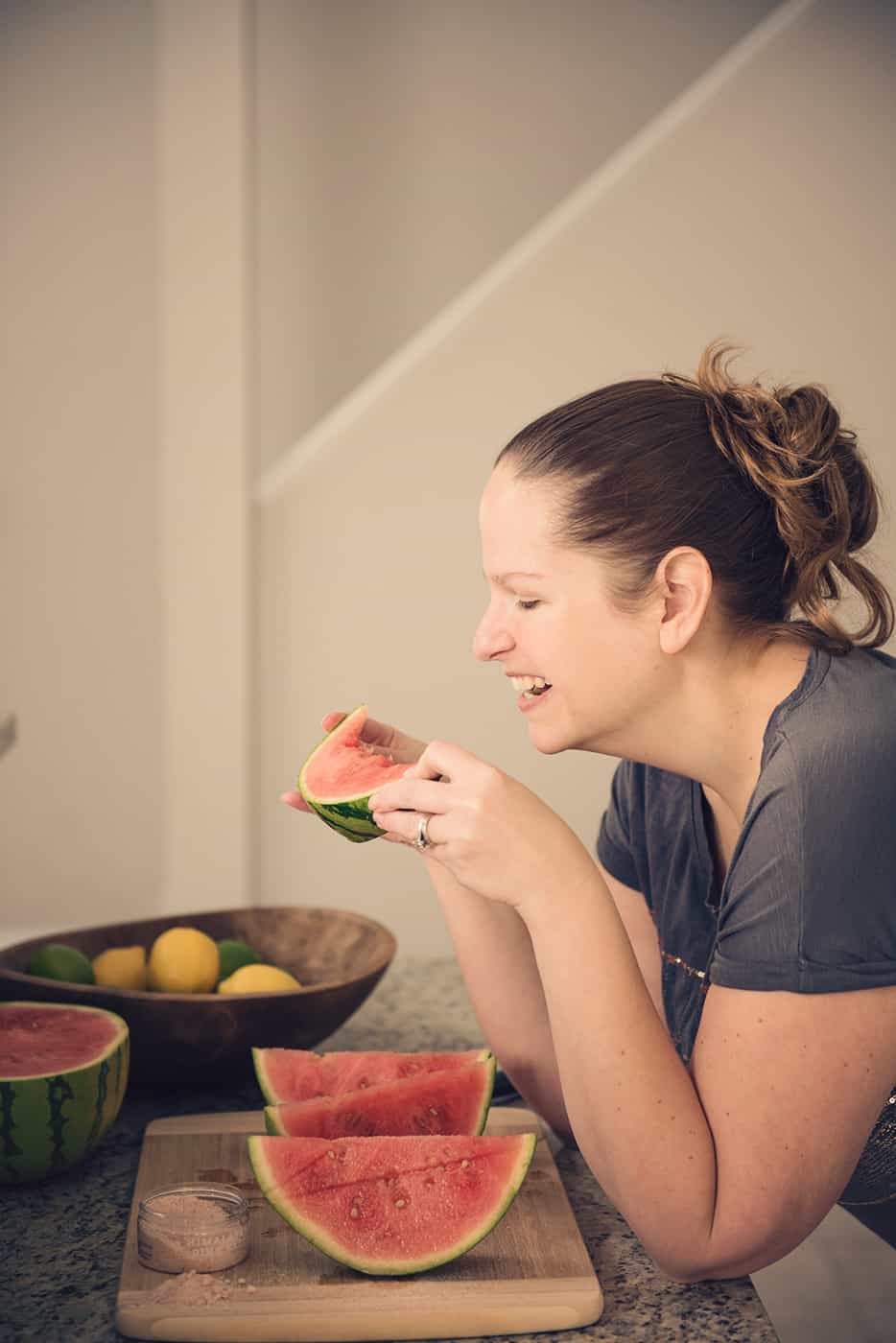 5. How to Include Watermelon in Your Diet
If you're ready to stock up on watermelon now, consider these fun and delicious ways to add it to your diet:
I hope this article helped you understand why watermelon is not fattening, and encourages you to add some of this juicy, sweet treat to your meals! For more recipe ideas, be sure to visit the Watermelon Board website.
Share: Did this help clear up the age-old question about watermelon being fattening? What's your favorite way to enjoy watermelon?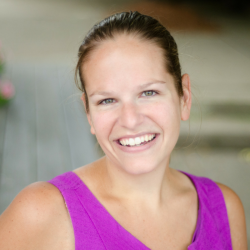 Latest posts by Chrissy Carroll
(see all)