It's that time of year when most triathletes are starting to solidify their race plans! If you're local to Massachusetts, you know that we have a pretty limited triathlon season compared to other parts of the country. But within that May through September time frame, you can find a large number of fabulous Massachusetts triathlons to participate in! I've rounded up five event suggestions for you to consider adding to your race calendar this year…
5 Massachusetts Triathlons to Add to Your Race Calendar
An evening triathlon?! YES! The summer solstice triathlon is scheduled every year in June to coincide as close as possible with the longest day of the year. This sprint distance race starts around 6:15pm, which means you'll finish up right as the sun is starting to set. Last year there was an amazing post-race food spread too – plus some sweet cookies for division winners. My favorite part? If you podium in your division, you'll also score credit to use on future races!
2. Patriot Half Ironman by Sun Multisport – June in East Freetown, MA
I personally haven't tackled a half or full distance race (yet?), but almost every local athlete I know is smitten with this half distance event. The lake swim is known to be relatively calm and warm, and the bike and run are on somewhat rolling hills. The course is also known for their ample volunteer support, and aid stations at every mile along the run. The 2018 race is sold out, but keep an eye on the site later this year so you can score a 2019 registration.
3. Title 9 Triathlon by Max Performance – September in Hopkinton, MA
This race will always hold a special place in my heart, as it was the first triathlon I ever did back in 2009. It's a women's-only sprint distance event that draws a large newbie crowd, making it a perfect option for any first-time athletes. The swim water is typically warm as it's a later season event, and the bike/run course is very well supported & directed (no worries about getting lost!).
4. Boston Triathlon by Columbia Threadneedle Investments – July in South Boston, MA
It's rare to see races in Boston proper, so the fact that this is in South Boston is a treat. I worked with Boston Tri as a race ambassador last year, and the event was a blast. They offer both a sprint and Olympic option with a loop style course for the bike (2 loops sprint / 4 loops Oly) and run (1 loop sprint / 2 loops Oly). While it got a little crowded at some points on the bike, it wasn't ever enough to really bother me – which says a lot since I'm a nervous rider. Plus, it's the ride is gorgeous as you're overlooking the water, and it's pancake flat. Bonus: Post-race party includes unlimited free beer.
5. Falmouth Triathlon by New England Endurance Events – July in Falmouth, MA
After visiting Falmouth for the Falmouth Road Race last year, the Falmouth Triathlon is next on my bucket list. I loved exploring this cute Cape Cod town and all it has to offer, including beautiful beaches and restaurants. It'd make a fabulous destination race if you're not local! One thing I like about this sprint distance event is that they offer a "casual competitor" category – by registering in that category, you're able to start in a swim wave with family/friends (not you're not eligible for age group awards in this category). It's a nice option if you want to just have fun trying a tri with a group of friends! Plus, a week before the event they offer a "first look" held at the race site, with tips and advice for first-time athletes.
Share with me: Which of these Massachusetts triathlons would put on your race calendar this year? Are you new to triathlon or have you been racing for years?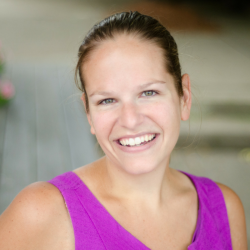 Latest posts by Chrissy Carroll
(see all)