Now that the weather is getting warmer, who's getting excited about some awesome walks outside? Think sunshine on your skin, good tunes in your ears, and supportive sneaks on your feet! If you've got any kind of foot issue, learn why Orthofeet shoes might be the right choice for your walks or everyday life.
Disclosure: This post was sponsored by Orthofeet, and contains affiliate links where I earn a commission on qualifying purchases. As always, all opinions are my own.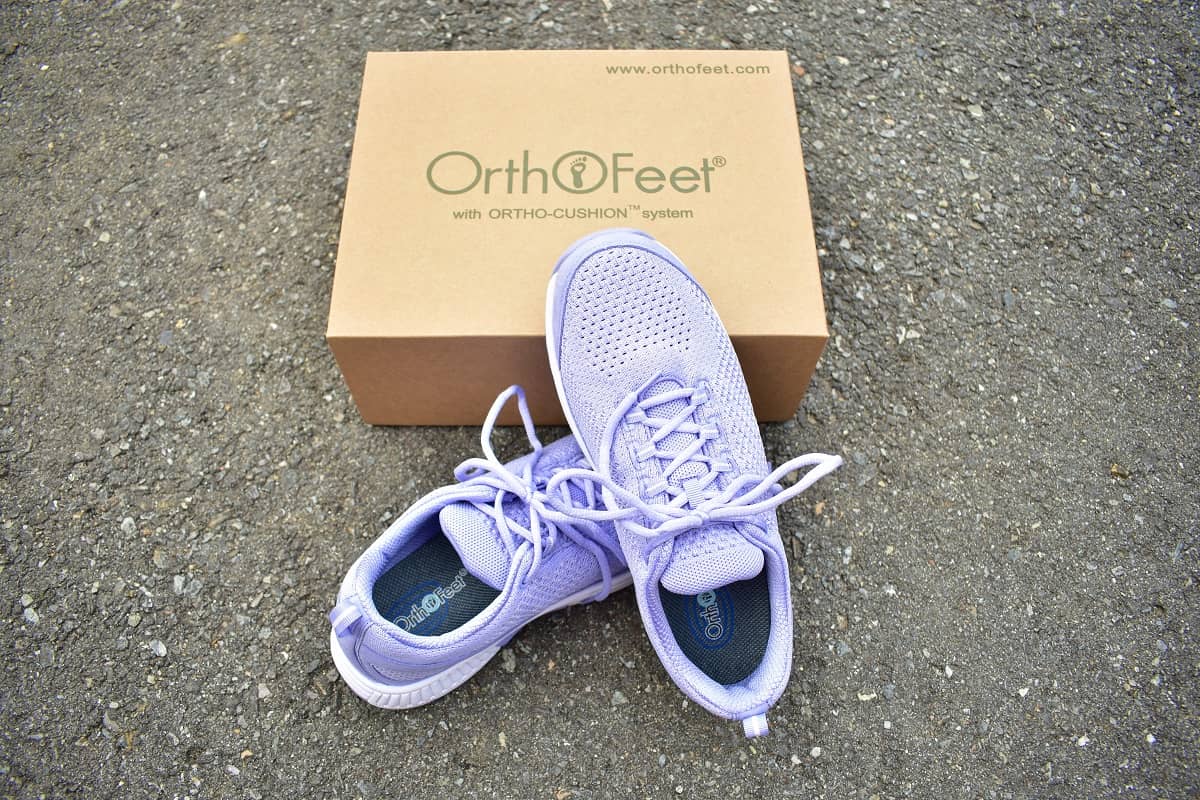 If you're just looking for the quick breakdown, here's my super fast Orthofeet sneaker review: 5/5 stars for walking or everyday use, super comfortable, great arch support!
Now let's dive into all the deets…
What are Orthofeet Shoes?
Orthofeet is a company that produces shoes, orthotics, and socks which are specifically designed for people with any kind of foot issue. Their sneakers are doctor-recommended and meant to help people with concerns like…
Foot pain
Heel pain
Plantar fasciitis
Overpronation
Flat feet
Calluses
And more!
I decided to give these a while since I've got two issues: I've been dealing with on and off heel pain the last year, and I have teeny tiny pinkie toes (haha!). The latter sounds like it shouldn't be an issue, but unfortunately when I get shoes with a toe box that's too tight or narrow, it irritates that little pinky toe since it's smaller and lower than the rest of the toes.
What Comes with Your Sneaker Order?
When you order Orthofeet sneakers, you'll notice they come with a few parts: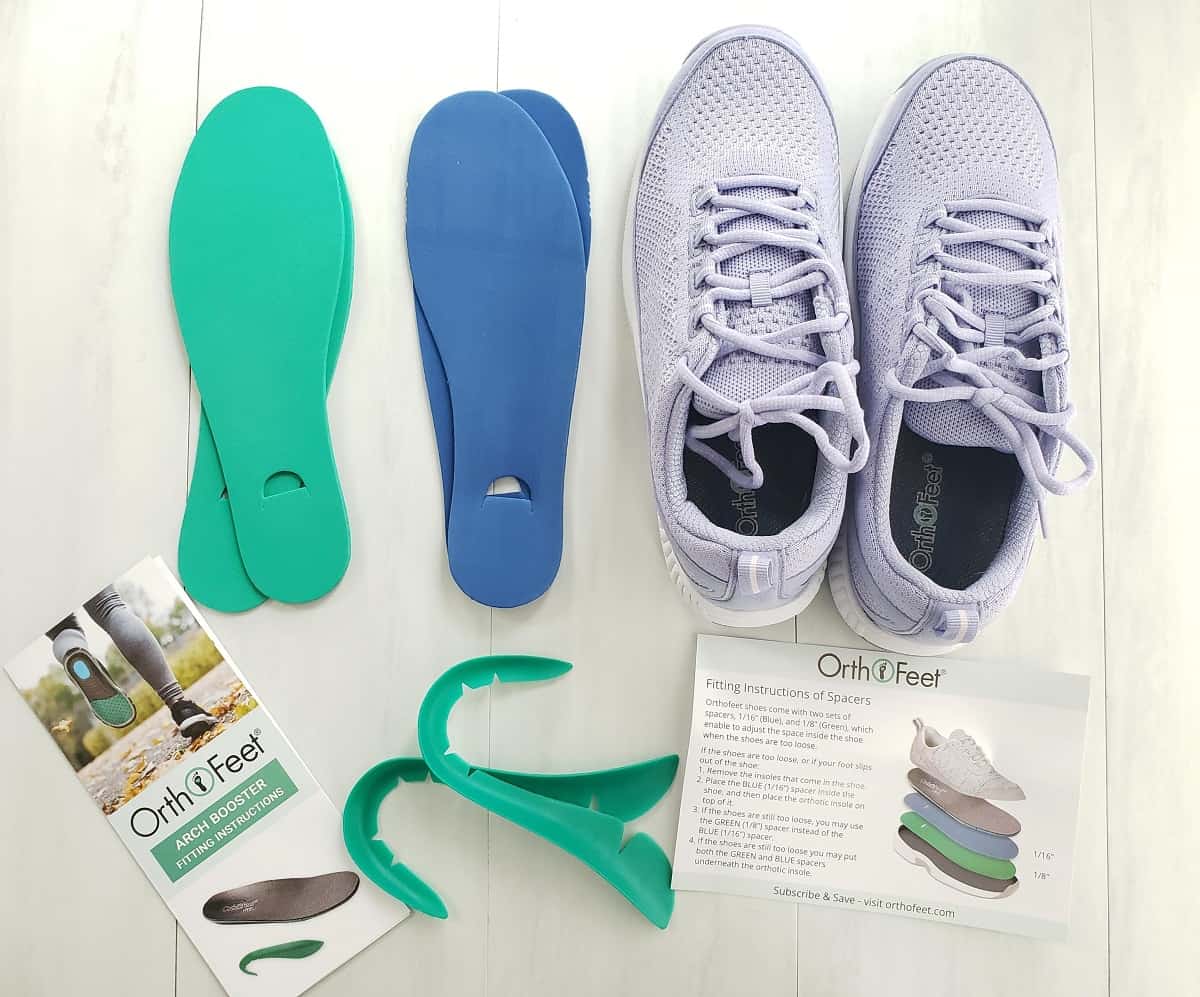 The Actual Sneakers – They have a ton of different varieties that are ideal for everyday life, professional settings (reminding me of those long days on my feet when I used to be a banquet waitress), and walking.
Spacers – These are helpful if the shoes are too big; you can add the spacers to adjust them to fit to size. My sneakers came with a green 1/8-inch spacer and a blue 1/16-inch spacer; you can use either of these or can use both as needed to adjust the sizing. I ended up using the 1/8-inch spacer for the perfect fit.
Arch Booster – The shoes have good arch support, but there is also a plastic arch booster that comes with the shoes that can be inserted under the arch of the insole. You can try the shoes with or without the arch booster to see what feels right for you.
Instructions on how to use the spacers and arch booster.
Fit and Comfort
I chose the Coral Stretch Knit Sneaker in Size 9. Sizing can be a little tough for me from brand to brand, but I was happy that these fit perfectly with the one spacer. I do like having the arch support in as well to provide extra structure.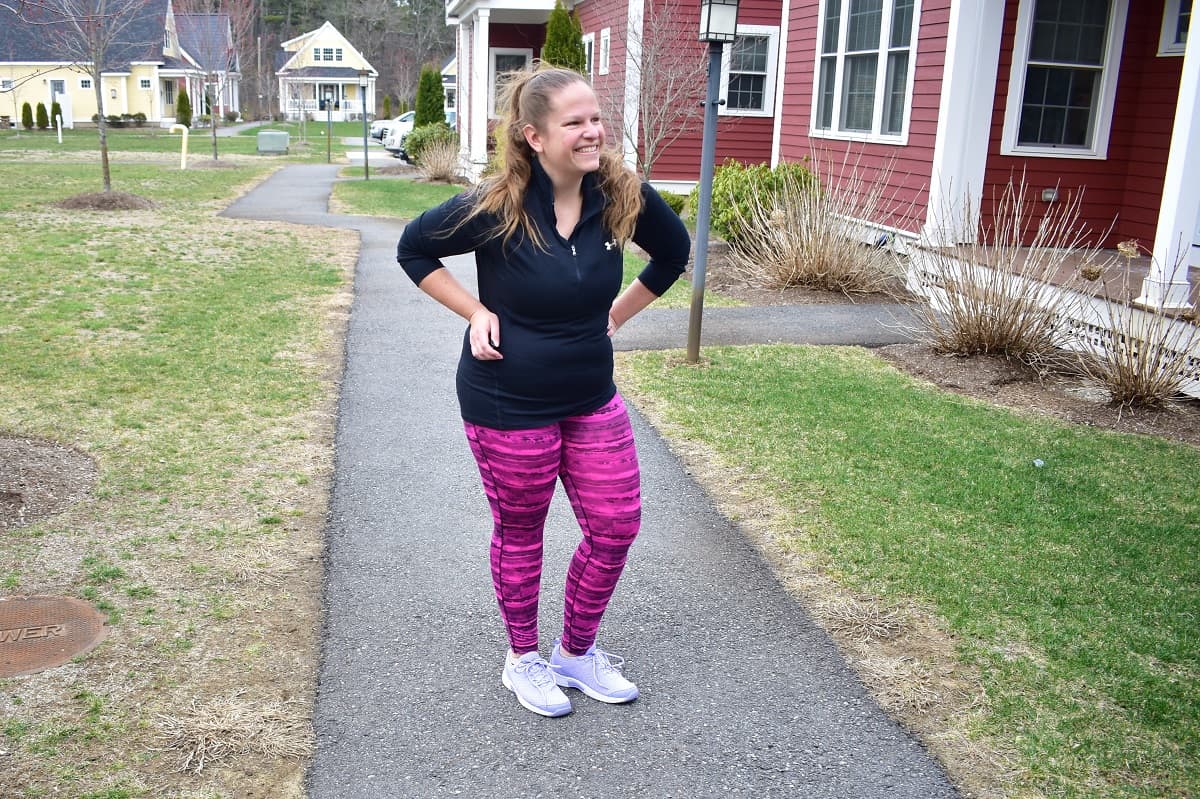 Here's a quick breakdown of my thoughts on each part:
Width – I ordered the standard width shoe which was perfect; it wasn't super narrow. It cradled my foot well. If you have wide feet, though, they do offer a wide and extra wide width option.
Toebox – The toebox felt comfortable and spacious for me (no irritating that little pinky toe!).
Upper – Flexible, cradled feet well when laced up.
Insoles – The shoes come with premium orthotic insoles with anatomical arch support. The only issue I had is that in one of my shoes, the insole at first seemed slightly big for the sneaker – when I first put it on it felt like a bubble underneath my toes. It ended up being that I just needed to remove it and readjust it at the front, and then it felt fine.
Cushioning – There is cushioning in the sole which felt great on walks (but it wasn't excessive – I've tried some brands in the past that had *too much* cushioning and I don't like that).
Sizing – I think these are true to size, and they are easy to adjust slightly using the spacers and arch support.
Overall comfort – Lightweight, breathable, and easy to take on and off. (Something that's echoed in many of the 5 star reviews on their site!)
Design
These shoes are cute! I love the lavender color. One issue I see with some other orthotic products is that they "look" like orthotics, for lack of a better phrase. 😉 These sneakers just look like normal, fun sneakers.
If you're not a lavender fan, they have other colors available across the different types of sneaker models – think rose, blue, black, turquoise, gray, and white.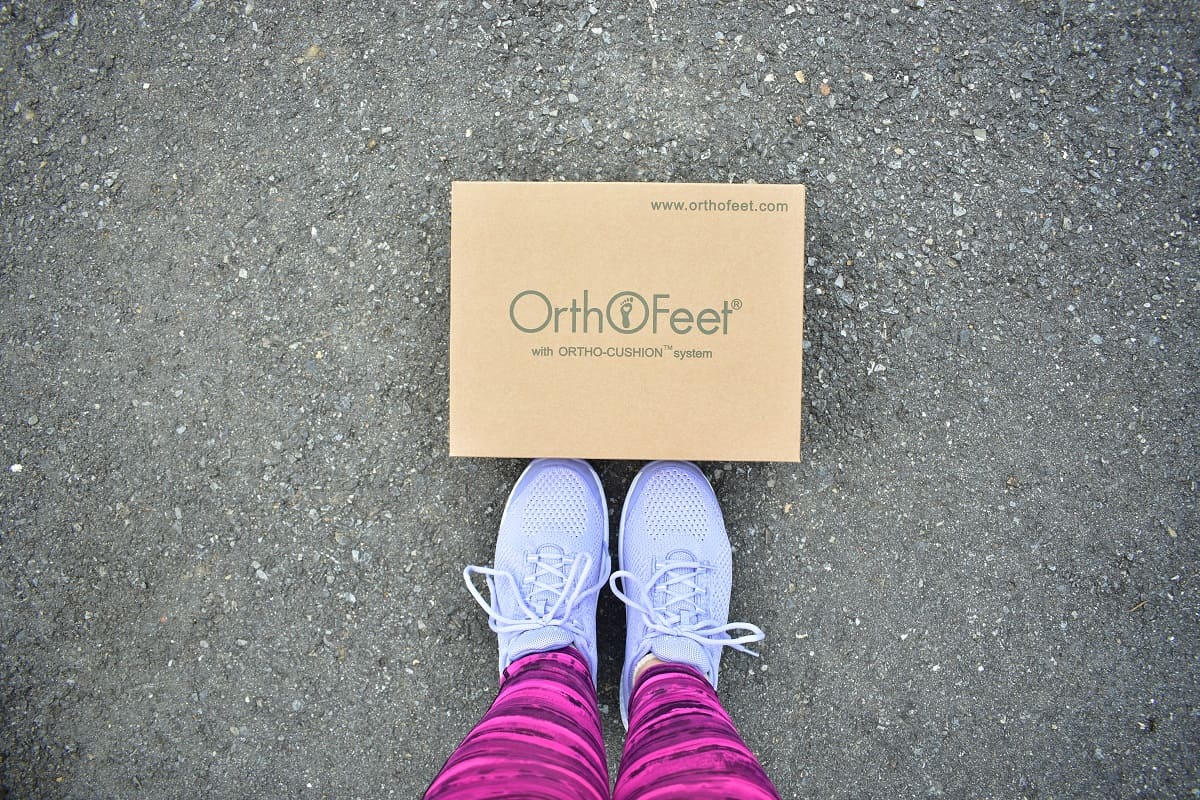 Price
Orthofeet sneakers currently run around $100-$150. Anyone that's ever suffered from foot issues knows that those issues can drive you bonkers, so spending a little money on a shoe that's going to help relieve pain or stress in the feet is well worth it (IMO).
Return Policy
This is a huge selling point for me. It's really tough to buy sneakers online, so if you buy a pair that doesn't have a good return policy – you're stuck. But Orthofeet has a 60-Day wear test with a money back guarantee.
In other words, you can wear 'em for up to 60 days, and if you're not feeling them – return 'em for a full refund.
The Bottom Line
Overall, I was really impressed with my Orthofeet shoes, and would order from them again for walking shoes (huge fan of using them on my incline treadmill workout or outdoor walks in my neighborhood!). By having separate shoes for walking (in addition to my running sneakers), I'm able to prolong the use of both pairs before they hit their mileage limits. I definitely recommend giving them a try, especially if you have any kind of foot issues.
Share: Have you ever tried Orthofeet shoes? What did you think?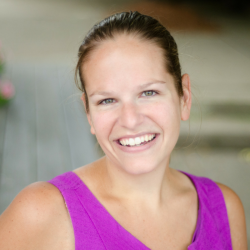 Latest posts by Chrissy Carroll
(see all)