Tired of the same old boring treadmill workout? Kick things up a notch with this incline treadmill workout! This fun yet challenging walking workout will get your heart pumping and your muscles working. It's a great way to take your fitness routine to the next level.
Disclaimer: This post was written and reviewed by Chrissy Carroll, MPH, RRCA Running Coach and USAT Level I Triathlon Coach. This is for informational purposes only and should not be construed as training advice. Consult a doctor prior to beginning any new exercise program.
Note: The complete workout can be found towards the bottom of the post, but I recommend reading the tips and guidelines in this article before starting.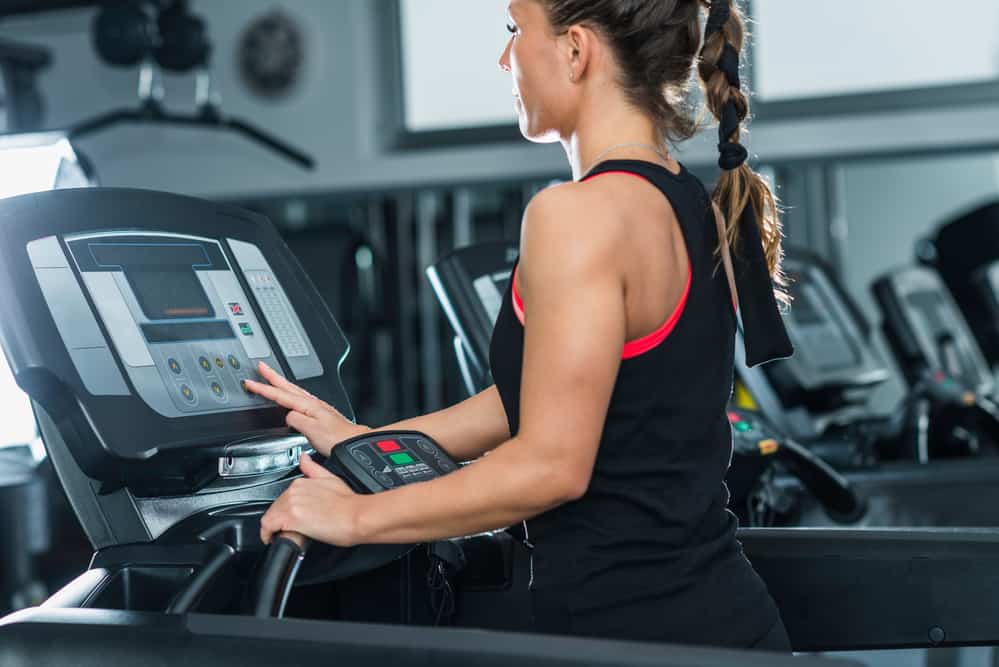 Benefits of incline walking workouts
Wondering why you should do incline walking workouts? Here are just a few reasons…
Improves health. Specifically, any type of consistent walking more reduces the risk of cardiovascular disease and death. In fact, a 2020 review article found that walking just 1000 extra steps per day above your baseline level can lead to these health benefits. 1000 extra steps is just a half mile more each day!
Increases calorie burn. When you increase the incline, walking requires more energy compared to a flat surface, increasing your overall calorie burn during the workout.
Provides metabolic benefits. One study found that 3 weeks of hill walking improved glucose tolerance and blood lipid levels in pre-diabetic men, compared to no benefits with downhill walking. This is likely due to the increased energy expenditure associated with the uphill walking.
Better prepares you for outdoor terrain. In many areas of the country, hills are an inevitable part of walking outside. Indoor treadmill workouts with an incline can help prepare you for this outdoor terrain.
Important Tips about Incline Treadmill Workouts
While walking on a treadmill is generally a safe exercise for most people, here are some important tips to keep in mind:
Don't skip the warm up. This helps your body slowly bring your heart rate up and blood flow to your muscles.
Keep an eye out for soreness. Because of the increased emphasis on certain muscles, you may notice your calves or glutes end up a bit sore after an incline workout. A little post-workout soreness is typically OK and will subside, but pain with walking is not (and that should trigger a trip to the doctor). You may be able to find strategies to help with soreness, like foam rolling or using a percussion massager.
Work on strengthening the muscles in the posterior chain (particularly the glutes, hamstrings, and calves) with strategic resistance training on other days of the week. This will help support the body in your incline walking. You could do bodyweight exercises, resistance band exercises, or weighted exercises at a gym.
If you have lower back issues, you may want to adjust the inclines to a lower level to start and see how it feels first. Hill walking can create more strain on the lower back, especially as the walk goes on and you start to lose strong form.
Avoid doing incline walking every single day. Mix things up with other types of cross training and strength training!
Adjusting the Workout to Your Fitness Level
The workout below has a set of speed ranges for the walk, along with defined inclines. Choose a steady speed that you think you can maintain throughout the entire workout.
However, your fitness level might require you to adjust these outside of the ranges provided – and that's perfectly fine.
Each step of the workout also contains an RPE – or rate of perceived exertion – which is on a scale of 1 to 10. When it comes to exercise intensity, you can picture an RPE of 1 as sitting on the couch, and an RPE of 10 as running away from a bear.
This is the most important number to pay attention to. You can adjust the treadmill settings if needed to fit within the RPE range listed.
If you need to make the workout easier to fit the RPE listed, start by slowing the speed. If that's not enough, you can reduce the incline too.
If you need to make the workout harder to fit the RPE listed, start by increasing the speed to a very fast walk. If that's not enough, you can increase the incline too.
Incline Walking Treadmill Workout
You'll find your treadmill workout below in both image form, as well as plain text underneath that for accessibility purposes. You can also pin the image below to save it.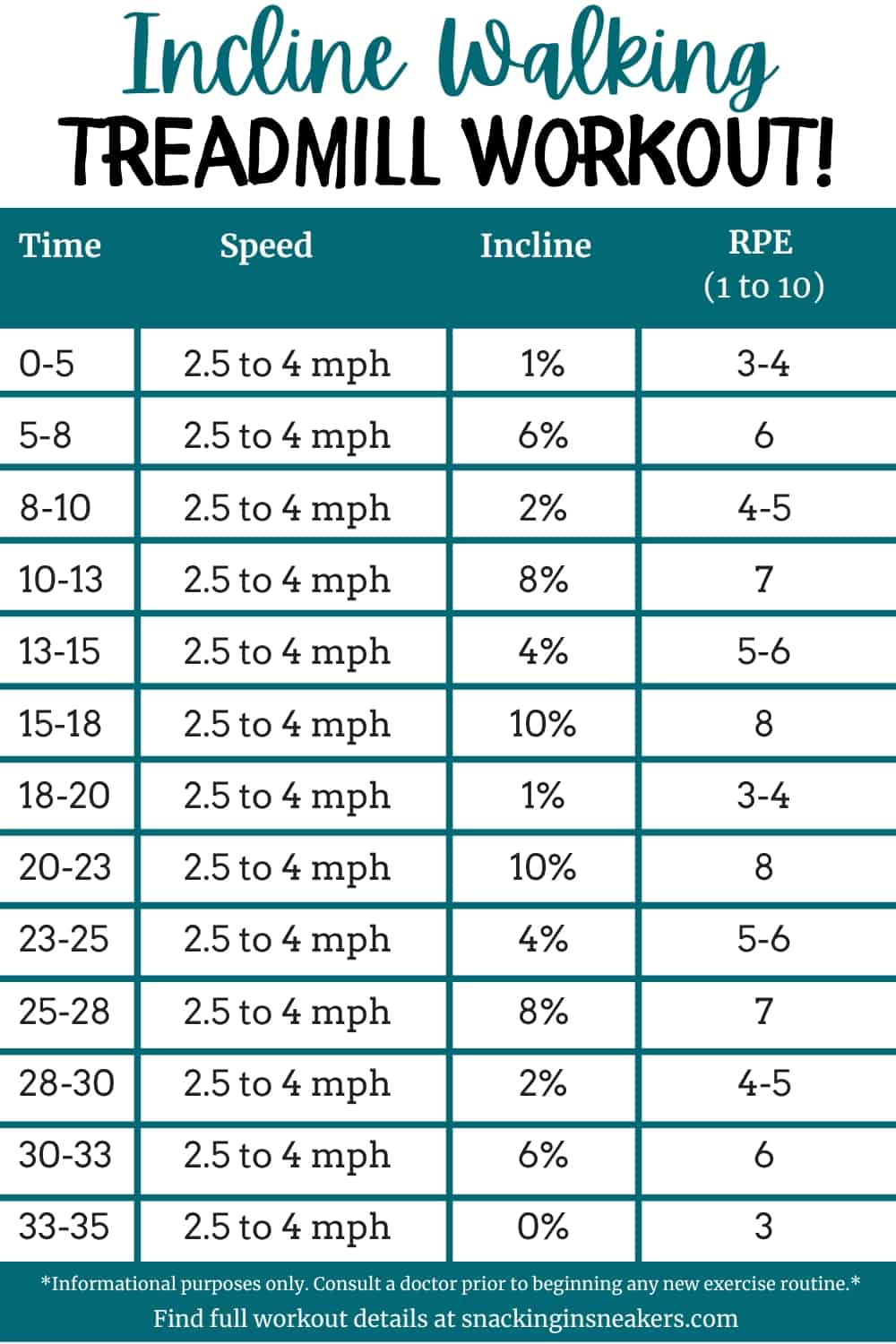 For the workout, complete at a steady speed between 2.5 to 4 mph. Choose a speed that feels in line with the RPE listed. If needed, you can adjust the speed during the workout, but try to choose a speed that you can maintain throughout if possible.
0-5 minutes – 1% incline, RPE 3
5-8 minutes – 6% incline, RPE 6
8-10 minutes – 2% incline, RPE 4-5
10-13 minutes – 8% incline, RPE 7
13-15 minutes – 4% incline, RPE 5-6
15-18 minutes – 10% incline, RPE 8
18-20 minutes – 1% incline, RPE 3-4
20-23 minutes – 10% incline, RPE 8
23-25 minutes – 4% incline, RPE 5-6
25-28 minutes – 8% incline, RPE 7
28-30 minutes – 2% incline, RPE 4-5
30-33 minutes – 6% incline, RPE 6
33-35 minutes – 0% incline, RPE 3
More Treadmill Workouts
If you're looking for more treadmill workouts, here are a few others that may add some variety to your routine!
I hope you enjoy this incline treadmill workout! If you get a chance to try it, feel free to leave a comment below and tell us how it went.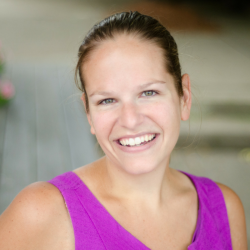 Latest posts by Chrissy Carroll
(see all)