This spiralized cucumber apple salad is a perfect light side dish to enjoy any time of year! It's super fresh, with those hydrating cucumbers alongside crisp, tart green apples. The dressing combines nutty, smooth pumpkin seed oil with tangy apple cider vinegar and sweet honey. All together, these few simple ingredients create flavorful and visually stunning salad.
This post was originally written in 2017 and has been updated in 2020.
Disclosure: This post is sponsored by NOW Foods. As always, all opinions are my own.
Healthier Holiday Eating
Let me ask you guys a question – how is it possible that it's almost Thanksgiving time?! I feel like the fall has completely flown by. That said, I'm getting overly excited at the thoughts of celebrating with family and friends, big 'ol delicious meals, and putting up my Christmas decorations.
OK, OK. The Christmas decorations are already up. What can I say? Despite the fact that it always seems to approach so rapidly, I love this time of year! 😉
One thing that I do struggle with in November and December, though, is the abundance of heavier meals and treats that seem to find their way into my routine. I'm not going to use scare tactics and tell you people gain a ton of weight over the holidays. The truth is, they don't – the average holiday weight gain is really only 1-2 pounds. And I'm all about enjoying some of those dishes, because it is the holiday season after all.
But what does seem to happen is just feeling more sluggish and "blah" from eating some of those less-healthy options more frequently. Do you guys know what I mean?
So here's where this spiralized apple cucumber salad comes in. When I'm feeling like "ugh, I think I overdid that dinner last night", this salad is a go to for lunch along with a piece of grilled chicken. It's also the perfect healthy side dish to serve alongside those heavier meals, or to simply eat as a delish snack.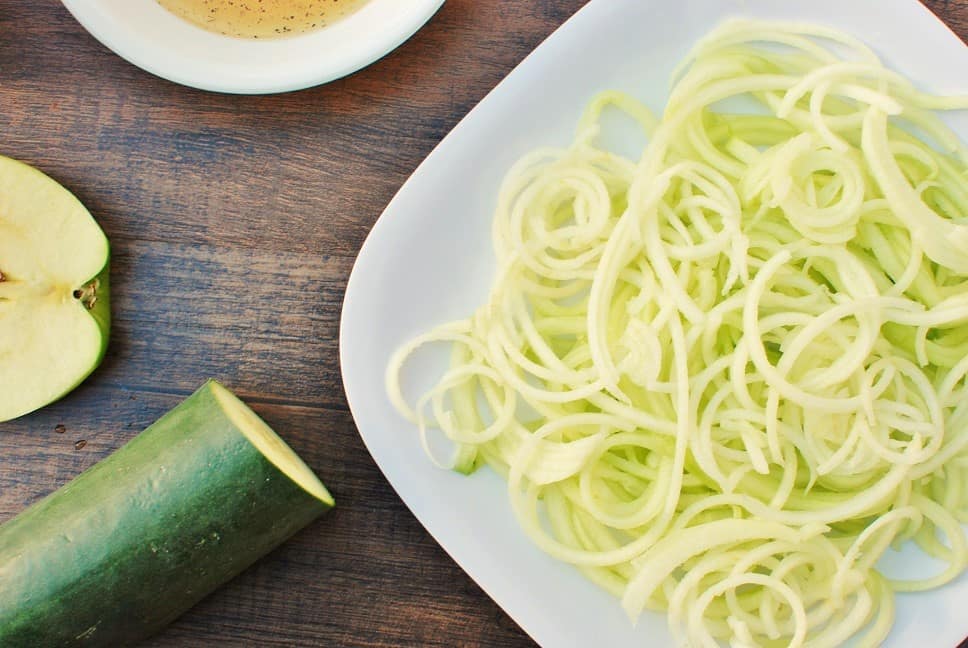 How to make cucumber apple salad
This healthy salad is very simple – all you need is an apple and cucumber for the base. I've obviously decided to spiralize them here, but if you don't have a spiralizer, don't despair. You can still make this salad the way I've been doing veggie noodles for years. Simply run a peeler over the fruit or vegetable (either the long way or in a circular pattern) to create ribbon-style noodles.
Or, just chop everything up! No need to get fancy if you don't want to, haha.
For the dressing, you can use any vinaigrette that you'd like, or you can make the simple recipe I've included here. My vinaigrette is just pumpkin seed oil, apple cider vinegar, honey, salt and pepper.
Pumpkin seed oil has a deep, nutty flavor. Just like the name sounds, the oil is created by roasting the pumpkin seeds, then cold-pressing them. The result is a delicate and flavorful oil that retains more nutritional value than some of the other oils on the market. You can use it for drizzling, dressings, and finishing dishes. Most advise not to cook with it, as the oil can turn bitter when heated.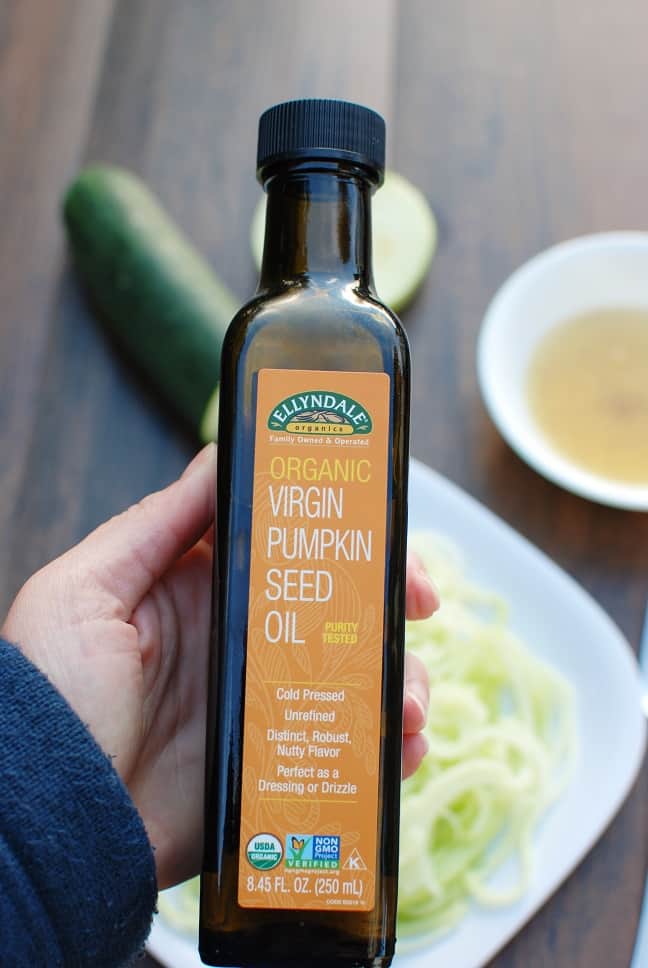 I was inspired to create this recipe when I snagged some pumpkin seed oil in my NOW Foods monthly order. They have an amazing selection of cooking and finishing oils – think pumpkin seed oil, avocado oil, brazil nut oil, and flavor-infused coconut oils! I highly recommend checking them out for your own cooking delights – or to create a fun fancy oil gift basket this holiday season for the chef in your life.
Anyway – I think you'll be surprised just how well the pumpkin seed oil pairs with the apples and cucumbers. But don't fret if you don't have any on hand. You can sub in any other oil that you'd like if you don't have pumpkin seed oil on hand (like olive oil, walnut oil, etc.).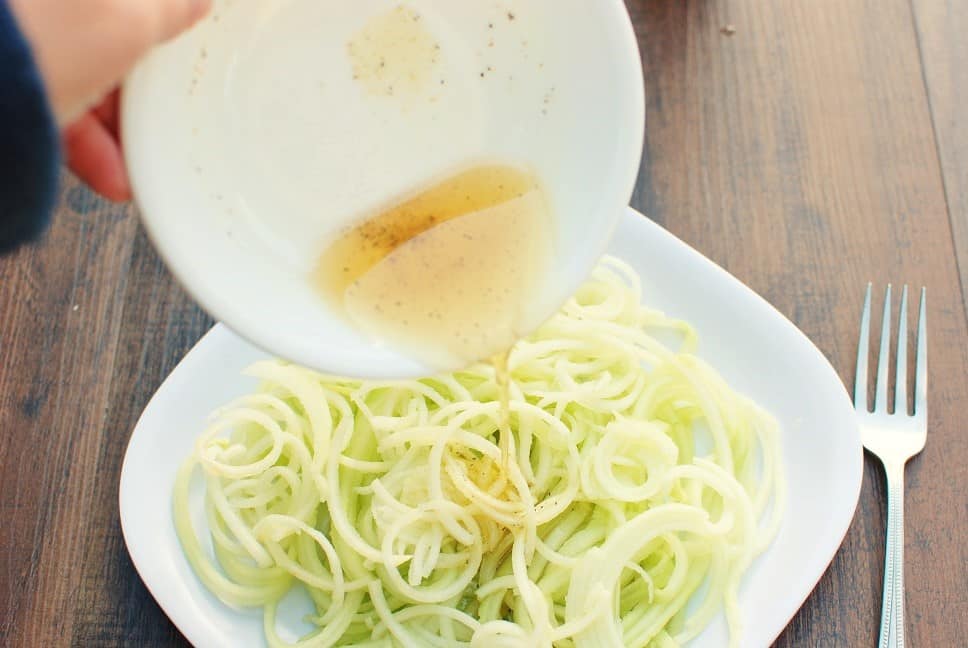 Other Healthy Salad Recipes
If you're looking for more healthy salad recipes – whether for a side salad or main course! – definitely check out some of these other recipes from the blog: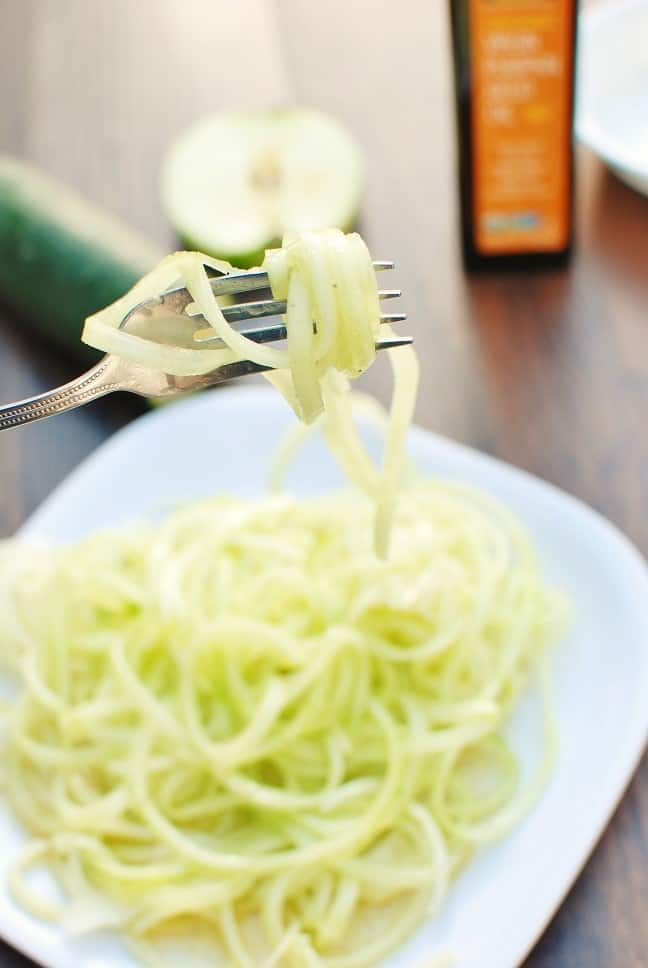 I hope you enjoy this recipe! If you get a chance to try it, don't hesitate to leave a comment or recipe rating below.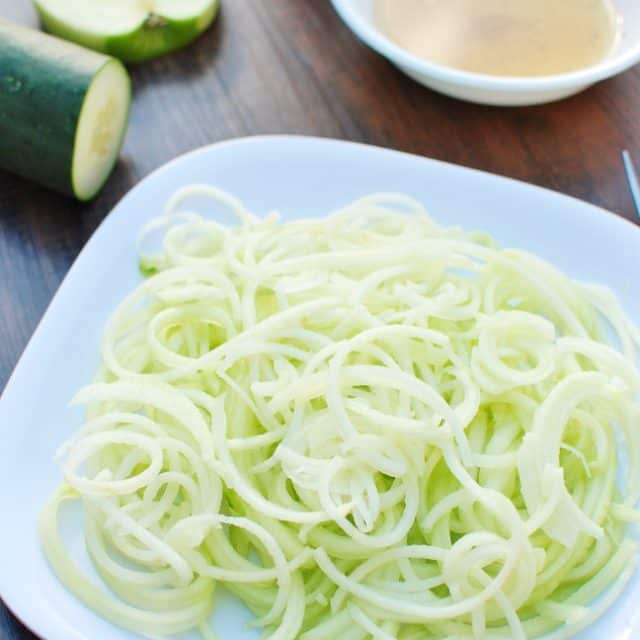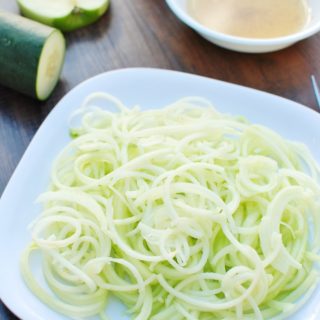 Spiralized Cucumber Apple Salad with Pumpkin Seed Oil Dressing
This spiralized cucumber apple salad combines hydrating cucumbers alongside crisp, tart green apples, all tossed in a nutty pumpkin seed oil dressing.
Ingredients
1

cucumber

1

green apple

2

tsp

pumpkin seed oil

2

tsp

apple cider vinegar

1/2

tbsp

honey

1/8

tsp

salt

1/8

tsp

pepper
Instructions
Peel your cucumber and apple. Spiralize each of them and place in a bowl or on a plate.

In a separate bowl, whisk together the pumpkin seed oil, apple cider vinegar, honey, salt and pepper. Drizzle the dressing over your salad and toss until well combined. Enjoy!

Notes
Notes:
If you don't have a 1/8 tsp measure, it's really just a pinch of salt and pepper. Or add it to taste.
If you don't have a spiralizer, simply run a vegetable peeler over the cucumber and apple to create ribbon-like noodles for this salad.
This makes 1-2 servings, depending on how you're using it (i.e. side vs. snack vs. most of main meal).
Nutrition facts (approximate for entire recipe):
230 calories, 10 grams fat, 2 g sat fat, 34 grams carbohydrate, 4 g fiber, 2 g protein, Vitamin A: 4%, Vitamin C: 22%, Calcium: 4%, Iron: 4%
Nutrition
Share with me: What do you think of this spiralized apple cucumber salad? Have you ever used pumpkin seed oil?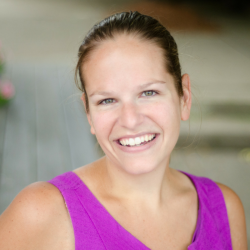 Latest posts by Chrissy Carroll
(see all)