This strawberry beet salad is such a delightful springtime dish. Packed with good nutrition, this salad is full of vitamins, minerals, and fiber – and of course, flavor! Between the sweet strawberries, earthy beets, rich blue cheese, and crunchy almonds, you'll love this delicious salad.
How to make a beet strawberry salad
You only need five ingredients to make this salad, plus any dressing that you'd like:
Green leaf lettuce (or any leafy green of your choice!)
Beets
Strawberries
Blue cheese
Almonds
Dressing of your choice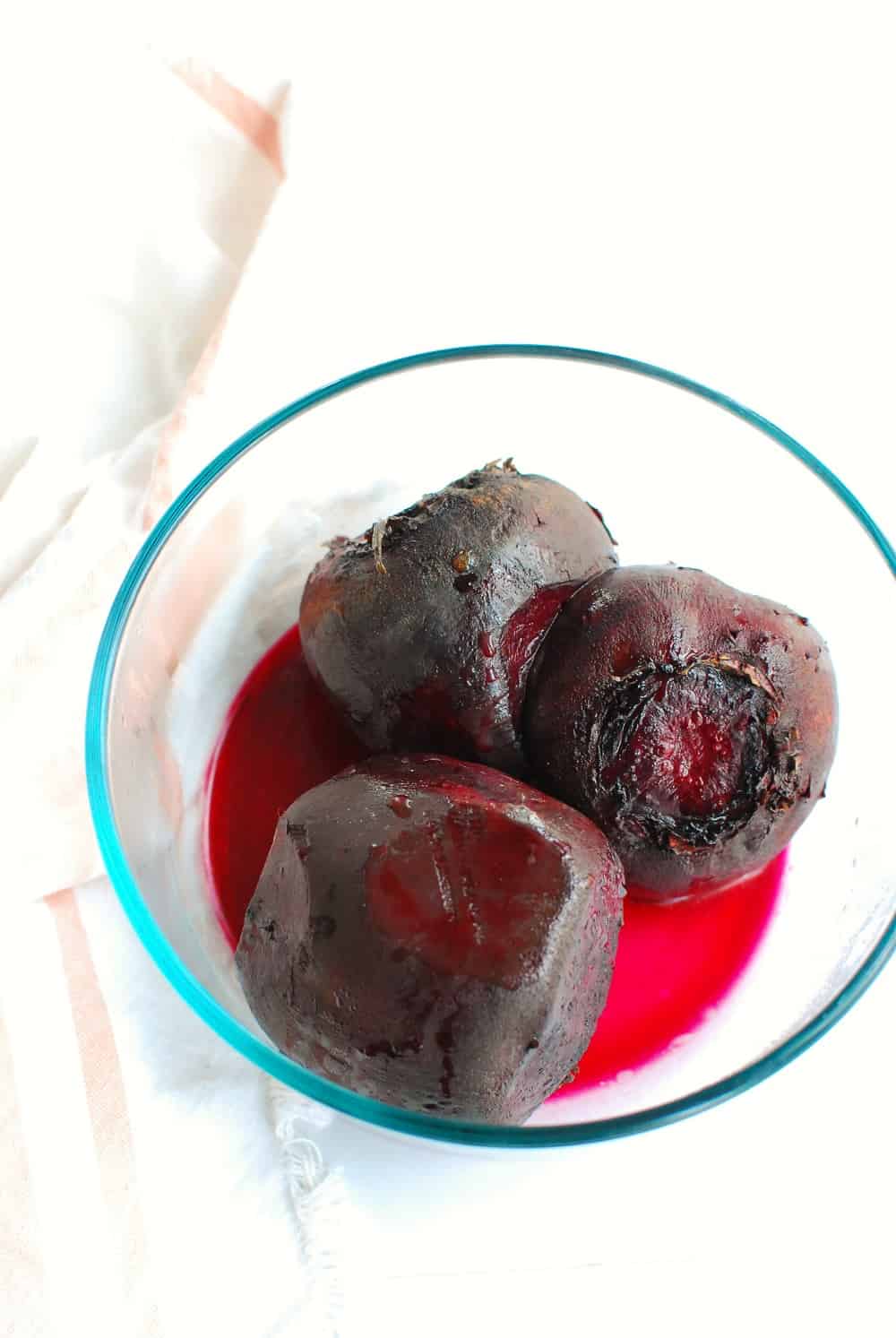 You can find ingredient amounts in the recipe card below, but above all, play around with amounts that work for you. My husband loves a ton of blue cheese on his salads, and I prefer more berries and nuts, so sometimes we shift the amounts a bit for each of our preferences. I think the amounts below are pretty balanced, but if you don't – just adjust to your liking.
How to roast beets
This salad recipe uses cooked beets. You can use leftover ones you have, or canned/jarred beets, or the prepared ones that you can often find in the produce section of the grocery store. Or, you can roast some fresh about an hour before you want to prepare your salads.
To roast them, first, trim any greens from the top, then rinse and scrub the beets. Place them on aluminum foil on a baking sheet. Drizzle a little olive oil on top, then wrap the foil up to enclose the beets. Bake 'em at 375 degrees for 45 to 60 minutes until they're tender (smaller beets will be done around the earlier end; longer beets towards the end of the range).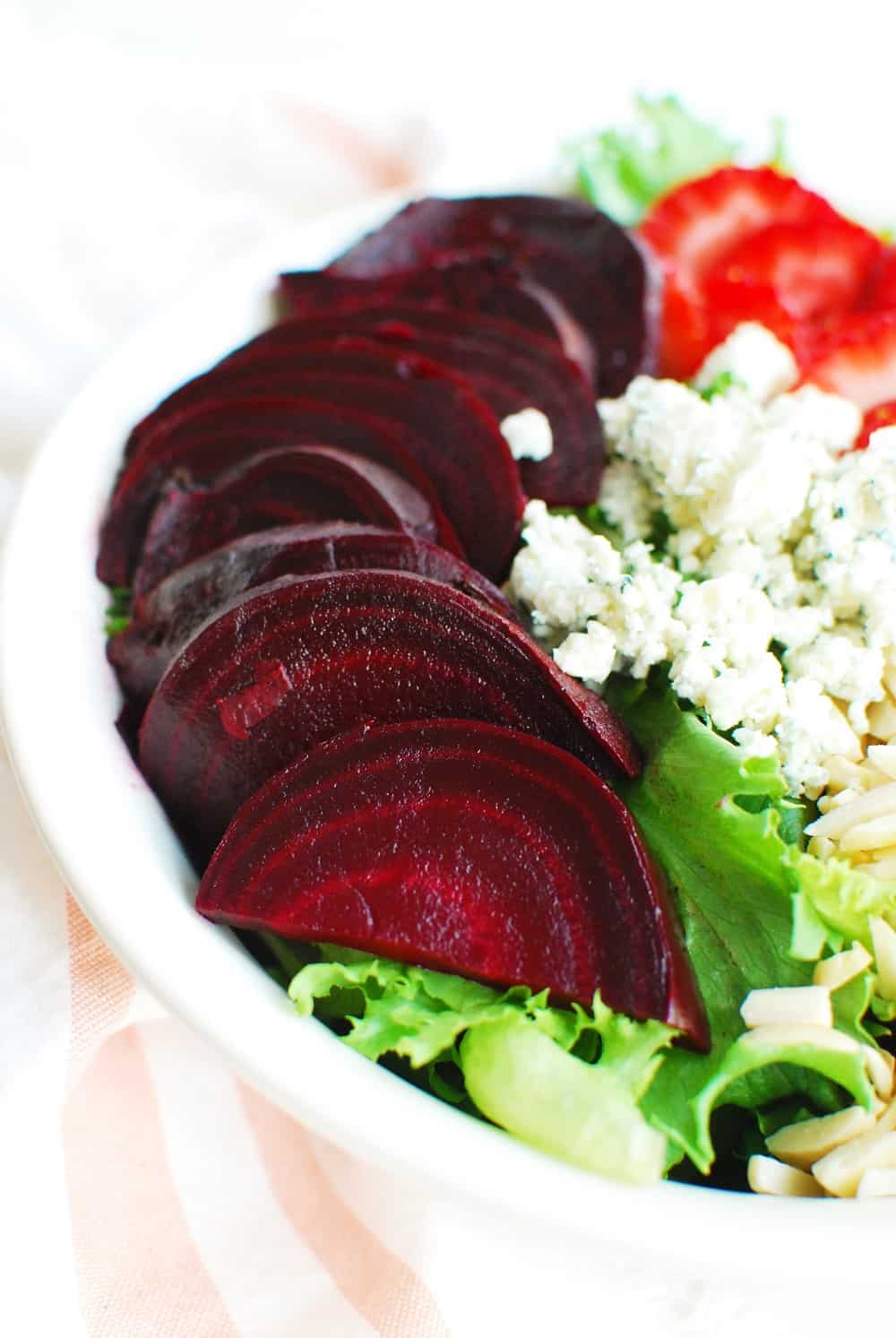 Nutrition benefits
You'll find a lot of positive nutrition attributes in this strawberry beet salad. It packs in more than 80% of your Vitamin A and Vitamin C needs, along with 18% of your daily potassium needs and 6 grams of fiber!
Here are a few ingredient highlights and their nutrition benefits:
Green leaf lettuce:
It may not be as "cool" as kale, but green leaf lettuce provides a super satisfying crunch in your salads for a miniscule number of calories. (Side note – in our house we're obsessed with Little Leaf Farms green leaf lettuce!).
Strawberries:
This bright red juicy fruit is an excellent source of vitamin C (important for immune health) and a good source of fiber (for digestive health). Several studies suggest that strawberries exhibit antioxidant properties, may have anti-inflammatory effects, and may benefit cardiovascular health (source).
Almonds:
This nut is rich in healthy fats and Vitamin E (an antioxidant) (source). Some research suggests it may act as a prebiotic, helping improve the balance of good bacteria in the gut (source). Additionally, almonds have been shown in several research studies to help with heart health by reducing levels of "bad" LDL cholesterol and maintaining "good" HDL cholesterol (source).
Blue Cheese
Because blue cheese has that strong, bold taste, you're able to use less of it (compared to some other cheeses) while still adding a ton of flavor. It also provides calcium, which is involved in bone health (super important for active women!).
Beets
Ah, perhaps my favorite ingredient in the whole salad. Beets contain vitamins and minerals like folate and potassium, along with a plant compound called betanin, which may have antioxidant activity and health benefits (source).
But another reason I love beets is that they're a natural source of dietary nitrates. While we often hear about nitrates as a "bad" ingredient with regards to processing, the dietary nitrates in vegetables are actually really good for us. For example, some research shows they may improve blood pressure regulation (source).
For athletes in particular, dietary nitrates are a precursor to nitric oxide in the body. Nitric oxide acts as a vasodilator – or in non-sciencey terms, it helps open up the blood vessels a bit and allows easier blood and oxygen flow to the body.
There has been ample research showing that beet consumption (typically in the form of beet juice or supplements) before exercise may improve endurance performance. In fact, a 2017 review article concluded that beet juice supplementation can:
Improve endurance by increasing efficiency
Improve performance at various distances
Increase time to exhaustion during moderate intensity exercise
Improve performance at anaerobic threshold intensities
Of course, you're not packing in quite as big of a beet dosage in a salad like this as you would in a concentrated beet juice shot. But who knows – regular consumption still may provide a little edge!
Dressing Recommendations
I haven't provided a specific dressing to use on this salad, as it's pretty flexible for a wide variety of vinaigrettes or even some creamy dressings. Here are a few suggested dressing recipes: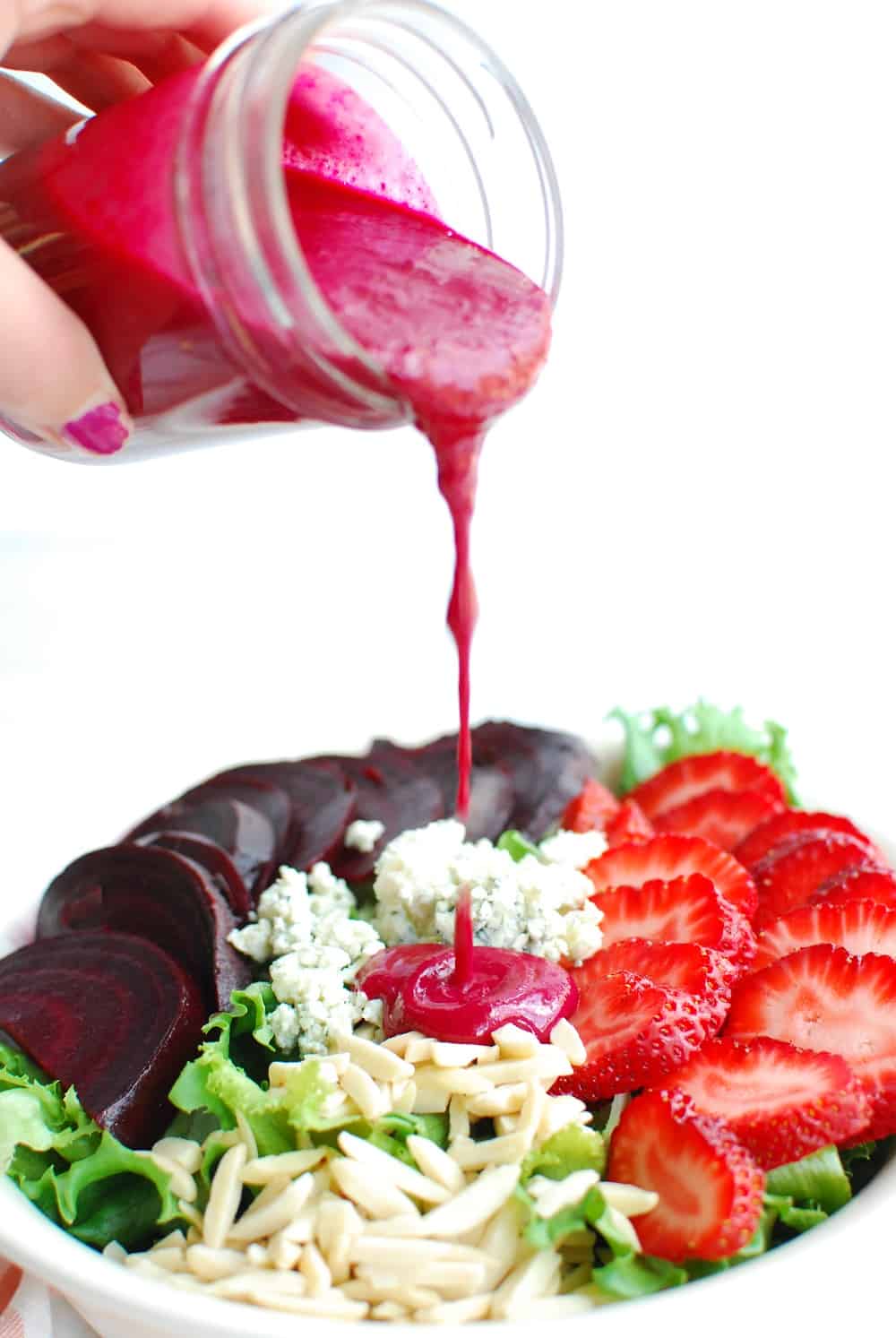 I hope you enjoy this beet strawberry salad! If you get a chance to try it, feel free to leave a recipe rating or comment below.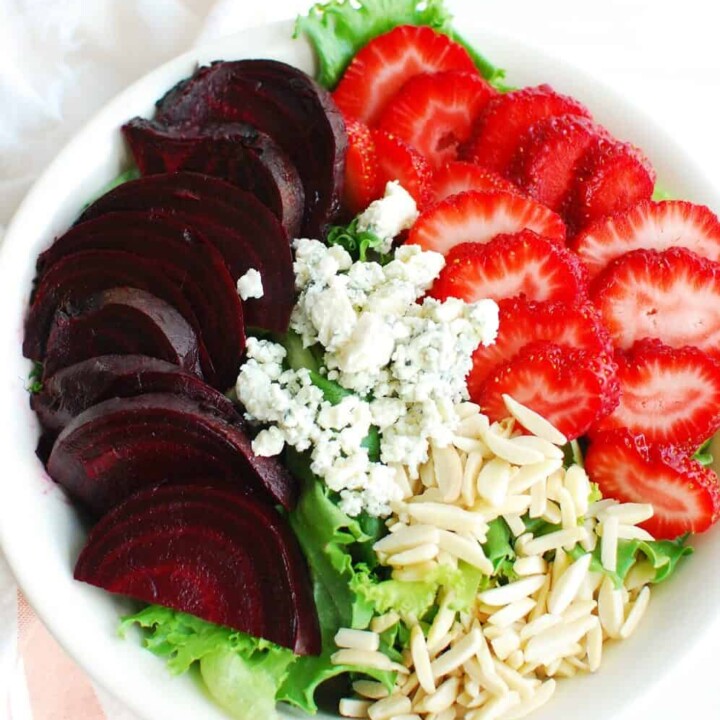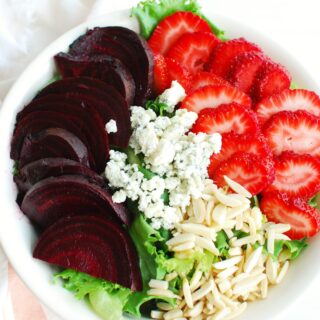 Strawberry Beet Salad with Blue Cheese and Almonds
This strawberry beet salad is a lovely combination of sweet strawberries, earthy beets, rich blue cheese, and crunchy almonds!
Ingredients
8

ounces

green leaf lettuce

2

cups

cooked sliced beets

2

cups

sliced strawberries

2/3

cup

slivered almonds

1/2

cup

blue cheese crumbles

Dressing of your choice
Instructions
Combine all the ingredients in a large bowl. Drizzle on a dressing of your choice and toss together. Enjoy!
Notes
Nutrition analysis (approximate per serving, does not include dressing): 232 calories, 14.5 g fat, 4 g saturated fat, 270 mg sodium, 19.5 g carbohydrate, 6 g fiber, 11.5 g sugar, 10 g protein, Vitamin A: 87%, Vitamin C: 88%, Calcium: 18%, Iron: 12%, Potassium: 18%
Nutrition
Share: What's your favorite springtime salad recipe?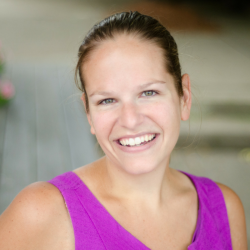 Latest posts by Chrissy Carroll
(see all)