A full marathon is something that less than 1% of the population has checked off their bucket list – and even fewer have ever achieved a finish time under 4 hours. This sub 4 hour marathon training plan will help you hit that goal!
This plan was produced in partnership with Coach Jon Fearne of E3C. If you need personalized guidance or modifications to this plan, or other advanced level training, please reach out to him via his website or Instagram!
Getting Started Info
You can always scroll down to access the downloadable version of this training plan! However, this post has a ton of helpful information about base fitness levels, workout descriptions, and other key info that will help the plan make sense. I recommend you read it all first! 🙂
Who is this training plan for?
The following plan is designed for a runner who has previously undertaken a 4+ hour marathon, or one who has a few half marathons under their belt and see the sub 4 hour marathon as a good target goal.
This is not a plan designed for beginner runners. If you are a beginner and have a marathon on your bucket list, I recommend instead checking out our 20 week beginner marathon training plan.
What level of fitness do I need to start?
Athletes should be regularly running for several months prior to starting this plan. You should be able to run 60 minutes comfortably at a 10 min/mile pace, and able to hold 30 minutes comfortably at a 9 min/mile pace. You should also have experience running at least 90 minutes consistently.
What is the time commitment?
This plan is designed to help you get from a solid running base to peak marathon condition in 16 weeks. It includes 4 to 5 workouts per week to keep things manageable for your schedule, yet still help you achieve your goals.
Workout Information
There are several different types of running workouts in this plan. You'll find steady-state long runs, speed intervals, tempo runs, and hill workouts. Here are some other key notes:
Run Pacing and Intensity
Remember, a sub 4 hour marathon requires that you maintain a pace of 9 minutes and 9 seconds per mile – or less. This is a challenging pace for many runners, but one that can be achieved with good training.
As such, paying attention to pacing and intensity guidelines in this plan is key to helping you achieve success. If you don't push yourself on the fast-paced training days, you'll likely have trouble hitting your targets on race day. On the flip side, if you spend your easy and recovery runs trying to bang out speed intervals, you'll likely suffer from overtraining and fatigue before you even get to race day.
Balance is key here.
Using a GPS watch will be extremely helpful with this training, as you'll be able to monitor your pace and distances.
Pacing guidelines are given in two different ways in this plan:
Specific min/mile – for example, run 30 minutes at a 9 min pace. (*Note – If you are finding the 9-minute mile pace runs easily manageable in this plan, then try replacing them with an 8:45 pace and see how you cope. This gives some flexibility to improve on your goal time.)
Zones – described below
Zone Guidelines
If you see zones in the plan, use this framework as your guideline for how hard to push yourself.
Training Zones:
Zone 1 = Recovery low heart rate (RPE 4/5 out of 10)
Zone 2 = Base, an easy effort (RPE 6 out of 10)
Zone 3 = Tempo or race pace (RPE 7 out of 10)
Zone 4 = Sub maximal (RPE 8/9 out of 10)
Zone 5 = Maximal (RPE 10/10)
*Note – This zone framework should be used specifically for this plan. Different coaches use different definitions of zones, so always be sure to read what those are on a plan-by-plan basis.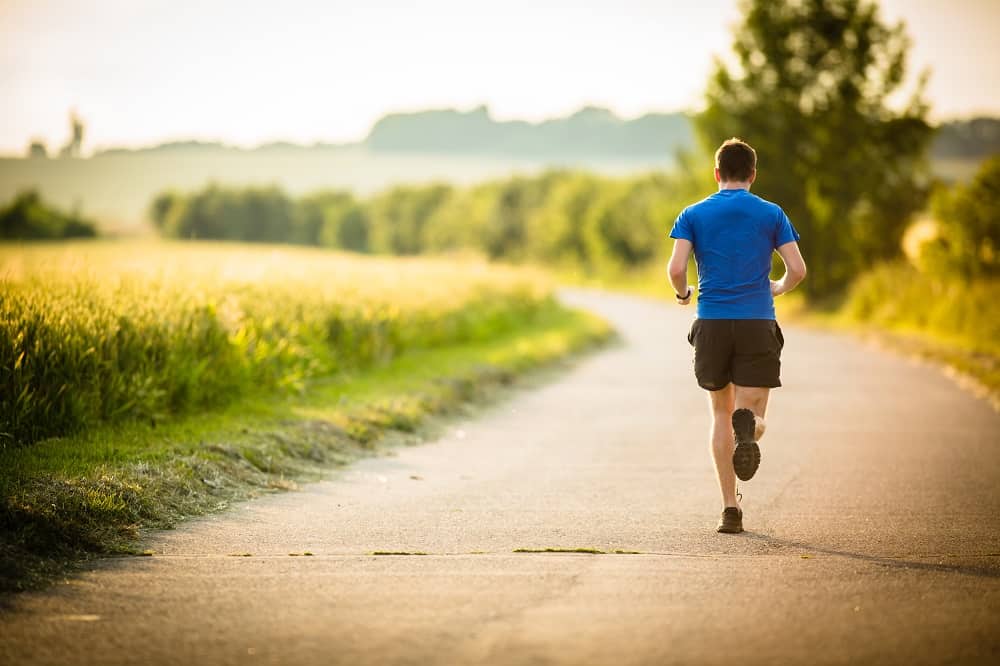 Workout Descriptions
In the appendix of the plan, you'll see descriptions for several different types of running workouts. Here's a brief description of each, but be sure to read the appendix thoroughly as it contains specific timing and warm up info for each:
1 Hill Multiple Intervals – A time-based hill interval workout where you alternate between 30, 45, 60, 75, and 90 second intervals
30/30 Interval Session – After a solid warm up, you'll do two sets of 8-10 minutes using 30 second "on" / 30 second "off" intervals. The "on" interval should build up gradually to best sustainable effort.
Negative split session – Find an out-and-back route. Run a steady pace out for X minutes, then turn around and try to increase your pace to return faster.
Tarmac Climb in Quarters – For this workout, you'll find a hill and split it into 4 sections. You'll vary the intensity of your run on the hill in each quarter, from Zone 3 to Zone 4 to Max Effort to Zone 1.
Tarmac Reverse Climb – Same type of workout as above, but the progression goes from Max Effort to Zone 4 to Zone 3 to Zone 2.
Tempo Ladder – A run that challenges you to run at race pace for varying distances, from longer to shorter, and then reversing the ladder from shorter to longer.
Thirds Building Effort – You'll break your run into three segments – the first third is done at an easy pace, the second third at a comfortably hard pace, and the last third at a challenging hard pace.
Speed Intervals Short – On a flat route, you'll alternate between race pace and max effort intervals.
Core Workouts
There are several core workouts listed in this program. These are short workouts that will help you maintain strength in key muscle groups throughout your training:
1 = 5 x Standard sit up, 5 x standard push up, 5 x double shoulder width push up, 30 seconds plank. Run through 2 times
2 = 8 x Standard sit up, 8 x standard push up, 8 x double shoulder width push up, 40 seconds plank. Run through 2 times
3 = 10 x Standard sit up, 10 x standard push up, 10 x double shoulder width push up, 50 seconds plank. Run through 2 times
4 = 10 x Standard sit up, 10 x standard push up, 10 x double shoulder width push up, 60 seconds plank. Run through 3 times
Stretching Sessions
You'll see stretching sessions listed throughout the plan. Make sure you are cover all major muscle groups. This will help speed up recovery and help to avoid injury.
Your Sub 4 Hour Marathon Training Plan
Alright, here you go – your free sub 4 hour marathon training schedule! Just click here or on the photo below to download your plan.
*Please note, this plan is for personal use only and should not to be distributed on other websites or used for commercial purposes.*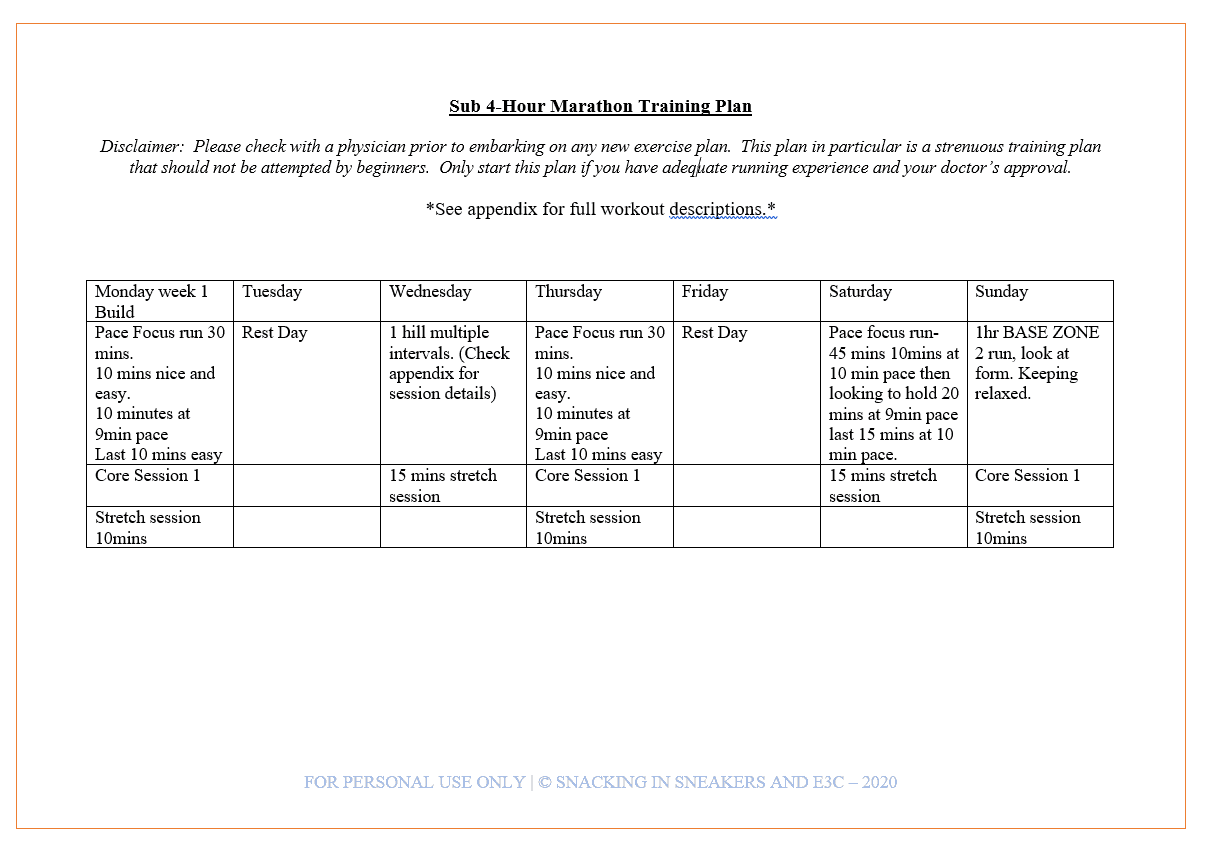 This plan was produced in partnership with Coach Jon from E3C: Jon has over 24 years experience working within the endurance and adventure industry. He started out as an Outdoor Ed instructor with a focus as Surf and kayak instructor. From there he moved into endurance sports, obtaining a degree in sport science and then writing a masters in athlete development and peak performance, and has received numerous awards in coaching.
Jon has trained athletes all over the globe, from Ironman, ultra running, South Pole solo ski, rowing the Atlantic, and 8000m peaks. His own achievements have been numerous and span many disciplines. Impressively, he was the first and only athlete to have run the alps and Mountain biked across (Trans Alp, Trans Alpine)! You can find him over on his website or Instagram.
Share: What race are you training for? If you used this plan, how did it go?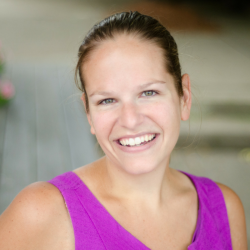 Latest posts by Chrissy Carroll
(see all)